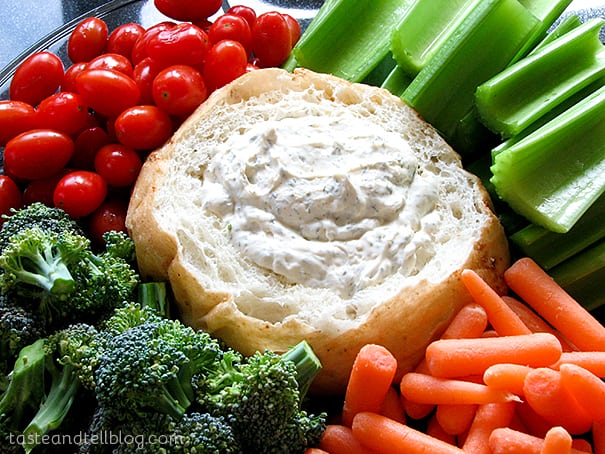 My husband likes for me to pack his lunch basically the same every day – 2 apples, 2 sandwiches, some chips, a bag of cookies and 2 snack-pack puddings. Every once in awhile, he will want some leftovers thrown in instead of the sandwiches, but he usually doesn't like to eat something for dinner and then for lunch the next day. (I love leftovers for lunch, though!!) Lately, though, he has been complaining about feeling "fat." And I always thought women were the ones that complain about their weight!! So he decided that he no longer wants the pudding in his lunch, and the he wants only half the amount of cookies. Along with his lunch, I now add a bag full of veggies. I love eating raw veggies, and often snack on them during the day. He really likes veggies, but he also really likes something to dip them in. There are many varieties at the store to choose from, but most of them have so many calories and so much fat, that you might as well not even eat the veggies!!
I actually found this recipe a few months ago when I was bringing some veggies to my in-laws for dinner. The picture is actually from that time, with the dip served in a bread bowl with a platter full of veggies. This time around, it wasn't as photogenic in the little single serve containers with a baggie full of veggies! It is really easy to cut back on calories and fat when you are making this yourself – just use low calorie or fat free mayo and sour cream.
I really liked this best the first time I made it – I think that I left out the seasoning salt completely that time, but of course, it was before the blog and I didn't make any notes. I know I used only half the amount called for this time, but I will leave it out completely next time. I also think that this would be even better with fresh dill. I am a big dill lover, so I'm not sure why I didn't plant dill with my other herbs, but the dried dill worked fine.
Now my husband is happy and says that he already feels better. It would be great with any veggies, but our baggies have carrots, broccoli, grape tomatoes, green bell pepper, and celery. Here's to healthy eating!!
Dill Dip
adapted from allrecipes.com
1 cup fat free mayonnaise
1 cup fat free sour cream
1/2 Tablespoon dried parsley
1 1/2 Tablespoons grated onion
2 Tablespoons dried dill
1/2 Tablespoon seasoning salt (I will leave this out completely next time and maybe add just a touch of sea salt)
In a medium bowl, combine all ingredients well. Cover and refrigerate, at least overnight.