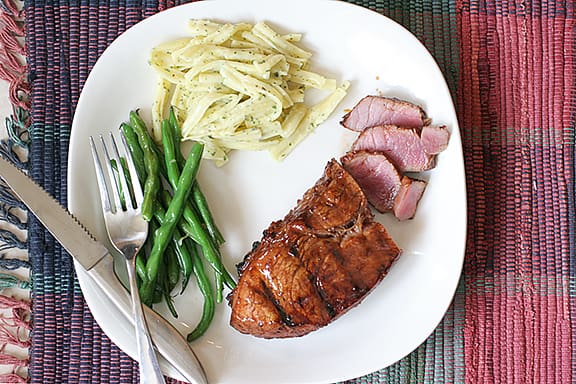 I've said it before, but I'm a steak girl. If we're having a backyard bbq, I'll be more than happy with a good steak. But I've also said before that I'm usually pretty minimal when it comes to my steak. I'll take a steak seasoned simply with salt and pepper over a marinated steak most days. But yet again, here I am trying out a marinade!!
I am glad I tried this out, because it was a pretty perfect marinade. It had just the right amount of sweetness from the honey, and the saltiness from the soy sauce. And of course, I'm always happy when there is garlic involved!! I also love that it says that this marinade would be good on chicken, too – I think that it would be fantastic on chicken!!
Recipe Rating: 8.5 out of 10
Cousin Reggie's Marinade
from The Reluctant Entertainer
1 clove garlic, minced
2 tablespoons ketchup
1 tablespoon balsamic vinegar
1/4 cup soy sauce
1/4 cup honey
Combine all ingredients and pour into a ziptop bag. Add steaks and marinate in refrigerator for 24 to 48 hours. Cook as desired.