Hot and cheesy and totally addictive – this White Cheese Dip is the perfect addition to any pizza night at home!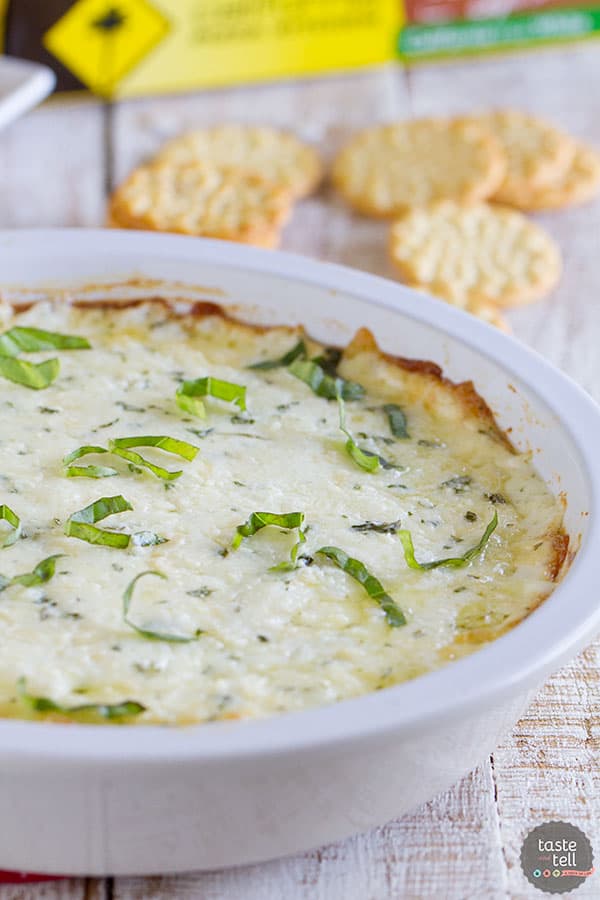 I have 2 friends that are the best kind of friends. We have known each other since college, and there are no pretenses between us. They are the kind of friends that you can have over to your house and not worry about cleaning for an hour before they come. You know they won't judge you – messy house and all. The kind of friends that you can sit together with for hours, and it's still not enough time together.
The older I get, the more I realize how valuable these real, lifelong friends are. I love that they love me for being me, and there is never any judgment or jealousy or fronts put on.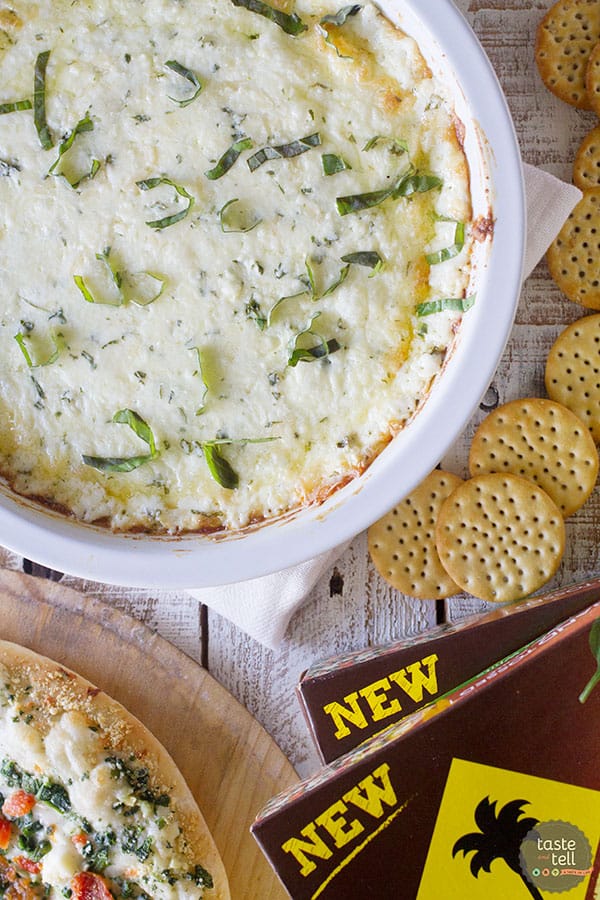 Unfortunately, one of these friends lives hundreds of miles away in California, so I only get to see her once or twice a year. I value those times together and look forward to them all the time. In my ideal world, both of these friends would live on the same street as me so that we could get together for park dates and lunch dates weekly. 🙂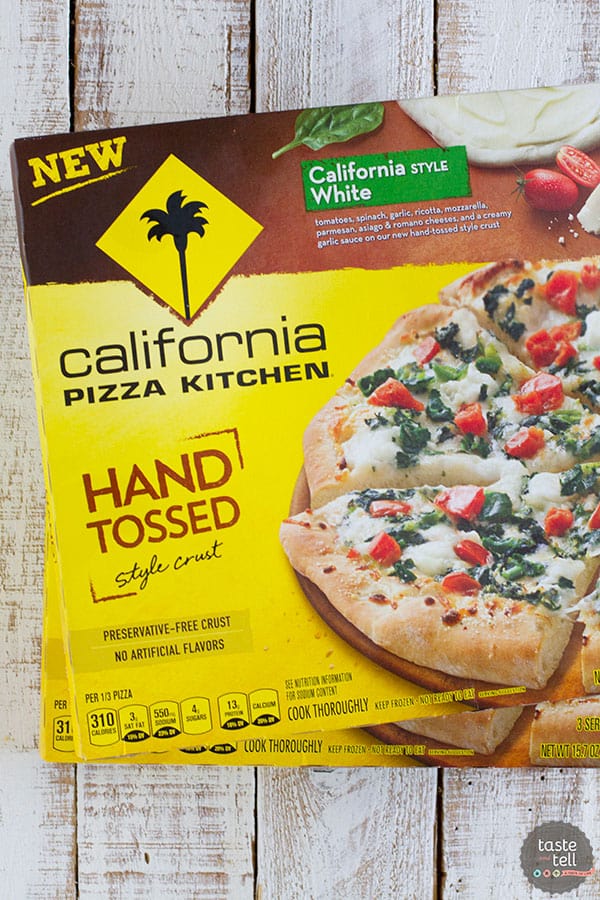 One of my favorite ways to spend time with these girls is over food. (Not a surprise on that one, right?) And because of the kind of friends that we are, I know that the three of us would definitely have the most fun with a casual, at-home meal and lots of conversation.
I was thinking the other day about my idea of the perfect girls night in, and these two friends came to my mind. These two friends, a couple of California Pizza Kitchen's (CPK) Hand-Tossed Style Oven-Ready Pizzas, and a yummy appetizer. That, right there, is a recipe for success.






I already talked about California Pizza Kitchen's new Hand-Tossed Style Pizzas the other day, but I love to keep my freezer stocked with them for a more inspired dinner or lunch idea. I love how fresh the ingredients taste, and how you can get restaurant-inspired flavors at home. This is not your typical frozen pizza!!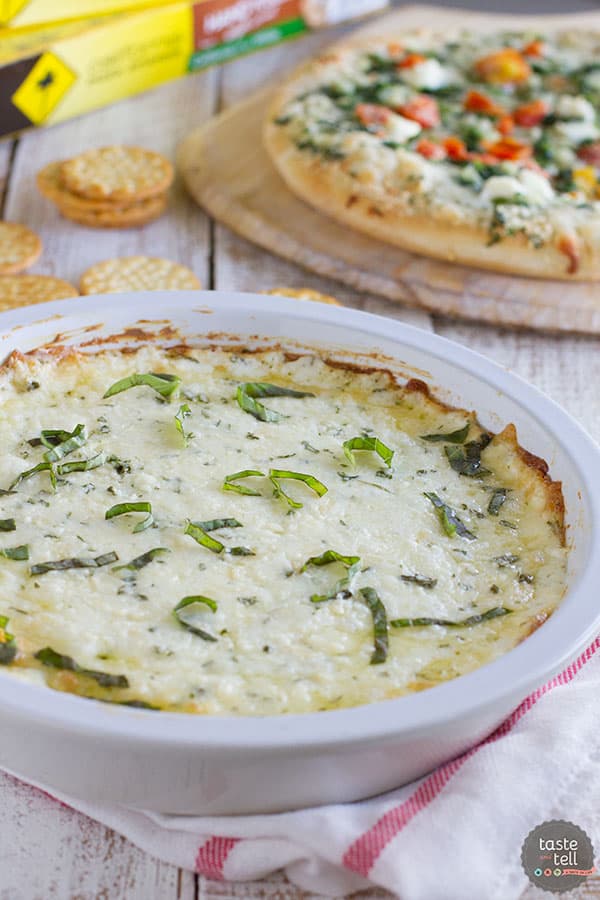 For my girl's night in inspired menu, I decided to make a White Cheese Dip to serve alongside the CPK Hand-Tossed California Style White Pizza. I knew a white cheese dip – lots and lots of cheese with some flavorful herbs – would go perfectly with the tomatoes, garlic, spinach and ricotta that make up the California White Pizza. And did I mention the creamy garlic sauce on the pizza??? I think these two are a match made in heaven!!
I wanted to keep the White Cheese Dip as straightforward as possible, so I stuck with mostly just cheese. I wanted it thick and cheesy and the kind of dip that is melty and stringy when it's hot. There are a few fresh herbs tossed in as well, and I love how they gave the dip a fresh pop of flavor, but didn't overwhelm the dip at all.
So next time you are looking for the perfect menu for your next girl's night in, I've got you covered!!
For even more pairing ideas, or for more information, go to CPKfrozen.com. Or see how CPK's Executive Chef, Brian Sullivan, gets inspired to use premium ingredients to create unique flavor combinations in this video.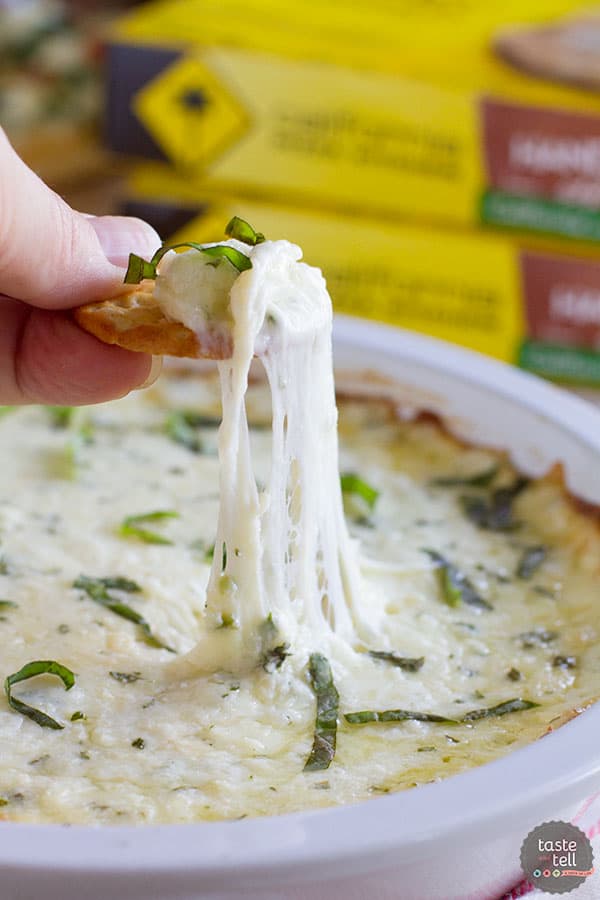 Like what you see here? Make sure you are following Taste and Tell for more recipes and ideas!
Facebook | Pinterest | Instagram | Twitter | Google+ | Weekly Newsletter | Feedly | Bloglovin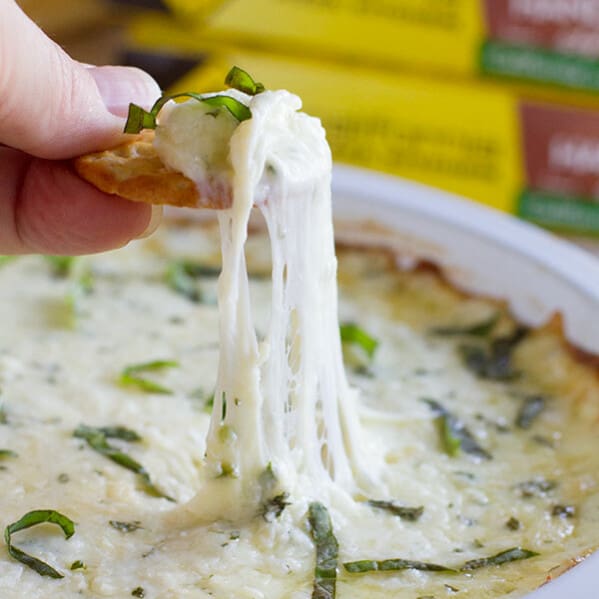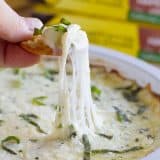 White Cheese Dip
---
Prep Time: 10 mins
Cook Time: 30 mins
Total Time: 40 mins
Yield: 10 servings 1x
Description
Hot and cheesy and totally addictive – this White Cheese Dip is the perfect addition to any pizza night at home!
---
Scale
Ingredients
8 oz cream cheese, softened
8 oz Mozzarella cheese, shredded
8 oz Monterey Jack cheese, shredded
2 oz Parmesan cheese, shredded
1/2 cup lightly packed basil, chopped, plus more for garnish
1 tablespoon fresh thyme, chopped
assorted crackers, for serving
---
Instructions
Preheat the oven to 400ºF. Spray a 9-inch deep dish pie dish with nonstick cooking spray.
In a large bowl, combine the cream cheese, Mozzarella, Monterey Jack, Parmesan, basil and thyme. Mix well. (You may need to use a metal spoon to stir it all together – the mixture will be quite stiff.) Spread evenly into the prepared pie dish.
Bake in the preheated oven until warmed through and melted and bubbly around the edges, 25-30 minutes. Serve hot with crackers.
Don't miss a thing! Follow me on Pinterest to see what I'm pinning!
Visit Taste and Tell's profile on Pinterest.




This post has been sponsored by California Pizza Kitchen Oven-Ready Pizzas. I'm so glad to be able to work with companies and organizations that I truly believe in. Thank you for supporting them, too.