Looking for the best pasta salad recipe? Allison's Best Pasta Salad is a little bit different than your typical pasta salad recipe, and a salad you'll want to make year after year!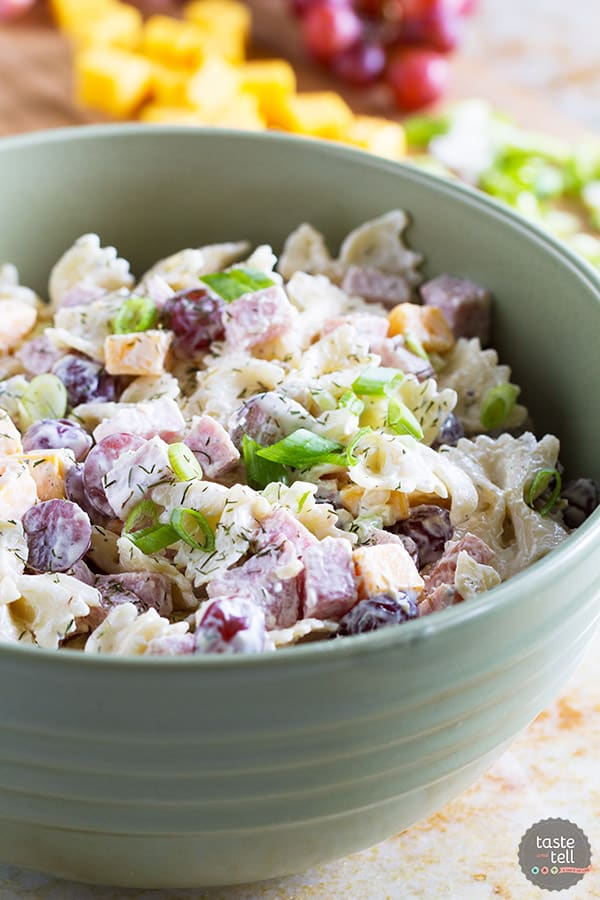 Originally posted August 20, 2009 – Can you believe that Labor Day is right around the corner? It has kind of snuck up on me this year, and I've found myself searching through recipes, trying to decide what to make. And while I know that burgers and kabobs are king, (and don't get me wrong – I'm insanely excited about them, too), you have to have some good side dishes to back up the grill. And this salad is one you need on your table. It has been a family favorite for years. In fact, I just brought this to a family reunion not long ago. Don't let the list of ingredients throw you off. Grapes? In a pasta salad? Just trust me that it all works together so well, and that this will soon become a summer favorite of yours, too.
The original post follows: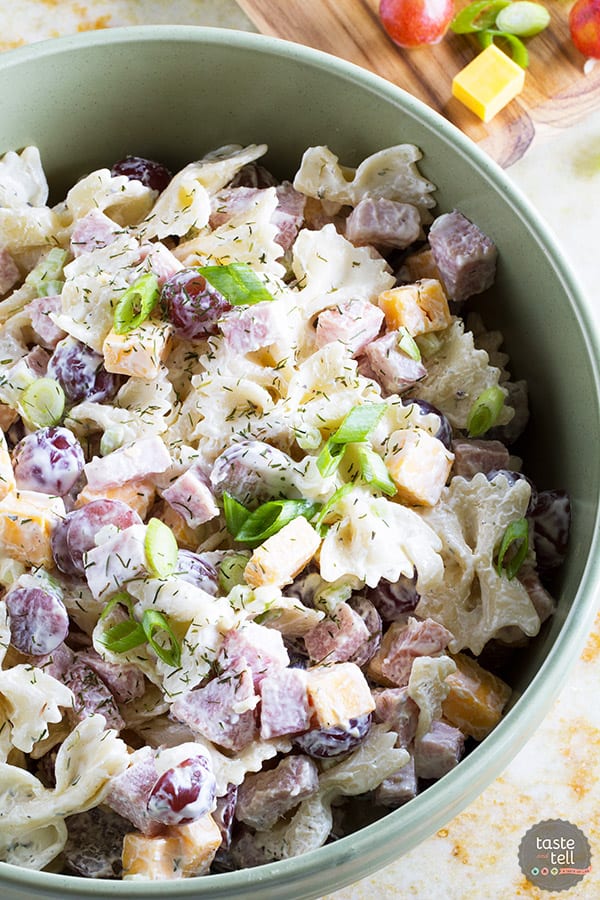 I can't believe I have never blogged about this salad before. I have been making it for years now – and when I make something multiple times, you have to know that I really like it!
This is one of those dishes that you look at the ingredients and wonder how they all work together, but they really do. This salad is so good – take it to an end of summer bbq and people are going to be asking for the recipe! Do make sure you follow the instruction to make at least 6 hours in advance – this is a salad that is much better the second day.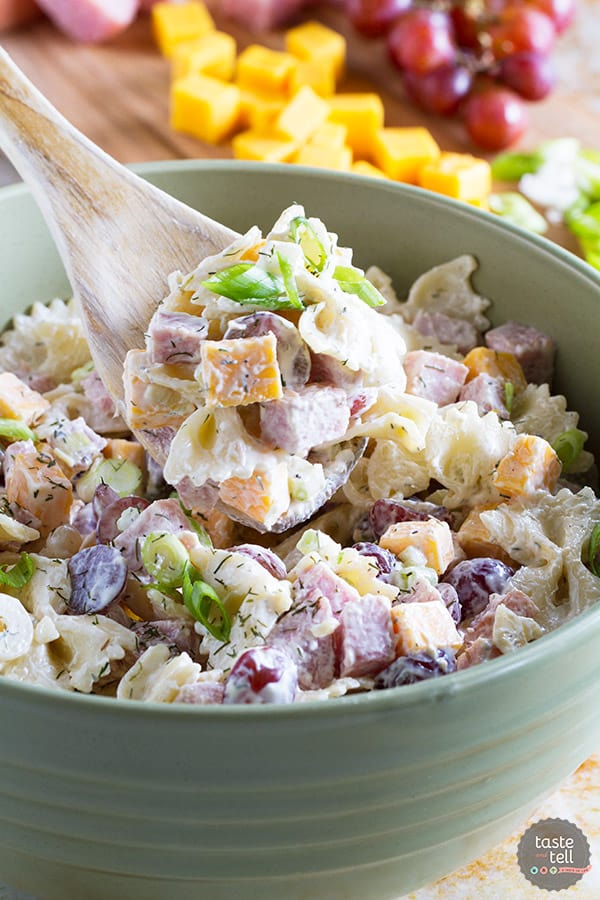 Like what you see here? Make sure you are following Taste and Tell for more recipes and ideas!
Facebook | Pinterest | Instagram | Twitter | Google+ | Weekly Newsletter | Feedly | Bloglovin
\
2 cups dry farfalle (bowtie) pasta
1/2 cup mayonnaise
1/2 cup sour cream
2 tablespoons cider vinegar
1 1/2 tablespoons Dijon mustard
1 teaspoon granulated sugar
1/2 teaspoon ground black pepper
1/4 teaspoon dried dill
1/4 teaspoon salt
2 cups diced, cooked ham
1 1/2 cups red grapes, halved
6 oz sharp cheddar cheese, cubed
1/2 cup sliced green onions
Instructions
Bring a large pot of water to a boil, then salt generously. Cook the pasta until al dente. Drain and reserve.
In a small bowl, stir together the mayonnaise, sour cream, cider vinegar, mustard, sugar, pepper, dill and salt.
In a large bowl, combine the drained pasta, ham, grapes, cheese and green onions. Pour the dressing over the top and stir to coat. Cover and chill for at least 6 hours, preferably overnight.