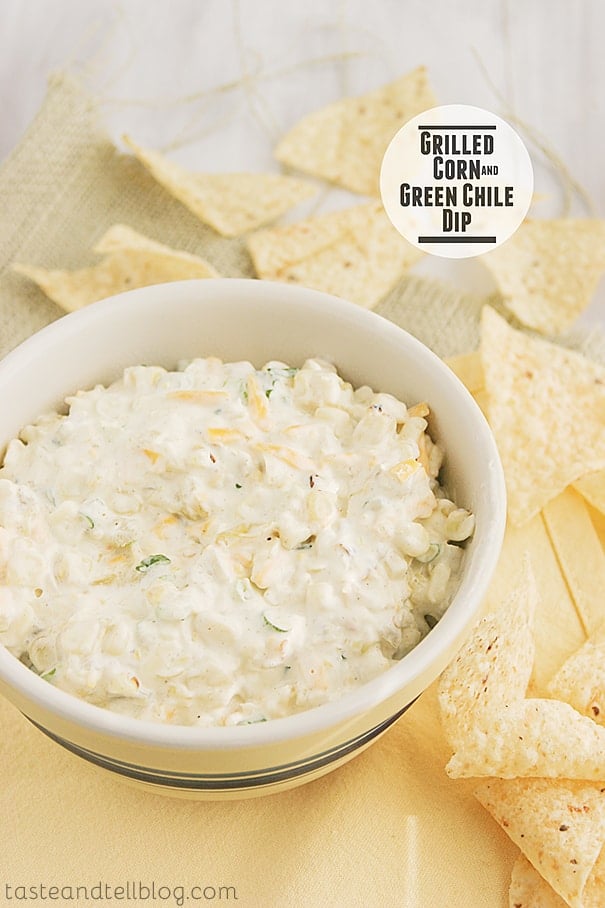 This isn't just a story about a dip.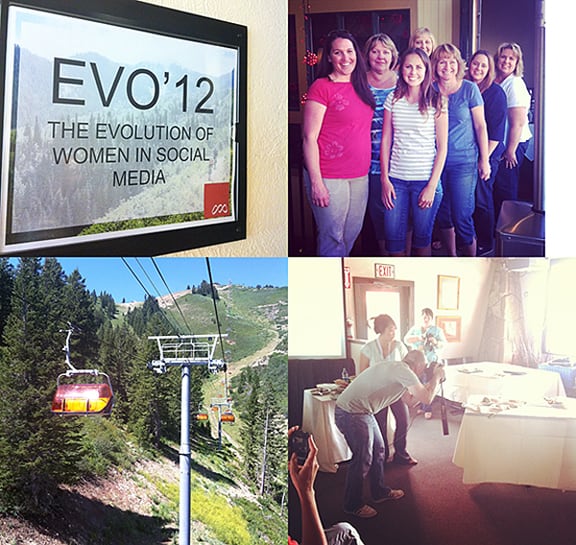 It's a story about people.  About ways they can change your life.  Your views.  Your outlook.  The way you see yourself.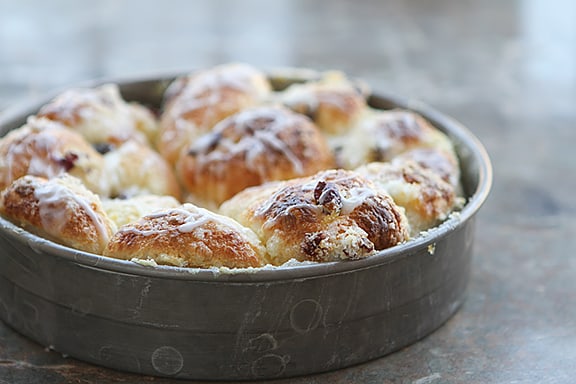 (Slight detour – you NEED this recipe.  The lovely Barbara from Barbara Bakes planned out our breakfast and made these amazing Citrus Cream Cheese Pull Apart Rolls.  They were so good, and I'm still thinking about them weeks later!)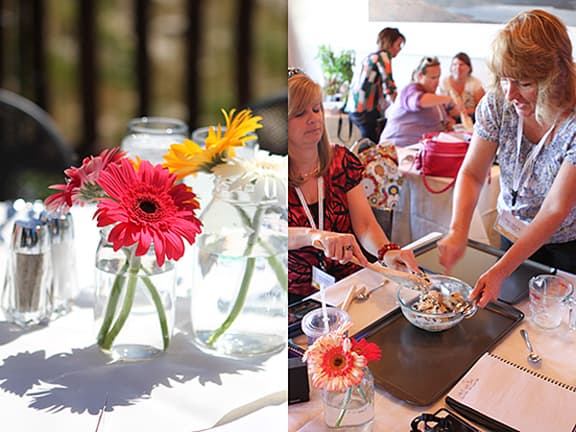 It's a story about how a friend extending an invitation can introduce you to new friends – and how staying in a room with both people you know and people you have just met isn't all that strange.




It's a story about connecting with friends, both old and new.  And about learning how generous people really are.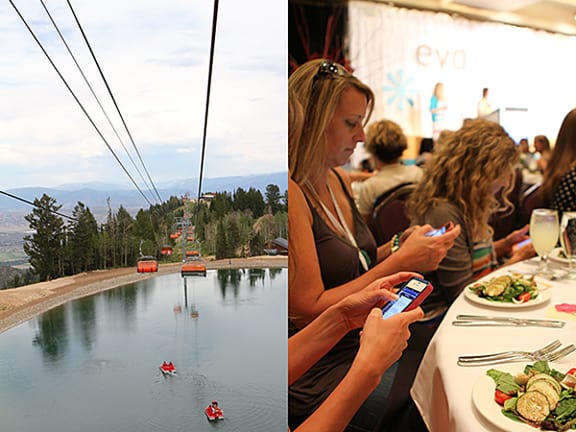 It's about the faces behind the blogs, the screens, the phones – and how real these people are.  And how wonderful they are.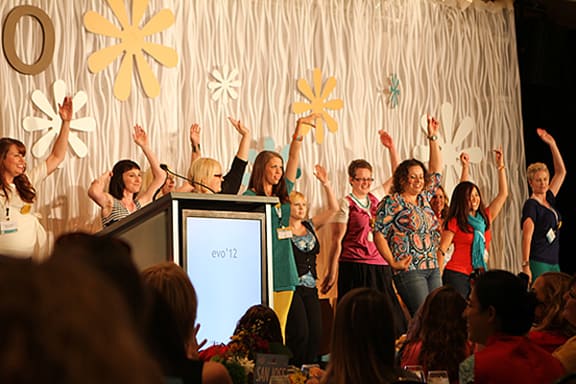 It's about how a flash mob can inspire you and how simple words and photos can make you feel more human, and can make you start crying because it hits home – straight to the heart.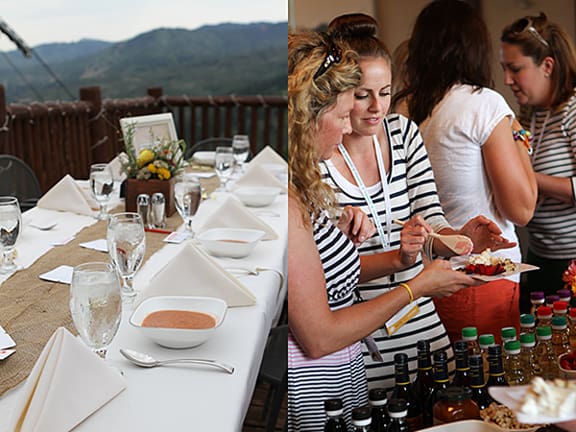 A few weeks ago, I attended my first blogging conference.  I wasn't even going to write about it here, because let's face it – 90% of you aren't bloggers and really could care less about who I met or what I did.  But I learned some pretty important lessons.  Lessons that went way beyond the blog and straight into real life.  Lessons that I think everyone needs, whether you are a mother, blogger, professional, or just someone trying to get by.
I went to this conference, hoping to make some connections and to learn ways to make my blog and my business better.  And while I did make some connections, and I did learn a few things, the biggest thing I took away was that we are all in the same boat.  No matter our circumstances, no one's life is perfect.  We are all just trying to get through each day the best way we know how.  Some of us are trying to raise our children to be good people.  Some of us are trying to make a difference in the world.  And some of us are trying to just find a way to get through each day.  But all of us – no matter the circumstances that surround our lives – just want to be good people.  We want to be successful.  We want to be loved.
I had a couple of really good conversations with a couple of different people.  We were talking "blog", but I don't think they realized just how deep these conversations ran with me.  I don't talk about it a whole lot on here, but life has been equally crazy and hard lately.  The last few years have been quite trying on my family.  And right now, this blog means everything to me.  It is what is keeping a roof over our heads.  I work tirelessly trying to make my place here online better day by day.  But sometimes – ok, a lot of the time – I get down on myself.  I'm really bad about comparing myself to others and start to feel like I am going nowhere.  That I'm not good enough.  That I'll never be like those other bloggers.
But these conversations – with a few girls that will forever be close to my heart now – snapped me out of the funk that I was in.  I realized that I'm not the only one feeling this way.  And that comparing myself does nothing but bring me down.  I realized why I do this – and who I do this for.  I don't do this so that I can fit in with the most popular bloggers.  I do this because I love to connect to my readers.  I love to inspire people to get into the kitchen.  I love to make your life as a mother, a woman (or a father or man) easier.
Here I am in my mid 30s, now realizing that being myself is ok.  That it is more than ok.  We are all just people – trying to make the best of our lives.  There is no reason to waste time trying to "fit in".  Be who you are.  If you are a blogger – make sure you are the person offline that you are online.  And reach out and help someone.  You may never know how much you have to offer.  I learned more from the conversations I had with other bloggers at this conference than I did in all of the classes I went to.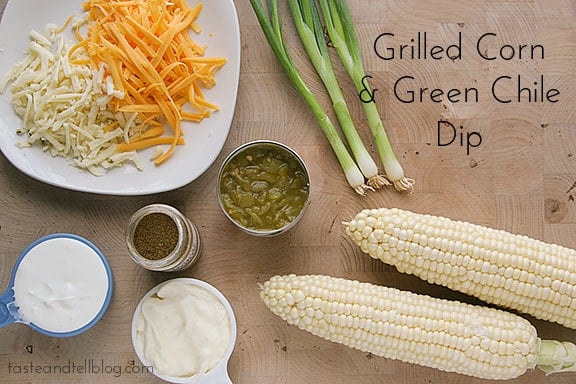 And then there was dip.  If you stuck with me through all of that, your reward is this recipe.  And it is a definite reward.  Last week, I attended a little impromtu bbq.  I wanted to bring something, and I saw a version of this dip forever ago that I had been wanting to try.  What better time that when you can share it with friends?  This was absolutely everything I was hoping it would be.  And I'm pretty sure it was a hit at the bbq as well.  I went home with only about 2 tablespoons left – that I promptly ate up the minute I walked in my door that night.  I have been totally into grilling corn this summer, and I'm always into green chiles.  Stick it all into a dip – I knew I couldn't go wrong!!
Grilled Corn and Green Chile Dip
---
Prep Time: 10 minutes
Cook Time: 10 minutes
Total Time: 20 minutes
Yield: about 3 cups 1x
Description
Grilled corn, green chile and cheese make up the base of this Southern inspired dip.
---
Scale
Ingredients
2 ears fresh corn
1 (4 oz) can chopped green chiles
1/2 cup mayonnaise
1/2 cup sour cream
1/2 cup shredded cheddar cheese
1/2 cup shredded pepper jack cheese
salt
3 green onions, sliced
1/4 teaspoon cumin
---
Instructions
Heat a grill to medium. Shuck and grill until charred. Let cool and then cut kernels off the cob.
In a medium bowl, combine the corn and remaining ingredients. Refrigerate until ready to serve.
Serve with tortilla chips and/or potato chips.