American Lasagna – A delicious lasagna recipe made with ground beef and sausage, with a little bit of brown sugar to give it something special.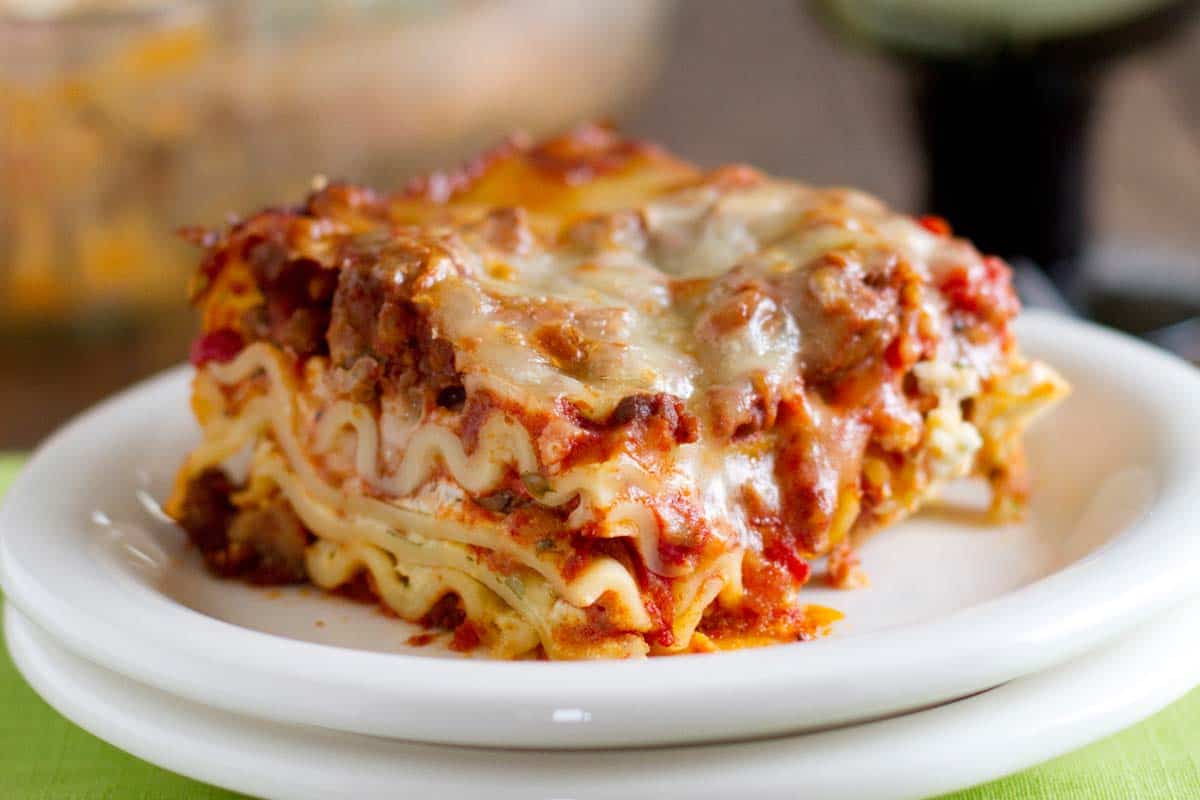 This is my all-time favorite lasagna recipe. (At least until I find the next best one!!) This is one I've actually been making for years – one of those Tried and True recipes. It's another one of those Allrecipes gems that one member of my family discovered years ago, and now all of us make it.
And I actually made it last year. Yes, ladies and gentlemen – last year. You know, you start a little food blog one day, thinking that you'll just post everything for yourself to remind you of what you made. And then you start visiting lots of other food blogs, and then people start to visit yours. Before you know it, you are trying your hardest to make your pictures look appetizing, and if they don't, you just keep skipping right over them. Thank goodness I started Bad Photo Sundays – because I'd hate to not share this recipe!!
This is definitely not a traditional lasagna – hence the name American Lasagna – but it is oh, so delicious! I think the secret ingredient is the brown sugar. It doesn't make the lasagna sweet, but it brings something extra to it that I haven't had from any other lasagna. The other secret to this lasagna is that you want to make it the night before – up to the baking step – refrigerate it, and then bake it the next day. I've tried it both ways (waiting overnight and cooking the night of) and having it sit overnight really does make a huge difference. And I do what normally do in recipes like this – I do part ground beef and part sausage to add some extra flavor instead of just ground beef.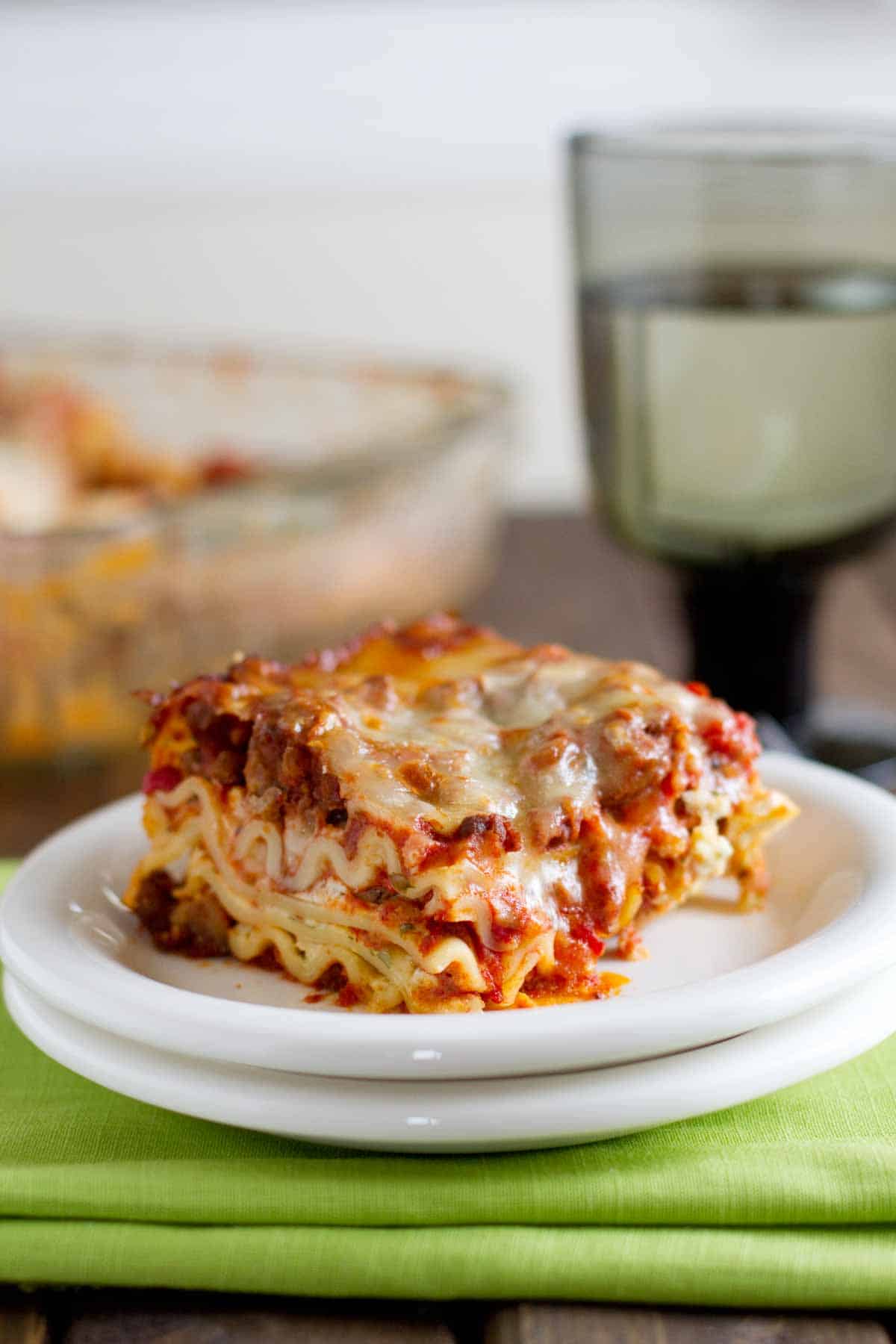 More Lasagna Recipes
Chicken Lasagna with Green Chile and Cheese
Skillet Lasagna
Spaghetti Lasagna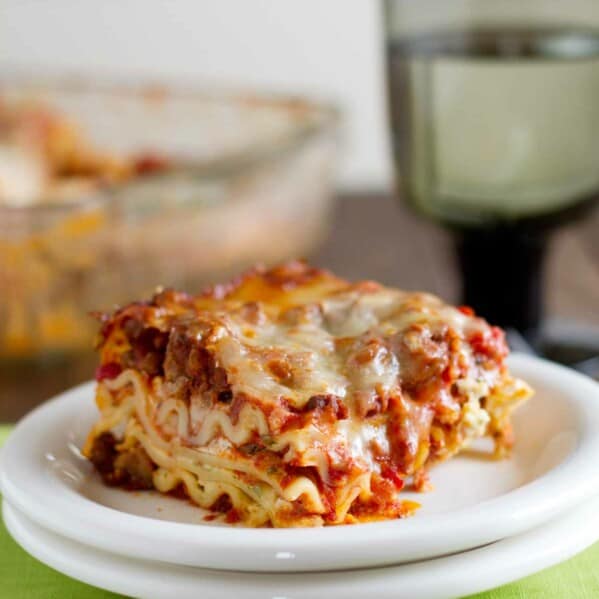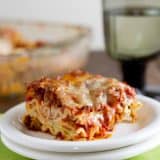 American Lasagna
---
Author:
Prep Time: 20 minutes
Cook Time: 1 hour 45 minutes
Total Time: 2 hours 15 minutes
Yield: 12 servings 1x
Category: Main Dish
Method: Baked
Cuisine: American
Description
American Lasagna – A delicious lasagna recipe made with ground beef and sausage, with a little bit of brown sugar to give it something special.
---
Scale
Ingredients
1 pound lean ground beef
1/2 pound mild Italian sausage
1 onion, chopped
2 cloves garlic, minced
1 tablespoon chopped fresh basil or 1 teaspoon dried basil
1 teaspoon dried oregano
2 tablespoons brown sugar
1 1/2 teaspoons salt
1 (29 ounce) can diced tomatoes
2 (6 ounce) cans tomato paste
12 dry lasagna noodles
2 eggs, beaten
1 pint part-skim ricotta cheese
1/2 cup grated Parmesan cheese
2 tablespoons dried parsley
1 teaspoon salt
1 pound mozzarella cheese, shredded
2 tablespoons grated Parmesan cheese, plus more for sprinkling on the top
---
Instructions
In a skillet over medium heat, brown ground beef, sausage, onion and garlic; drain fat. Mix in basil, oregano, brown sugar, 1 1/2 teaspoons salt, diced tomatoes and tomato paste. Simmer for 30 to 45 minutes, stirring occasionally.
Preheat oven to 375F. Bring a large pot of lightly salted water to a boil. Add lasagna noodles, and cook until al dente. Drain the noodles and lay flat on paper towels to dry.
In a medium bowl, mix together eggs, ricotta, Parmesan cheese, parsley and 1 teaspoon salt.
Spread a small amount of the sauce in the bottom of a 9×13-inch baking dish. Layer 1/3 of the lasagna noodles in the bottom of the dish. Cover noodles with 1/2 ricotta mixture, 1/3 of the mozzarella cheese and 1/3 of the sauce. Repeat. Top with remaining noodles and sauce, then the remaining mozzarella. Sprinkle additional Parmesan cheese over the top. Bake in the preheated oven 45-60 minutes. Let stand 10 minutes before serving.
If making the day before, refrigerate after assembling the lasagna, before baking it. Add an additional 15 minutes to the cook time.