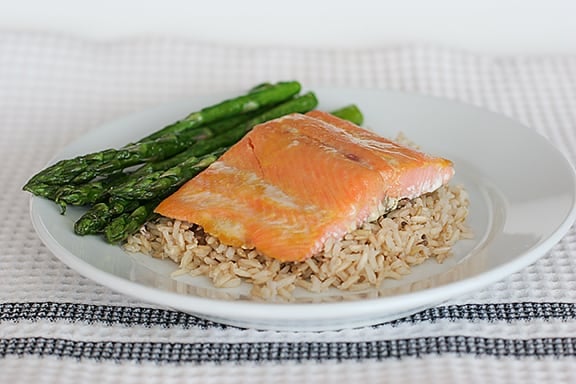 I mentioned a few posts ago that I bought some salmon that I was less than impressed with.  The bad news is that I still didn't love this salmon, but the good news is that I loved this recipe!!!  Talk about a simple recipe!!  And I'm sure this would have been stellar if the salmon was better quality.  Just goes to show that you get what you pay for!!
I did love the salmon, but I've decided that unless there is a sauce of some sort, I'm not one to eat just plain rice.  I felt healthy, but I didn't necessarily love the rice part of this.  I ate the salmon right up, though!
Recipe Rating:  7.5 out of 10
Honey-Mustard Salmon
From The $5 Dinner Mom Cookbook
Serves 4
Total time: about 1 hour
3 tablespoons honey
3 tablespoons prepared yellow mustard
4 frozen salmon fillets (4 to 6 ounces each), thawed
1 cup brown rice
1 pound asparagus
2 tablespoons extra virgin olive oil
In a small bowl, whisk together the honey and mustard until well blended.
Place the thawed salmon fillets in a 9×13-inch baking dish. Pour the honey mustard sauce over the salmon. Let marinate for at least 30 minutes in the refrigerator.
In a medium saucepan, bring 2 ½ cups of water to a boil, add the brown rice, and bring back to a boil. Reduce the heat, cover, and simmer for 40 to 50 minutes. Fluff the rice with a fork before serving.
Preheat the oven to 350F. Bake the salmon for 10 to 15 minutes, or until the fillets flake easily. The cooking time may vary depending on the thickness of the fillets.
In a skillet, sauté the asparagus in the olive oil for 5 to 6 minutes, stirring ever other minute. The asparagus will be crisp-tender and turn bright green when it is ready to serve. Remove the asparagus from the heat immediately to prevent overcooking.
Serve the Honey-Mustard Salmon with Brown Rice and Sautéed Asparagus.