Panko crusted fish is fried and served sandwich style with a homemade Wasabi Tartar Sauce.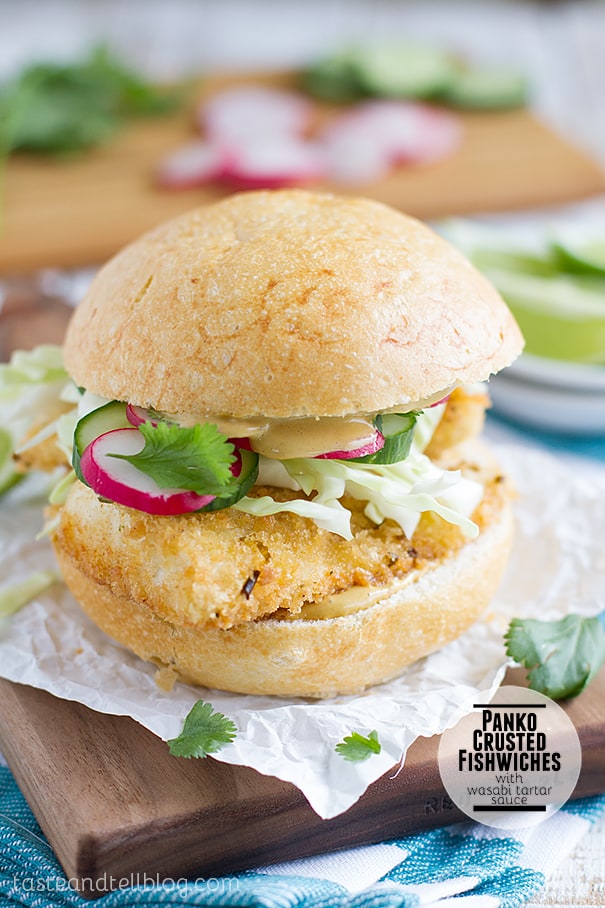 You would think that having 2 toddlers that love to be held would give me the strongest arms ever. Seriously – those boys love to be held and carried. Sometimes at the same time. That's got to count for more than a few reps with a 10 pound weight, right??
Well, the other day, I was watching an episode of The Rachael Ray Show, and Jacques Pepin was on and he demonstrated how to make mayonnaise from scratch. He whipped that up like it was no big deal. Just him and a bowl and a whisk.
So when I was looking for a recipe to make for today, and I came across this recipe that uses a homemade mayonnaise as the base for the sauce, I just had to try it.

I got out the ingredients. Put them in a bowl. Got out my whisk. As I streamed in the oil, I started whisking. And whisking. And whisking. And then my forearm started cramping up. I stopped and took a break for a few seconds, then tried again.
Man – I'm a wimp.
I couldn't do it. I guess all of that time holding my boys just didn't pay off for when it comes to making mayonnaise. And I'm pretty sure that chefs must have the strongest forearms ever, because Jacques Pepin, who is 78 years old, made that mayonnaise in no time at all, and made it look so easy!!
I ended up throwing it into the Twister Jar on my Blendtec, and it was thick and beautiful in seconds. But regardless of if you choose to make it by hand or in a blender, it was very cool and fun to make it from scratch!!
I didn't have any grapeseed oil, and didn't want to buy it just for this recipe, so I substituted in olive oil. I definitely wouldn't use olive oil again because it was a bit too strong in flavor. I would choose a more neutral flavored oil if you don't have grapeseed oil on hand.
I also cut each fish filet into 2 pieces, and served each sandwich with the 2 pieces, simply because it fit better on my buns that way. If you want to keep your fish whole, I would suggest buying a longer sub-style bun.
This is the perfect sandwich night recipe. Crispy fish, a delicious homemade sauce and crunchy vegetables – what else do you need?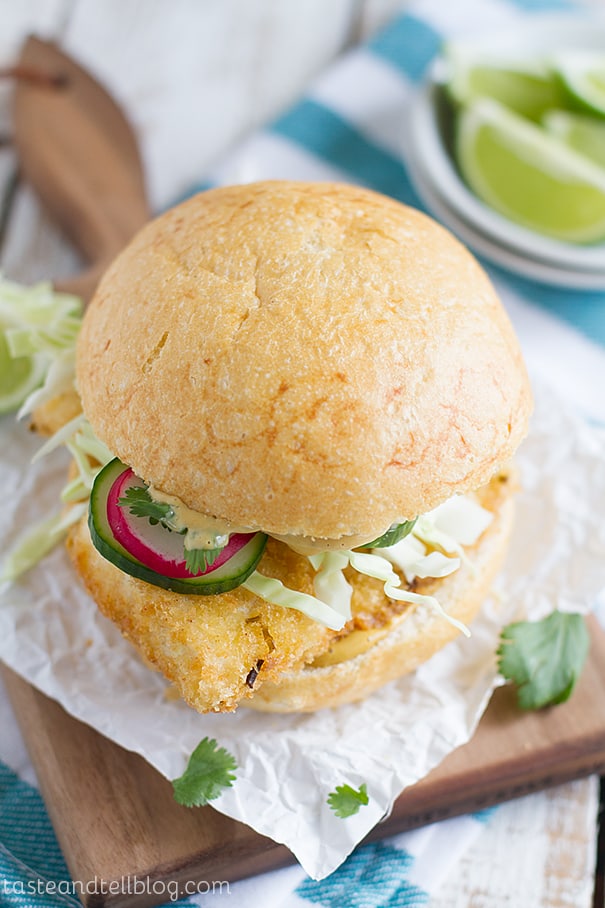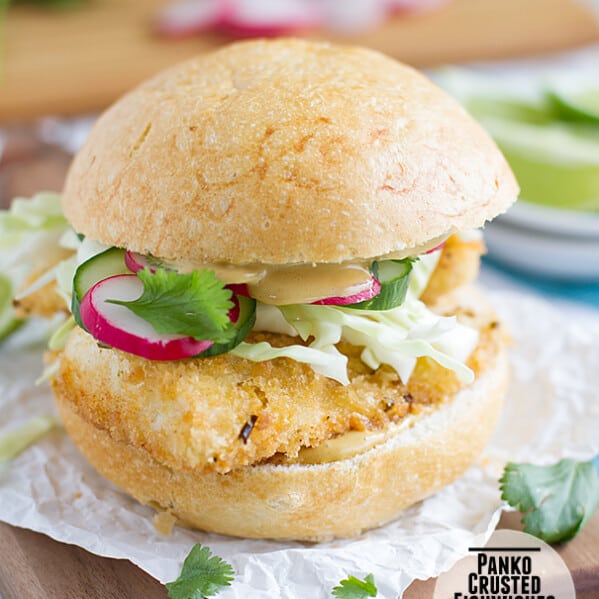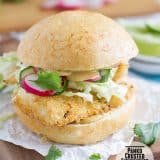 Panko Crusted Fishwiches with Wasabi Tartar Sauce
---
Prep Time: 20 minutes
Cook Time: 10 minutes
Total Time: 30 minutes
Yield: 4 servings 1x
Description
Panko crusted fish is fried and served sandwich style with a homemade Wasabi Tartar Sauce.
---
Scale
Ingredients
Wasabi Tartar Sauce
2 egg yolks
1 tablespoon lemon juice
2 teaspoons rice vinegar
1 tablespoon dijon mustard
1/2 – 2/3 cup grapeseed oil, or other neutral flavored oil
salt
2 tablespoons tamari (dark soy sauce)
1 teaspoon lime juice
1 teaspoon wasabi paste, or to taste
2 tablespoons sweet pickle relish
Fishwiches
4 (6 oz) firm white fish, such as tilapia or pollock
salt, pepper and Old Bay seasoning
1/2 cup superfine flour (like Wondra) or all-purpose flour
2 eggs
1 1/2 cups panko breadcrumbs
3 tablespoons chopped chives
1 teaspoon ground ginger
1 teaspoon garlic powder
vegetable oil, for frying
lime wedges
sliced cucumbers, sliced radishes, shredded cabbage and cilantro, for serving
4 firm buns
---
Instructions
In a large bowl, whisk together the egg yolks, lemon juice, vinegar and mustard. Whisk in the oil in a steady stream until emulsified and thick. Season to taste with salt. (Alternately, use a blender or a food processor.) Stir in the tamari, lime juice, wasabi and relish.
Season the fish with salt, pepper and Old Bay. Place the flour in a shallow dish. In another shallow dish, lightly whisk the eggs with a splash of water. In a third shallow dish, combine the panko with the chives, ginger and garlic. Coat the fish in the flour, then dip in the eggs, then coat with the panko.
Heat about 1/4-inch of oil in a large skillet over medium-high heat. Fry the fish until golden, about 3 minutes per side. Transfer to a paper towel lined plate and squeeze fresh lime over the fish.
To serve, cut the buns in half. Spread the Wasabi Tarter Sauce on inside of the top and the bottom of each but. Place the fish on the bottom bun and top with sliced cucumbers, sliced radishes, shredded cabbage and cilantro. Top with the top half of the bun and serve.
Recipe Notes:
*You can substitute in 1 cup of mayonnaise for the egg yolks through the oil.
*I cut my pieces of fish into 2 pieces to fit on the bun better. If preferred, you can use a longer sub roll.
slightly adapted from Every Day with Rachael Ray June 2013
Other Sandwich Favorites:
Flat Iron Steak Sammies with Provolone Sauce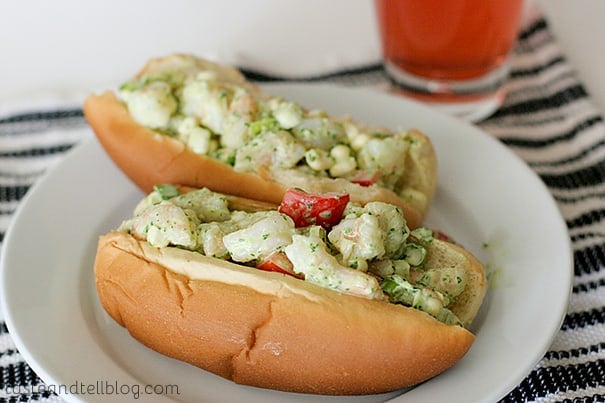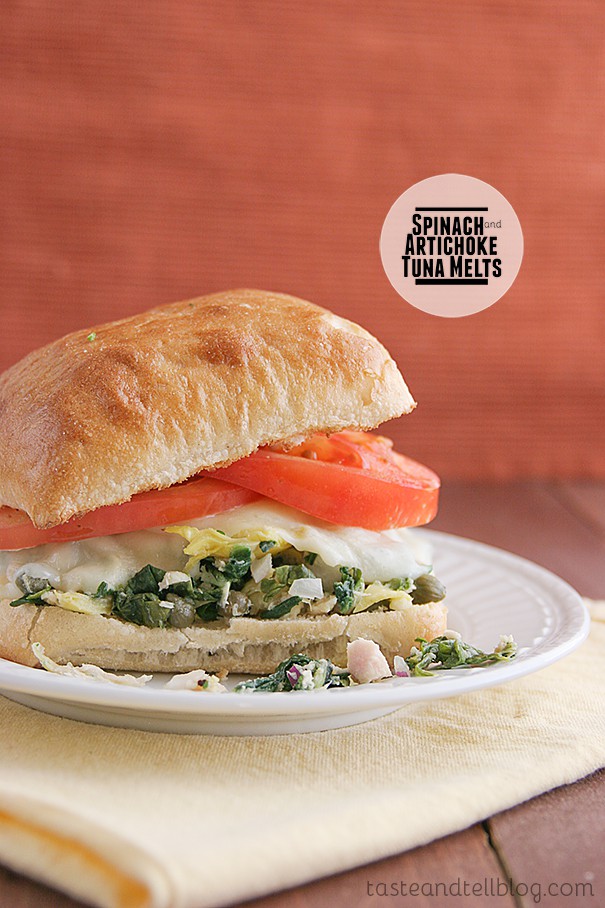 Spinach and Artichoke Tuna Melts
Around the Web:
Chicken Parmesan Panini on What's Gaby Cooking
Cuban Sandwich on The Hungry Housewife
Guacamole Chicken Torta Sandwiches on Favorite Family Recipes