Lots of spices bring a zing to these Blackened Salmon Tostadas, while a creamy and zesty sour cream and avocado sauce cools them down. The perfect 20 minute dinner solution!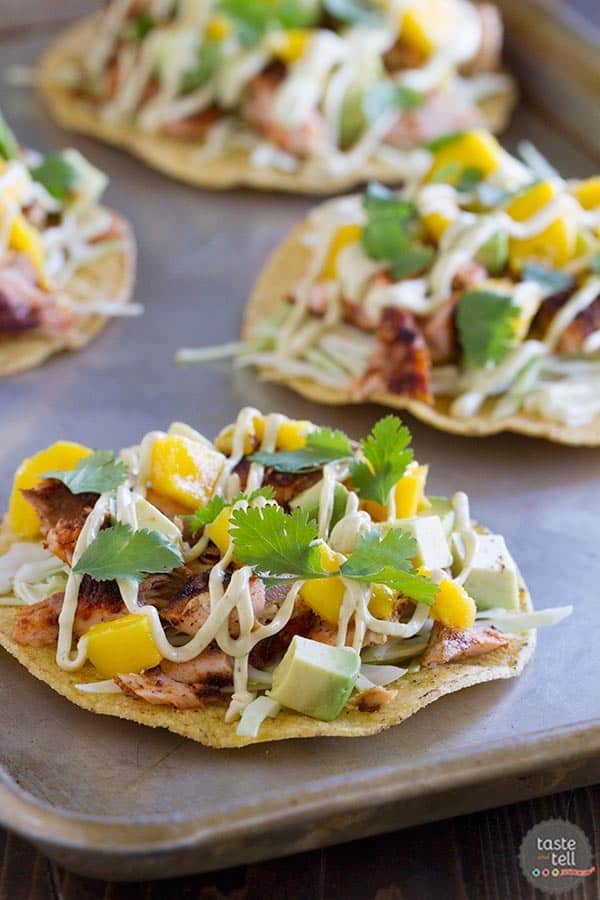 I think that spice toleration is learned. And something that you can definitely lose.
I grew up in New Mexico, so spicy was pretty normal. It wasn't like everything was spicy, but I remember eating spicy foods all through my childhood, so it was a pretty regular thing.
I remember when I first moved away from home to Utah. I was at the grocery store, and saw extra mild salsa on the store shelf. I think I literally laughed out loud – it seemed that absurd to me. Who in their right mind would want to buy extra mild salsa?

I quickly learned that a lot of people didn't have any kind of tolerance for the heat. But my love continued.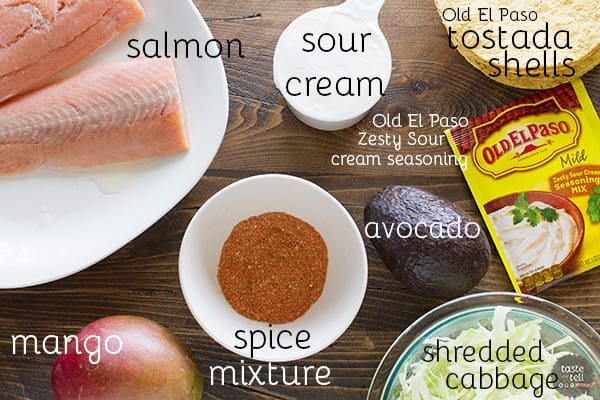 And then I met my husband. Let's just say, in those first years, he was definitely the type that would have bought that extra mild salsa. He mostly would just steer clear of anything with any kind of heat to it. He was a mild man, though and through.
When we would eat out, I would have my chance to eat something spicy, but when I was cooking at home, I started leaving the heat out. Because really, it's not as much fun to eat your dinner when your spouse won't touch it because it's too spicy. So over the years, I think my tastebuds forgot how to handle that heat, because when I did have the chance to eat something spicy, things seemed hotter and I started to not handle the spice as well.
My husband is slowly getting over his hatred of all things spicy (yay!!), but it's still not his favorite. But I have been craving that heat like crazy lately. And since I don't always want to wait to order something spicy when we go out, I've started making things for lunch that curb that spicy craving.






These Blackened Salmon Tostadas came about from fulfilling that craving for lunch one day. This is the perfect lunch or dinner because it can be ready in under 20 minutes, and that's a necessity when it comes to lunch at home. And dinner in 20 minutes? Yes!
These couldn't be simpler, either. All of the spices from the spice mix for the salmon came straight from my pantry. It may seem like a lot of spices that you are putting on your fish, but believe me – this is what gives the whole meal so much flavor. I love fish because of how quickly it cooks, and the salmon pairs up very nicely with the spice mixture.
There is quite a bit of heat in the fish, but feel free to cut back on the cayenne if you want it a little more mild. But the thing I love about this recipe is that you have other components that balance out the heat. You have a creamy zesty avocado and sour cream sauce, using the same spice mix from Old El Paso that I used for the Creamy Quesadilla Recipe I made not long ago. Not only do you have the sauce, but you have additional cubed avocado, plus the sweetness from the diced mango that helps to tone down the spiciness. Pile it all on top of an Old El Paso Tostada shell, and you have one recipe that is filled with flavor!
Sweet and spicy – I could get used to this lunch every day!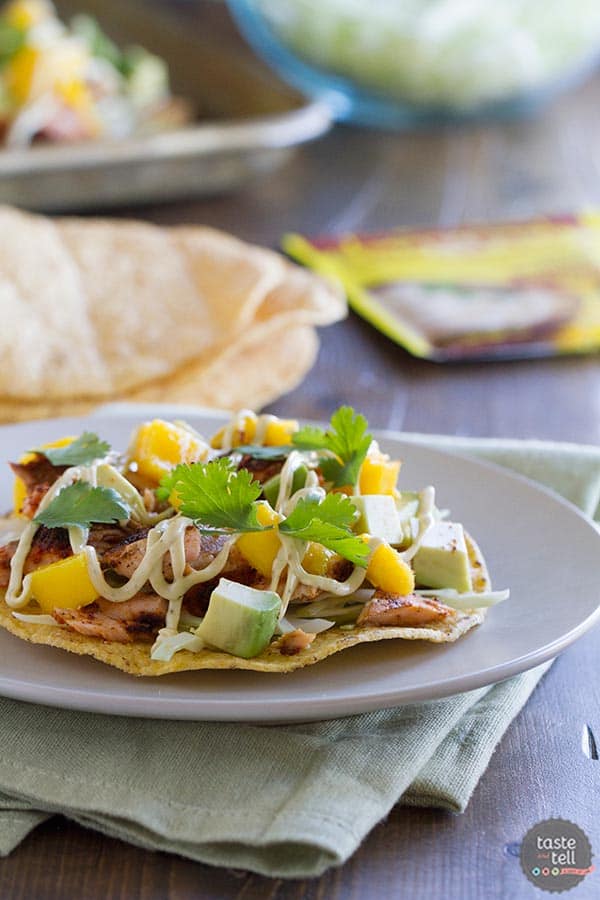 Like what you see here? Make sure you are following Taste and Tell for more great recipes and ideas!!

Facebook ** Pinterest ** Twitter ** Instagram ** Google+
or you can subscribe to my newsletter or Feedly or Bloglovin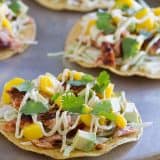 Blackened Salmon Tostadas
---
Author:
Prep Time: 10 mins
Cook Time: 8 mins
Total Time: 18 mins
Yield: 4 servings 1x
Description
Lots of spices bring a zing to these Blackened Salmon Tostadas, while a creamy and zesty sour cream and avocado sauce cools them down. The perfect 20 minute dinner solution!
---
Scale
Ingredients
1 cup sour cream
1 (1 oz) package Old El Paso Zesty Sour Cream Seasoning Mix
1 avocado, halved and diced
1 tablespoon paprika
1 teaspoon cayenne pepper
1 teaspoon onion powder
1 teaspoon garlic powder
1 teaspoon salt
1/2 teaspoon black pepper
1/8 teaspoon dried thyme
1/8 teaspoon dried basil
1/8 teaspoon dried oregano
2 salmon filets (about 6 oz each)
1 tablespoon butter, melted
shredded cabbage
diced mango
cilantro
---
Instructions
Combine the sour cream, sour cream seasoning and half of the avocado in a blender and pulse until the avocado is completely broken down and the sauce is smooth. Set aside.
In a small bowl, combine the paprika, cayenne pepper, onion powder, garlic powder, salt, pepper, thyme, basil and oregano.
Heat a cast iron pan over medium-high heat. Baste one side of the salmon filets with half of the butter, then sprinkle half of the seasoning mix over the top side of the fish. Press in gently with your hands to make sure the seasoning adheres to the fish. Transfer the fish to the hot pan, seasoned side down. Once the salmon is in the pan, brush the remaining butter on the fish and sprinkle with the remaining seasoning.
Cook the fish until it pulls away from the pan easily on the first side, 3-5 minutes. Flip the fish and cook on the second side for an additional 2-3 minutes. Remove the salmon to a plate or cutting board and flake with a fork.
To assemble, place some shredded cabbage on the bottom of each of the tostada shells. Top each with 1/4 of the salmon, then top with the remaining 1/2 avocado, mango and cilantro.
Recipe Notes:
*This recipe makes more sour cream sauce than you will need – use the extra for a chip dip!
*Other firm fish can be substituted, such as tilapia or halibut.
Products Featured in this Post
[asa_collection ttell]Blackened_Salmon_Tostadas[/asa_collection]
I am in a working relationship with Old El Paso, and this post has been sponsored. I'm so glad to be able to work with companies and organizations that I truly believe in. Thank you for supporting them, too. This post contains affiliate links. If you purchase an item from Amazon from the link Taste and Tell receives a small commission. Thank you for supporting Taste and Tell through your purchases!