This Salmon with Mango and Roasted Red Pepper is a restaurant worthy dinner, minus the hefty price tag! Filled with lots of sweet and savory flavor, this is a 30 minute dinner you'll come back to over and over again.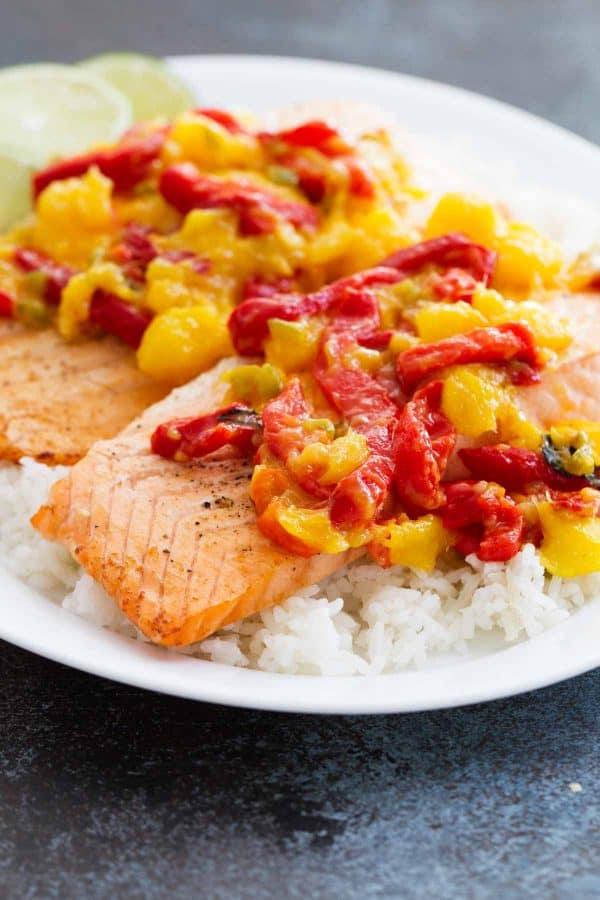 Originally posted February 28, 2008: I have been working behind the scenes on some things lately, and one of the biggest perks of this task is going back to read so many of my old posts. I've been doing this for so long that I nearly have 2,500 posts here on Taste and Tell. Along with being taken down memory lane, I'm also reminded of so many meals that I have had before, only to get swallowed up in the archives. I've started a list of all of the older posts where I want to go in and make the recipes again. This Salmon with Mango and Roasted Red Pepper was a good example of one of those recipes I couldn't wait to try again. I'm so glad that I rediscovered this recipe, because it really is a winner.
The original post follows: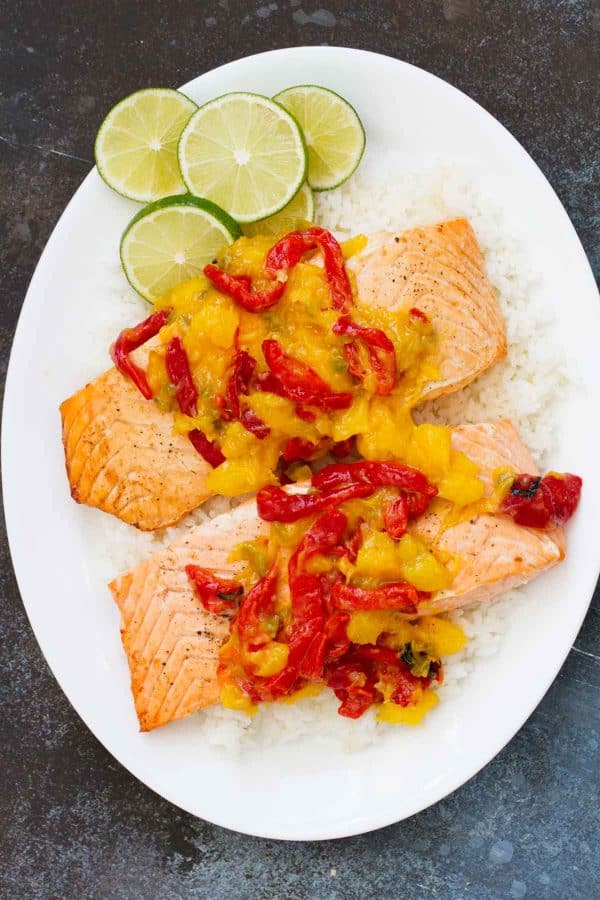 I will often bring a cookbook with me to work for if I have some extra time. One of my co-workers noticed, and a few months back she told me that I should check the local thrift store because they have a lot of cookbooks. I was all over that, so one afternoon, I headed down. I'll have to admit – although there were quite a few cookbooks, they were all pretty dated, and many of them were fad diet cookbooks. After searching through the books, I did end up with a couple that I was very excited about. There was a copy of The Joy of Cooking, and I'm ashamed to admit that I didn't own it before I found it here. It was a steal for $3.00. The only other cookbook I walked away with was the 1993 Cooking Light Cookbook. If you are a reader of my blog, you will know that I am a Cooking Light fan. From reading through the recipes in this book, it's evident that the recipes are 16 years old. Cooking Light has evolved as much has been learned about nutrition, so these recipes are not necessarily "nutritious" or "healthy" as we think of today. There is a lot of margarine used in this book!! But with a few changes, these recipes can be made a little healthier.
When we feel like eating a light, healthy dinner, we often turn to fish. I had chosen out this recipe for Mahimahi with Papaya and Roasted Red Pepper. Since I have never seen a papaya here, I decided to replace it with mango. And I had both salmon and mahimahi in the freezer, so I did both kinds. The salmon was definitely our favorite. The Mahimahi was good, but the salmon version of this was DELICIOUS! And this Salmon with Mango and Roasted Red Pepper is so simple, it can easily be thrown together at the last minute, which I'm always a fan of!!
What kind of fish should you use?
This original recipe called for mahimahi, but we preferred the salmon over the mahimahi. Mahimahi is a pretty neutral fish, so it definitely works well. You could really use any mild fish – like cod or tilapia. But I am a big salmon fan, and I love the extra flavor you get.
What to serve with Salmon with Mango and Roasted Red Pepper:
Sesame Green Beans
Tomato and Herb Salad
Tropical Fruit Salad Recipe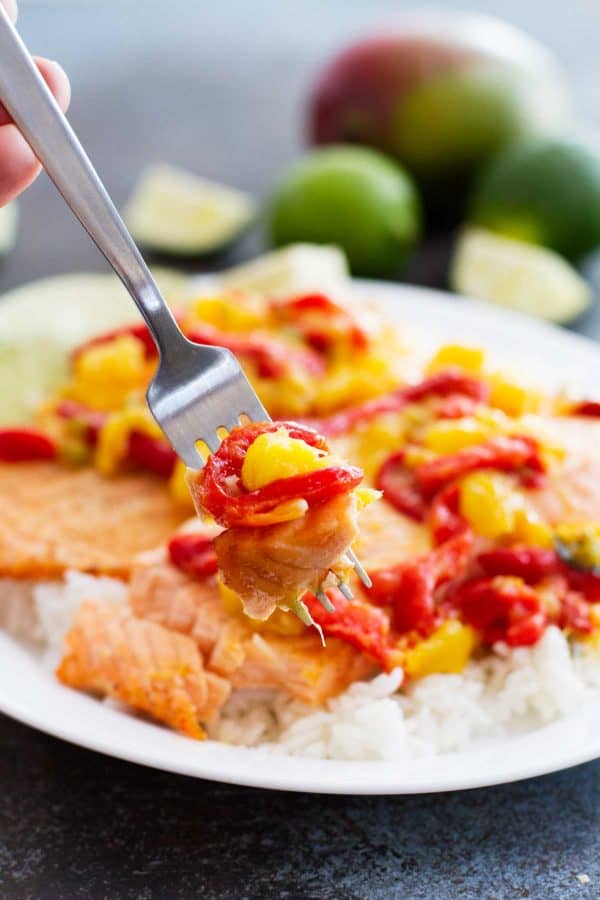 More fish favorites:
Soy Ginger Salmon
Lemon Herb Fish with Crispy Oven Fries
Parmesan Crusted Tilapia
Like what you see here? Make sure you are following Taste and Tell for more great recipes and ideas!!

Facebook ** Pinterest ** Twitter ** Instagram ** Google+
or you can subscribe to my newsletter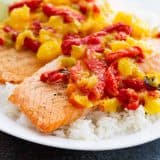 Salmon with Mango and Roasted Red Pepper
---
Author:
Prep Time: 10 mins
Cook Time: 20 mins
Total Time: 30 minutes
Yield: 4 servings 1x
Category: Main Dish
Description
This Salmon with Mango and Roasted Red Pepper is a restaurant worthy dinner, minus the hefty price tag! Filled with lots of sweet and savory flavor, this is a 30 minute dinner you'll come back to over and over again.
---
Scale
Ingredients
1 teaspoon cornstarch
1 tablespoon water
2 tablespoons unsalted butter, divided
1 tablespoon finely chopped onion
1 (7-oz) jar roasted red peppers, drained and cut into strips
1 cup peeled, chopped fresh mango
1 teaspoon minced jalapeno pepper
3 tablespoons fresh lime juice, divided
4 (4-oz) salmon filets
Salt and pepper
---
Instructions
Preheat the oven to broil. Line a baking sheet with a piece of foil and spray with nonstick cooking spray.
In a small bowl, whisk together the cornstarch and water. Set aside.
Melt 1 tablespoon of the butter in a large skillet over medium-high heat. Add the onion and cook until fragrant, about 1 minute. Add the roasted red peppers, mango, and jalapeño; cook, stirring, for another 2 minutes. Add the cornstarch mixture along with 2 tablespoons of the lime juice. Cook until thickened, stirring constantly. Remove from the heat and keep warm.
Melt the remaining tablespoon of butter in a small bowl. Add the remaining tablespoon of lime juice to the butter.
Place the salmon filets on the prepared foil-lined baking sheet. Season with salt and pepper. Brush half of the butter/lime juice mixture on the salmon. Broil for 5 minutes, then flip the fish over and brush the remaining butter mixture on the salmon. Continue to broil, an additional 5-7 minutes, until the fish is cooked through and flakes easily.
Serve the salmon topped with the mango and roasted red pepper sauce.
Nutrition
Calories: 301
Sugar: 8 g
Sodium: 625 mg
Fat: 15 g
Saturated Fat: 4 g
Unsaturated Fat: 2 g
Trans Fat: 0
Carbohydrates: 12 g
Fiber: 2 g
Protein: 29 g