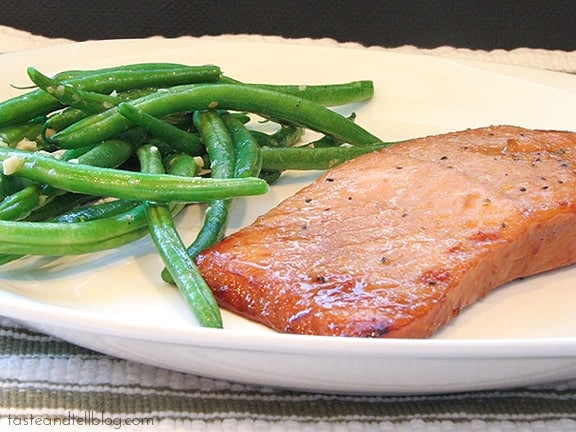 This is my all time favorite go-to salmon recipe. Whenever I crave salmon, this is what I crave. When I go to a restaurant and order salmon, I am always disappointed because it doesn't taste like this. The only bad thing about this recipe is that I think it is really the best when you marinate it 24 hours. So, if I ever have a craving hit me, I can't just go home and make this. I think that if you do not have the 24 hours to marinate, it would be good to take the leftover marinade and cook it donw on the stove as a sauce to serve on the fish. If you marinate for 24 hours, though, believe me – nothing else is needed. This is one of the very few recipes that I have that I make over and over again. I decided to add a side dish of fresh green beans. I have had this recipe saved for a long time, but have never tried it until last night. I was afraid that there wouldn't be a ton of flavor to them, so I added garlic. A LOT of garlic! I halved the recipe, but added about 3 cloves of garlic chopped fine. At first I was afraid that the garlic would overpower the sesame seeds, and I think I was right. If I make these again, I would still add that amount of garlic, but I would double the sesame seeds as well. In fact, even if I didn't add the garlic, I would double the amount of sesame seeds. This was the perfect dinner, though. After I ate, I felt very satisfied, but not stuffed. Perfect for a hot evening.
Soy Ginger Salmon
from Allreicpes.com

INGREDIENTS

1 pound salmon fillets

1/3 cup brown sugar, divided

2 teaspoons lemon pepper, divided

1 teaspoon garlic powder, divided

1/3 cup low sodium soy sauce

1 tablespoon olive oil

1 (1 inch) piece fresh ginger root, minced

1/3 cup orange juice
DIRECTIONS
Rub salmon with about 1 tablespoon brown sugar. Lightly sprinkle with lemon pepper and garlic powder; rub seasoning into fish.

Into a small saucepan set over medium heat, pour soy sauce and olive oil. Stir in ginger and remaining brown sugar, lemon pepper, and garlic powder. Bring to a gentle simmer, stirring constantly until sugar has dissolved. Remove from heat, stir in orange juice.

Place fish and marinade into a resealable plastic bag, seal, and refrigerate overnight, or for at least 3 hours.

Preheat broiler. Place fish in a foil-lined baking pan. Reserve marinade.

Broil fish skin-side up, 2 minutes. Remove from oven, pull skin off with tongs. Baste with marinade, return to oven, and broil 2 minutes more. Turn fish, and broil until fish flakes easily, about 4 minutes. Remove from oven, and let sit 5 minutes before serving.
Sesame Green Beans Adapted from Allrecipes.com
INGREDIENTS
1 tablespoon olive oil

1 tablespoon sesame seeds

1 pound fresh green beans

3-4 garlic cloves, chopped


1/4 cup chicken broth

1/4 teaspoon salt

freshly ground black pepper to taste
DIRECTIONS
Heat oil in a large skillet or wok over medium heat. Add sesame seeds and garlic. When seeds start to darken, stir in green beans. Cook, stirring, until the beans turn bright green.

Pour in chicken broth, salt and pepper. Cover and cook until beans are tender-crisp, about 10 minutes. Uncover and cook until liquid evaporates.
Others who have made this recipe: