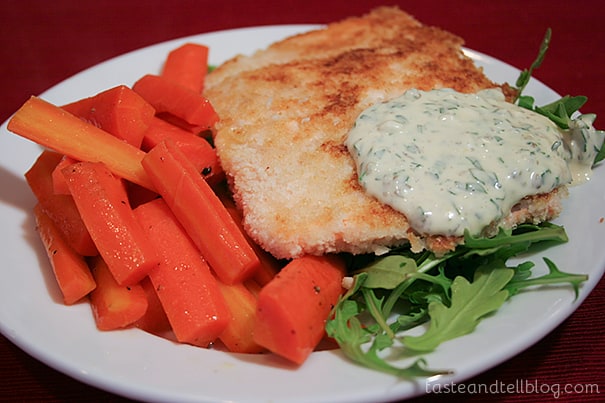 I have been so excited for Spring. Longer days, warm weather, afternoon walks. Well, welcome to Utah, where it is snowing once again today. I am so over the snow and the cold weather – I want flowers and vegetable gardens and Sunday picnics. When is it going to happen??
I mention the weather because this meal takes me back to before the time change when I couldn't get decent lighting for a picture. I'm so grateful that there is daylight until long after dinner these days so my pictures don't look so drab!
A protein coated in panko – this is definitely not a new concept on this blog. I've done it with pork and with fish. I was actually surprised to go back in my blog and discover that I haven't done panko with chicken! So really, this fish dish was nothing new to me – I knew it would be something that I would like, which is probably why I chose to make it!! But these carrots – oh, these carrots – are so delicious. I never imagined that I would rave about carrots, but I really loved these. I wish they were a little bit healthier, and I'd eat them every day. And they are so simple, which reminds me that some of the best recipes are the simplest ones.
If you are a carrot fan – and probably even if you aren't a carrot fan – this will become your new favorite side dish!!
Pan-Fried Salmon with Remoulade
adapted from Cooking Light December 2008
Makes 2 servings
Sauce
1 tablespoon chopped fresh parsley
2 tablespoons reduced-fat mayonnaise
1 teaspoon chopped capers
1 teaspoon whole-grain Dijon mustard
1/2 teaspoon minced fresh garlic
1/2 teaspoon fresh lemon juice
Fish
1/4 cup all-purpose flour
1/2 cup panko (Japanese breadcrumbs)
1 large egg white, lightly beaten
2 (6-ounce) skinless salmon fillets
1/4 teaspoon salt
1/4 teaspoon garlic powder
1 tablespoon canola oil
2 lemon wedges
To prepare sauce, combine the first 6 ingredients.
Place flour in a shallow dish. Place panko in another shallow dish. Place egg white in another shallow dish.
Sprinkle fish evenly with salt and garlic powder. Working with 1 fillet at a time, dredge fish in flour, shaking off excess. Dip fish into egg white, allowing excess to drip off. Coat fish completely with panko, pressing lightly. Set aside. Repeat procedure with remaining fish, flour, egg white, and panko.
Heat a large nonstick skillet over medium-high heat. Add oil to pan, swirling to coat. Add fish to pan; reduce heat to medium, and cook 4 minutes on each side or until browned and fish flakes easily when tested with a fork or until desired degree of doneness. Serve with sauce and lemon wedges.
Glazed Carrots
from Everyday Food: Great Food Fast
Serves 4
9 carrots (1 1/2 pounds), quartered and cut into 2-inch lengths
1 tablespoon sugar
2 tablespoons butter
1/2 teaspoon coarse salt
freshly ground pepper
In a skillet, bring carrots, sugar, 1/2 cup water, butter, and salt to boil. Reduce heat; simmer, partly covered, 6 minutes.
Cook uncovered, over high, tossing often until tender, 3 to 4 minutes. Season with pepper.