Sweet Corn Ice Cream is made with fresh corn and then served with a salted caramel sauce for a perfect homemade summer ice cream.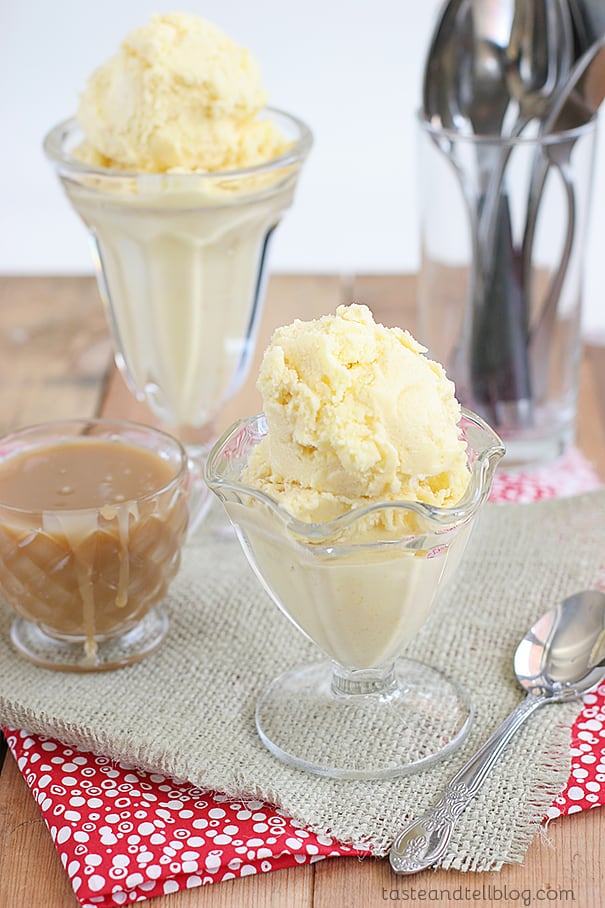 What is the strangest flavor of ice cream you've ever had?  Are you a plain chocolate or vanilla person, or do you look for something a little bit different??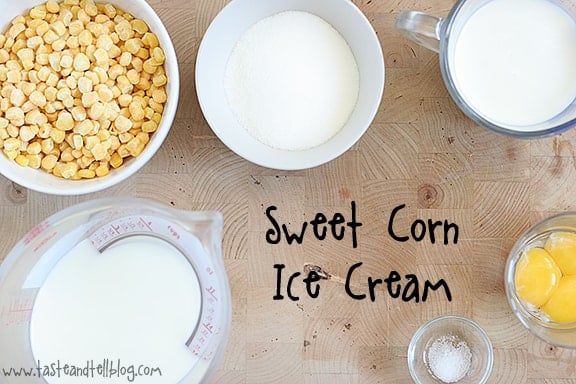 At the beginning of the summer, I was flipping through my copy of Every Day with Rachael Ray magazine.  And there I saw something that I wanted.  Right then.  Caramel Corn Ice Pops.  I had never had sweet corn ice cream, but these ice pops made from sweet corn ice cream with a caramel center just called out to me.  And so I made them. And I had some issues.  They didn't work out completely for me, but I still loved the idea.  I mean, who doesn't love caramel corn?  Sure, corn isn't your typical ice cream flavor, but it's naturally sweet, so it's only natural that it would make a good ice cream.  The good thing about those failed ice pops is that I knew that I loved the flavors, I just had to figure out how to make it work for me.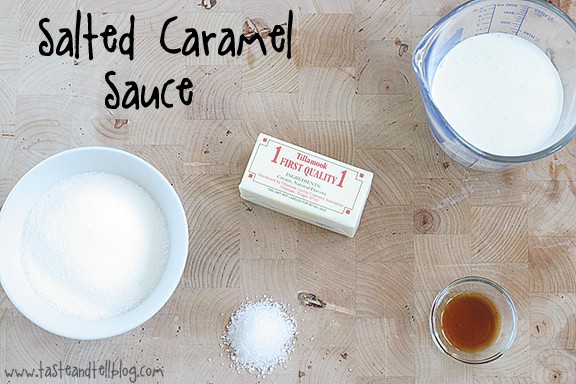 And thankfully, this recipe did work for me!!  It wasn't as creamy as I was hoping for, but YUM.  The sweet corn ice cream on it's own was delicious, but add in the salted caramel sauce and it was completely divine.  I was hoping for beautiful ribbons of caramel that showed through in the ice cream, but my caramel was still too warm when I incorporated it, so make sure  you make the caramel  sauce plenty of time ahead of the ice cream! And really, if you served this ice cream to someone that didn't know there was corn in it, they probably wouldn't be able to put their finger on the flavor.  But once you know it's there, there is definitely a distinctive corn flavor.  I loved every bite of it! Move over, plain vanilla ice cream  – there is a new favorite in town!!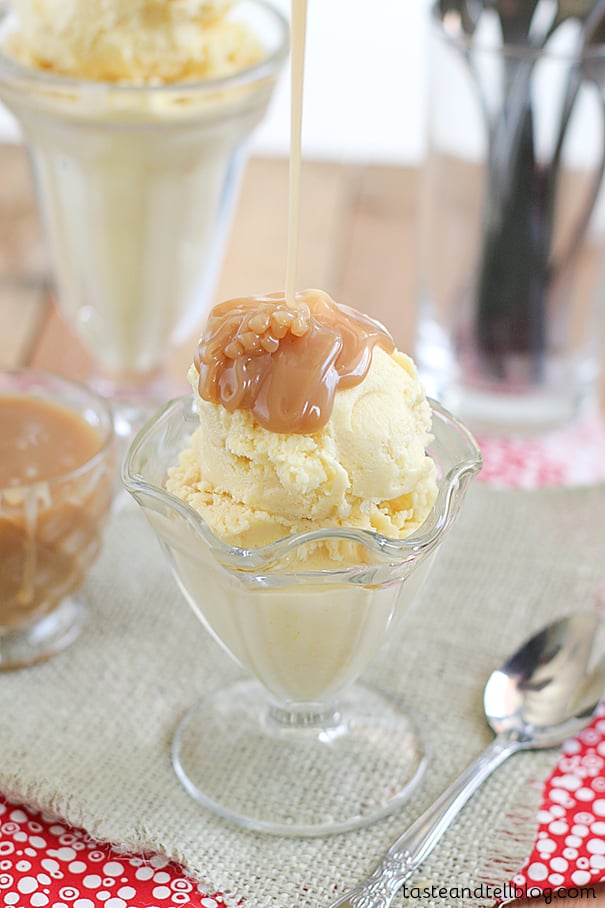 Like what you see here? Make sure you are following Taste and Tell for more great recipes and ideas!!

Facebook ** Pinterest ** Twitter ** Instagram ** Google+
or you can subscribe to my newsletter or Feedly or Bloglovin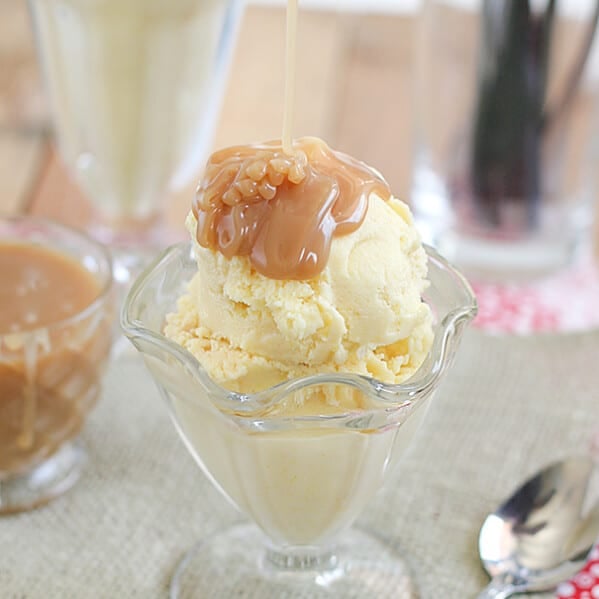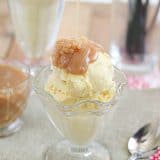 Sweet Corn Ice Cream with Salted Caramel Sauce
---
Prep Time: 20 minutes
Cook Time: 40 minutes
Total Time: 1 hour
Yield: 1 quart 1x
Description
Sweet Corn Ice Cream is made with fresh corn and then served with a salted caramel sauce for a perfect homemade summer ice cream.
---
Scale
Ingredients
For the ice cream:
2 cups corn kernels
1 cup half-and-half
2 cups milk
2/3 cup sugar
dash of salt
3 large egg yolks
For the salted caramel sauce:
6 tablespoons butter
3/4 cup sugar
1 cup heavy cream
1/2 teaspoon vanilla extract
1 1/4 teaspoons coarse salt
---
Instructions
Combine the corn and the half-and-half in a food processor and process until smooth. Pour through a sieve over a large bowl, reserving liquid and discarding the solids. Add the 2 cups of milk, the sugar, the salt and the egg yolks. Whisk all the ingredients together and pour into a large saucepan.
Cook the mixture over medium heat until thick, but do not boil, stirring constantly, about 20 minutes. Remove from heat. Let cool for about 20 minutes, then cover and transfer to the fridge to completely cool down, preferably overnight.
Meanwhile, make the caramel: Melt the butter in a large saucepan. Stir in the sugar and cook, stirring frequently, until the sugar is deep golden brown and starts to smoke.
Remove from the heat and whisk in half of the cream. (Be careful, because the mixture will splatter.) Stir in the rest of the cream, the vanilla and the salt. If there are any lumps in the caramel, return to the heat over low and whisk until they are dissolved. Let cool to room temperature. (If making the caramel the night before churning the ice cream, store the caramel in the refrigerator, but bring back to room temperature before adding to the ice cream.)
Once the custard is completely chilled, place in an ice cream maker and freeze according to the manufacturer's instructions. Once done, stir in about 1 cup of the caramel sauce and place the ice cream in the freezer to finish freezing.
Serve with the remaining salted caramel sauce.
I'm not the only one who likes Corn Ice Cream!
Sweet Corn and Raspberry Swirl Ice Cream from Culinary Concoctions by Peabody
Buttered Popcorn Ice Cream from Clockwork Lemon
Sweet Summer Corn with Salted Butter Cookies from Peanut Butter and Julie