I am sick.
Again.
This is so crazy, because normally, I'm one of those people who never gets sick. And here I am again, the second time in the last couple months.
So forgive me for keeping it short and sweet today. I wasn't originally going to post these today, but I already had the recipe typed up and the pictures edited, so it's what you are going to get. But don't worry – you won't be sorry that I had to post these today. Because they are good. I was feeling uninspired a couple weeks ago, which led me to flipping through a family cookbook. I ran across these babies that my mom had submitted, and knew I wanted to make them. I made only a few changes, but we would totally eat these again. In fact, my curry hating husband was probably the saddest when it was gone. And if that doesn't convert you, I don't know what will!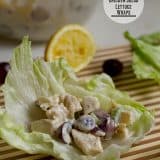 Hawaiian Chicken Salad Lettuce Wraps
---
Prep Time: 15 minutes
Total Time: 15 minutes
Yield: 4-6 servings 1x
Description
A great way to change up your chicken salad!
---
Scale
Ingredients
1/2 cup mayonnaise
1/2 cup plain Greek yogurt
1 teaspoon curry powder
1 tablespoon lemon juice
1 1/4 cups cooked chicken, cubed or shredded
1 cup chopped celery
1 1/2 cups chopped red grapes
1 cup chopped pineapple chunks
1/2 cup slivered almonds
1/4 cup shredded sweetened coconut
lettuce leaves, for serving
---
Instructions
In a large bowl, combine the mayonnaise, yogurt, curry powder and lemon juice.
Add in the chicken, celery, grapes, pineapple, almonds and coconut. Stir to combine.
Serve on whole lettuce leaves.