Tangy, creamy and full of green chile flavor, this Creamy Hatch Green Chile Dip is a must when fresh Hatch green chiles are in season. Grab the tortilla chips and start dipping!
You can take a girl out of New Mexico, but you can't take the New Mexico out of the girl….
I guess there is some truth to that statement. It's been a long time since I lived in New Mexico. In fact, now, I've officially lived away from New Mexico for longer than I lived there. And even though my family has migrated north alongside me, I will always look at New Mexico as home. The place I grew up.
Which is probably why one of my favorite things ever are green chiles.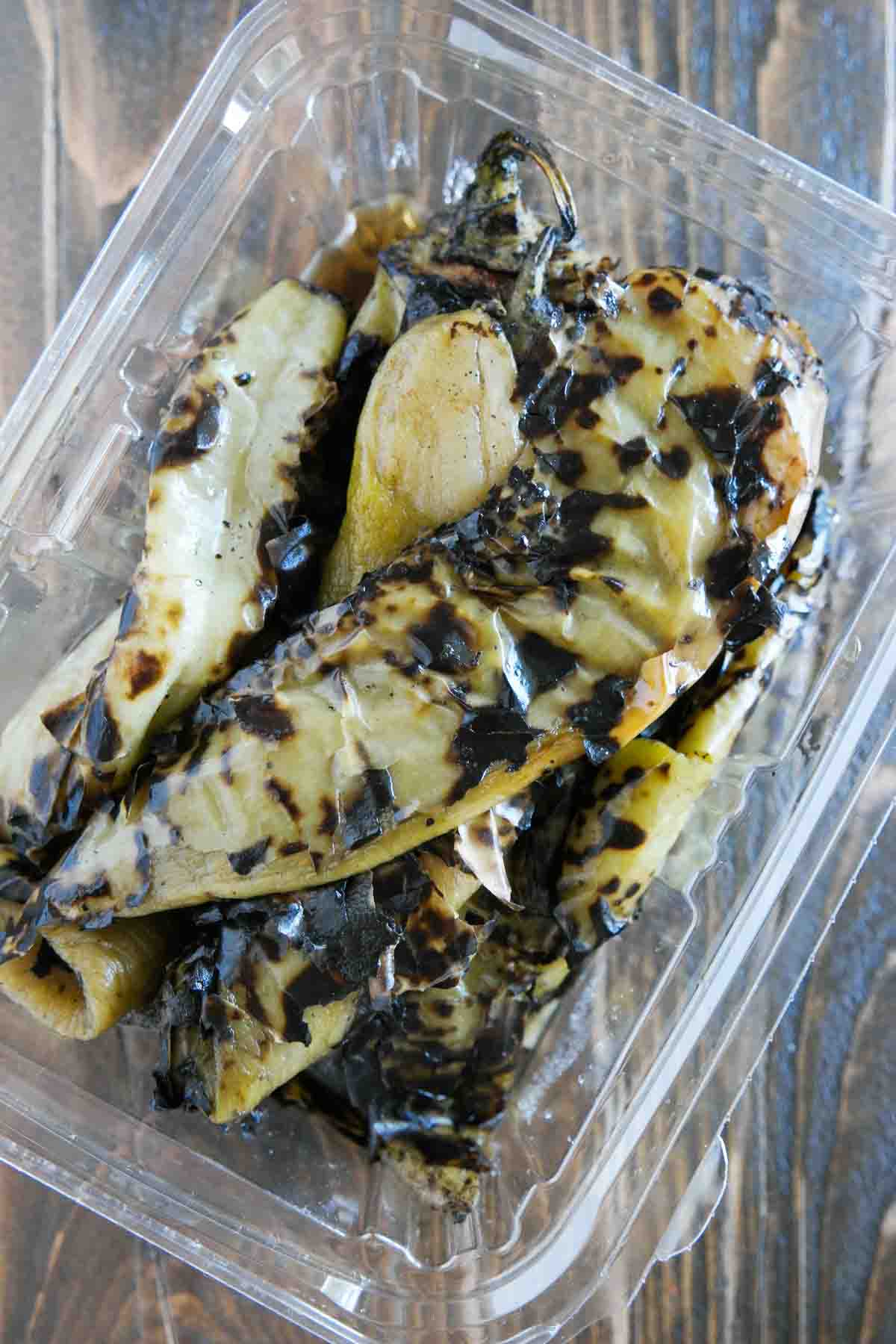 So the green chiles probably don't come as a surprise if you are a reader here. Because I use them in cooking a lot. I'm a bit of a green chile addict. I think my love of those green chiles is one thing that has stuck with me from New Mexico. I vividly remember when you could drive by and see the big roasting drums out in the parking lot, and you could smell those roasting chiles from miles away. Pure heaven.
Imagine my surprise when I stop at a local grocery store, and there is a big drum of fresh Hatch green chiles being roasted. It seriously smelled like home. And of course I had to buy some – it would be a crime not to.
I really didn't know what I was going to make with them. And then I remembered one of the first things that I can remember making. It was in Junior High, in Home Ec. And it was a green chile dip. I remember wanting to eat every drop of that dip, and have thought about it a lot in the years since.
I really wish I still had that recipe. I honestly don't even remember anything about it except it was a cold dip, and it was full of green chiles. So I decided to create my own creamy dip with my freshly roasted Hatch green chiles.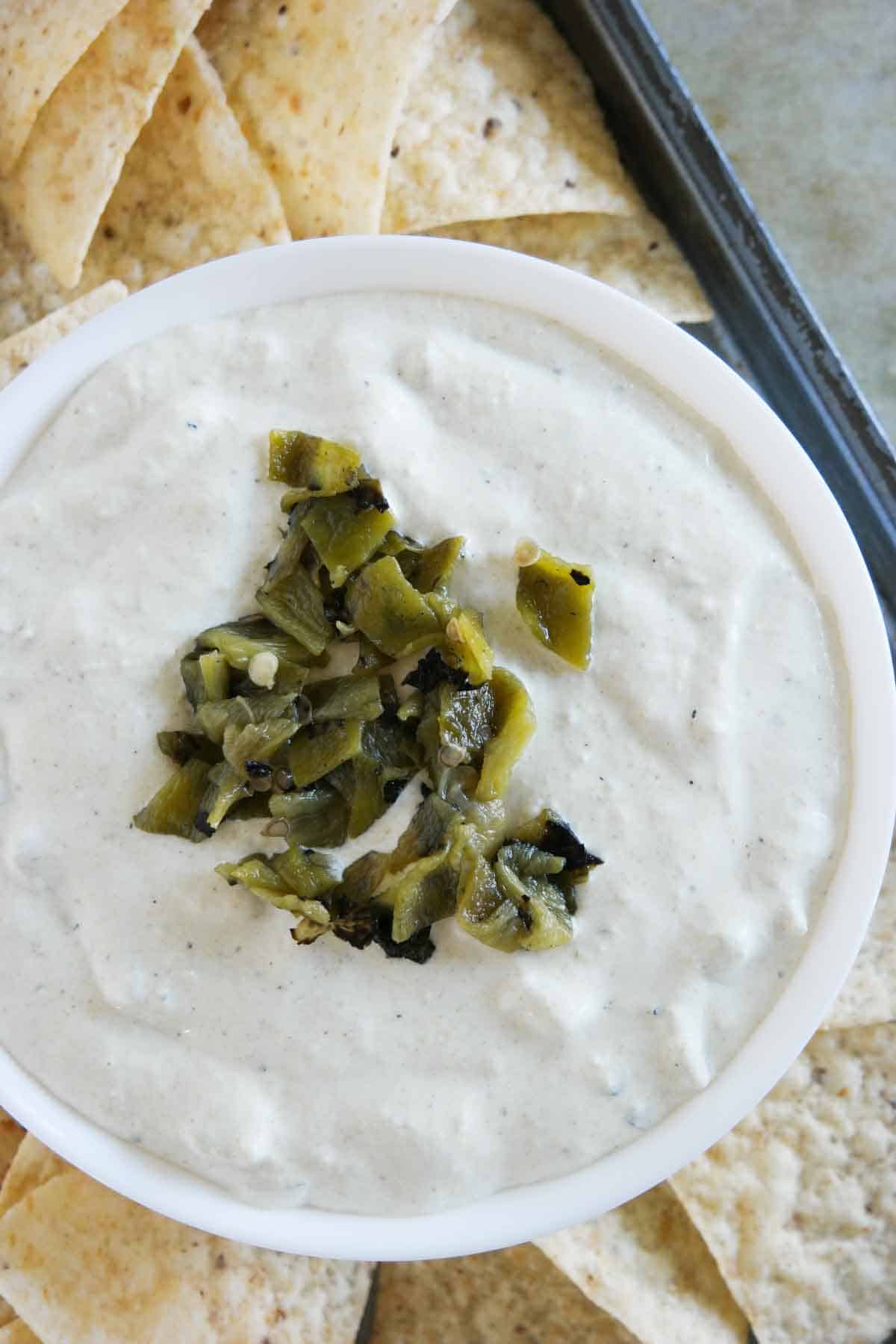 I really kind of just winged it while I was making this Creamy Hatch Green Chile Dip. Most of the recipes that I found online called for a 4 oz can of chiles, or for 2 roasted chiles. Now, I don't know about you, but if you want a lot of chile flavor, you need more chiles than that. So I ended up using 8. You can always use less, or you could even add more. It would be hard to mess this recipe up, so customize it to your palate.
We had our annual family garden dinner last night where my mom makes her amazing Chile Rellenos, and I think I now have a new favorite to be served with this meal. And I think I'll be making my way back to the grocery store for more Hatch green chiles!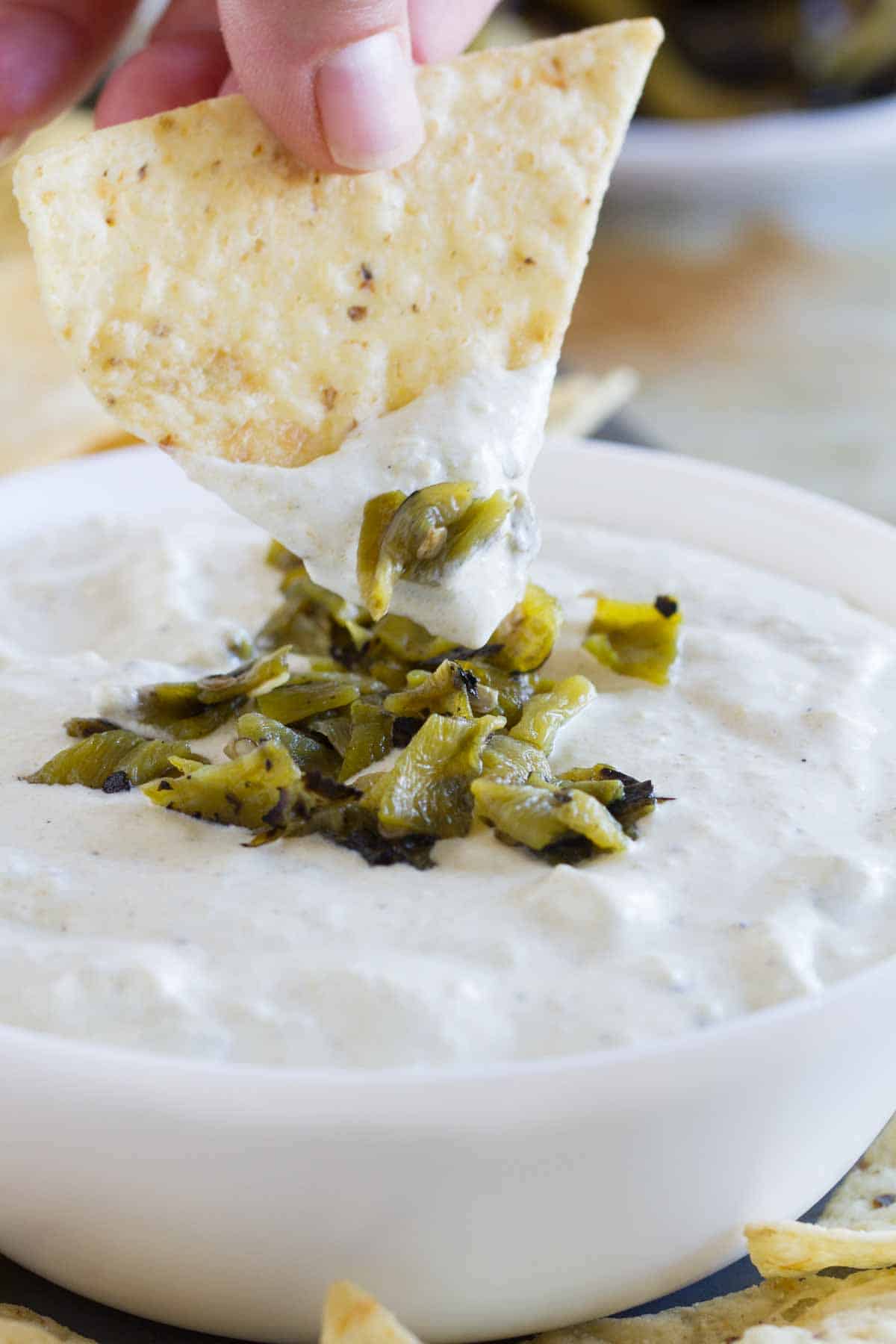 More Can't Miss Dips:
Tropical Guacamole
Tomatillo Salsa Recipe
Queso Blanco
Spinach Artichoke Dip
Corn Dip Recipe with Green Chiles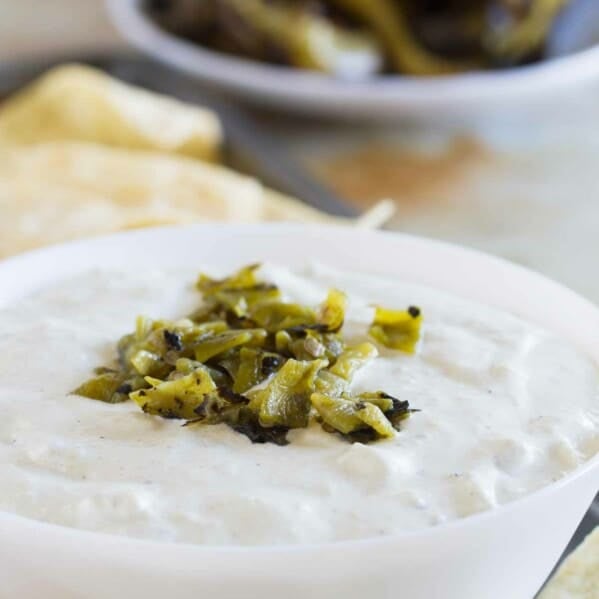 Creamy Hatch Green Chile Dip
---
Author:
Prep Time: 10 minutes
Total Time: 10 minutes
Yield: 16 servings 1x
Category: Dip
Method: No Bake
Cuisine: American
Description
Tangy, creamy and full of green chile flavor, this Creamy Hatch Green Chile Dip is a must when fresh Hatch green chiles are in season. Grab the tortilla chips and start dipping!
---
Scale
Ingredients
8 oz cream cheese, softened
1 cup sour cream
8 Hatch green chiles, roasted, skins and seeds removed, divided
1/2 teaspoon ground cumin
1/2 teaspoon onion powder
1/2 teaspoon garlic powder
salt and pepper
tortilla chips, for serving
---
Instructions
Place the cream cheese in a food processor and process until smooth. Add the sour cream and pulse to combine.
Roughly chop 6 of the chiles and add them to the processor along with the cumin, onion powder and garlic powder. Process until smooth. Transfer the dip to a bowl.
Chop the remaining 2 chiles. Stir into the dip. Taste, and add salt and pepper as needed.
Refrigerate the dip until ready to serve. Serve with tortilla chips.
Recipe Notes:
If you don't have a food processor, you can finely chop the chiles – the dip just won't be as smooth.
Keywords: green chile dip