This is the time of year when I would normally apologize for inundating you with sweets and appetizers. Sweets, because that is such a big part of celebrating Christmas – all of the wonderful cookies, cakes and candies, and appetizers because we need appetizer recipes for pre-Christmas dinner and for New Year's Eve. But this year, I'm not apologizing. Instead, I'm embracing it. So be prepared to see a few more sweets and appetizers this month, and a few less dinner ideas. There will still be dinner, but this time of year gets so crazy that we end up with a lot of easy, basic dinners.
I was super excited to try out this easy dip recipe from this month's new Cookbook of the Month – In the Small Kitchen. Talk about easy – you only have to mix the ingredients together, dump it it into a baking dish, and bake away. Or you could be even lazier and just mix the ingredients together right in the baking dish, so you have one less dish to wash!
This would be a perfect dip for your family get-togethers, pre-holiday festivities, or football watching. It really doesn't get any easier than this!
Recipe Rating: 8.75 out of 10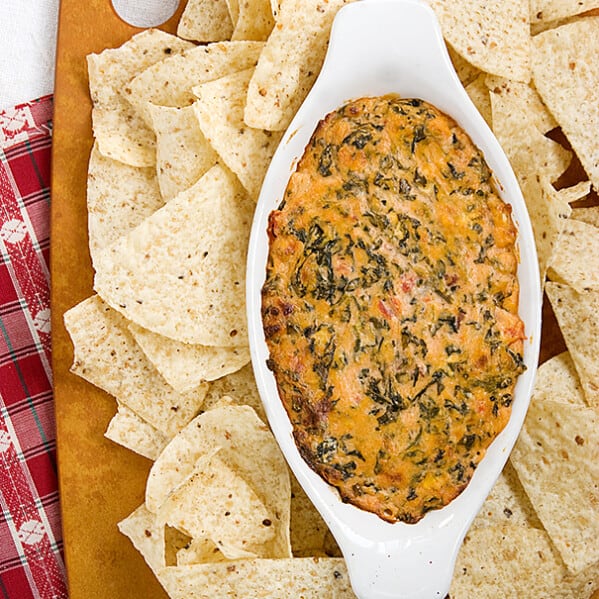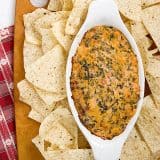 Dump and Stir Mexican Dip
---
Prep Time: 5 minutes
Cook Time: 40 minutes
Total Time: 45 minutes
Yield: 10 servings 1x
Description
This easy, hot, cheesy dip is perfect for any group gathering. It only takes minutes to pull together before baking it off until hot and bubbly.
---
Scale
Ingredients
1 (10-oz) package frozen chopped spinach, thawed and drained
1 (8-oz) package shredded Mexican fiesta blend or Monterey Jack cheese
1 (8-oz) package cream cheese, at room temperature
1 cup half-and-half
1 (15-oz) jar medium salsa
1 teaspoon chili powder
tortilla chips, for serving
---
Instructions
Preheat the oven to 350F.
In a large bowl, combine all of the ingredients except the chips. Whisk together until completely combined, making sure there aren't any chunks of spinach or cream cheese.
Pour the mixture into a casserole dish and bake in the preheated oven for 20 to 30 minutes, until the cheese is completely melted and the top is beginning to set. Raise the temperature to 400F and bake an additional 5 to 10 minutes, until a crust has set on top.
Serve with tortilla chips.
——————————
Recipe from In the Small Kitchen
——————–
Check out these other Mexican inspired dips:
Spicy Black Bean Dip with Roasted Red and Chipotle Peppers from Cookin' Canuck
Queso Blanco from Annie's Eats
White Queso and Corn Dip from Salad in a Jar
Mexican Lasagna Chip Dip from Sweet Pea's Kitchen
Chorizo Dip from Evil Shenanigans