Light as a dream, this Toffee Marshmallow Pie has an easy no-bake filling that everyone will love!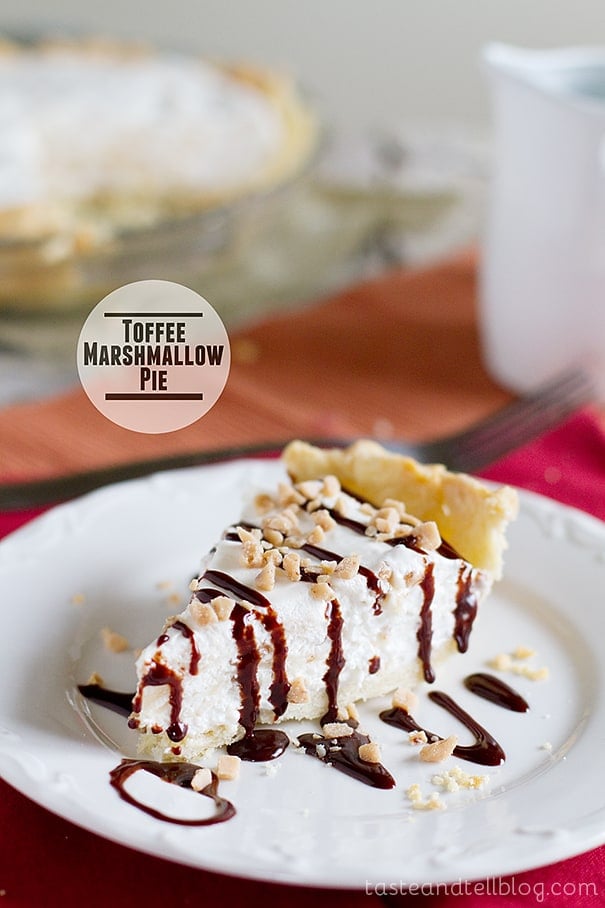 I'm pretty sure I could make a new pie every week of the year and be a happy girl. That is how much I love pie. Sure, I love cookies and cake and brownies. But pie – that is what really gets me.
I've been on a bit of a pie run lately, too, which has me thinking about pie even more than usual. That, paired with the fact that Thanksgiving is next week, has me in pie mode.
Unfortunately, not all recipes always work out. I had what I thought was a really good one on the menu, and well, while it tasted ok, it definitely wasn't one that I wanted to share with you all.
But this one? Definitely worth sharing.
I really like a wide variety of pies on Thanksgiving. Rich pumpkin, fruity meringues, and of course something chocolate. But it's always nice to throw in something that is a little bit lighter, as well. (Ok, not lighter as in calories lighter… I don't want to confuse you here!! 🙂 ) This pie is exactly that.
This couldn't be much easier, either. It's a no-bake filling, (the only time you'll need the oven is to bake your pie crust), and it can be made well ahead of time. And it has everyone's favorite – toffee!!
And now I'm wondering how many more pies I can make before Thanksgiving…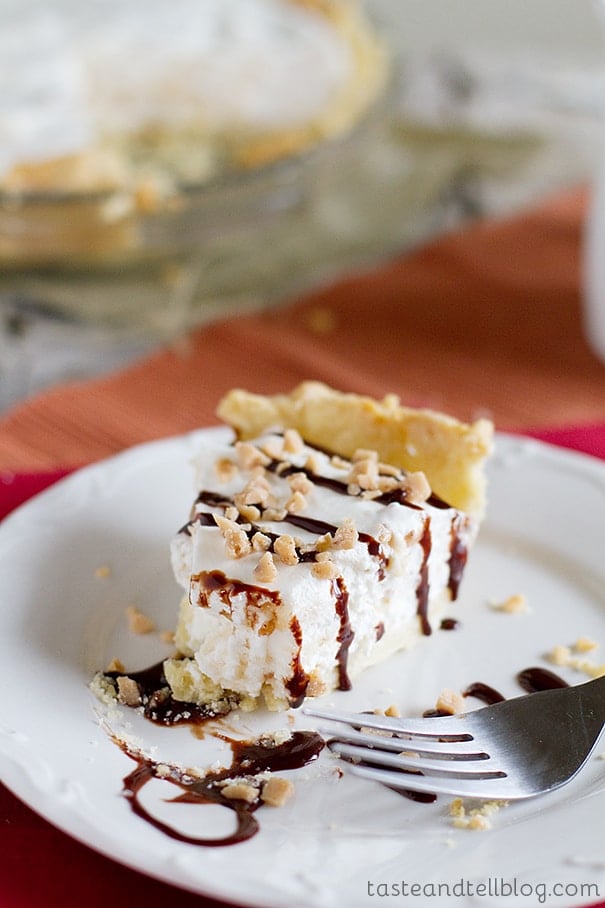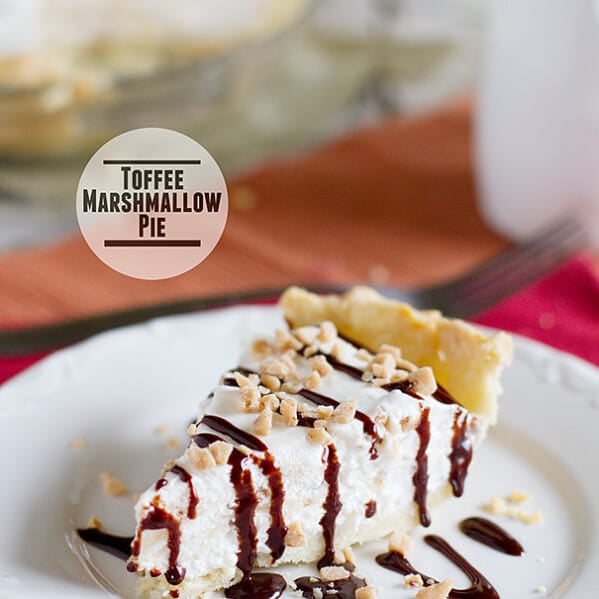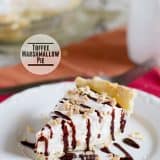 Toffee Marshmallow Pie
---
Prep Time: 15 minutes
Total Time: 3 hours 30 minutes
Yield: 10 servings 1x
Description
Light as a dream, this Toffee Marshmallow Pie has an easy no-bake filling that everyone will love!
---
Scale
Ingredients
32 large marshmallows
1/3 cup milk
1/2 cup toffee pieces, plus more for serving
1 cup whipping cream
1 basic pie crust, fully cooked and cooled
chocolate sauce, for serving
---
Instructions
Combine the marshmallows and milk in a large saucepan. Cook over medium heat, stirring constantly, until the marshmallows have melted. Remove from the heat and immediately stir in the toffee pieces, Let the toffee pieces melt slightly, then transfer to the refrigerator until thickened, but not set, 15-20 minutes.
Beat the whipping cream to stiff peaks. Stir about one-fourth of the cream into the marshmallow mixture. Fold in the remaining cream. Spread the mixture into the pie crust. Refrigerate until fully set, about 3 hours.
Serve drizzled with chocolate sauce and sprinkled with additional toffee pieces.
More Toffee Love: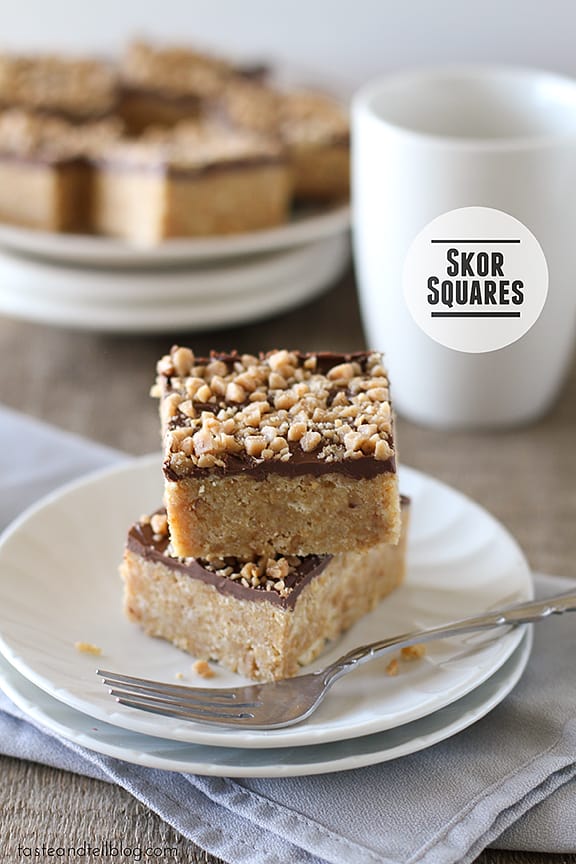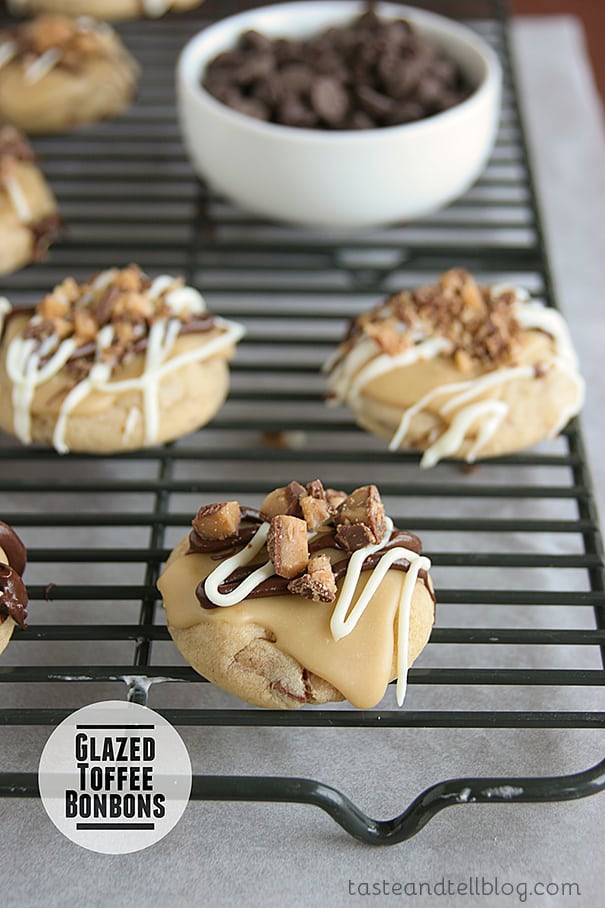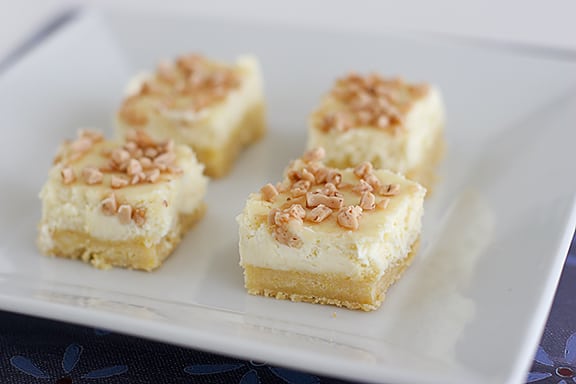 Around the Web:
Toffee Brownie Cookies from A Spicy Perspective
Apple Blondies with Caramel Buttercream from Shugary Sweets
Brown Butter Toffee-Pecan Blondies from Recipe Girl