This easy Peach Napoleon Recipe uses baked, sugared wontons that are layered with whipped cream and fresh peaches for a impressive presentation.
If you have lots of fresh peaches, also check out this Peach Frozen Yogurt or Cast Iron Peach Crostata.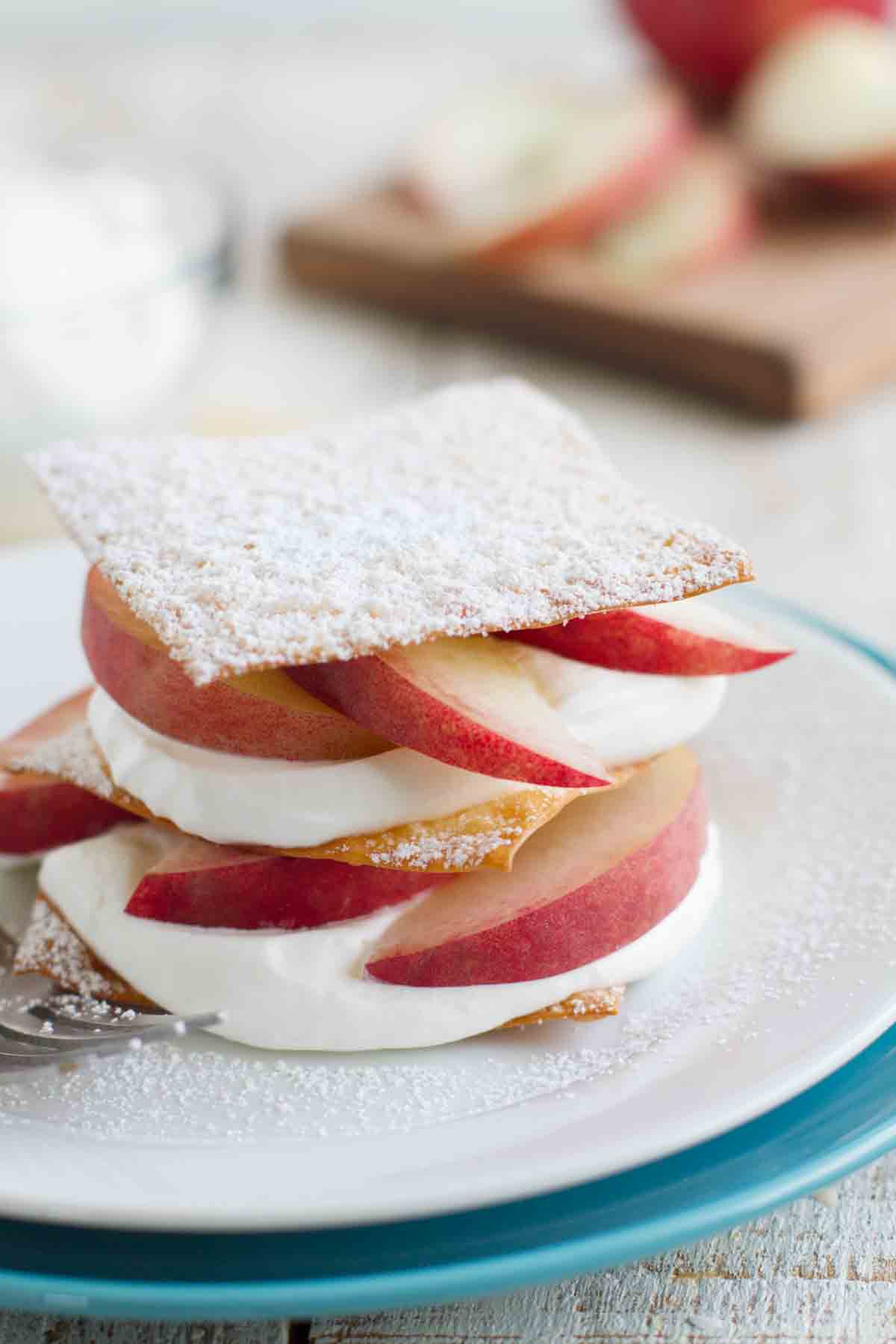 I've mentioned before that I'm not an entertainer. But if I was, this simple Peach Napoleon recipe would be in my repertoire. It really doesn't get any easier or faster than this. If I didn't have to wait for the oven to pre-heat, I could have had these done in under 10 minutes easy. And not only are they easy and impressive looking, they are tasty!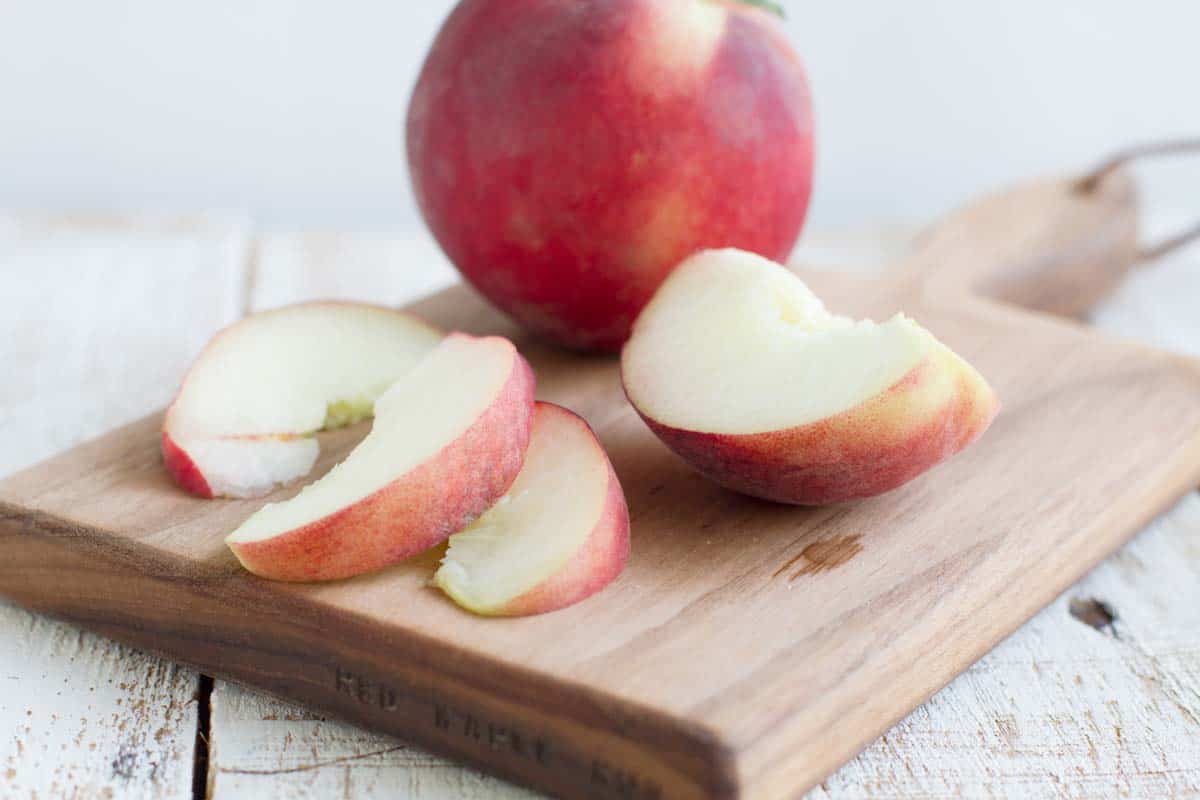 Now, I'm sure this has been done before, but the sugared wonton wrappers are shear genius in my mind. Five minutes to prepare, and I could have honestly eaten them alone and been happy.
But paired with freshly whipped cream and fresh peaches, it was a match made in heaven. I did change up the original recipe, which is one thing that is great about this recipe – and most of Robin Miller's recipes that I've made so far. Her recipe called for canned mandarin oranges, which would have been delicious, but I thought I'd use fresh produce since it's that time of year.
My original thought was to see if there were any good berries at the store, but then I thought of peaches and decided to pick some up. And if you want to, you could always use already prepared whipped topping or Cool Whip to make this even faster, but to me, there is nothing better than freshly whipped cream, sweetened with a bit of sugar. And really, it took me all of 2 minutes to pour the cream in a bowl and beat it with my hand mixer.
These are a little messy to eat, but worth every bite. And since I have a partially used package of wonton wrappers in my fridge now, I'm sure we'll be enjoying this dessert all weekend long!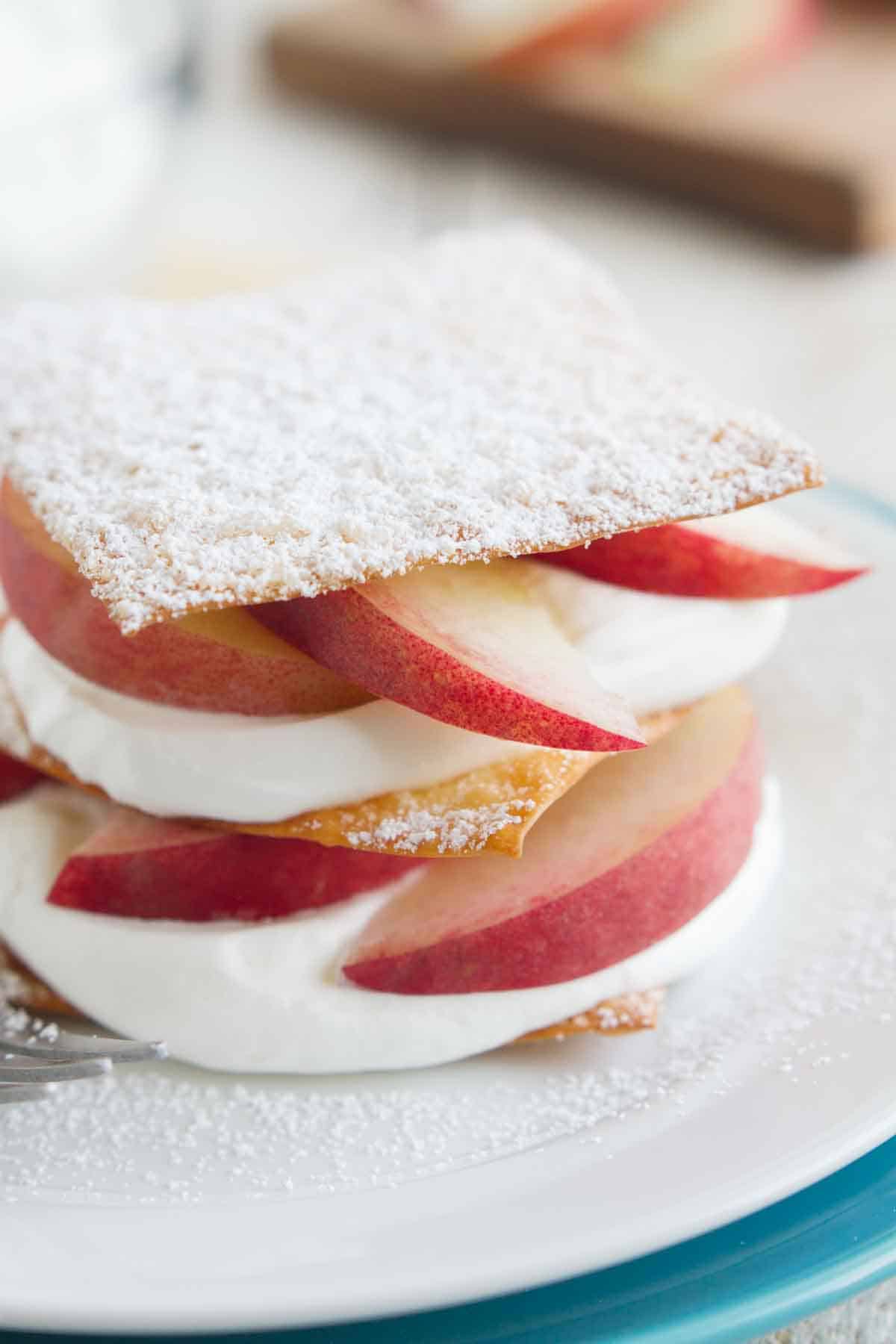 Even More Peach Recipes
Peaches and Cream Bars
Coconut Peach Cobbler Recipe
Peach Melba Pie
Peach Cupcakes
Sour Cream Peach Pie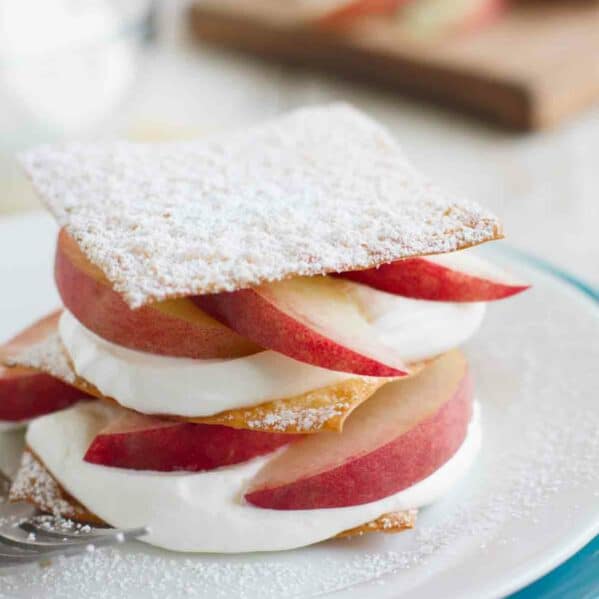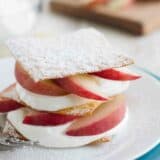 Peach Napoleon Recipe
---
Author:
Prep Time: 10 minutes
Cook Time: 5 minutes
Total Time: 20 minutes
Yield: 4 servings 1x
Category: Dessert
Method: Baked
Cuisine: French
Description
This easy Peach Napoleon Recipe uses baked, sugared wontons that are layered with whipped cream and fresh peaches for a impressive presentation.
---
Scale
Ingredients
12 wonton wrappers
1 tablespoon sugar
1/2 cup heavy whipping cream
2–3 teaspoons sugar
2 fresh peaches, cleaned and thinly sliced
1 tablespoon powdered sugar
---
Instructions
Preheat oven to 400F. Coat a large cooking sheet with cooking spray.
Lay the wonton wrappers on the prepared sheet in a single layer. Lightly spray the tops with cooking spray. Sprinkle sugar evenly over the wrappers.
Cook in the preheated oven for 5 minutes, or until golden brown. Remove from oven.
Place the whipping cream in a bowl and whip until it starts to thicken. Slowly add 2-3 teaspoons of sugar while you continue to beat. Beat until the cream has stiff peaks.
To arrange, place four of the wonton wrappers on a serving plate or on individual dessert dishes. Top each wonton with 2 tablespoons of the whipped cream, followed by 1/4 of a peach. Top with a second wonton wrapper. Repeat layer with 2 tablespoons whipped cream and 1/4 of a peach. (For a total of half a peach for each dessert.) Top with the remaining wonton wrappers.
Sift powdered sugar over the tops and serve.