Soft, bakery style cookies are infused with pumpkin and spice, then topped with a maple cinnamon buttercream.
I now know my solution now when I am feeling uninspired – I just need to hit up my notebooks!
I use spiral notebooks for recipe writing, lists, and sketching down recipe ideas when inspiration strikes.  I will usually just have one notebook that I am using at a time, and I'll use it until I run out of paper.  A little while back,  I was going through a notebook that was full, making sure I didn't have any hidden recipes in it.  And all of a sudden, I hit the jackpot.  I came across a page that I had totally forgotten about, where I must have been brainstorming pumpkin recipes. Right there, I had a whole list of great recipe ideas!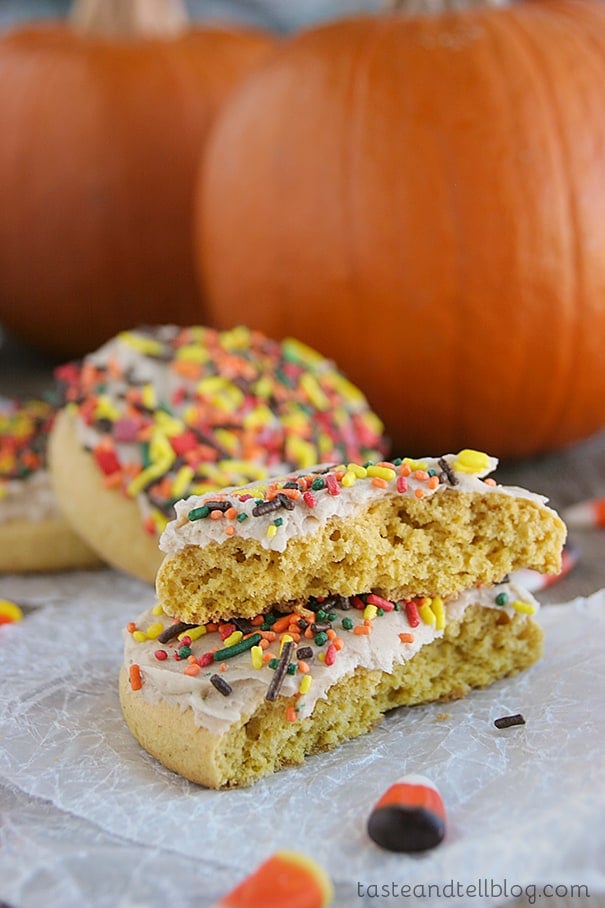 Among them were these cookies.  Now, these aren't completely original.  They are based on the popular Bakery-Style cookie recipe (aka Lofthouse) that you see all over the web.  But I thought – why not replace the sour cream with pumpkin?  And my Pumpkin Doughnuts with Maple-Cinnamon Glaze from last year were so popular, that I decided to go with that same flavor combination the frosting.
This was an experiment that went completely right.  The cookies were soft and tender and had just the right amount of pumpkin flavor.  And the maple cinnamon buttercream brought the perfect amount of spice.  I would dare say that these are the perfect fall treat!!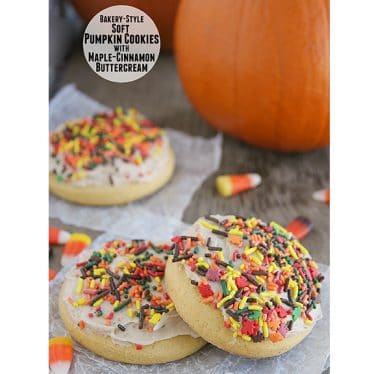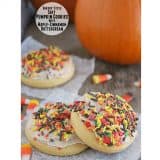 Bakery-Style Soft Pumpkin Cookies with Maple Cinnamon Buttercream
---
Prep Time: 15 minutes
Cook Time: 7 minutes
Total Time: 2 hours 30 minutes
Yield: 5-6 dozen cookies 1x
Description
Soft, bakery style cookies are infused with pumpkin and spice, then topped with a maple cinnamon buttercream.
---
Scale
Ingredients
Cookies
6 cups all-purpose flour
1 teaspoon baking soda
1 teaspoon baking powder
1/2 teaspoon salt
1/2 teaspoon pumpkin pie spice
1 cup butter, at room temperature
2 cups sugar
3 eggs
1 teaspoon vanilla extract
1 1/2 cups pumpkin puree
Frosting
1 cup butter, at room temperature
1 teaspoon maple extract
4 cups powdered sugar
1 teaspoon cinnamon
pinch of salt
6 tablespoons cream
sprinkles (optional)
---
Instructions
In a medium bowl, combine the flour, baking soda, baking powder, salt and pumpkin pie spice. Set aside.
In the bowl of a mixer, beat the butter and sugar until light and fluffy. Beat in the eggs, one at a time, scraping down sides as needed. Add in the vanilla and pumpkin and beat until combined. Add the flour mixture and mix until combined.
Divide the mixture into 2 and wrap each in plastic wrap. Refrigerate at least 2 hours, or overnight.
Preheat oven to 425°F. Line baking sheets with parchment paper or silicone liners.
Lightly flour a work surface. Roll the dough to 1/4-inch thickness. The dough will be a little sticky, so use flour as needed to avoid sticking. Use a 2 to 2-1/2 inch round cookie cutter to cut out circles and transfer to the prepared baking sheets. Bake the cookies until just set and still pale, about 7 minutes. Transfer to a cooling rack or a piece of waxed paper to cool completely before frosting.
To make the frosting: In a large bowl, beat the butter until soft and fluffy. Add in the maple extract. Add in the powdered sugar 1/2 cup at a time and beat until combined completely. Add in the cinnamon, salt and cream and beat until light and fluffy.
Frost each cookie with the frosting and then top with sprinkles, if desired.