Cobblers aren't just for summer! A pumpkin custard is covered with a sweet biscuit topping in this fantastic Pumpkin Cobbler. Serve with ice cream for a different holiday dessert.
Give me all things pumpkin! For more pumpkin desserts that are a little out of the norm, try this Pumpkin Tiramisu Recipe or this Pumpkin Butter Pecan Ice Cream Pie Recipe.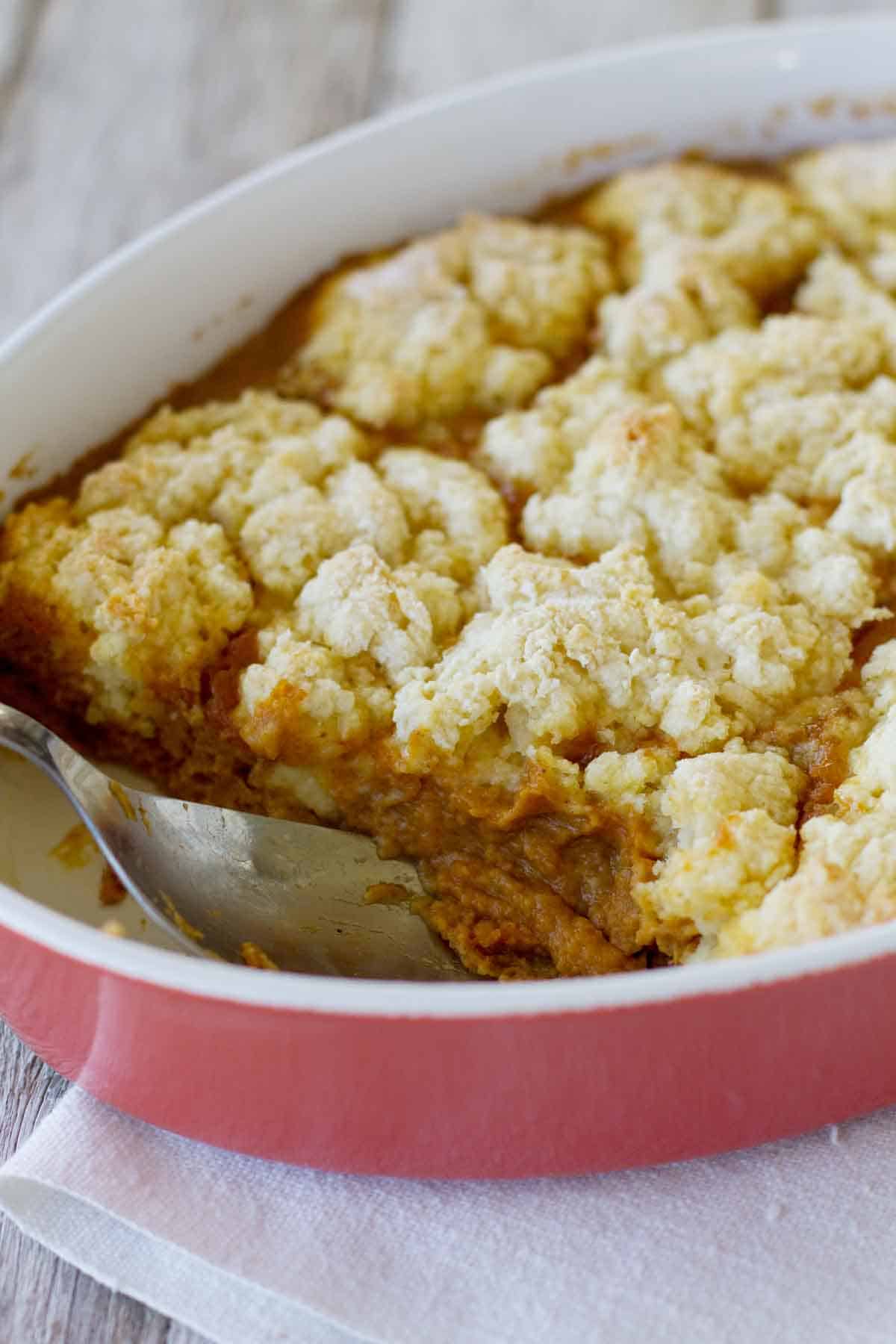 Sometimes it is true that the most humble looking dishes are the most delicious. The ones you can't stop thinking about.
A couple of years ago when we were on our Colorado vacation, we stopped to eat at a restaurant in Montrose, Colorado called Camp Robber. In the restaurant, they had a big blackboard with all of the current specials written on it. Our table was right in the sight line of that board, and there was one thing that kept catching my eye, over and over again.
Pumpkin Cobbler.
I had never heard of a pumpkin cobbler before. It's one of those things that never crossed my mind. But I wanted it. Needed it.
Well, by the time we finished eating, I was so stuffed that I didn't get any dessert. But that didn't stop me from thinking about it for weeks.
When the fall season rolled around, a pumpkin cobbler was the first thing that went on the list of things to make. But when I sat down and actually thought about it, I had no idea what a pumpkin cobbler consisted of. It really made me rethink not ordering it that night!
But I decided to go for it. I knew I wanted the biscuit topping from my favorite fruit cobbler. And I wanted the pumpkin layer to be creamy and smooth and almost pie-like.
When I took my first bite, I knew that I had nailed it. Seriously, people. I know this may not look like much, but it was so very, very good. I am one of those people who has to have pumpkin pie every year on Thanksgiving. But I would seriously consider substituting this for the traditional pumpkin pie. It was really that good. Especially when it was still warm from the oven, served with a scoop of vanilla ice cream.
Pumpkin heaven. That's what this is.
So don't let it's humble appearance trick you. Because this is all kinds of deliciousness!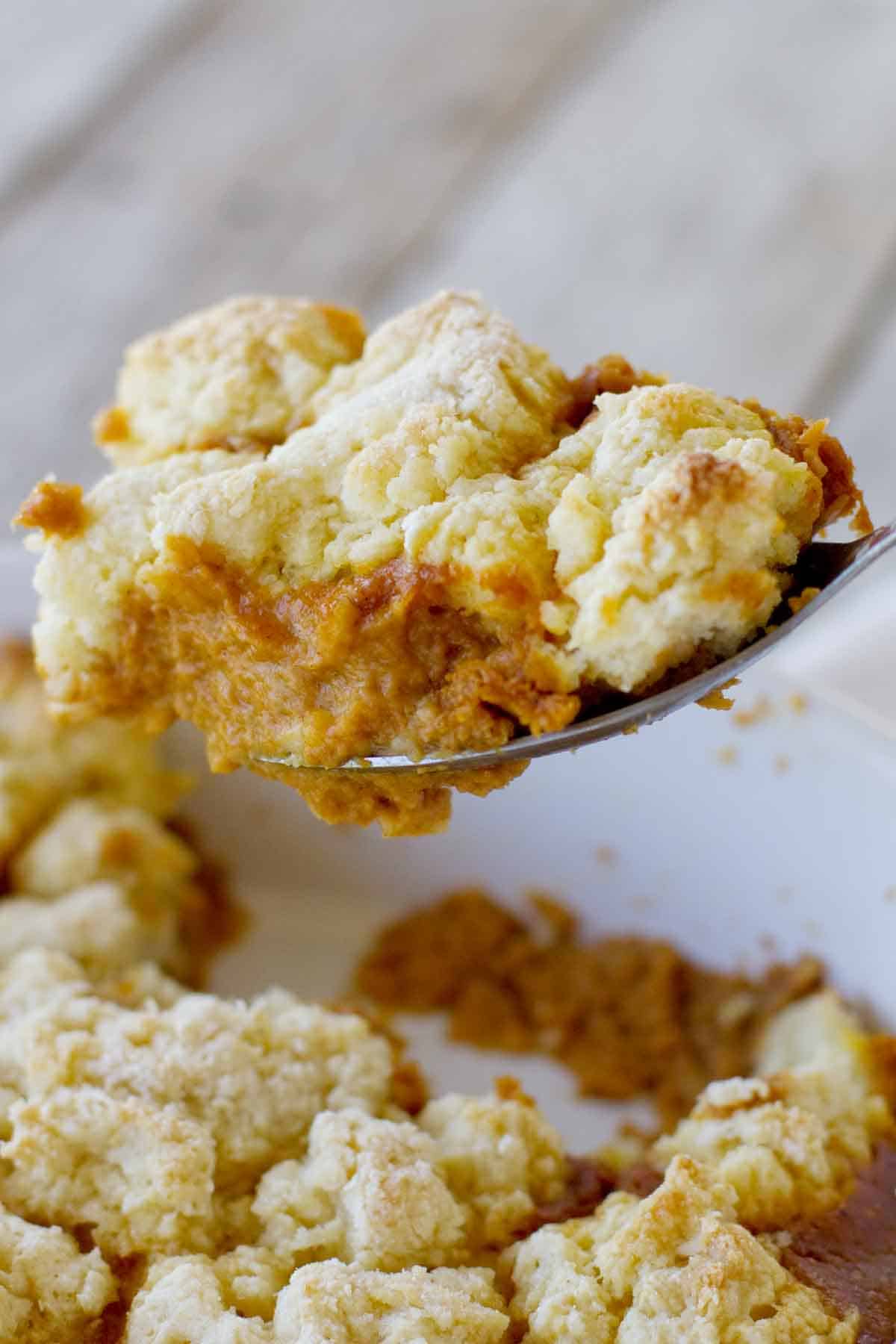 Ingredients
Pumpkin Puree: Make sure you are using pumpkin puree, not pumpkin pie filling.
Evaporated Milk: Don't get this confused with sweetened condensed milk. I have not tried substituting this with regular milk or a milk alternative, so I'm not sure how well it would work.
Eggs: You want to use large eggs.
Sugar: You will use both granulated sugar and brown sugar in both the filling and the topping.
Flour: Use all-purpose flour for both the filling and the topping.
Pumpkin Pie Spice: I like to use my homemade Pumpkin Pie Spice, but store bought will work, as well.
Salt: This will balance the flavors.
Baking Powder & Baking Soda: The mix of the baking powder and baking soda help the topping to puff up and give it a tender texture.
Butter: I use unsalted butter.
Buttermilk: If you don't have buttermilk on hand, you can use a buttermilk substitute.
How to Make Pumpkin Cobbler (video)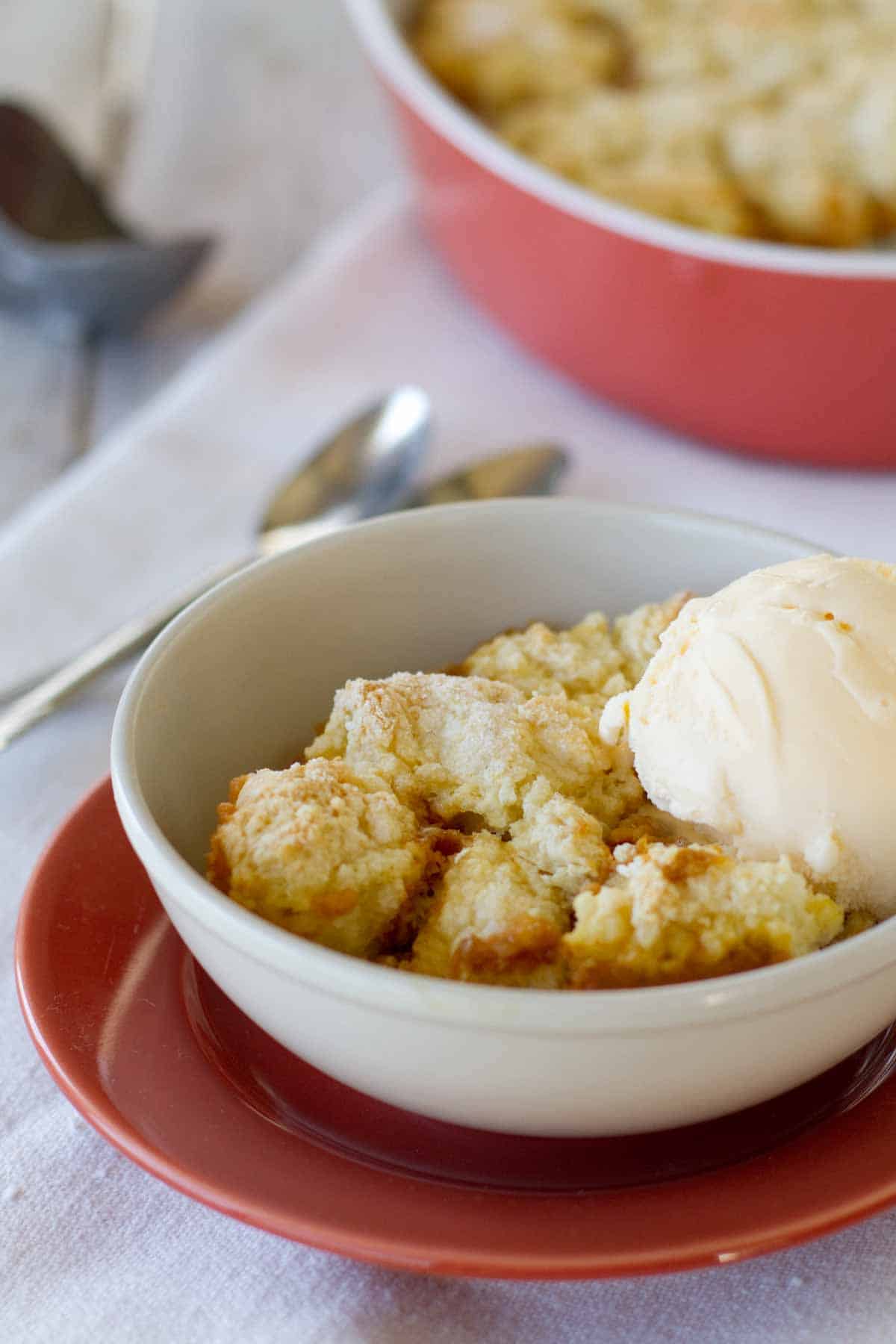 More Pumpkin Favorites
Soft Pumpkin Sugar Cookies with Maple Cinnamon Buttercream
Quick and Easy Pumpkin Cupcakes
Pumpkin Cheesecake with Caramel Sauce
Pumpkin Pie Bars
Pumpkin Snickerdoodles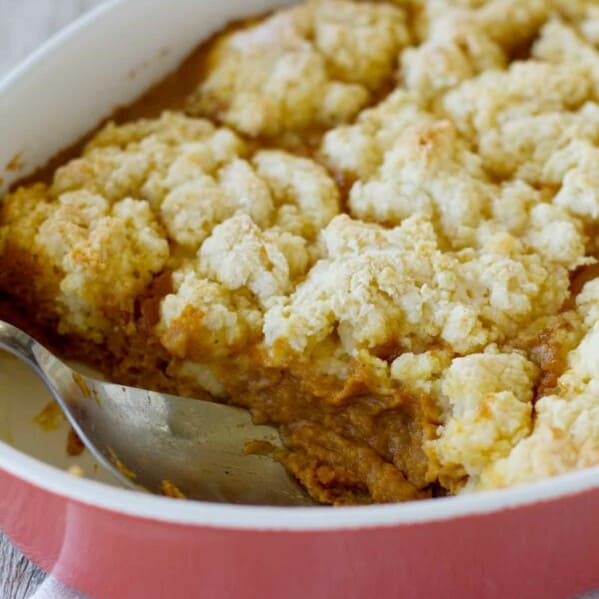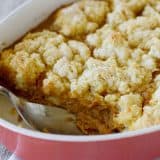 Pumpkin Cobbler
---
Author:
Prep Time: 15 minutes
Cook Time: 40 minutes
Total Time: 55 minutes
Yield: 6 servings 1x
Category: Dessert
Method: Baked
Cuisine: American
Description
Cobblers aren't just for summer! A pumpkin custard is covered with a sweet biscuit topping in this fantastic Pumpkin Cobbler. Serve with ice cream for a different holiday dessert.
---
Scale
Ingredients
Pumpkin Custard:
1 can (15 oz) pumpkin puree
1 cup evaporated milk
2 eggs, lightly beaten
1/2 cup sugar
1/2 cup brown sugar
1/4 cup flour
1 1/2 teaspoons pumpkin pie spice
1/2 teaspoon salt
Topping:
3/4 cup flour
7 teaspoons sugar, divided
3/4 teaspoon baking powder
1/4 teaspoon baking soda
1/4 teaspoon salt
2 tablespoons butter, cut into bits
1/2 cup buttermilk
---
Instructions
Preheat the oven to 350°F.  Spray a 2-3 quart baking dish with nonstick cooking spray.
Combine the pumpkin puree, evaporated milk and eggs in a bowl.  Add in both sugars, the flour, pumpkin pie spice and salt.  Pour the mixture into the prepared dish.
In another bowl, combine the flour, 5 teaspoons of the sugar, baking powder, baking soda and salt. Add in the butter, and with a pastry cutter or a fork, cut in the butter until it resembles crumbs.  Stir in the buttermilk and stir just until the mixture comes together.  (If the mixture is still dry and doesn't come together, add in more buttermilk, 1 teaspoon at a time.)  Do not over stir.
Drop the topping mixture in dollops over the custard.  Sprinkle with the remaining 2 teaspoons of sugar. 
Bake until the topping is golden brown, 35-40 minutes. 
Recipe Notes:
Nutrition information provided as an estimate only. Various brands and products can change the counts.
Nutrition
Serving Size: 1/6 of recipe
Calories: 395
Sugar: 51 g
Sodium: 594 mg
Fat: 7 g
Saturated Fat: 4 g
Unsaturated Fat: 1 g
Trans Fat: 0 g
Carbohydrates: 70 g
Fiber: 3 g
Protein: 12 g
Cholesterol: 82 mg
Keywords: pumpkin cobbler, pumpkin dessert, cobbler recipe