The flavors of the season are infused in these Pumpkin Cinnamon Rolls, topped with a creamy Maple Cinnamon Cream Cheese Frosting.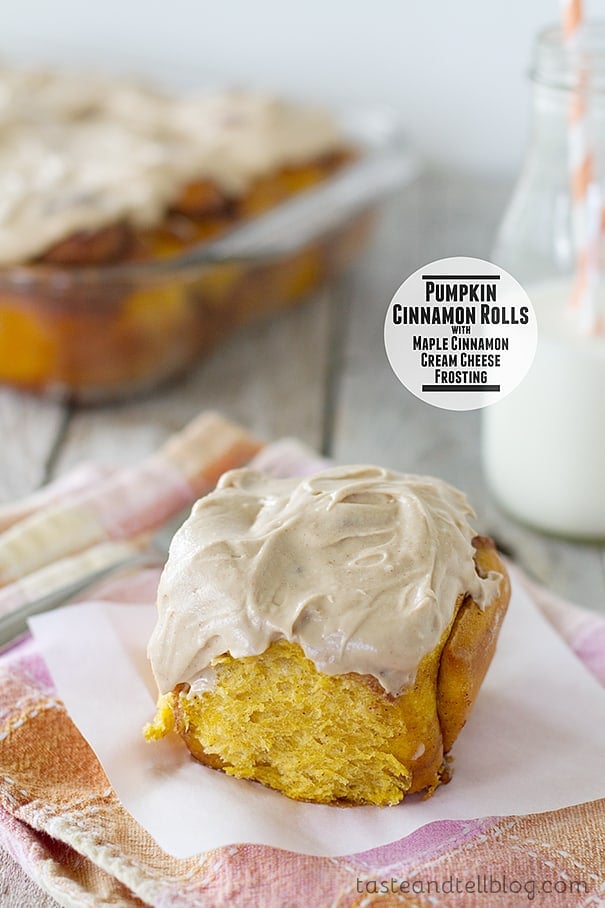 It's time for the pumpkin fun to begin!!
It's funny. Every year, I fall into the same pattern. I hold onto summer as long as possible. While everyone is breaking out the apples and pumpkins and fall-scented candles, I'm still dreaming of peaches and tomatoes. Up until the bitter end. But then fall actually hits, and I change gears, and almost go too crazy, trying to make up for lost time with the fall foods. This year, my obsession is pumpkin. Ok, well, I'm obsessed with pumpkin every year. But I've never had so many pumpkin desserts come out of my kitchen in such a short amount of time.
And I love it.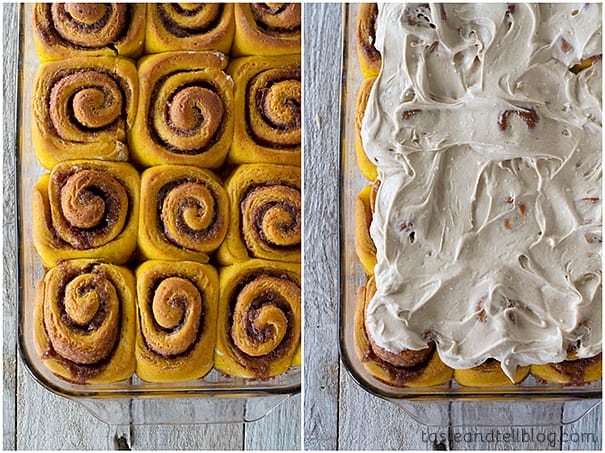 I'm starting the week off with one of my favorite things – cinnamon rolls – made pumpkin style. It really takes every ounce of self control for me to not devour a whole batch of cinnamon rolls. They do that to me. In fact they are pretty close up there to donuts. (And this is why I will never ever work at a bakery. I have no self control.)
These pumpkin cinnamon rolls are perfect for this time of year. The warm spices. The hint of pumpkin. And that frosting. Oh, that frosting. 2 years ago, I really fell in love with the maple/cinnamon combination on these baked donuts. And since then, I can't get enough of it. If you think it sounds weird, just try it. I'm pretty much going to guess that you will fall in love with it, too, unless you have some crazy aversion to maple or cinnamon. But even then, you may still like this!!
As with all bread recipes, the amount of flour that you use will depend on the temperature and humidity of the air, as well as the flour. Start on the low end and slowly work up until the bread just comes away from the sides of the bowl. If you are using a mixer, this is easy to tell. The dough will still be sticky, but you don't want to add too much flour. These rolls are already not quite as fluffy as a typical cinnamon roll because of the pumpkin, and adding too much flour will just make them dense. Just remember, you can always add more flour, but it's hard to take it away.
These Pumpkin Cinnamon Rolls are my idea of the perfect fall breakfast or snack. And they would be great for company!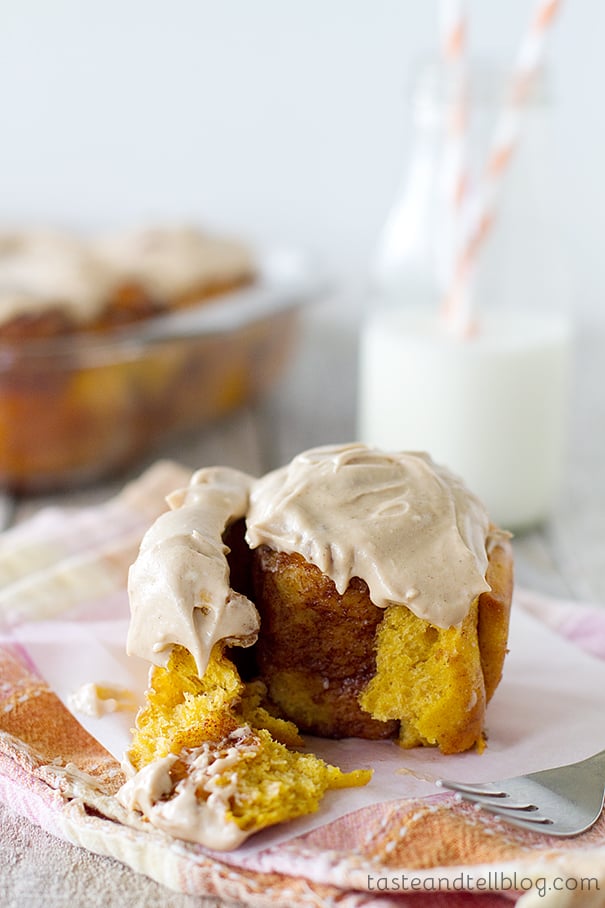 Like what you see here? Make sure you are following Taste and Tell for more great recipes and ideas!!

Facebook ** Pinterest ** Twitter ** Instagram ** Google+
or you can subscribe to my newsletter or Feedly or Bloglovin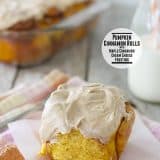 Pumpkin Cinnamon Rolls with Maple Cinnamon Cream Cheese Frosting
---
Prep Time: 10 minutes
Cook Time: 30 minutes
Total Time: 4 hours 15 minutes
Yield: 18 pumpkin rolls 1x
Description
The flavors of the season are infused in these Pumpkin Cinnamon Rolls, topped with a creamy Maple Cinnamon Cream Cheese Frosting.
---
Scale
Ingredients
For the rolls
1/4 cup warm water
2 1/4 teaspoons (one .25 oz pkg) active dry yeast
3/4 cup evaporated milk
3/4 cup granulated sugar
1 (15 oz) can pumpkin
3 tablespoons vegetable oil
1 egg, slightly beaten
2 teaspoons pumpkin pie spice
5–7 cups all-purpose flour
For the filling
1/3 cup butter
3/4 cup brown sugar
1/2 cup granulated sugar
1 tablespoon cinnamon
2 teaspoons pumpkin pie spice
For the frosting
1 (8 oz) package cream cheese, softened
1/2 cup butter, softened
2 cups powdered sugar
1 teaspoon maple extract
1/2 teaspoon cinnamon
---
Instructions
In a large bowl, or the bowl of a stand mixer, combine the water and the yeast. Add a pinch of the salt. Allow to stand until the yeast starts to bubble, 5 to 10 minutes. Stir in the evaporated milk, sugar, pumpkin, vegetable oil, egg and pumpkin pie spice. Add in 4 cups of the flour and stir to combine. Continue adding the flour, 1/4 cup at a time, until the dough comes together and pulls away from the side of the bowl. Knead the dough until smooth and elastic, 5-8 minutes.
Form the dough into a ball and place in a greased bowl. Cover and let rise until about doubled, about 1 1/2 hours.
In a small, melt the butter. In another bowl, combine the brown sugar, granulated sugar, cinnamon and pumpkin pie spice. Spray a 9×13" and an 8×8" baking dish with nonstick cooking spray.
Punch the dough down, then divide into 2 equal portions. Working with one portion at a time, roll the dough out on a floured surface to a 12×16" rectangle. Spread half of the butter on the dough, and sprinkle half of the sugar mixture over the top. Starting at the long side, roll the dough into a log. Cut the uneven edges off, then cut the log into 8 equal slices. Transfer the slices to the baking dish, cut side up. (You will be able to fit 12 rolls in the 9×13" pan and 6 rolls in the 8×8" pan.) Repeat with the remaining ingredients.
Lightly press the rolls down, then cover and allow to rise until almost doubled, about 45 minutes.
Preheat the oven to 350°F. Bake the rolls until golden brown, about 30 minutes. Allow to cool.
To make the frosting, beat together the cream cheese and butter. Add in the powdered sugar, maple extract and cinnamon and beat until light and creamy. Frost the rolls with the frosting.
More Pumpkin Favorites: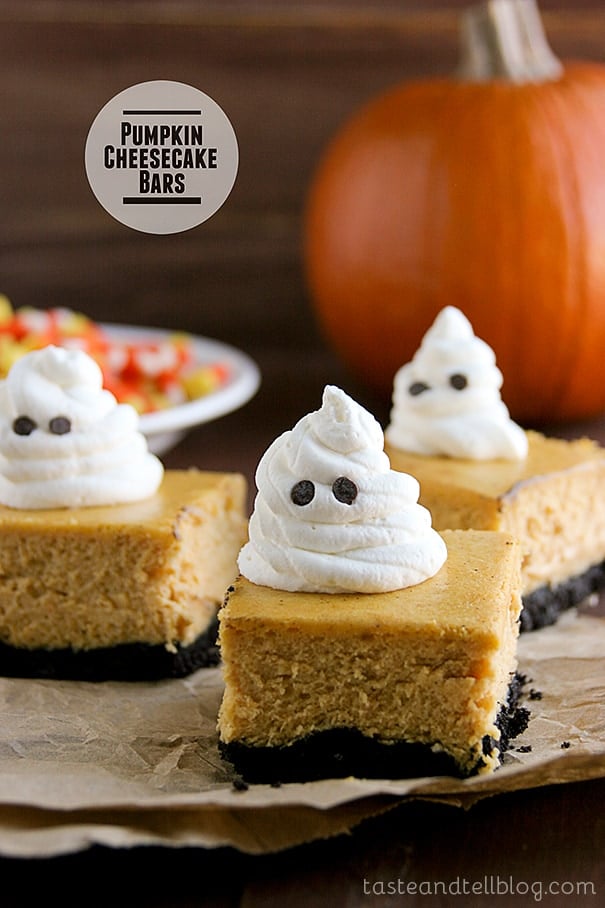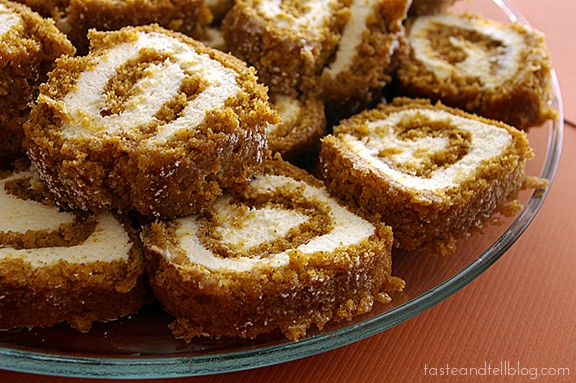 Cheesecake Filled Pumpkin Cupcakes
Around the Web:
Pumpkin Apple Muffins from Cookies and Cups
Honey Butter Pumpkin Dinner Rolls from Averie Cooks
Pumpkin Spiced French Toast Sticks from Sweet Treats and More