Want to know how to freeze cookie dough? We answer all the cookie dough questions, from freezing dough to freezing cookies, and also how to bake and reheat them!
Want to know my favorite cookie dough for freezing? We love this Toll House Cookie Recipe, Cake Mix Cookies, or Oatmeal Scotchies.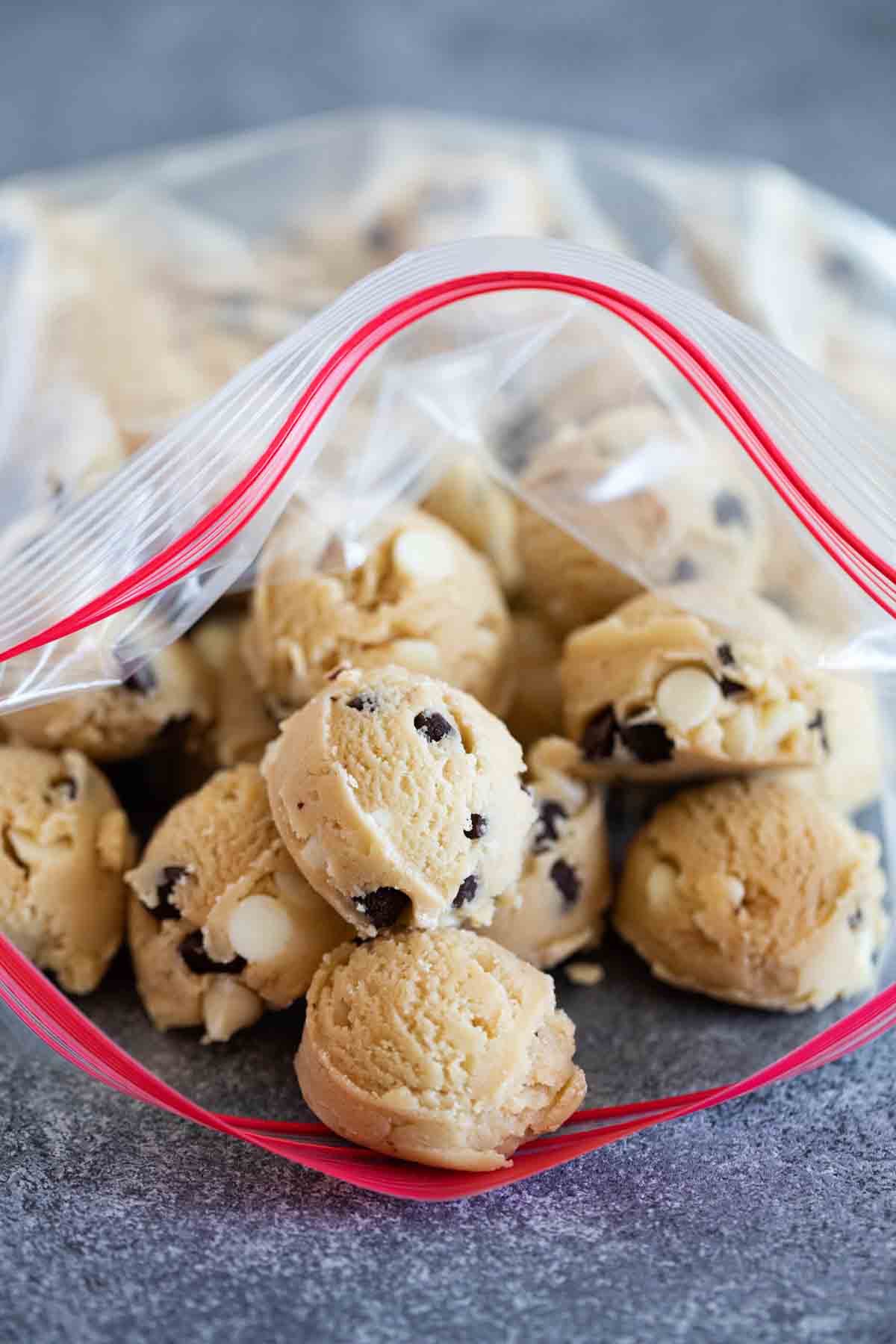 Have you ever wanted to be able to bake cookies at a moment's notice? Or want cookies on hand for when a cookie craving strikes? Or maybe you want to make cookies, but a whole batch is too much. Learn all the tips and tricks for how to freeze cookie dough so you can keep a stash in your freezer at all times!
I am no stranger to keeping a freezer full of cookie dough. I love that most of the work is already done, and you can have freshly baked cookies in no time flat.
So today, I am sharing all of the tips and tricks and information you may need to be successful in your cookie dough adventures.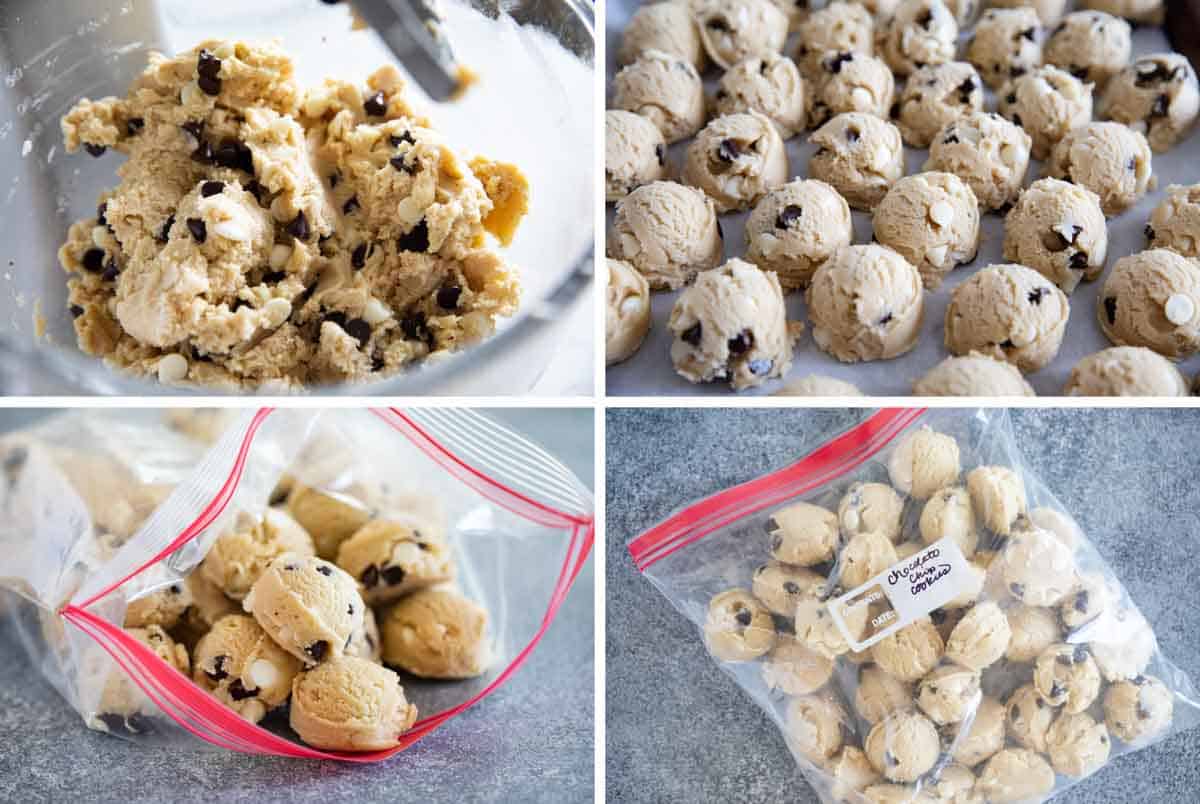 How to Freeze Cookie Dough
Let's start with the basics, first – freezing the cookie dough.
Start by making your cookie dough. You can make a full batch of dough to freeze, or maybe you just want 1 dozen cookies and the recipe makes enough for 2 dozen. You can do this with a little or a lot!
Take the dough and form it into balls. I like to use a cookie scoop.
Place the balls of dough on a baking sheet that is lined with parchment paper. You don't need to spread them out – just place them next to each other on the baking sheet. And make sure you've chosen a baking sheet that will fit in your freezer.
Once all of the dough has been formed into balls, take the baking sheet and place it in the freezer for about an hour, or until the balls are frozen.
Transfer the cookie dough balls to a labeled ziplock bag or freezer safe container. It is usually best to label the bag with the type of cookies, the date, and baking instructions.
Freeze for no more than 3 months for the best results.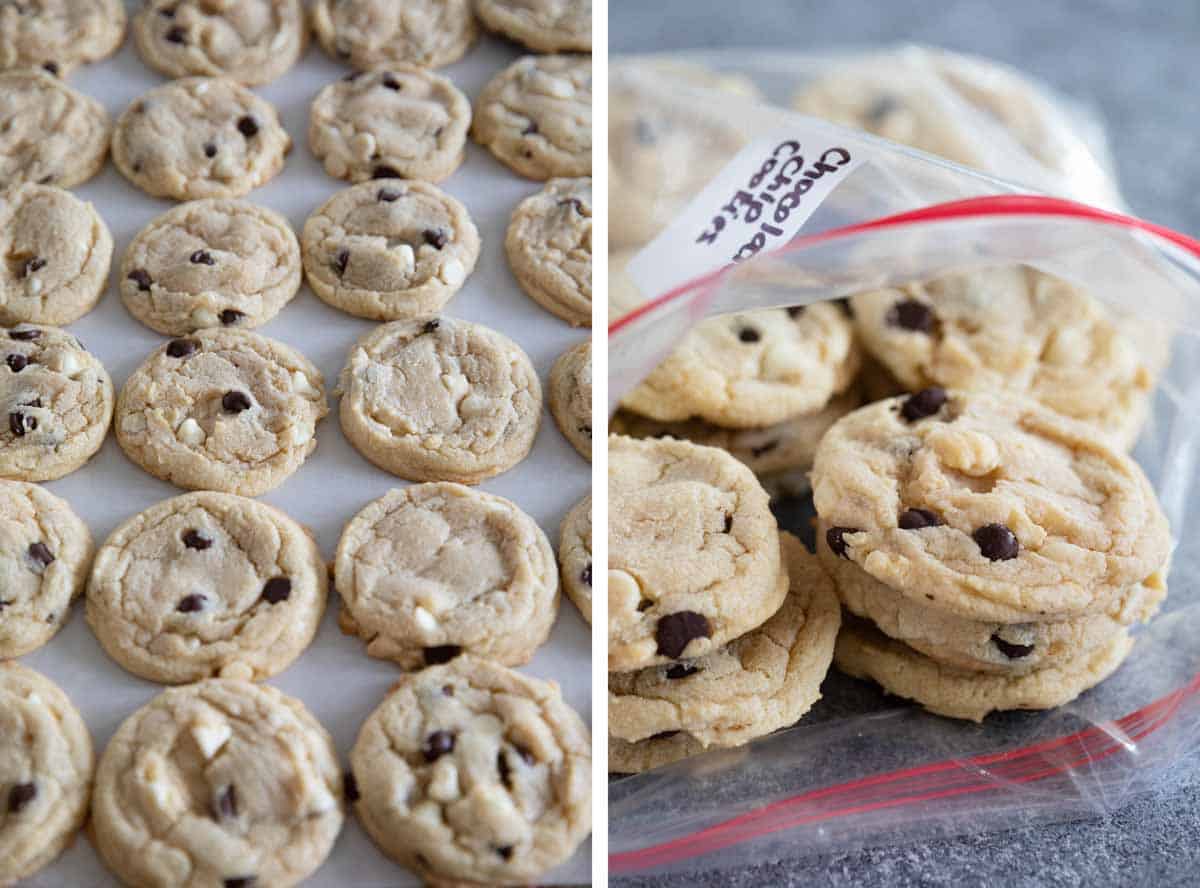 How to Freeze Baked Cookies
I prefer freezing the cookie dough over the baked cookies, simply because nothing beats a freshly baked cookie. But there are definite pros to freezing the baked cookies, as well! If you want just one cookie, it is easy to pull just one cookie (or however many you need) without the need to bake. These work well for lunches, as well. Put one in the lunch in the morning, and by lunchtime it will be thawed and delicious.
Start by baking the cookies according to the recipe directions. Let the cookies cool completely.
Once the cookies are completely cooled, transfer them to a baking sheet, keeping them in a single layer.
Place this in the freezer and freeze until the cookies are frozen through, about 1 hour.
Once frozen, you can transfer to a ziplock bag or a freezer safe container.
If you plan on thawing them one by one, I would just put them in the bag. If you want to be able to thaw the entire batch at once, I would suggest putting a layer of parchment paper or wax paper between the cookies to prevent sticking.
You can set the cookies at room temperature until they are thawed, but my favorite way to reheat a frozen cookie is to put it in the air fryer for about 3 minutes. Pure perfection!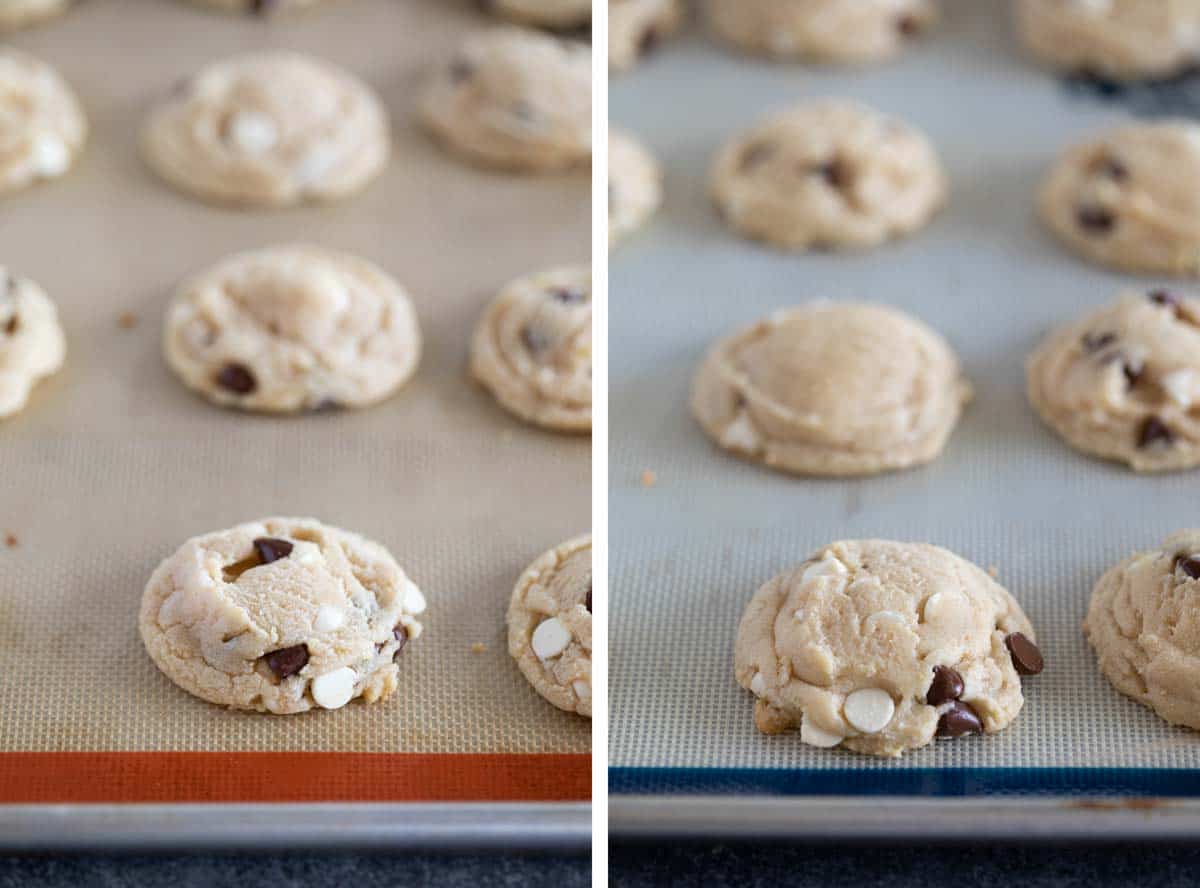 How to Bake Frozen Cookie Dough
As I went to revamp this post, I decided to test out different ways of baking the frozen cookie dough. I have always been a fan of baking the dough from frozen, but I wanted to know if thawing the dough first would produce a superior cookie.
Well, it turns out that there is no reason to thaw the dough first. The photos above are both from the same batch of cookie dough. The left is a cookie that has been baked from frozen dough, and the right hand photo is from dough that was set out for 30 minutes before baking.
They were almost identical.
So close, in fact, that I can say that there is no reason to take the time to thaw the cookie dough.
Remember that the baking time and temperature will differ for each cookie. Make sure to follow the baking instructions for your particular cookie. If baking from frozen dough, you'll want to add on 1-2 minutes of extra bake time.
What Kinds of Cookie Dough Freeze Well?
Most cookie doughs will freeze quite well. Drop cookies, like these chocolate chip cookies or Oatmeal Coconut Cookies tend to be the best kind of dough to freeze.
If you are making a cookie that requires you to roll the dough in something before baking, like Snickerdoodles or Chocolate Crinkle Cookies, you need to freeze the dough without the outer addition. This is one kind of dough that you'll want to let sit out for about 30 minutes, then the cookies will be soft enough to roll in the cinnamon sugar, powdered sugar, or whatever the recipe calls for.
To freeze sugar cookie dough, freeze it in one large brick wrapped well in plastic wrap. Set it in the refrigerator overnight, then roll it out and cut out shapes just before baking.
You'll want to steer clear of any delicate cookies, like Meringue Cookies, as they will not freeze well.
Now you have no excuse to not have a freezer filled with cookie dough for when the craving hits!