Iced Oatmeal Applesauce Cookies – a twist on a traditional oatmeal cookie with applesauce, golden raisins, and a maple icing.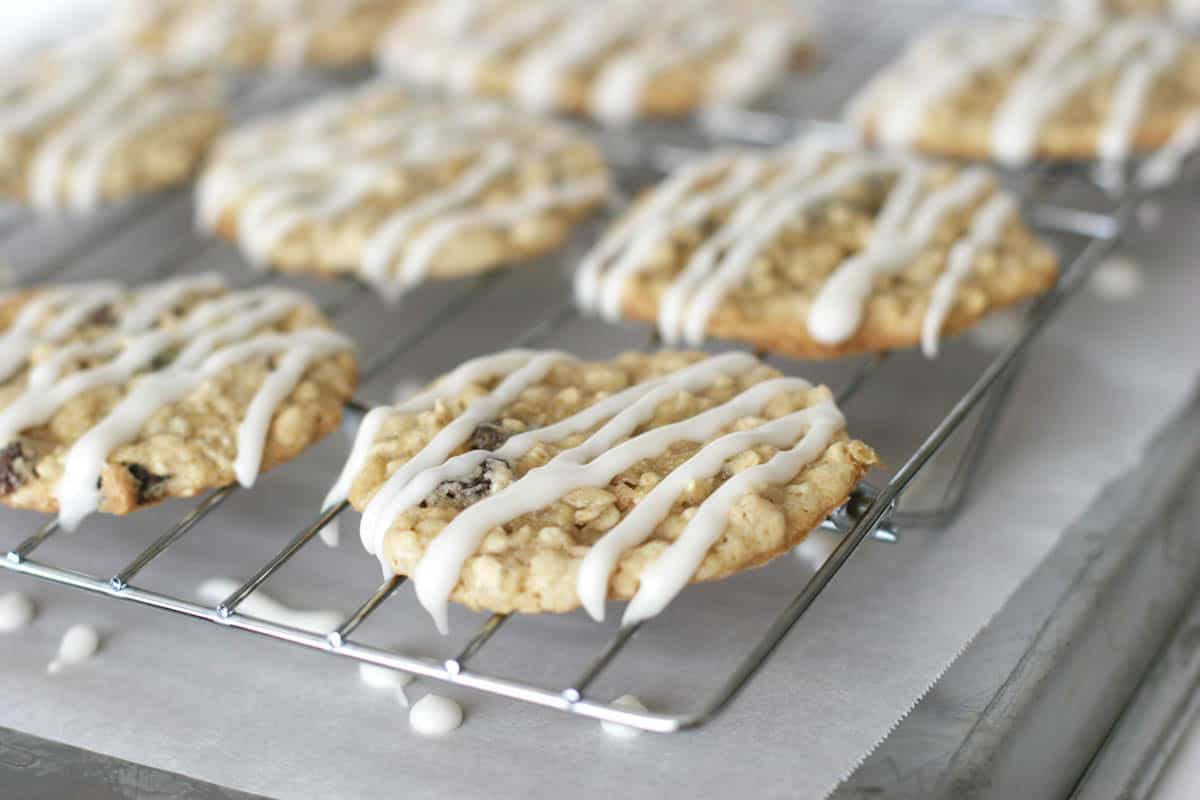 I had 2 problems when I made these cookies:
1 – even when I am cooking for someone else, I have a hard time not wanting to try new recipes. I really love trying new recipes, and I see cooking dinner for someone else as an opportunity to get out those cookbooks!! But the bad thing about this is you never quite know what you are going to get as an end result. It's always a gamble!
2 – I really need to learn to trust my instincts. I think that I've been cooking for long enough now that when something doesn't look quite right, I really should follow that feeling in my gut to make things right.
I was making dinner for a neighbor and wanted to take a dessert, so I went to a trusted cookbook – Martha Stewart's Cookies. I chose out these Iced Oatmeal Applesauce Cookies – a recipe I had been wanting to try. I mixed up all the ingredients and went to put the dough on the cookie sheets, but the dough didn't seem quite right. It wasn't as firm as most cookie dough.
I thought about adding more flour, but then told myself that this cookbook hasn't let me down yet so I should just stick to the recipe. I should have followed my instinct.
The first batch of the cookies came out of the oven flat as pancakes. There was no way I'd be able to give them away like that! I started to panic, wondering to myself why I didn't make a recipe that I knew would work right. Luckily, I went back to that original instinct, added some more flour, and the next batch came out beautifully. They still weren't a perfect oatmeal cookie in my opinion, but they were good enough to give away. Hopefully I've learned my lesson(s) for next time!!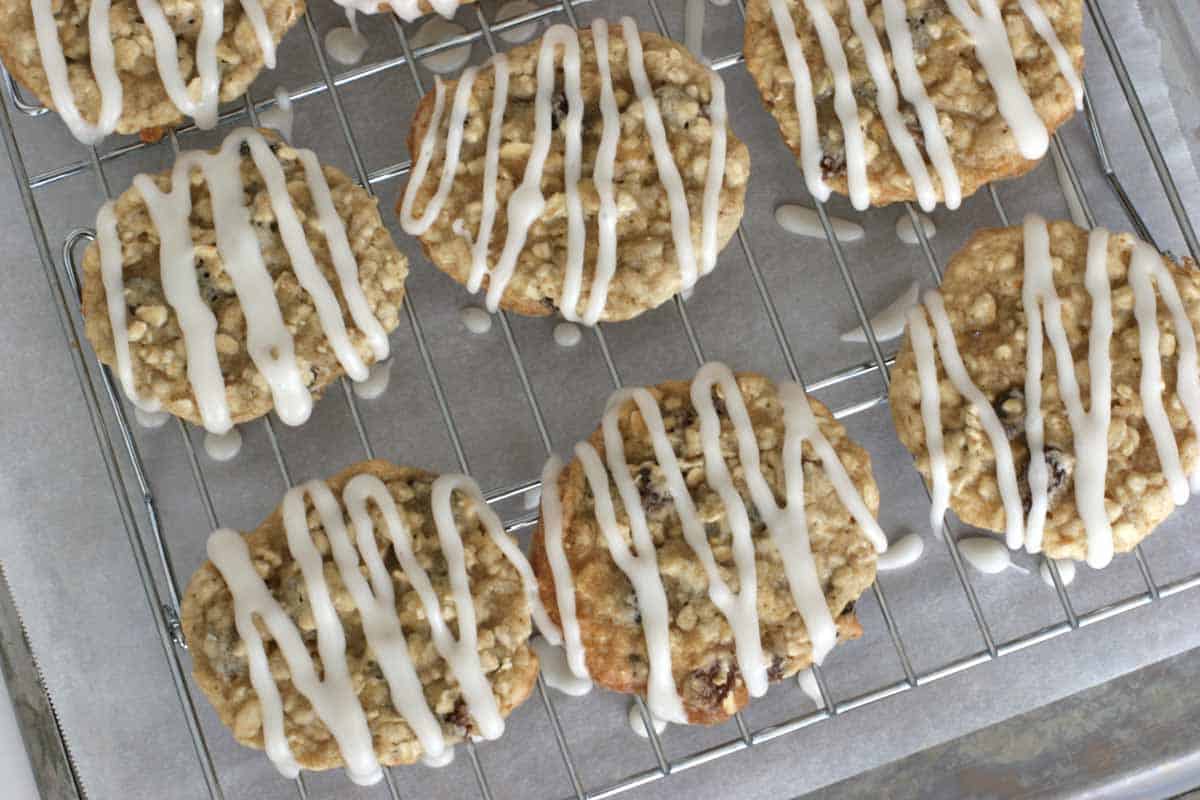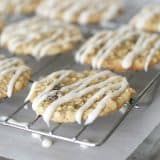 Iced Oatmeal Applesauce Cookies
---
Author:
Yield: 2-3 dozen cookies 1x
Category: Dessert
Method: Baked
Cuisine: American
Description
Iced Oatmeal Applesauce Cookies – a twist on a traditional oatmeal cookie with applesauce, golden raisins, and a maple icing.
---
Scale
Ingredients
4 tablespoons unsalted butter, melted
1 cup packed light-brown sugar
1/2 cup granulated sugar
1 large egg
1/2 cup chunky-style applesauce
1–1/2 cups old-fashioned rolled oats
1–1/4 cups all-purpose flour **I needed more, although I don't remember how much more I added!
1/2 teaspoon baking soda
1/4 teaspoon baking powder
1/4 teaspoon coarse salt
1 cup golden raisins
1–3/4 cups confectioners' sugar
3 tablespoons pure maple syrup
---
Instructions
Make cookies:
Preheat oven to 350.
Put butter and sugars in the bowl of an electric mixer fitted with the paddle attachment. Mix on low speed until combined.
Add egg and applesauce, mix until well blended, 2 to 3 minutes.
Mix in oats, flour, baking soda, baking powder, and salt. Mix in raisins.
Using a 1-1/2-inch ice cream scoop, drop dough onto baking sheets lined with parchment paper, spacing 2 inches apart.
Bake cookies until golden and just set, 13 to 15 minutes.
Let cool on sheets 5 minutes.
Transfer cookies to a wire rack set over parchment paper; let cool completely.
Make icing:
Whisk confectioners' sugar, maple syrup, and 3 tablespoons water until smooth.
Drizzle over cookies, let set.
Recipe Notes: