A creamy pumpkin cheesecake is topped with a caramel sauce for this decadent fall dessert.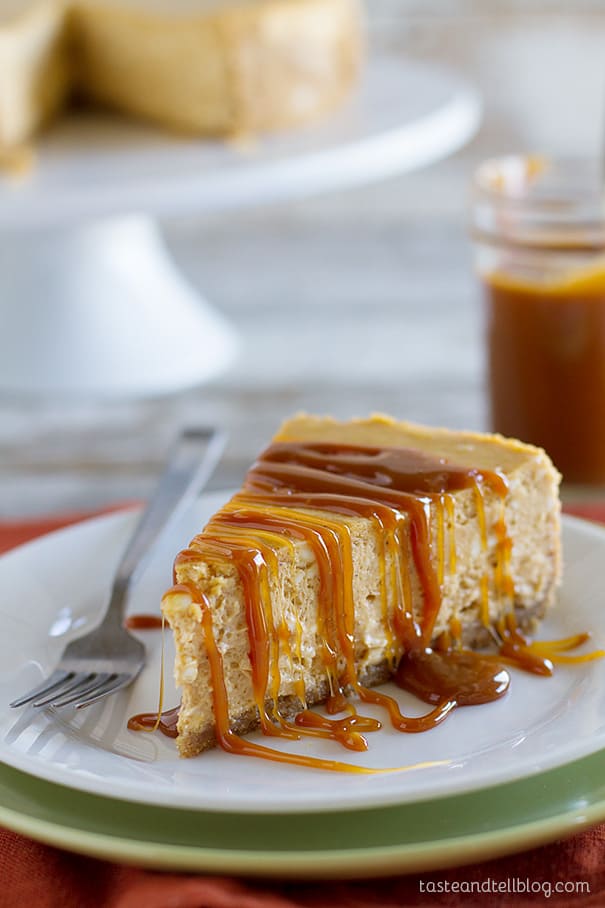 Originally posted September 22, 2008 – You would think that I've had enough with the sweets after last week's Red Velvet Week, but I've got another one for you today!! Since we are knee deep in all things pumpkin season, I thought it would be fun to re-make this pumpkin cheesecake and bring it back to you all today. This pumpkin cheesecake is cheesecake perfection – rich and creamy with just the right amount of pumpkin and spice. And the caramel sauce totally takes it over the top and gives it something a little different. While this caramel recipe is pretty simple, do be careful not to overcook it as it will harden up when it cools if you cook it too long. But even then, you can heat it back up and it's still delicious!!

Yesterday was my birthday. The big 3-1. And somehow, it feels much older than 30. Maybe it's because I'm pregnant with my first child, and I somehow always thought I'd be done having kids by the time I was 30, not just starting. And being 30 and child-less feels younger than 31 with one on the way. And it could be that I'm finding gray hairs several times a week.
I always thought it was fun to have my birthday on September 21st – the last of summer. This year, it was the actual last day of summer, and today, I get to welcome in my favorite time of year. I've always loved the fall. The smells, the temperature, the looming of the holiday season – all my favorites.
My family got together last night, and I had originally volunteered to make dessert, but my mother thought that it wasn't really right for the birthday girl to bring her own cake. But I had really been wanting to welcome in the new season with a taste of fall, so I brought my own birthday dessert to work last Friday!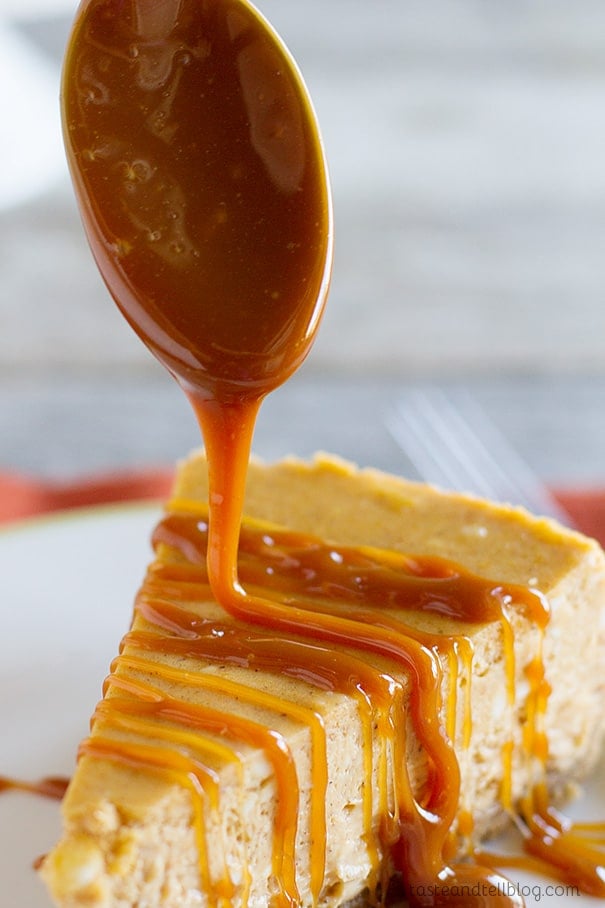 I don't usually make cheesecakes for work, because even cut into small slices, it's not enough to serve everyone. But since it was for my birthday, I figured I would get what I wanted! I had really been wanting to try out a pumpkin cheesecake, and when I ran across this one at Good Eats 'n Sweet Treats, I knew I had to try it. I had never thought to pair pumpkin cheesecake and caramel before, but seeing that they are two things that I love separately, how could they be bad together?
It was a delicious combination of flavors. The cheesecake recipe comes from RecipeZaar, and the caramel sauce from Baking: From My Home to Yours. Both were so easy, even cheesecake and caramel newbies could pull this off. Caramel seems to be my nemesis – sometimes it works for me, and sometimes it doesn't, but this recipe seems to be foolproof. I did cook mine a tad long, so it solidified before we ate the cheesecake, but a few seconds in the microwave, and it was good and runny again. And I was so grateful that there was quite a bit of the caramel sauce left over, because I've been eating it by the spoonful and loving every bite!
This was a great way to welcome in the Fall, and a new year with new adventures!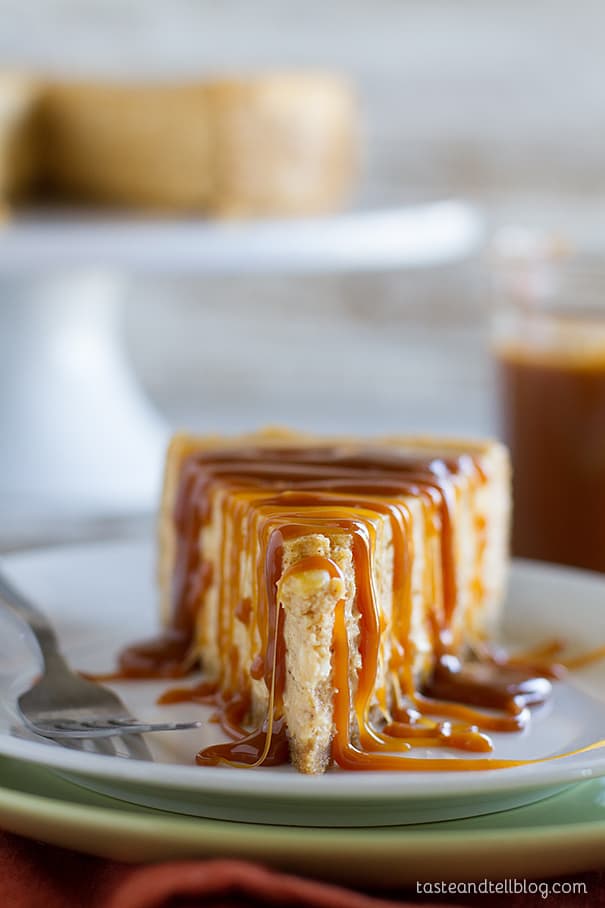 Like what you see here? Make sure you are following Taste and Tell for more great recipes and ideas!!

Facebook ** Pinterest ** Twitter ** Instagram ** Google+
or you can subscribe to my newsletter or Feedly or Bloglovin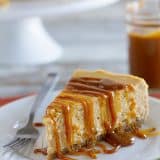 Pumpkin Cheesecake with Caramel Sauce
---
Prep Time: 40 minutes
Cook Time: 1 hour 10 minutes
Total Time: 1 hour 50 minutes
Yield: 12-16 servings 1x
Description
A creamy pumpkin cheesecake is topped with a caramel sauce for this decadent fall dessert.
---
Scale
Ingredients
Cheesecake
1–1/2 cups graham cracker crumbs
5 tablespoons butter, melted
1 cup sugar, plus 1 tablespoon sugar
3 (8 ounce) packages cream cheese, softened
1 teaspoon vanilla
1 cup canned pumpkin
3 eggs
1 teaspoon cinnamon
1/2 teaspoon nutmeg
1/2 teaspoon allspice
Caramel Sauce
2 cups sugar
1/2 cup water
1–1/2 tbsp light corn syrup
2/3 cup heavy cream
2 tbsp unsalted butter, at room temperature
---
Instructions
For the Cheesecake:
Preheat oven to 350ºF. Wrap the outsides of an 8-inch springform pan* tightly with foil. (I usually triple wrap mine – you don't want any water to be able to get to the cheesecake.)
In a bowl, combine the graham cracker crumbs, melted butter and 1 tablespoon of sugar. Press the crumbs into the bottom and about 2/3 of the way up the sides of the springform pan. Bake the crust for 5 minutes, then set aside.
In the bowl of a mixer, combine the cream cheese, 1 cup of sugar and vanilla. Beat until smooth. Add in the pumpkin, eggs, cinnamon, nutmeg and allspice, and continue beating until the mixture is smooth and creamy. Pour the filling over the crust.
Place the pan in a roasting pan or any larger pan. Place in the oven, then pour water into the larger pan. You want about an inch of water surrounding the springform pan.**
Bake for 60-70 minutes, or until the cheesecake is firmer around the edges, but still a bit jiggly in the center. Keep the cheesecake in the oven, but turn it off and put a towel or wooden spoon in the door to prop it open. Let the cheesecake stay in the oven until it has come to room temperature, then remove, wrap in plastic wrap and refrigerate until cold.
When ready to serve, run a knife around the outside of the cake and then remove the sides of the springform pan.
For the Caramel Sauce:***
Combine the sugar, water and corn syrup in a medium saucepan. Stir just to combine the ingredients, then place over medium-high heat. Cook, without stirring, until the caramel starts to turn an amber color, 5-10 minutes. Lower the heat and slowly add the cream and butter. Stand back, as it may start to spit and bubble up. Once the spatters calm down a bit, stir to combine and dissolve any lumps.
Drizzle the caramel sauce over individual cheesecake slices.
Recipe Notes:
*This cheesecake calls for an 8-inch springform pan, while the standard size is usually a 9-inch pan. If you don't have an 8-inch, you can substitute in a 9-inch, but the cheesecake won't be as thick and you will need to adjust the baking time.
**I always bake my cheesecakes in a water bath to ensure that they cook evenly. The water bath also helps to avoid cracking on the top of the cheesecake as well. If you don't have a pan large enough to fit your springform pan into, I have had readers say that they have just placed a dish of water on the rack underneath the cheesecake and that has helped. You can also eliminate the water bath completely, but my cheesecakes are never quite the same without it.
***If cooked too long, this caramel will start to harden as it cools. If this happens, just heat it to loosen it back up.
Cheesecake recipe adapted from food.com
Caramel sauce source Baking: From My Home to Yours