Filled with vegetables and a good kick of spice, you will never guess that this Cajun Chicken Pasta is actually a lighter meal!!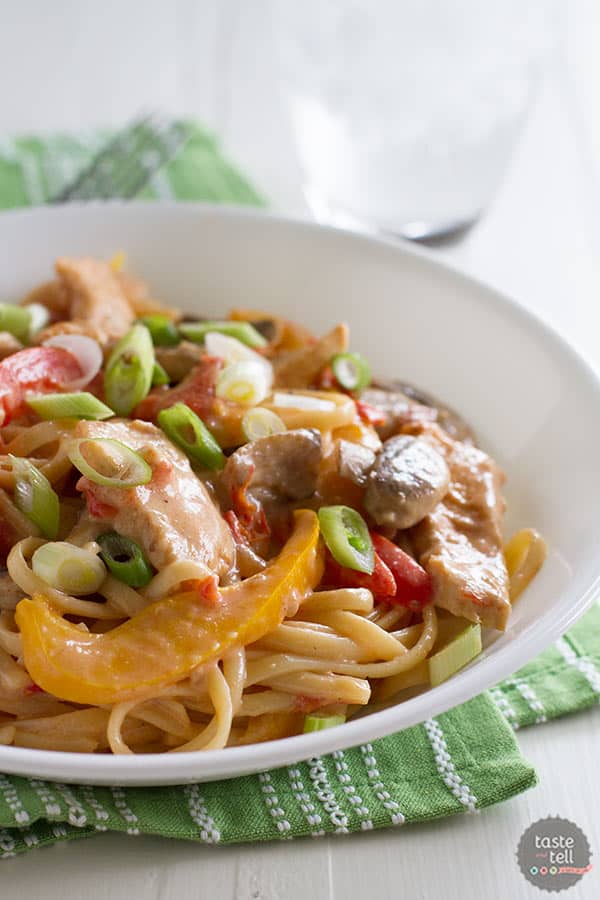 Did you know that in 2014, the number one New Year's Resolution was to lose weight, and #5 was to stay fit and healthy? (source) It's probably not much of a surprise – getting healthy and eating lighter is on the lips of lots of people right now.
I know I'm thinking about the lighter side of things after spending the last 5 days with my family at a cabin in Northern Utah. Pretty much spending my days doing puzzles and eating. #notevenkidding
I've never been fond of "diet" food, though. And I'm always on the search for food that is not only good for you, but something that tastes like it's not lighter. Something that my family will love.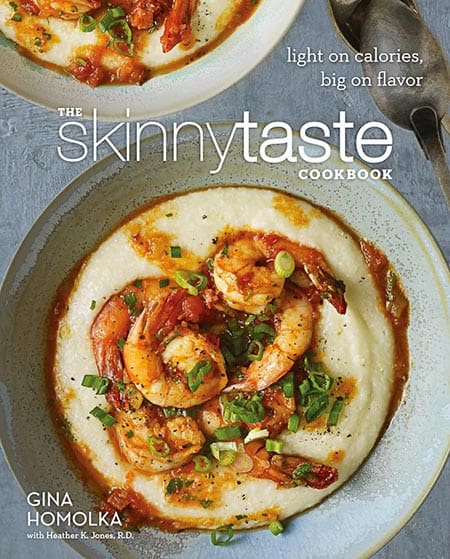 Enter The Skinnytaste Cookbook. I've been following Gina Homolka's blog – Skinnytaste – for quite some time now, and I've tried several of her recipes. And I think I may have been the last one to finally buy her debut cookbook.
But late or not, I'm glad that I finally did it. This book is full of recipes that I can't wait to try – recipes that don't scream diet. Food that is high in flavor.
Here are the details:
Number of Photos: lots! There is a photo of almost every recipe. And they are gorgeous. The book was photographed by Penny De Los Santos. (Which side note – I watched an online photography class where Penny De Los Santos was the instructor a few years ago, and she is who inspired me to actually take the photography side of my blog to a new level. I kinda love her.)
Difficulty Level of Recipes: Easy. I truly believe that any beginner could make these recipes. Sure, they are more complex than opening up a box of something to make, but fresh, good food takes a little effort. But the recipes are not difficult.
Availability of Ingredients: Easy. I didn't notice any ingredients through the book that would be difficult to find.
Other Recipes I Want to Try:
Apple 'n' Spice Baked Oatmeal
Buffalo Chicken Melts
Mongolian Beef and Broccoli
Kiss My (Shrimp and) Grits
Quinoa-Stuffed Peppers
Coconut Panna Cotta with Fresh Raspberries
Buy The Skinnytaste Cookbook on Amazon.
I seriously could have made any one of the recipes in the book and been happy. I did have a hard time choosing my first recipe to go with. In the end, I couldn't keep my hands from turning back to this Lighter Cajun Chicken Pasta. It also helped that I had some bell peppers in the fridge that I needed to use up.
I am the spice queen. Seriously – I have SO many spices. But for some reason, I had no Cajun seasoning in my pantry. But I happily bought some for this recipe. And while we always have milk, I only buy 2%, but wanting to stick to this recipe to see what I thought of it as written, I even bought skim milk.
It was all worth it in the end. We loved this. Devoured it. My family had no idea it was "lighter". The slurry that you make with the cream cheese that makes the cream sauce? Just brilliant. I probably would add a touch more of the Cajun seasoning next time (just personal preference) but that's the only thing I would do differently.
And one of my favorite things about this Cajun Chicken Pasta is that even though it's lighter in calories, the portion size was still very generous. I seriously think that sometimes lighter portions are so small that you would have to eat 2 portions to even feel somewhat satisfied. But this portion size was plentiful and I was stuffed.
I can't wait to cook more from this book. I was so excited about it after I made this recipe that I even bought a copy for my mom for her birthday last month. I seriously have so many recipes bookmarked. Whether you are looking to lighten up your diet this year or not, you would love this book!!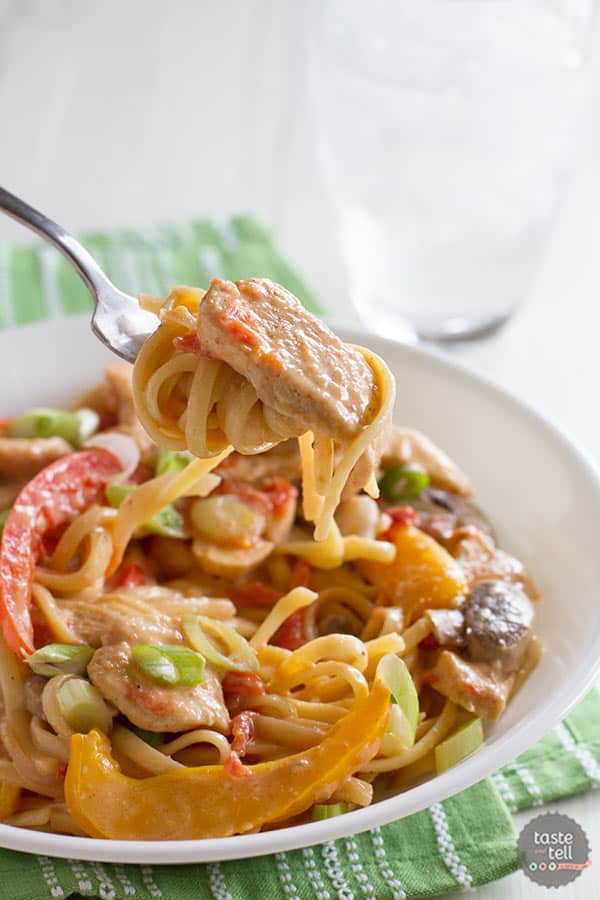 Like what you see here? Make sure you are following Taste and Tell for more great recipes and ideas!!

Facebook ** Pinterest ** Twitter ** Instagram ** Google+
or you can subscribe to my newsletter or Feedly or Bloglovin


Print
Lighter Cajun Chicken Pasta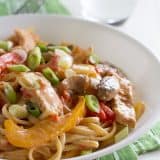 Filled with vegetables and a good kick of spice, you will never guess that this Cajun Chicken Pasta is actually a lighter meal!!
Prep Time:

15 mins

Cook Time:

25 mins

Total Time:

40 mins

Yield:

5 servings
Ingredients
1/3 cup fat-free milk
1 tablespoon all-purpose flour
3 tablespoons light cream cheese
8 oz linguine
kosher salt
1 pound boneless, skinless chicken breasts, cut into bite-sized strips
1 1/4 teaspoons Cajun seasoning
1 teaspoon garlic powder
1/8 teaspoon freshly cracked black pepper
cooking spray
1 tablespoon olive oil
1 medium red bell pepper, thinly sliced
1 medium yellow bell pepper, thinly sliced
1/2 medium red onion, thinly sliced
3 cloves garlic, minced
8 oz mushrooms, sliced
2 medium tomatoes, chopped
1 cup 33% less chicken broth
2 green onions, sliced
Instructions
Combine the milk, flour and cream cheese in a blender and process until smooth. Set aside.
Bring a large pot of salted water to a boil. Cook the pasta according to the package directions. Drain and set aside.
Season the chicken with 1 teaspoon of the Cajun seasoning, 1/2 teaspoon of the garlic powder and 1/4 teaspoon of salt. Heat a large nonstick skillet over medium-high heat. Spray with nonstick cooking spray and add half of the chicken. Cook the chicken until browned and cooked through, about 3 minutes per side. Transfer to a plate and cook the second half of the chicken, then remove the cooked chicken to the plate.
Add the olive oil to the skillet, reducing the heat to medium. Add the bell peppers, onion, and garlic and cook, stirring constantly, until almost tender, 3-4 minutes. Add the mushrooms and the tomatoes and continue to cook another 3 to 4 minutes. Season the vegetables with the remaining 1/2 teaspoon garlic powder, 1/2 teaspoon salt and the black pepper. Reduce the heat to medium-low and add the chicken broth and the cream cheese slurry. Cook, stirring constantly, until it begins to thicken, about 2 minutes.
Add the chicken strips back to the skillet. Season with another 1/8 teaspoon of salt and the remaining 1/4 teaspoon Cajun seasoning, or add more to taste. Cook until heated through. Add the linguine and toss to coat.
Divide the pasta between 5 serving plates and sprinkle with the green onions.
Nutrition
Serving Size:

1 1/2 cups

Calories:

375

Sugar:

6 g

Sodium:

475 mg

Fat:

7.5 g

Saturated Fat:

2 g

Carbohydrates:

47 g

Fiber:

4 g

Protein:

30 g

Cholesterol:

63 mg

**This post contains affiliate links. If you purchase an item from Amazon from the link Taste and Tell receives a small commission. Thank you for supporting Taste and Tell through your purchases!**