I was sent 2 of the "Not Your Mother's" cookbooks to review, and this is the first of the 2. And from the title of it, I knew this cookbook and I would get along!
Not Your Mother's Weeknight Cooking is just what I thought it would be – a cookbook full of quick weeknight meals. Nothing super fancy, but nothing super boring, either. In fact, I have a ton of recipes bookmarked to make from this cookbook!!
Cooking Times Listed in Recipes: yes
Not only cook times, but prep times as well. And I found them to be pretty accurate.
Number of Photos: 16
Out of I think 150 recipes, there is only a section in the middle where all the photos for the book are. They are gorgeous photos, so I wish there were more of them, but I do have to say that I want to try every one of the recipes that has a photo!
Difficulty Level of Recipes: easy
Every recipe I made was quite simple, and I didn't run across any recipes that seemed complicated or drawn out.
Availability of Ingredients: medium
For the most part, only common ingredients are used. But every once in awhile, a different ingredient is thrown in that may be a little more difficult to find. But overall, most ingredients should be available in any well stocked grocery store.
Here's a sampling of what I made from the book!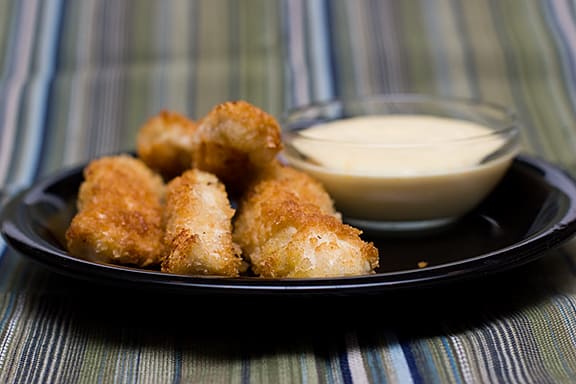 Chicken Fingers with Orange-Miso Dipping Sauce
I saw this recipe and had it in my head to make it, and I couldn't get rid of it after that. The dipping sauce is what intrigued me. But it had yellow miso in it, and after searching high and low, even at a local Chinese grocer, I couldn't find yellow miso. So I bought white. It was my first time using miso, so I don't even know the difference or how it affected the final dish, but unfortunately, the dipping sauce was a little too sweet. But I think with a little tweaking, it would be fabulous!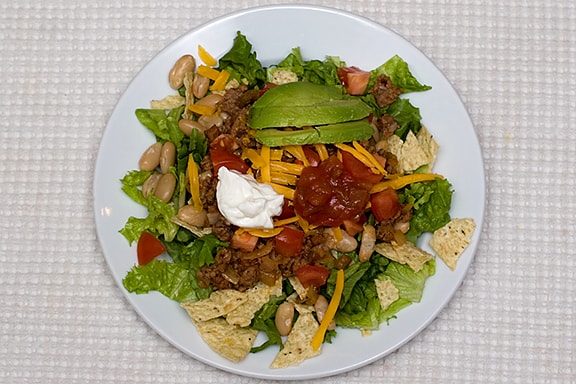 California Taco Salad
This one is not totally original, but still extremely delicious!! I'm always up for anything "taco", and this really hit the spot. Healthy, delicious, and quick – it doesn't get better than that!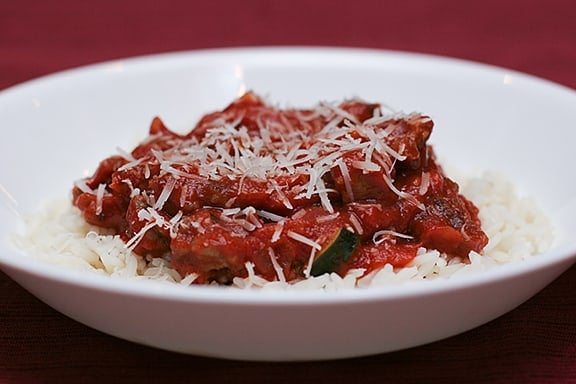 Italian Sausage and Red Sauce with Rice
To be honest, this wasn't even a dish I had planned on making. But I found myself unprepared for dinner one night, and after flipping through the pages of this cookbook, I came across this recipe and had all the ingredients on hand. I'm so glad I made it, because it was my favorite of the recipes I tried! Bold, delicious flavors, and the leftovers were great, too! (Recipe included below)
Sweet Potato Chicken Hash
The original recipe actually calls for turkey, but I had chicken, so that's what I used. I originally was going to even leave the chicken out, but at the last minute, I decided to throw it in. I think it would have been just as good, and cheaper, without the chicken. I love sweet potatoes, so I loved this recipe. This is one I know I'll make again.
Overall, I would give this cookbook thumbs up! These are my favorite kinds of recipes, and I know I'll be referencing this cookbook often!
Italian Sausage and Red Sauce with Rice
from Not Your Mother's Weeknight Cooking
Serves 4
Prep time: 20 minutes
Cook time: about 35 minutes
3 tablespoons olive oil
1/2 cup chopped onion
1 medium sized zucchini-diced
One 32-ounce can tomato puree
One 6-ounce can tomato paste
pinch of dried oregano
3 1/2 cups plus 3 tablespoons water
1 3/4 cup long-grain white rice
1 1/2 lbs. Italian sausage, casings removed
salt and pepper
3/4 cup grated Romano, Parmesan or Asiago cheese
In a deep saucepan, heat 2 tablespoons of the olive oil over medium heat and saute the onion until very soft, about 5 minutes. Add the zucchini and saute a minute or two to soften. Add the tomato puree, tomato paste, and oregano. Bring to a boil, then simmer, uncovered, for 15 minutes.
In a medium-size saucepan, bring the 3 1/2 cups of water to a boil. Add the remaining 1 tablespoon olive oil. Add the rice, cover, and cook until the water is absorbed and the rice is tender, 20 minutes.
In a large skillet over medium heat, cook the sausage with the 3 tablespoons water. Cover and cook for 5 to 7 minutes, until lightly browned, breaking it apart as it cooks. Remove the sausage with a slotted spoon, draining off any fat, and add it to the tomato sauce. Season with salt and pepper. Cook the sauce for 10 more minutes, or until the rice is done.
Ladle the rice into shallow bowls, top with some sauce, and pass the cheese at the table.
Interested in owning your own copy?
Where to buy
Disclosure: I received a free copy for this review. No monetary compensation was offered or accepted. The opinions above are my own. Others experience may vary.