Looking for a full flavored lunch to keep you going? These Spicy Cajun Cheesesteak Sandwiches are spicy and flavorful and are easy and fast enough to make for lunch!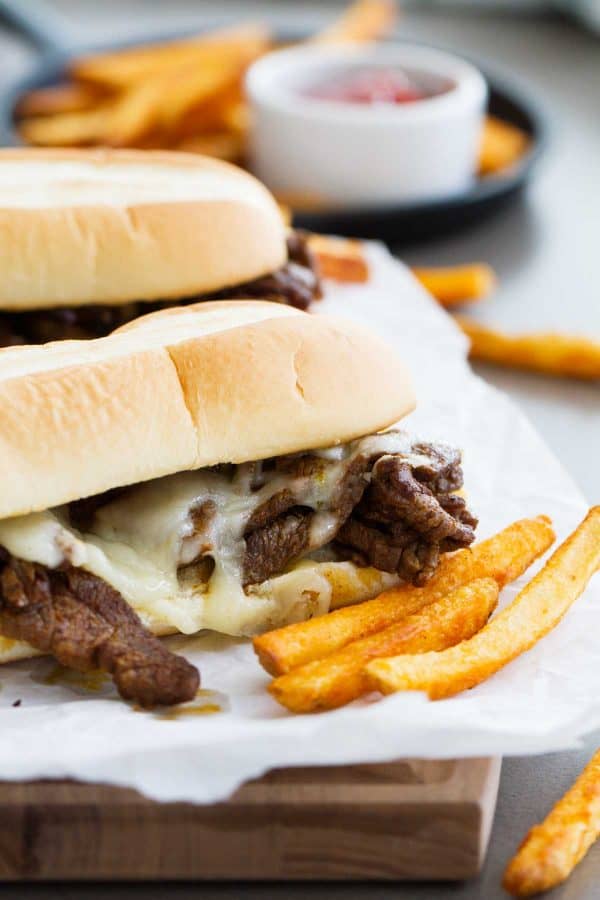 I am a cookbook lover – this is no secret. And a cookbook collector. I honestly don't know how many I have, but it's several hundred. And when you have that many cookbooks, it's pretty obvious that you aren't cooking from all of them on a regular basis. I really do get them out a lot and flip through the pages for inspiration. But I really only have a handful of them that I turn to regularly. Because they have the kind of recipes I love, and because I have had more than one really good recipe from that book. One of those books, which I've written about here before, is The Weeknight Dinner Cookbook by Mary Younkin. It really is a favorite – I haven't had a single bad recipe from it yet.
So it's no surprise that I was ecstatic when I found out that Mary was writing a second book. And even more excited when I got it in my hands. As I flipped through its pages, I knew I would love this book just as much as her first book.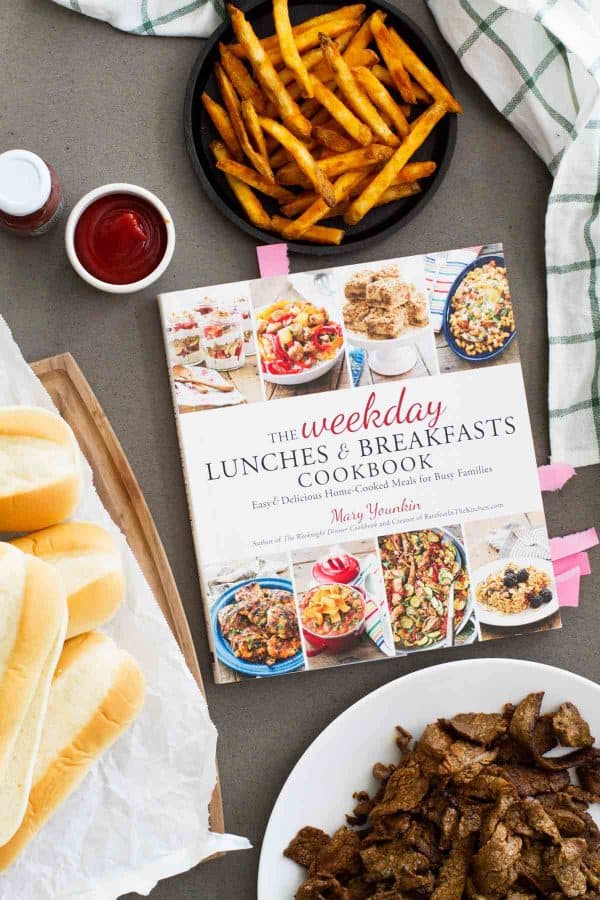 The Weekday Lunches and Breakfasts Cookbook is filled with recipes that are along the same lines as the recipes from her first book – easy, fast and family friendly. But instead of focusing on dinner ideas, this book focuses on lunch and breakfast ideas. Which I absolutely love, because those are the two meals that I struggle with the most. Mainly because I'm always in a time crunch or I just don't tend to feel as creative for those meals.
Here are my thoughts on this book so far:
Pros: What's not to love? Really – I am loving everything about this book. Easy recipes. Quick recipes. Make ahead recipes. There is a photo for every recipe, which I know is a very important selling point for so many people. This is not one of those cookbooks that you'd only make a handful of recipes from. I really didn't see a single recipe in the book that I wouldn't want to make. I love that the recipes use easy, everyday ingredients and that they focus on maximum flavor in very few ingredients.
Cons: I can't even think of a single con for this book. This is a good one!!
Other recipes I want to try:
Paprika Potato Skillet with Kielbasa and Corn
Creamy Cajun Pasta
Chipotle Lime Shrimp Bowls
Hot Turkey Bagel Sandwiches
Cheesy Green Chile Chicken
Sesame Steak Stir-Fry with Green Beans
Tortilla Eggs
Cheesy Egg French Bread Breakfast Pizza
Fancy Breakfast Toasts
Savory French Toast Bake
Coconut Oatmeal Trail Mix Cookies
Chocolate Chip Toffee Banana Bread
Buy The Weekday Lunches and Breakfasts Cookbook on Amazon.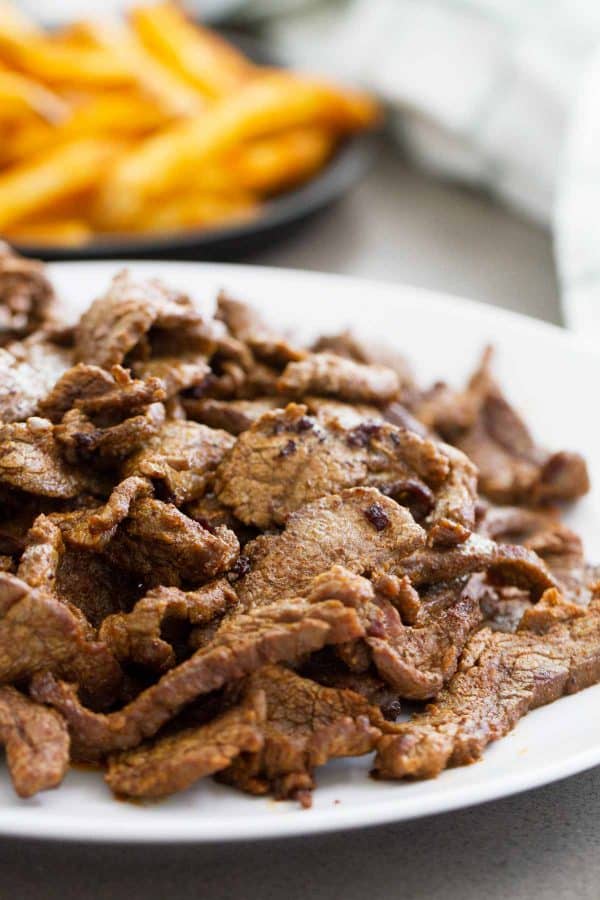 When it comes to lunch, I am bad. I don't usually plan something for myself and end up just eating the leftover sandwich crusts or the last few bits of apple sauce in the bowl. I have been saying for years that I need to step up my lunch game and actually plan something out to make for myself. Because when I don't plan and just graze, I end up grazing way too much and I feel blah by the end of the day. I know that if I actually take my time to feed myself, I'm happier, I'm healther, and things are all around less crazy.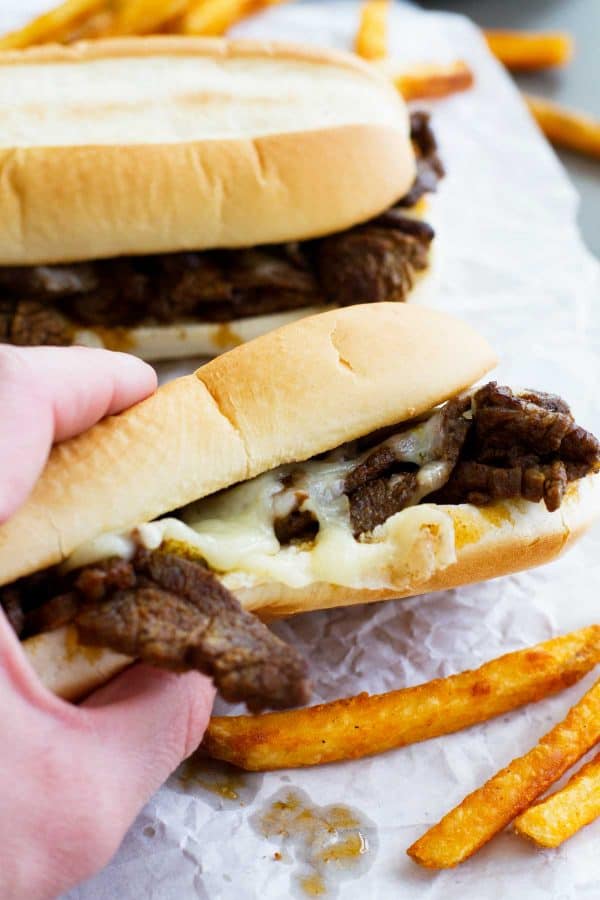 I have been on a total breakfast kick lately, so I decided to change things up a bit and make one of the lunch recipes. I had so many pieces of paper marking the recipes we wanted to make. After trying to narrow it down and failing, I called in my kids to make the final decision, and they settled on these Spicy Cajun Cheesesteak Sandwiches. Let me tell you a few things I loved about these sandwiches. First – that there are not very many ingredients at all. Six total – that's it!! It's amazing how much flavor you can get from 6 simple ingredients. Second – this sandwich recipe is fast. Especially if you can slice the steak quickly.
In the book, Mary gives a recipe to make your own Cajun seasoning, but I already had some store-bought in my cabinet, so I used what I had on hand. These sandwiches were a bit spicy (a bit too much for my kids), but the spice level was just perfect for me! And the second time we made these, we spread a little bit of mayo and horseradish on the top bun after it came out of the oven, and it was a delicious option as well.
I'm completely sold on this recipe, and completely sold on this book! This book will become a regular at my house!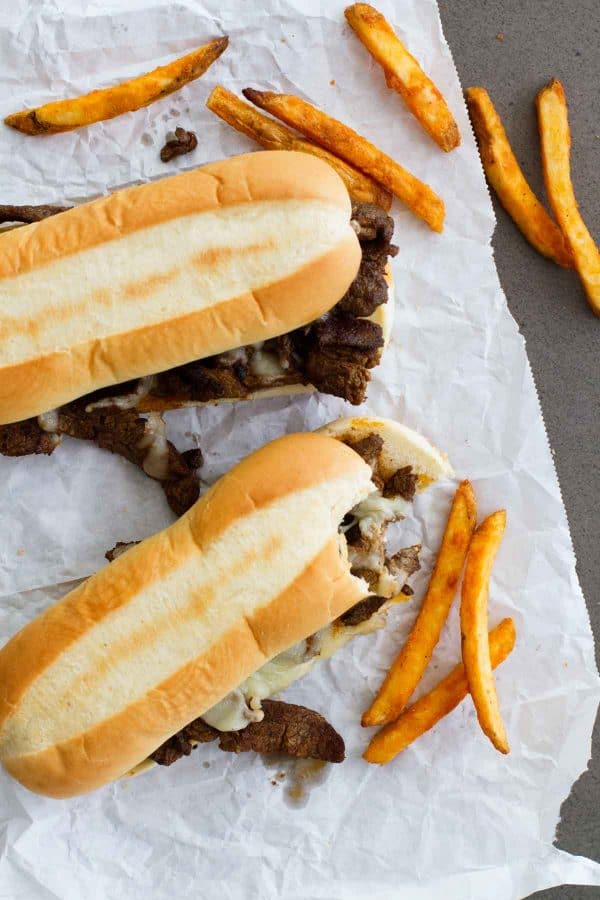 Want more sandwich recipes that are easy enough for lunch?
Mini Hot Brown Sliders
Roast Beef and Slaw Panini
Pesto Chicken Wraps\
BBQ Ranch Chicken Salad Sandwiches
The Best Ham Sandwich from Barefeet in the Kitchen
Hot Italian Sandwiches from Wonky Wonderful
Like what you see here? Make sure you are following Taste and Tell for more great recipes and ideas!!

Facebook ** Pinterest ** Twitter ** Instagram ** Google+
or you can subscribe to my newsletter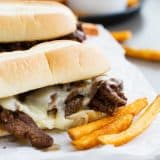 Spicy Cajun Cheesesteak Sandwiches
---
Author:
Prep Time: 10 mins
Cook Time: 10 mins
Total Time: 20 minutes
Yield: 4 servings 1x
Category: Main Dish
Description
Looking for a full flavored lunch to keep you going? These Spicy Cajun Cheesesteak Sandwiches are spicy and flavorful and are easy and fast enough to make for lunch!
---
Scale
Ingredients
1 lb flank steak (skirt steak can also be used)
1 1/2 tablespoons Cajun Seasoning Mix*
4 French sandwich rolls
2 teaspoons light flavored olive oil
1 tablespoon butter
1 cup shredded pepper jack cheese
---
Instructions
Place an oven rack 6 inches from the top of the oven. Preheat the oven to 400ºF.
Slice the steak thinly against the grain. Place the steak in a medium bowl and sprinkle with the Cajun seasoning. Stir to coat the steak pieces with the seasoning.
Heat a heavy stainless steel skillet over medium-high heat and add 1 teaspoon of the oil. Swirl to coat the pan. Add half of the meat slices and arrange so that they are in a single layer in the pan. Cook for 1 minute, then flip them over and cook for an additional minute.  If there is a piece that is not browned, let it cook for an additional 20 to 30 seconds. (You want each piece to be browned, but still juicy in the center.)
Use a spatula or tongs to remove the beef from the skillet to a plate and repeat with the second half of the oil and the meat.
When the meat has finished cooking, add the butter to the skillet. While the butter melts, scrape up the browned bits on the bottom of the pan. Drizzle the butter and juices over the steak bites on the plate.
Arrange the sandwich rolls cut side up on a baking sheet.  Divide the steak onto the bottom halves of the rolls. Sprinkle the cheese over the steak. Place in the oven and bake until the cheese is melted and gooey and the rolls are toasted, usually 3 to 4 minutes. Make sure you keep an eye on them, as they can burn quickly.
Place the tops of the rolls on the sandwiches and serve.
Recipe Notes:
From The Weekday Lunches and Breakfasts Cookbook
*The book has a recipe for homemade Cajun seasoning, but I had some on hand already so I used what I had.
We have also tried this with a little bit of mayonnaise and horseradish and it's awesome!
Nutrition
Serving Size: 1 sandwich
Calories: 575
Sugar: 2 g
Sodium: 1190 mg
Fat: 26 g
Saturated Fat: 21 g
Unsaturated Fat: 4 g
Trans Fat: 0 g
Carbohydrates: 45 g
Fiber: 1 g
Protein: 38 g
Cholesterol: 113 mg