Smoky and full of flavor, this Chipotle Beef Quesadilla Recipe makes an easy dinner or lunch that is fast and easy.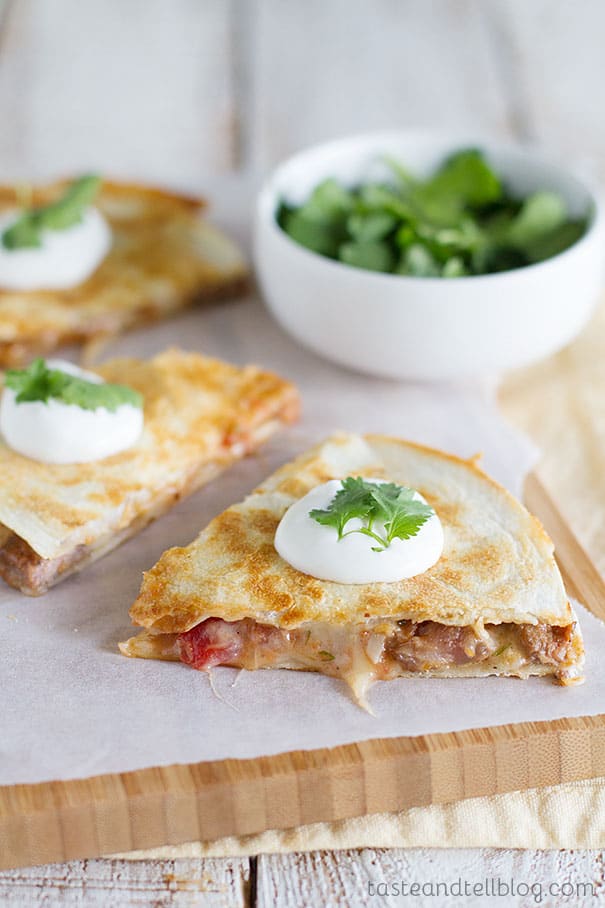 Post Updated August 2014



Originally posted March 23, 2009 – I have been dying to remake this recipe, mainly because the "before" pictures were so amazingly horrendous. But I'm so glad that I did try this recipe again, because I had forgotten how much I love this recipe! Chipotle chile gets added to this beef quesadilla recipe for the perfect amount of smoke and spice. This makes a great weeknight meal or easy lunch.
I have a storage problem. I guess the problem is that I have a small-ish freezer, and not enough room. And now that spring is here, (even though it is snowing outside here!), I've been wanting to make ice cream. But my freezer is too full – I can't even fit the ice cream bowl in the freezer! So a little while back, I pulled everything out of the freezer, threw away anything that looked like it had been in there too long, and I made an inventory of my freezer contents. And ever since then, I've been working on using up what I had.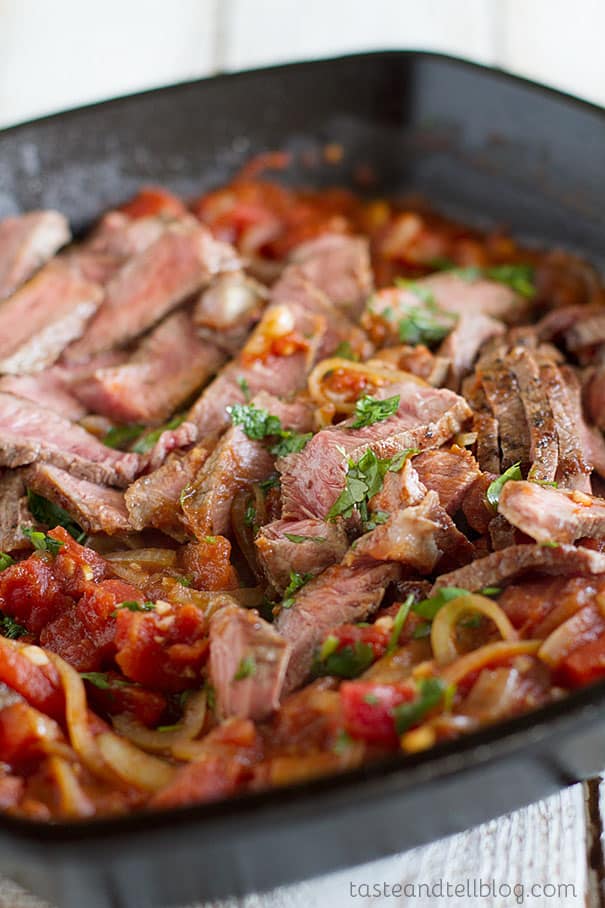 One item in my freezer was a mystery steak. Now I freeze meat, chicken, and pork quite often, but for some reason, I'm not a big fan of just cooking up a steak from the freezer. I usually have to make it into something else because I don't like a steak from the freezer like I like a fresh steak. So I went looking for a recipe.
I came across this quesadilla recipe that originally called for pork chops, but I thought my steak would work perfectly in it. And I was right! This was a fast dinner, filled with flavor. And another great thing about this recipe is that it is inexpensive – according to the magazine, the national average for 4 servings is only $8.76. And I'm another step closer to making room for my ice cream maker!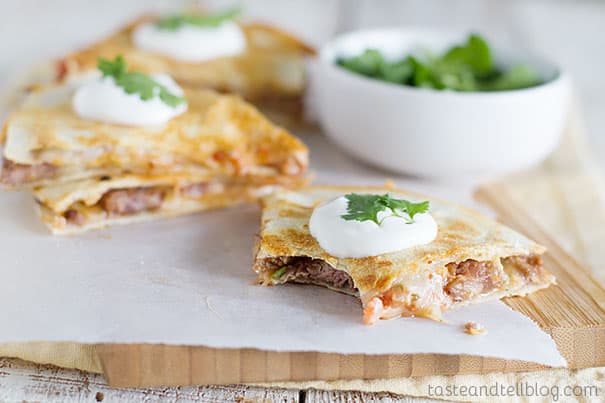 Like what you see here? Make sure you are following Taste and Tell for more great recipes and ideas!!

Facebook ** Pinterest ** Twitter ** Instagram ** Google+
or you can subscribe to my newsletter or Feedly or Bloglovin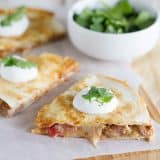 Chipotle Beef Quesadilla Recipe
---
Prep Time: 10 minutes
Cook Time: 16 minutes
Total Time: 30 minutes
Yield: 4 servings 1x
Description
Smoky and full of flavor, this Chipotle Beef Quesadilla Recipe makes an easy dinner or lunch that is fast and easy.
---
Scale
Ingredients
1 pound steak
salt and pepper
3 tablespoons extra virgin olive oil
1/2 onion, thinly sliced
1 cup canned diced tomatoes
3 cloves garlic, chopped
1 chipotle chile in adobo sauce, finely chopped
1/2 teaspoon ground cumin
1/2 cup chopped cilantro, plus leaves for garnish
8 medium flour tortillas
1 cup shredded monterey jack cheese
---
Instructions
Preheat the oven to 350°. Season the steak with salt and pepper. In a large nonstick skillet, heat 1 tablespoon of the olive oil over medium-high heat. Add the steak and cook until browned, 4 minutes on each side. Transfer to a cutting board and let cool; cut into thin strips.
In the same skillet, heat 1 more tablespoon olive oil over medium heat. Add the onion and cook, stirring occasionally, until softened, about 4 minutes. Stir in the tomatoes and their juice, the garlic, chipotle and cumin and cook over medium-high heat, stirring, until the mixture thickens, about 3 minutes; stir in the sliced beef and chopped cilantro.
Heat a grill pan or griddle over medium heat. Brush one side of each tortilla with the remaining 1 tablespoon olive oil. Working in batches, cook the tortillas oiled side down until lightly browned, 1 to 2 minutes.
Arrange 4 tortillas grilled side down on a baking sheet. Divide the steak mixture among the tortillas and sprinkle with the cheese. Top with the remaining tortillas, grilled side up. Bake until the cheese is melted, about 10 minutes. Cut into wedges and top with the cilantro leaves.