With the perfect amount of spice, this homemade Cajun seasoning recipe is easy to make from spices you probably have on hand at home. It's perfect for seasoning meat or adding a bit of spice to any dish.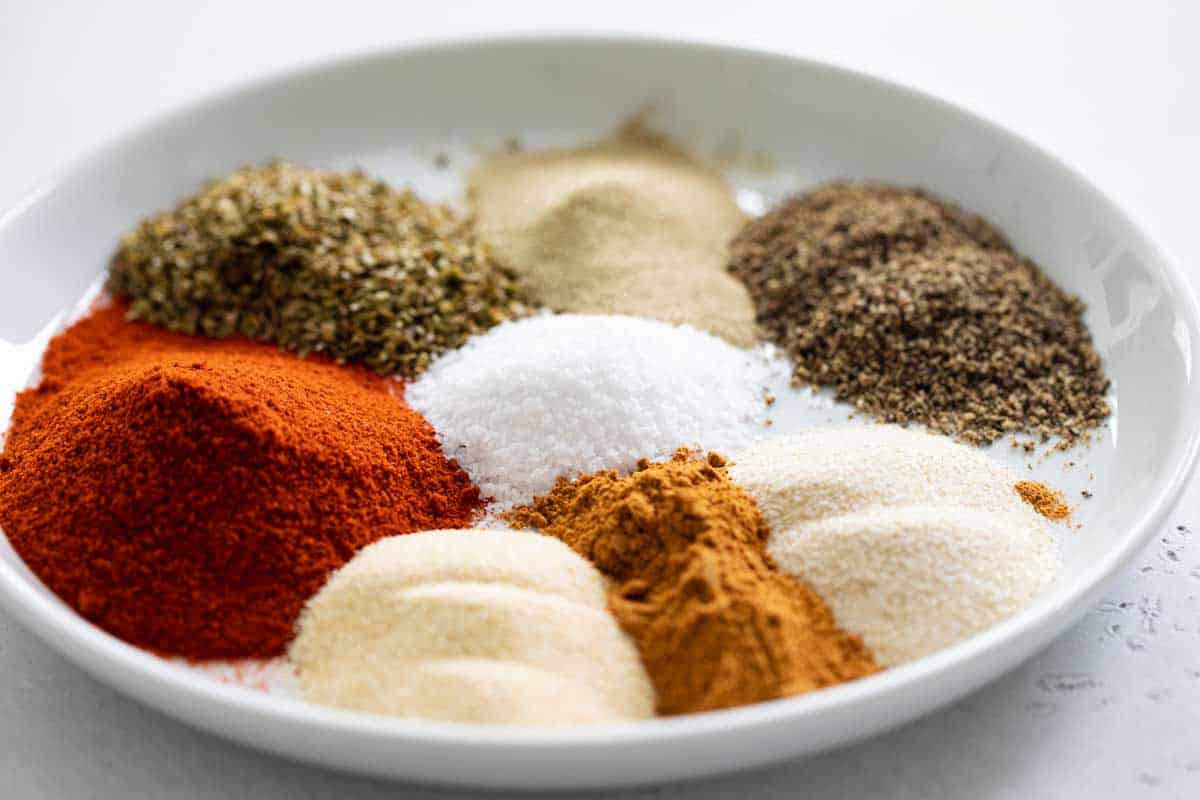 I went through a period a few years back when I made several recipes that called for certain spice mixtures. And of course, those spices were nowhere to be found at the grocery store.
So what did I do?
I started making my own!
Seasoning mixes like Pumpkin Pie Spice and Jamaican Jerk Seasoning Mix are so easy to make at home with the spices you have on hand. And there is always some peace of mind knowing exactly what goes into that mix!
I decided to make a recipe that called for Cajun seasoning and once again, I didn't have any on hand. Good thing I could just mix some up on my own at home!
This literally takes 5 minutes to throw together. It is spicy and full of flavor and is great on meat, chicken and seafood. It's especially good for grilling, which is perfect for this time of year!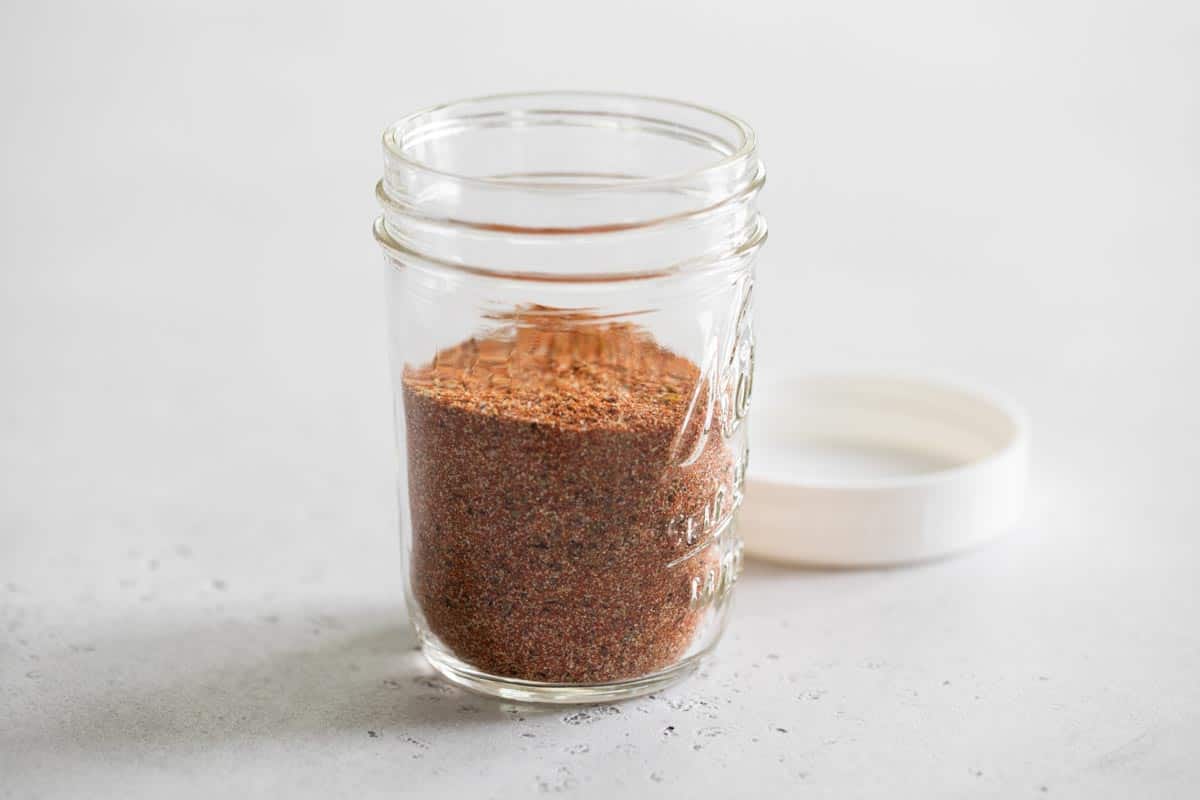 What Spices Go Into Cajun Seasoning?
I have a well stocked spice drawer, so I had all of these spices on hand already. You might need to pick up one or two, but this Cajun seasoning is so useful to have on hand! Here is what I use:
Paprika: You'll use just regular paprika in this one. You can definitely add smoked paprika if you like a more smoky flavor, as well.
Oregano: Dried oregano looks like little flakes, and these release more flavor if you crush them. I don't crush it as I add it to the seasoning mix, but when I use the finished seasoning mix, I like to measure what I need and rub that to bring out more of the oregano flavor.
Salt: I use coarse Kosher salt.
Garlic Powder: Make sure you aren't using garlic salt – you just want regular garlic powder.
White Pepper: White pepper is a little different in taste than black pepper, so that is why both are used. I think it makes the flavor more complex when using both.
Black Pepper: I typically only use freshly ground black pepper, but you can also use pre-ground. Just make sure it is fresh before adding it to the mix.
Onion Powder: The same as the garlic powder, make sure you are using onion powder and not onion salt.
Ground Red Pepper: This is what brings the heat! You want a hot pepper spice – I use cayenne. If you are afraid of the heat level, feel free to cut back on this one, but part of Cajun seasoning is that it is spicy!
Storing Homemade Seasonings
I store my homemade seasonings the same way I store the rest of my spices. I put them in a tight fitting container – usually a smaller mason jar. You can also purchase spice containers. It's also important to keep them in a cool, dry place. Preferably out of the sunlight. It's best to store them in a cabinet instead of out next to the stove.
Homemade seasoning mixes will last the same amount of time as most spices. I think a general rule of thumb is that they should last about 6 months. The older a spice is, the less potent it is, so if in doubt, open up the jar and smell it. If the smell is still strong, it is good to use. This Cajun seasoning won't go bad, but it will get weaker and weaker in flavor as time goes by.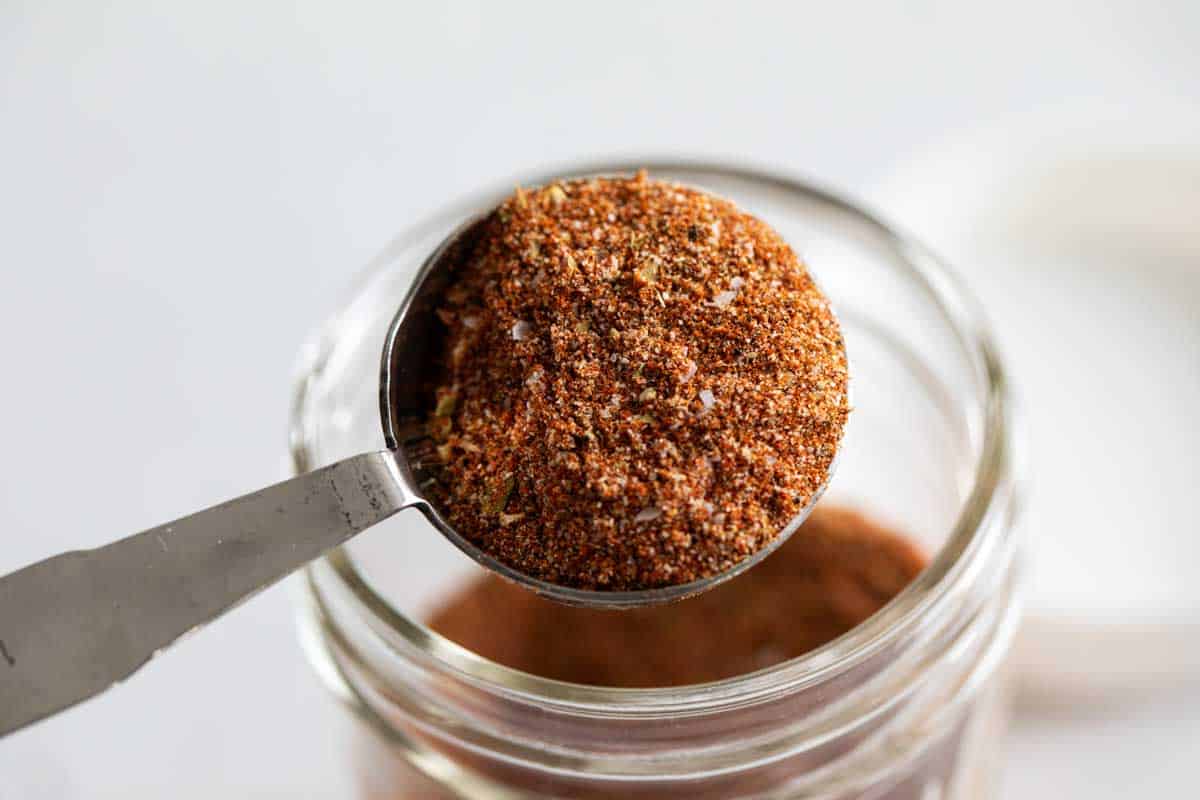 Recipes That Use Cajun Seasoning
Lighter Cajun Chicken Pasta
Easy Fish Taco Recipe with Cajun Seasoning
Spicy Cajun Cheesesteak Sandwiches
Lighter Cajun Sausage Pasta
Cheesy Baked Cajun Pasta
Shrimp Caesar Salad with Spicy Croutons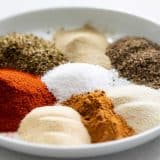 Cajun Seasoning Recipe
---
Author:
Prep Time: 5 mins
Cook Time: 0 mins
Total Time: 5 minutes
Yield: 10 tablespoons 1x
Category: Spices
Method: No Bake
Cuisine: Cajun
Description
With the perfect amount of spice, this homemade Cajun seasoning recipe is easy to make from spices you probably have on hand at home. It's perfect for seasoning meat or adding a bit of spice to any dish.
---
Scale
Ingredients
3 tablespoons paprika
4 teaspoons dried oregano
1 tablespoon salt
1 tablespoon garlic powder
1 tablespoon white pepper
1 tablespoon black pepper
1 tablespoon onion powder
2 teaspoons ground red pepper
---
Instructions
Combine all of the ingredients.
Store in a sealed container for up to 6 months.
Recipe Notes:
Nutrition information provided as an estimate only. Various brands and products can change the counts. Any nutritional information should be used as a general guideline.
Nutrition
Serving Size: 1 tablespoon
Calories: 17
Sugar: 0 g
Sodium: 700 mg
Fat: 0 g
Saturated Fat: 0 g
Unsaturated Fat: 0 g
Trans Fat: 0 g
Carbohydrates: 4 g
Fiber: 2 g
Protein: 1 g
Cholesterol: 0 mg
Keywords: cajun seasoning