A recipe for traditional chocolate chip cookies – these cookies are soft in the middle and crispy on the edges. Just like mom used to make!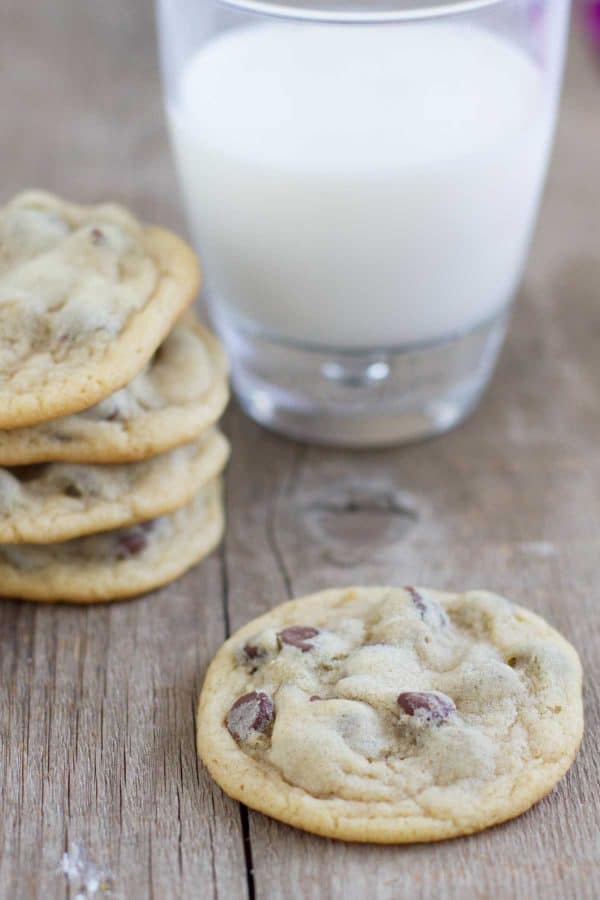 I think that everyone has their own opinion about what makes the perfect chocolate chip cookie. It's kind of like lasagna – everyone has a different version that they grew up with, and no one else's is quite the same. Some people like theirs soft, while others like it when they have a crunch to them. Some like theirs flat while others like theirs puffy.
I would have to say that I fall into the group that likes their chocolate chip cookies soft and just a little bit puffy. I like a cookie that will stay soft for days (if they last that long!) I have tried my fair share of recipes, but have always fallen back on the tried and true Toll House Cookie recipe.
It's true – this is the recipe that my mom made growing up, but I have made my own small change. The original recipe (the one that comes on the back of the package) calls for 1 cup of butter, but as I've mentioned on this blog before, we didn't use a whole lot of butter growing up. I remember having the choice of butter or margarine on the table at holidays for buttering rolls, but I don't remember my mom ever using it for cooking or baking. She always made her cookies with shortening.
When I moved away from home, I was introduced to the flavor that butter brings to a chocolate chip cookie. The only problem with using butter instead of shortening (in my mind at least) was that the butter version produced a thinner cookie, while the shortening version "poofed" a bit more, making a cookie that stayed soft for a long time. So I started using a half cup of butter and a half cup of shortening. This, to me, makes for the perfect chocolate chip cookie!! I also like to under-cook them by a minute or two, just to ensure that they stay nice and soft.
The thing I love about chocolate chip cookies is that they are best when you are using up odds and ends from the baking cupboard. You can do a mixture of different kinds of chocolate chips that are left over, or my favorite combination – half chocolate chips and half peanut butter chips. I have even thrown in a bag of the mini Andes mint pieces before, and that makes a great cookie as well!!
So, I don't think I will search for a better chocolate chip cookie recipe anymore – this is the one for me!!
More Chocolate Chip Cookie Recipes:
Doubletree Cookies
Peanut Butter Oatmeal Cookies with Chocolate Chips
Orange Chocolate Chip Cookies
Malted Chocolate Chunk Cookies
Chocolate Chip Crunch Cookies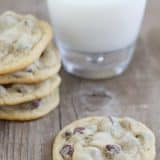 Traditional Chocolate Chip Cookies
---
Author:
Prep Time: 15 minutes
Cook Time: 11 minutes
Total Time: 45 minutes
Yield: about 5 dozen cookies 1x
Category: Dessert
Method: Bake
Cuisine: American
Description
A recipe for traditional chocolate chip cookies – these cookies are soft in the middle and crispy on the edges. Just like mom used to make!
---
Scale
Ingredients
2 1/4 cups all purpose flour
1 teaspoon baking soda
1 teaspoon salt
1/2 cup butter, softened
1/2 cup vegetable shortening
3/4 cup granulated sugar
3/4 cup packed brown sugar
1 teaspoon vanilla
2 large eggs
1 3/4 cups chocolate chips (or peanut butter chips, or mint pieces, or a mixture!)
1 cup chopped nuts, optional
---
Instructions
Preheat oven to 375F.
Combine flour, baking soda, and salt in a small bowl. Beat butter, sugars, and vanilla in a large bowl until creamy. Add eggs one at a time, beating well after each addition. Gradually beat in flour mixture. Stir in chips and nuts (if using). Drop by rounded teaspoonful onto ungreased baking sheet.
Bake for 9 to 11 minutes or until golden brown. Cool on baking sheets for 2 minutes and then remove to wire rack to cool completely.
Recipe Notes:
adapted from Nestle