Don't heat up the kitchen with this easy No Bake Cheesecake Recipe!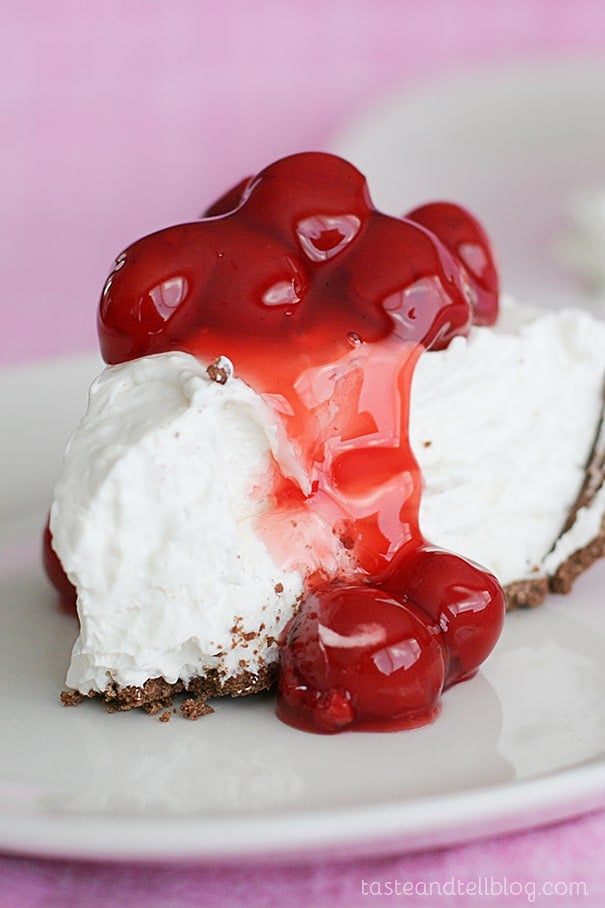 I think that no-bake cheesecake was the very first kind of cheesecake I ever made.  In fact, it was probably one of the first – and only – desserts I made when I moved away from home and was on my own.  It's one of those desserts that pretty much anyone can make without messing it up.  Which is one reason this recipe is so fitting for this month's Cookbook of the Month!
I'm going to go out on a limb here and make a general statement – I don't think most men bake.  In my experience, men are really good at the bbq and at making breakfast.  But I'd have to think really hard to come up with multiple names of guys that I personally know that like to or know how to bake.  My husband is a great cook, but if he had to bake a cake, he'd be in big trouble!  In comes the no-bake cheesecake.  Not only is it one of the easiest recipes around, but it tastes fantastic, too!!
This version is one of the better versions I've had as well.  I love the addition of the sour cream.  I don't think I've ever seen that before.  It really elevated this recipe for me.  And I think it would be equally good on a graham cracker or Oreo crust.  I let my daughter choose when we were at the grocery store, and of course, she went with the chocolate!  I love that a no-bake cheesecake is super versatile as well – you can top it just about any way you want.  I chose a simple can of cherry pie filling – mostly because I had one on hand!  So if you have a guy in your life that doesn't bake, put him in charge of dessert next time and give him this recipe!!
Recipe Rating:  9 out of 10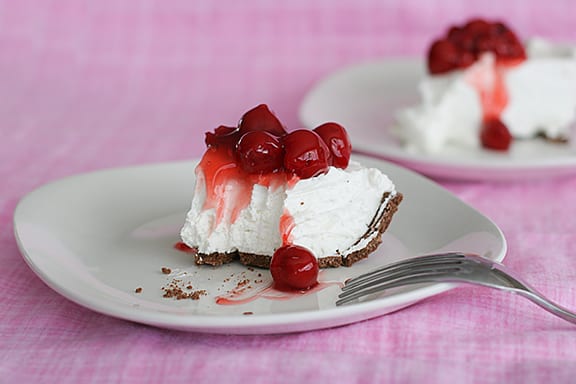 Like what you see here? Make sure you are following Taste and Tell for more great recipes and ideas!!

Facebook ** Pinterest ** Twitter ** Instagram ** Google+
or you can subscribe to my newsletter or Feedly or Bloglovin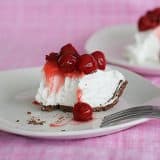 No Bake Cheesecake Recipe
---
Prep Time: 10 minutes
Total Time: 4 hours 10 minutes
Yield: 6-8 servings 1x
Description
Don't heat up the kitchen with this easy No Bake Cheesecake Recipe!
---
Scale
Ingredients
1 8-ounce package cream cheese, softened
1 cup sour cream
1/2 cup sugar
2 teaspoons vanilla extract
1 8-ounce container nondairy whipped topping
1 graham cracker pie crust or Oreo Cookie pie crust
---
Instructions
In a large bowl, stir cream cheese, sour cream, sugar and vanilla extract until smooth. Fold in whipped topping. Pour filling into crust and chill at least 4 hours, or preferably overnight. Add toppings of your choice, cut into slices and serve.