They may not be the fanciest cookies around, but these Sour Cream Cookies won't last long in the cookie jar! They will quickly become a family favorite.
Did you know that sour cream is the secret ingredient to some of my favorite desserts? If you want to try some, check out this Sour Cream Cheesecake or this Sour Cream Apple Pie.
If you know me, you know I'm a sucker for those old fashioned, homely type recipes. So when I saw the recipe for these Sour Cream Cookies, I knew I needed to give them a try.
In the book that this recipe is adapted from, the author mentions that these cookies would never be found in a high end bakery or fancy cookbook, but that they will be found in nearly every community cookbook. Sounds like my kind of recipe!!
These are definitely not fancy cookies, and some may even call them "plain", but I thought they were completely addictive. They are almost like a super soft sugar cookie.
I seriously had to hide these Sour Cream Cookies away so I wouldn't eat the whole batch myself!!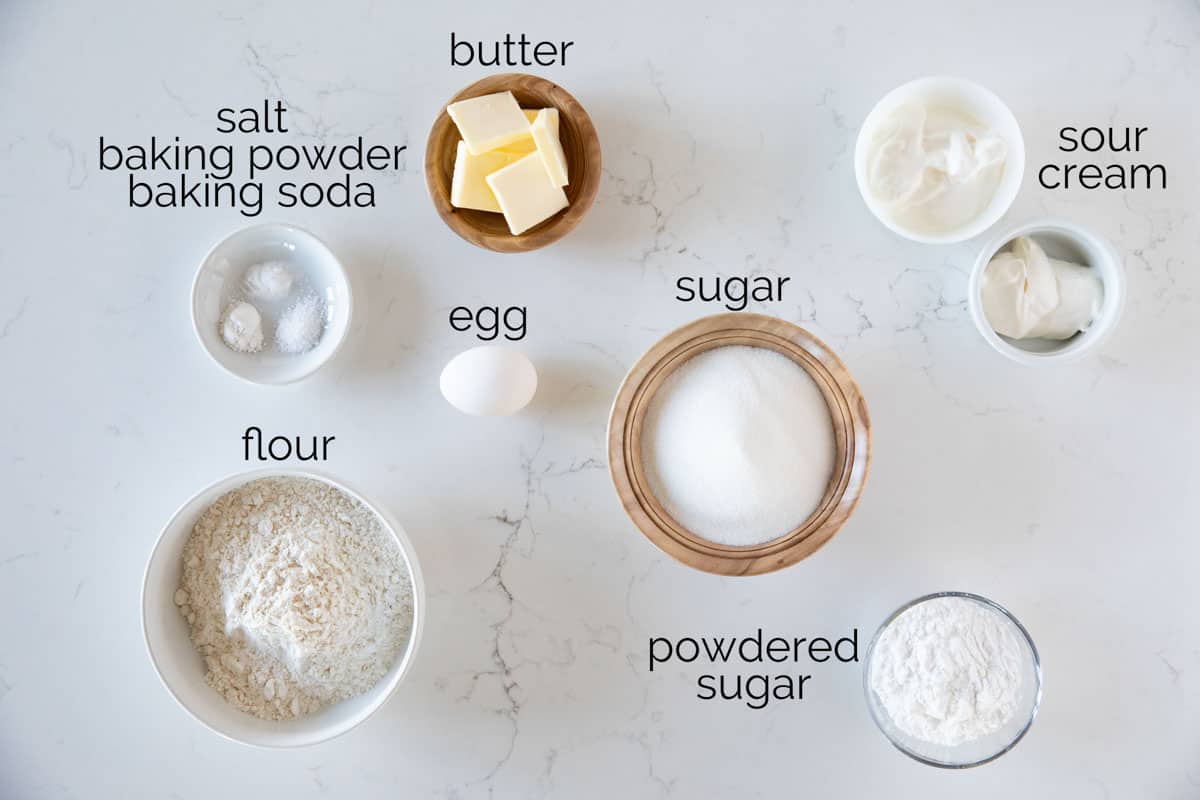 Ingredients
Butter: I like to use unsalted butter.
Sugar: You will need granulated sugar for the cookies and powdered sugar for the icing.
Egg: For best results, make sure the egg is at room temperature.
Sour Cream: I have only ever tested these using full fat sour cream.
Flour: I use all-purpose flour.
Salt: The salt balances and enhances flavors.
Baking Powder & Baking Soda: You'll want both baking powder and baking soda for these cookies. They will help to give the cookies lift and give the cookies their texture.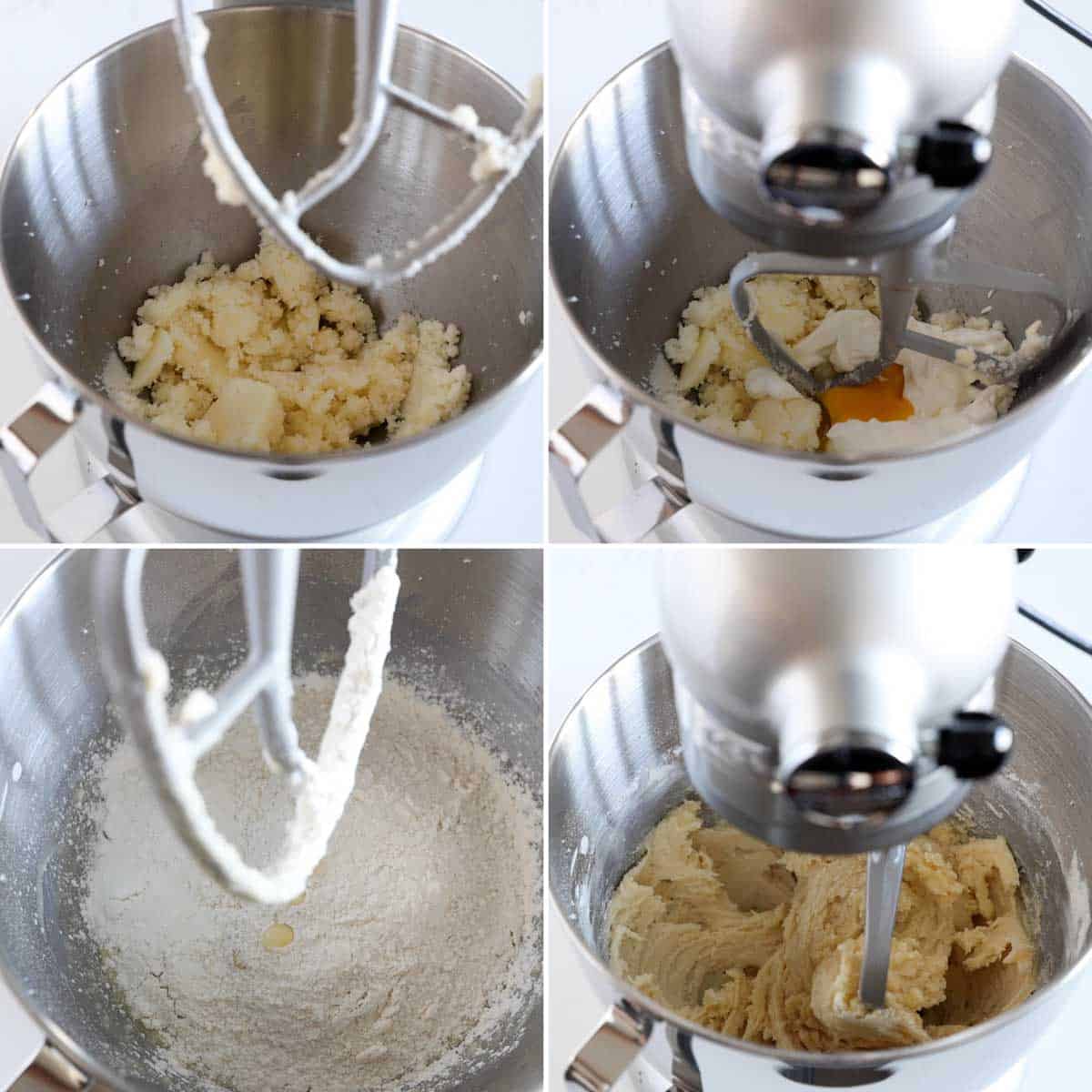 How to Make Sour Cream Cookies
1: Make the dough by combining the butter and the sugar until they are fully combined.
2: Add in the egg and the sour cream.
3: Combine the dry ingredients and add them to the wet ingredients.
4: Mix the dough together. It will be sticky, but this is normal.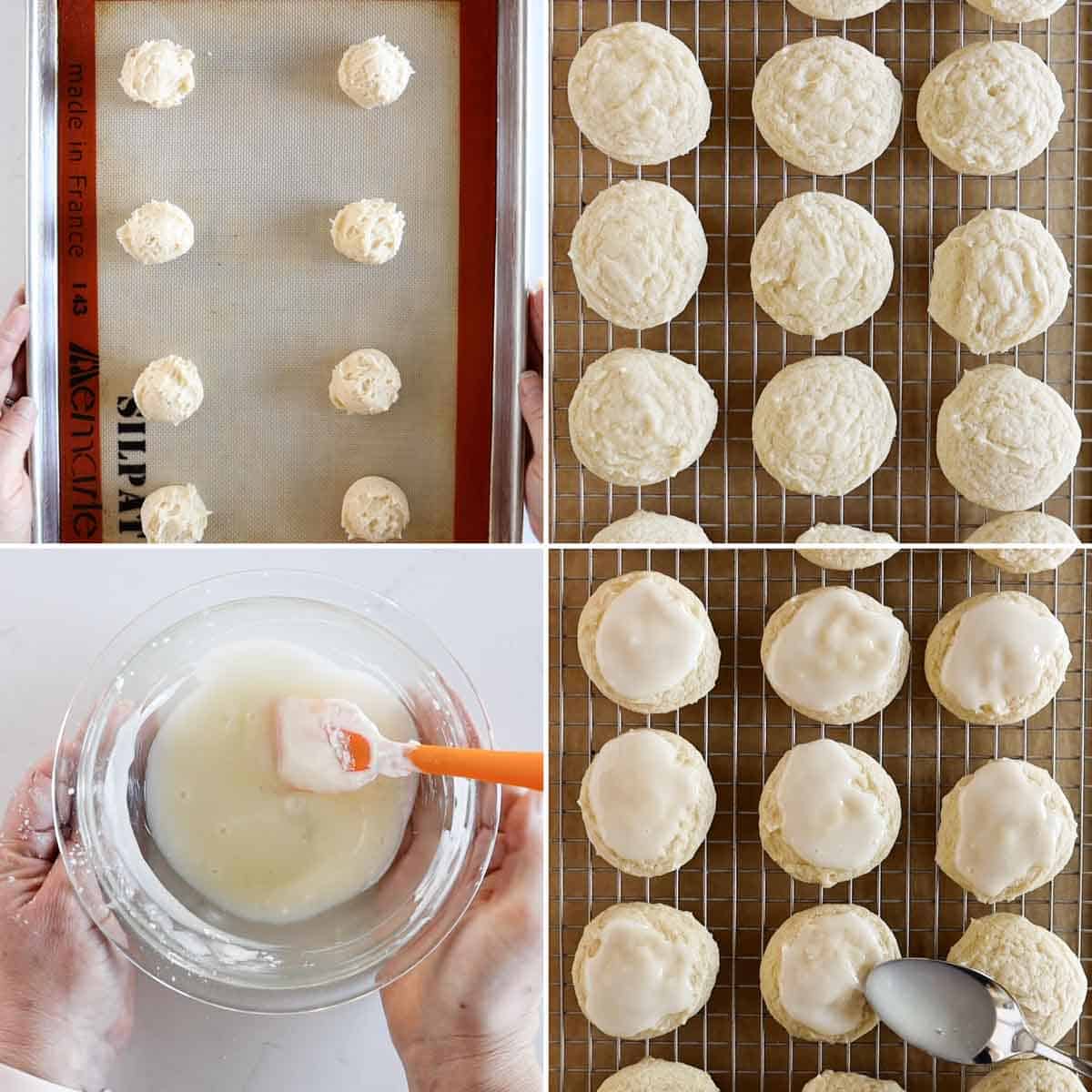 5: Use a cookie scoop to drop the dough onto a baking sheet lined with parchment or a silpat liner.
6: Bake the cookies until they brown around the edges.
7: Make the icing by combining powdered sugar and sour cream.
8: Spread the glaze over the tops of the cookies.
Sour Cream Cookies Video
Variations
Add some lemon zest or lemon extract to the cookies. You can even add it to the glaze!
Top the cookies with buttercream frosting instead of the sour cream glaze.
You can also sprinkle the cookies with powdered sugar instead of adding the glaze.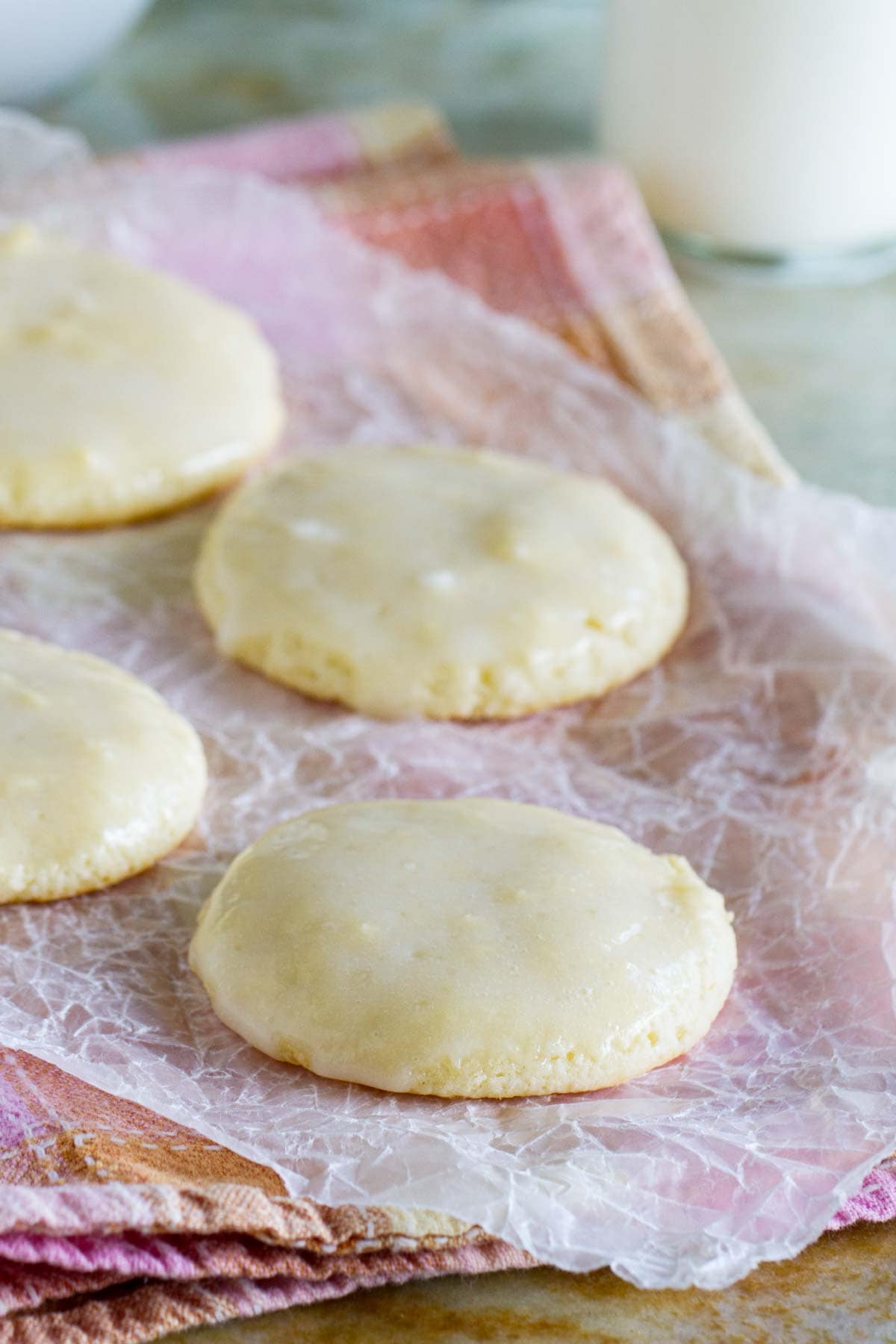 Tips and Tricks
This cookie dough is a bit sticky, so you'll want to make sure you use a cookie scoop. It's a lot less messy!
Use parchment paper or a silpat liner on your baking sheets so that they cookies don't stick.
You don't have to add the glaze – believe me, you will not have a problem finishing them off without it – but I absolutely loved the glaze. While you can't taste the sour cream in the cookies at all, with the glaze, you get that little bit of tang that gives these cookies that little something special.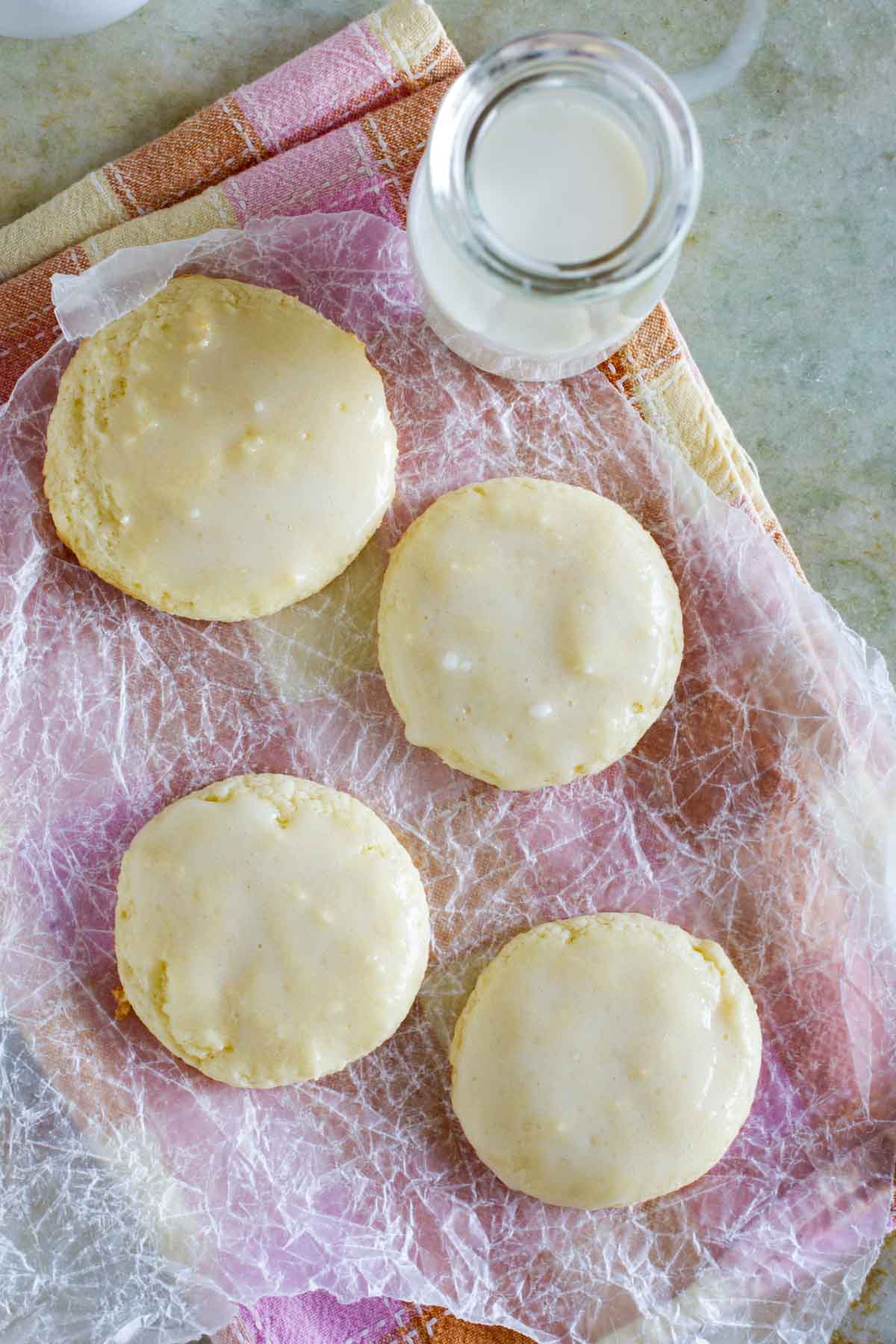 Storage Instructions
These cookies are best stored in an airtight container in the refrigerator.
Because the icing is a little sticky, you'll want to place a piece of parchment paper or wax paper between the cookies if stacking.
The cookies will freeze well, but they will need to be frozen before they are iced.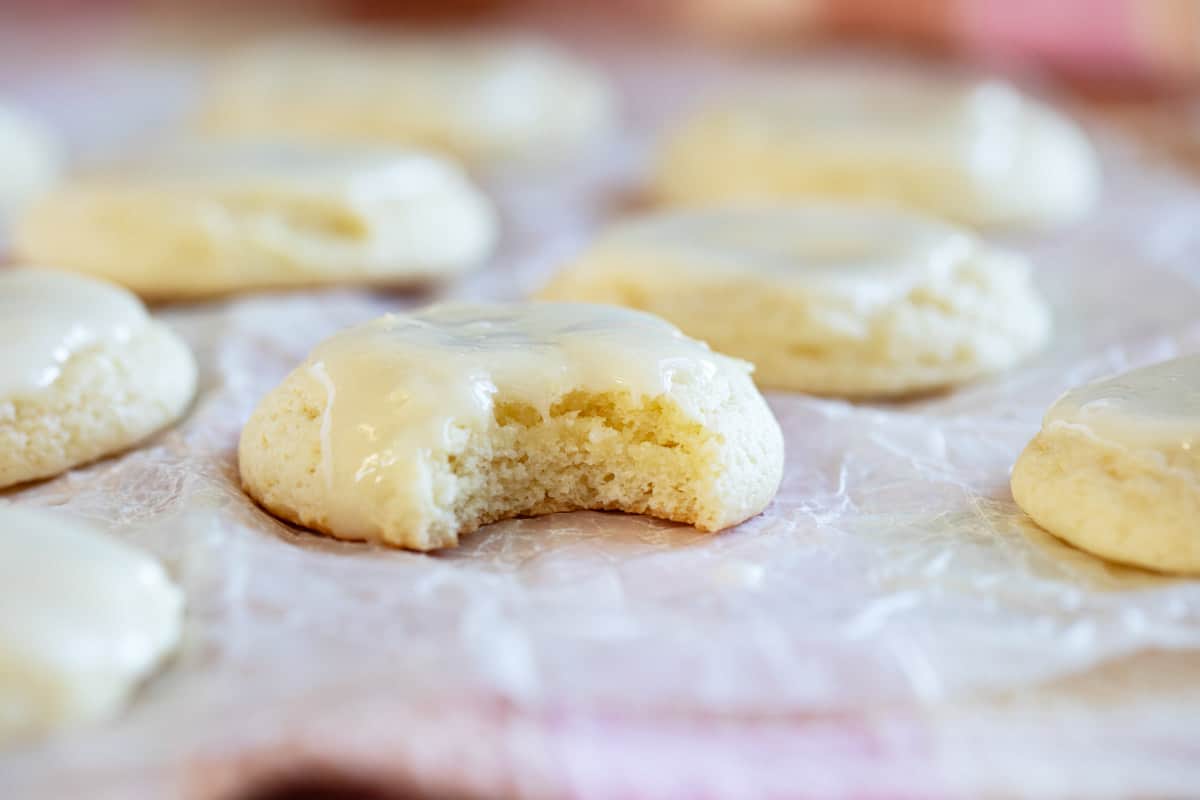 More Cookie Recipes
Cake Mix Cookies
Toll House Cookie Recipe
Snickerdoodle Recipe
The BEST Sugar Cookie Recipe
Peanut Butter Cookies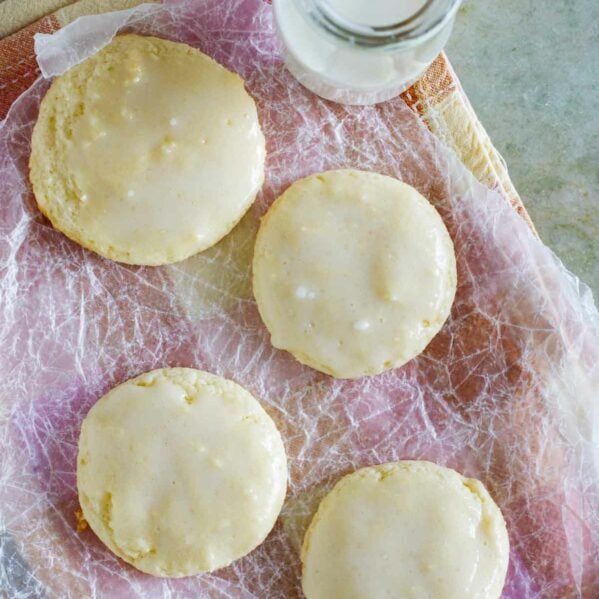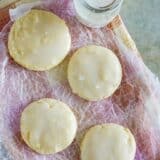 Sour Cream Cookies
---
Author:
Prep Time: 15 minutes
Cook Time: 11 minutes
Total Time: 26 minutes
Yield: 20 cookies 1x
Category: Dessert
Method: Baked
Cuisine: American
Description
They may not be the fanciest cookies around, but these Sour Cream Cookies won't last long in the cookie jar! They will quickly become a family favorite.
---
Scale
Ingredients
Cookies
6 tablespoons butter, at room temperature
1 cup sugar
1 large egg
1/2 cup sour cream
2 cups all purpose flour*
1/2 teaspoon kosher salt
1/2 teaspoon baking powder
1/4 teaspoon baking soda
Glaze
1/2 cup powdered sugar
1/4 cup sour cream
---
Instructions
Preheat the oven to 375ºF.
In the bowl of a stand mixer fitted with the paddle attachment, combine the butter and sugar until light and fluffy, about 2 minutes. Add in the egg and the sour cream and mix until combined, about 1 more minute. Add the flour, salt, baking powder and baking soda and mix just until combined. They dough will be wet – not like typical cookie dough.
Using a 1- to 2-tablespoon cookie scoop, scoop the dough onto greased or line baking sheets.
Bake the cookies in the preheated oven until brown around the edges, 7-9 minutes for smaller cookies or 9-11 minutes for larger cookies. Let the cookies cool completely on the baking sheet before removing.
Once the cookies are cool, combine the powdered sugar and sour cream. Dip the tops of the cookies in the glaze, or spread the glaze on top of the cooled cookies.
Recipe Notes:
adapted from Milk Bar Life
*The original recipe calls for only 1 1/2 cups of flour, but my cookies came out completely flat. I found that for me, 2 cups helped them keep their shape. It may be an altitude difference, so you may not need the full 2 cups of flour.
Nutrition
Serving Size: 1 cookie
Calories: 148
Sugar: 14 g
Sodium: 98 mg
Fat: 5 g
Saturated Fat: 3 g
Unsaturated Fat: 0 g
Trans Fat: 0 g
Carbohydrates: 23 g
Fiber: 0 g
Protein: 2 g
Cholesterol: 26 mg
Keywords: sour cream cookies