Only 4 ingredients and a few minutes prep, these Haystack Cookies take you back to childhood. Filled with butterscotch and peanut butter, cookies don't get easier than this!
Love no bake treats? Also try these No Bake Cookies or these Indoor S'mores.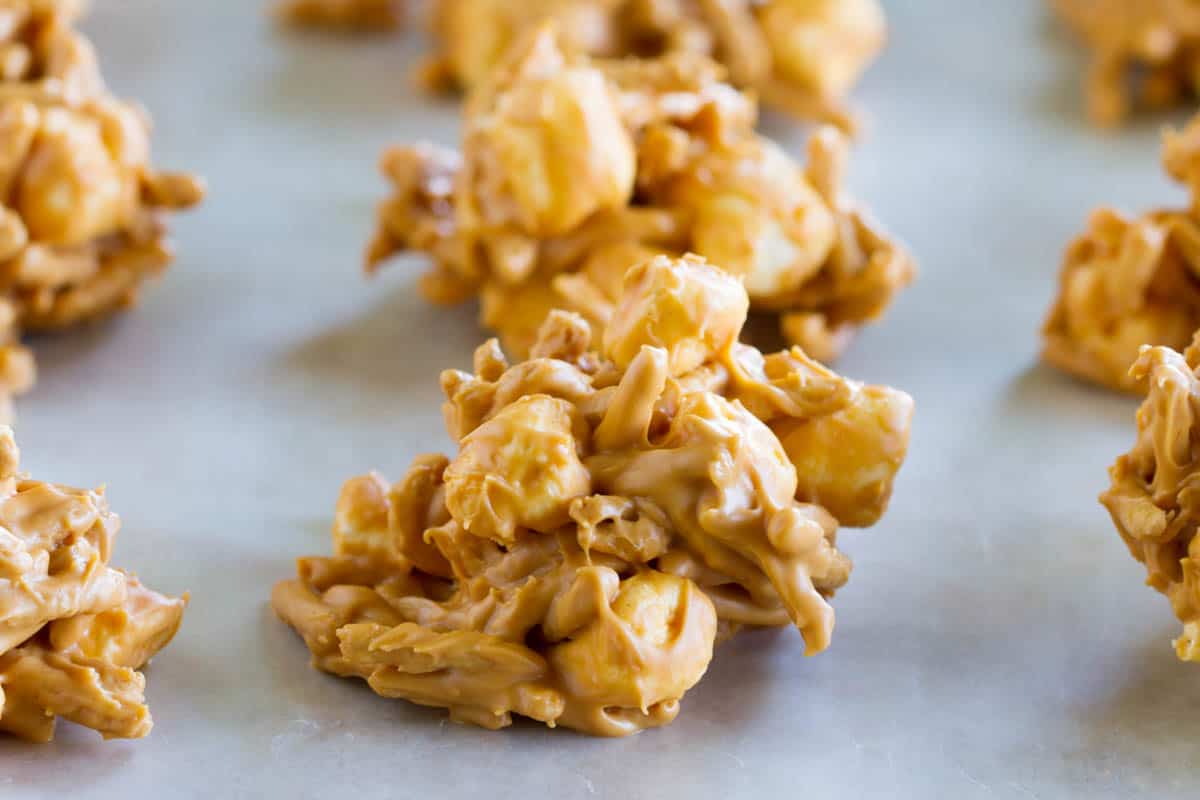 There have been 3 family cookbooks printed on my mom's side of the family. I love these cookbooks. Whenever I ask my mom for a recipe, she usually answers "it's in the family cookbook!" I have gone to these cookbooks for inspiration, and also for family favorites.
The family cookbook that these Haystack Cookies came from was printed in 1983, and distributed at the 4th annual family reunion. I was only 5 years old at the time this cookbook was passed out, so needless to say, I didn't get my own copy. But one year, as a Christmas gift, my mom reprinted this cookbook for each of us kids, and I have been grateful ever since.
The charm in these recipes comes from the way they were written. Instead of exact directions or ingredients, you get things like "1 can tomatoes" or "1 bag of butterscotch chips." If this was from a regular cookbook, I would get frustrated and ask well, what size of can? What kind of tomatoes? But I love that these recipes are most likely ones that my mom and her parents and siblings have been making for years, so they just "know" how to make them. These kinds of recipes make me want to be the kind of cook where can just feel the recipes and know what they need.
This recipe for Haystack Cookies is one that is probably in family cookbooks everywhere. I've seen a haystacks recipe without the marshmallows, with peanuts, or all kinds of different add-ins. And maybe that's what I love so much about them – every family has their own adaptation! All I know is that these are good, and I can see myself making them on a regular basis!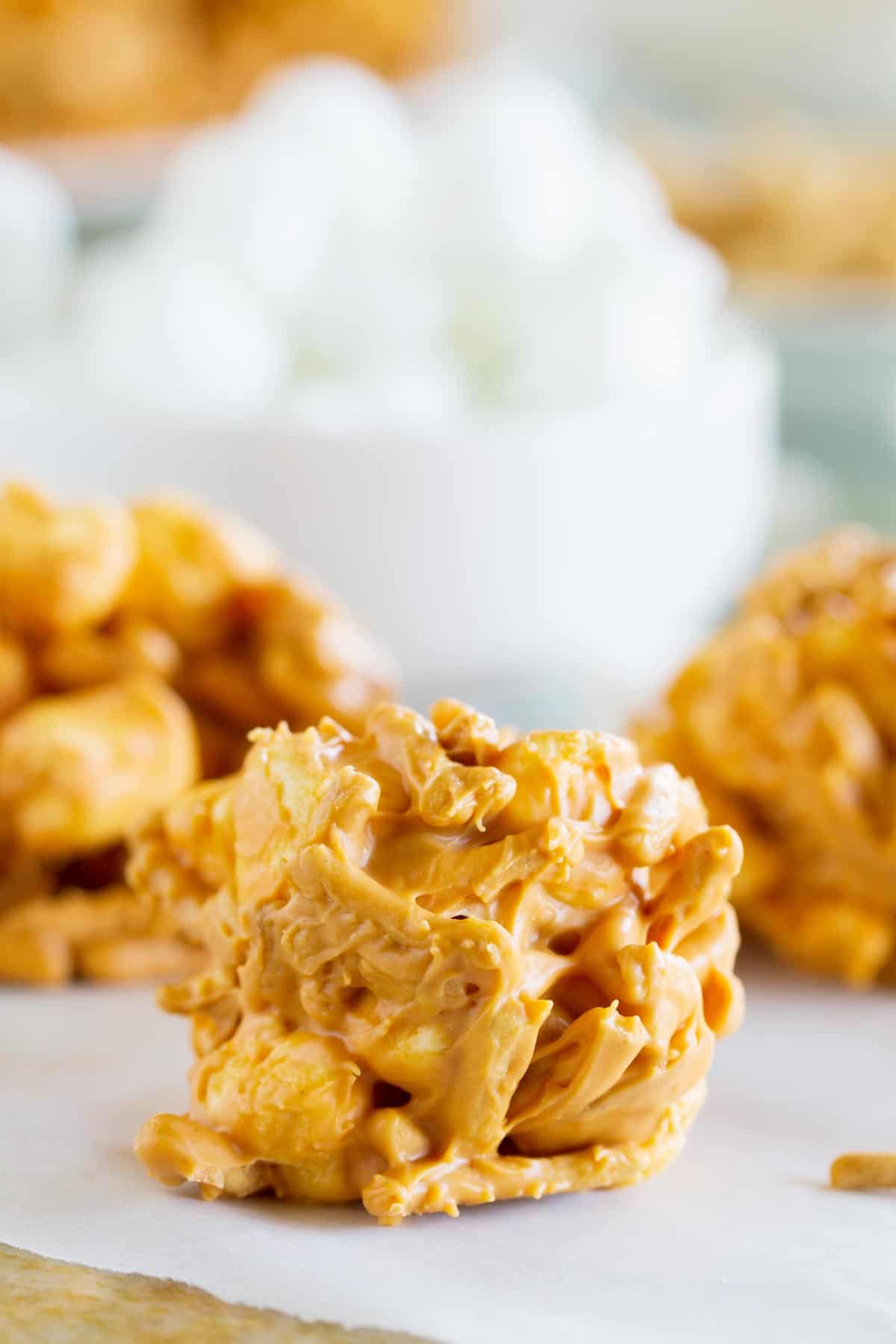 Ingredients
Butterscotch Chips: Make sure to use fresh butterscotch chips for the best results.
Peanut Butter: You want to use a processed peanut butter, like Jif or Skippy. Natural peanut butter won't work as well for these cookies.
Marshmallows: The marshmallows do not get melted, so make sure you use mini marshmallows.
Chow Mein Noodles: These are cooked, crunchy noodles. They are pretty easy to find on the international aisle of the grocery store.
How to Make Haystack Cookies
Combine the butterscotch chips and the peanut butter in the bowl of a double boiler, or in a large microwave safe bowl. Cook them together, (use 50% power if using the microwave), until the butterscotch chips are melted and the mixture is smooth.
Stir the marshmallows and the noodles into the mixture.
Scoop the mixture out onto a sheet of parchment paper or wax paper.
Allow the cookies to cool and set up.
Haystack Cookies Video
These cookies are so easy to make! You can see how to make them in the video below.
Tips and Tricks
Do not overcook your butterscotch chips, or the cookies will get crumbly.
These can get quite messy when you scoop them out, so it is easiest to use a spring loaded cookie scoop. You can also use 2 spoons, but the cookie scoop will be easier.
Make sure you use parchment paper or wax paper to scoop the cookies out onto. Otherwise they will stick.
You can store these cookies in an airtight container at room temperature as long as it's not too hot. If it is so hot that they might melt, you would want to store them in the refrigerator.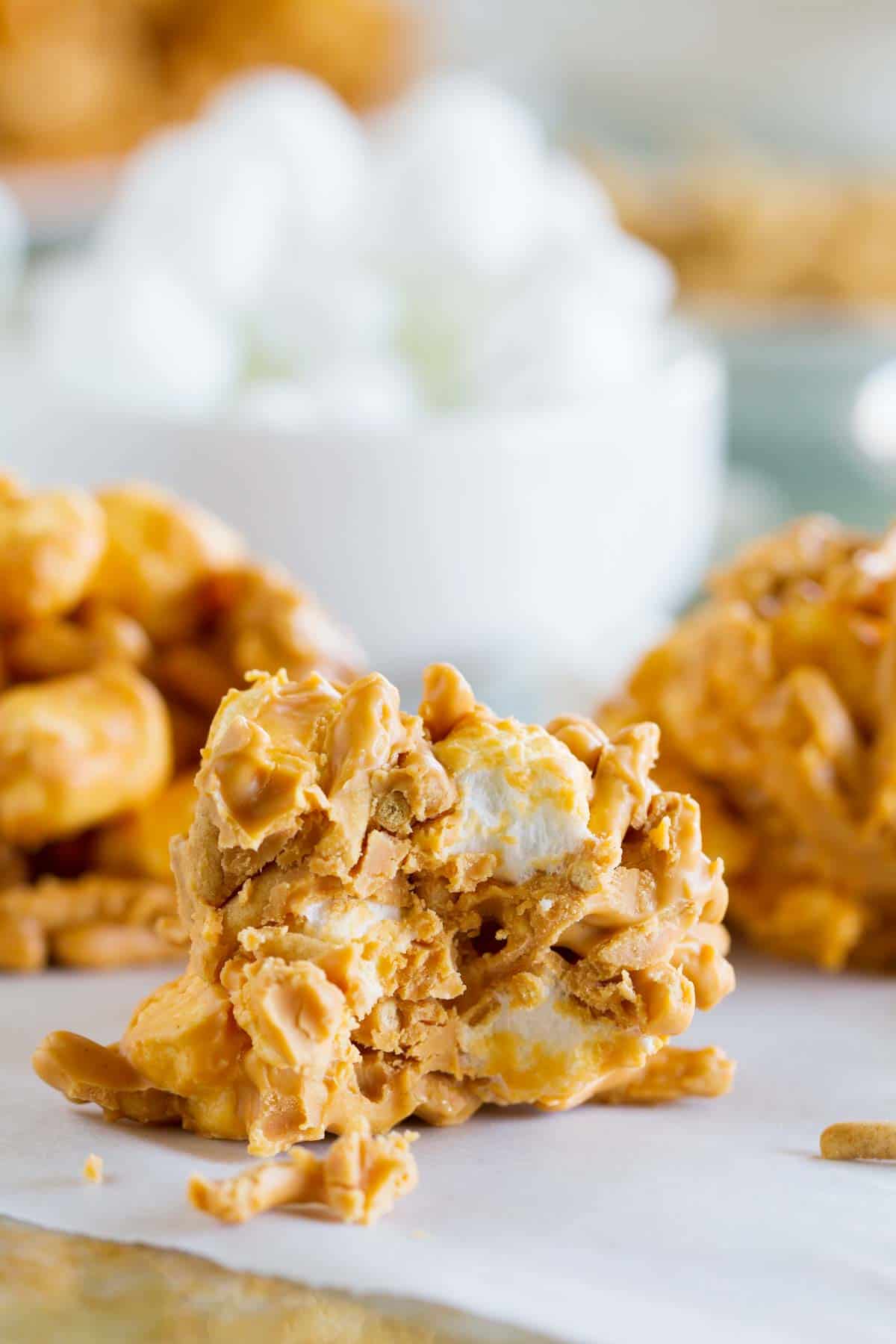 More No Bake Treats
No Bake Cheesecake
Buckeye Recipe
Caramel Rice Krispie Treats
No Bake Peanut Butter Oatmeal Balls
Chocolate Chip Cookie Dough Dip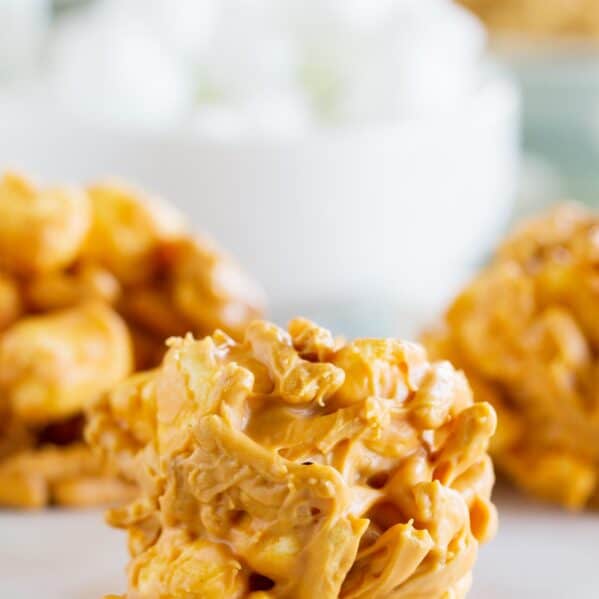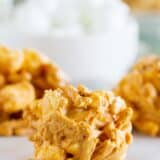 Haystack Cookies
---
Author:
Prep Time: 10 minutess
Cook Time: 0 minutes
Total Time: 30 minutes
Yield: about 24 cookies 1x
Category: Dessert
Method: No Bake
Cuisine: American
Description
Only 4 ingredients and a few minutes prep, these Haystack Cookies take you back to childhood. Filled with butterscotch and peanut butter, cookies don't get easier than this!
---
Scale
Ingredients
1 (11 oz) bag butterscotch chips
1/2 cup peanut butter
2 cups mini marshmallows
3 cups chow mein noodles
---
Instructions
Melt the butterscotch chips and the peanut butter together in a large bowl, either over a double boiler or in the microwave on 50% power, until melted together and smooth.
Stir in the marshmallows and the chow mein noodles.
Drop by spoonful, or use a cookie scoop, onto a sheet of waxed paper.
Allow to sit until hardened.
Recipe Notes:
adapted from Goodman's Galloping Gourmet (a family cookbook)
Nutrition information provided as an estimate only. Various brands and products can change the counts. Any nutritional information should be used as a general guide.
Nutrition
Serving Size: 1 cookie
Calories: 148
Sugar: 11 g
Sodium: 100 mg
Fat: 8 g
Saturated Fat: 4 g
Unsaturated Fat: 3 g
Trans Fat: 0 g
Carbohydrates: 18 g
Fiber: 1 g
Protein: 2 g
Cholesterol: 0 mg
Keywords: haystack cookies, no bake cookies, chow mein cookies