Only 4 ingredients and a few minutes prep, this No Bake Haystacks Recipe takes you back to childhood. Cookies don't get easier than this!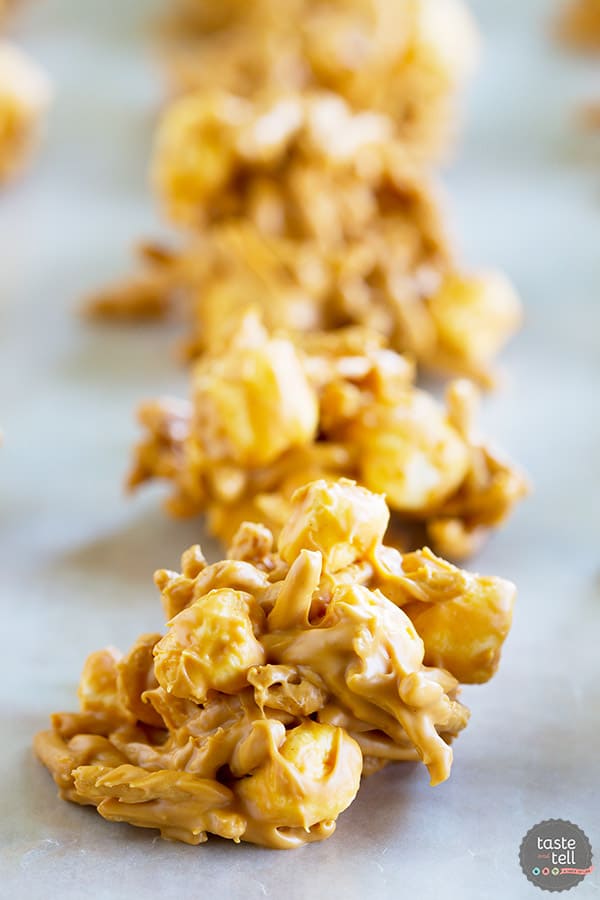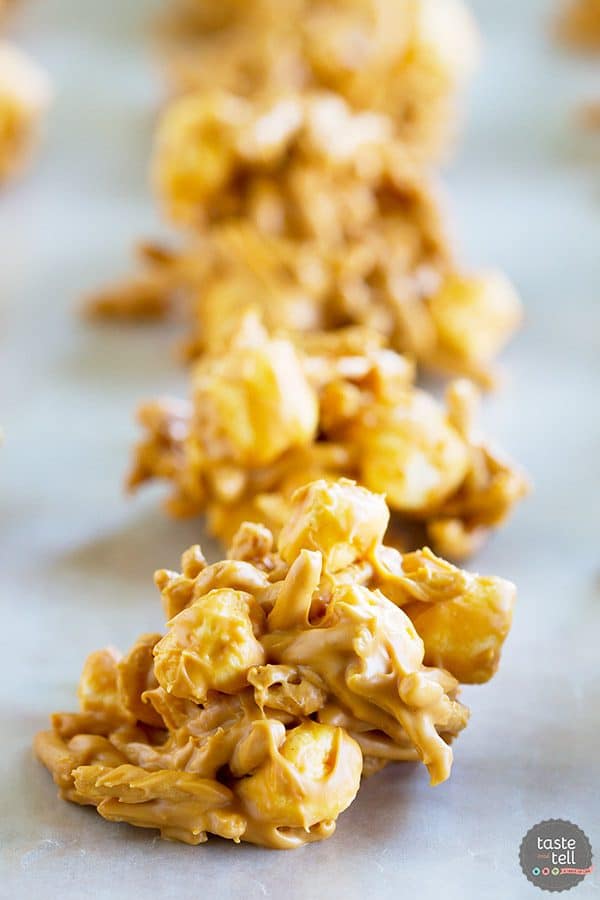 Last October, I started a personal challenge for myself with my Cookbook of the Month series. Here is what I wrote one year ago:
I have realized lately that my stack of cookbooks is way too underused. Don't get me wrong – it's not that they don't get taken off of the counter often to be read, and to have the pictures salivated over, but I don't make a lot of recipes from them. I think it's mostly because I end up planning on what I'm going to make for dinner while I am at work, and there is the internet filled with millions of recipes, and my cookbooks are sitting at home lonely. I went to Barnes and Noble on my birthday a few weeks back and bought a few new cookbooks, and it got me thinking. I have about 10 cookbooks on my "I want to buy right now" list, but I can't justify it because I have not even been utilizing what I already have. So I have come up with a personal challenge – or my own personal "blogging event" if you will. I am allowing myself one cookbook purchase a month, but I have to make at least 3 recipes from that book in the month. At the end of the month, I will write my own personal review of the book. After all, you can't adequately judge a book by making only one of the recipes and basing the whole book on that recipe. Now, I am not a cookbook critic by any means, but this will just be a personal opinion on the book. And to be honest, most of the books I want have already been raved about on other food blogs, so most likely, the cookbooks will get good reviews!
And I am proud to say that this series has been a personal success for me. 12 books completed, with at least 3 recipes – usually more – made from each of my featured cookbooks. I can't say that I've stuck to the rule of only buying one cookbook a month (oops!) but between the Cookbook of the Month and my Cookbook Project, I have made it through quite a few cookbooks. And these days, I don't feel so bad splurging on a few cookbooks, because I know they will now get used.
I like to feature cookbooks not only so that I will get some use out of my books, but also to let everyone else out there know if I'm having success with the recipes in a particular book. I do share the recipes here to the ones I've tried, but I always encourage you to purchase the book if it sounds like one that you would really enjoy. I know that if I see a cookbook that is getting lots of love in the food-blogging world, I will most likely buy it. In fact, just about every cookbook I've purchased since I started blogging comes from hearing about it from another blog.
But I've decided to change things up a little bit this month. This month's cookbook is not one that you can go down to your local Borders and pick up. But these recipes each have their own charm, and I really wanted to share!!
There have been 3 family cookbooks printed on my mom's side of the family. I love these cookbooks. Whenever I ask my mom for a recipe, she usually answers "it's in the family cookbook!" I have gone to these cookbooks for inspiration, and also for family favorites. I decided to choose the oldest of these cookbooks for this month's Cookbook of the Month.
This book was printed in 1983, and distributed at the 4th annual Goodman Family Reunion. I was only 5 years old at the time this cookbook was passed out, so needless to say, I didn't get my own copy. A few years ago, as a Christmas gift, my mom reprinted this cookbook for each of us kids, and I have been grateful ever since.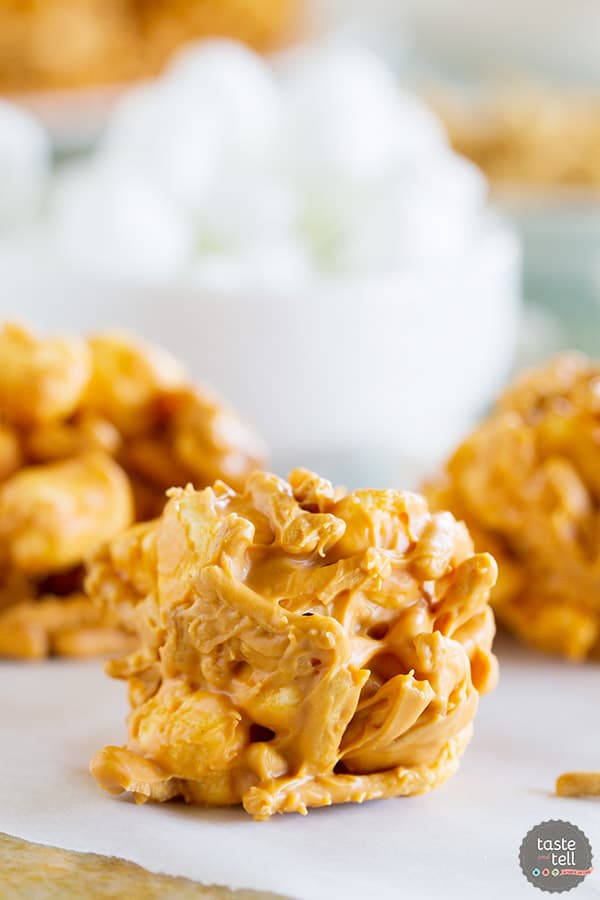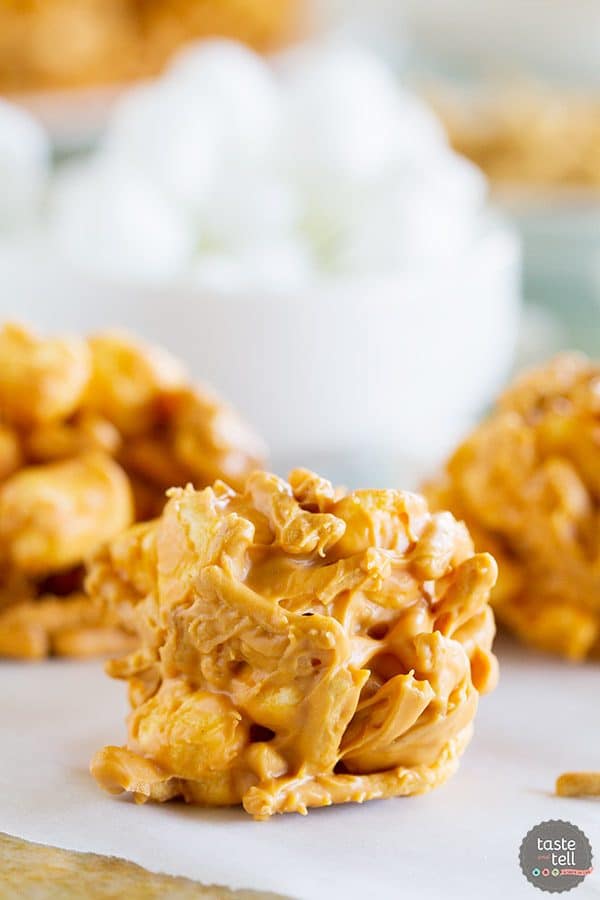 The charm in these recipes comes from the way they were written. Instead of exact directions or ingredients, you get things like "1 can tomatoes" or "1 bag of butterscotch chips." If this was from a regular cookbook, I would get frustrated and ask well, what size of can? What kind of tomatoes? But I love that these recipes are most likely ones that my mom and her parents and siblings have been making for years, so they just "know" how to make them. These kinds of recipes make me want to be the kind of cook where can just feel the recipes and know what they need.
As I make these recipes, I will probably adapt the instructions and ingredients as I make them so that I have exact amounts that I used to make it a bit easier, though. I'm looking forward to exploring some older family favorites!
This No Bake Haystacks Recipe is one that is probably in family cookbooks everywhere. I've seen a haystacks recipe without the marshmallows, with peanuts, or all kinds of different add-ins. And maybe that's what I love so much about them – every family has their own adaptation! All I know is that these are good, and I can see myself making this No Bake Haystacks Recipe on a regular basis!
Press play to see how easy this No Bake Haystacks Recipe is in the how-to video below!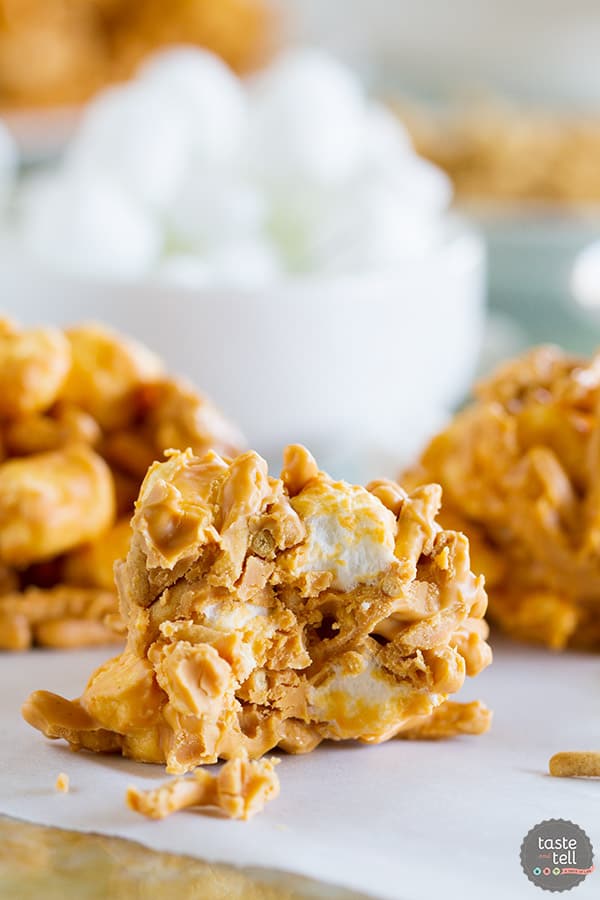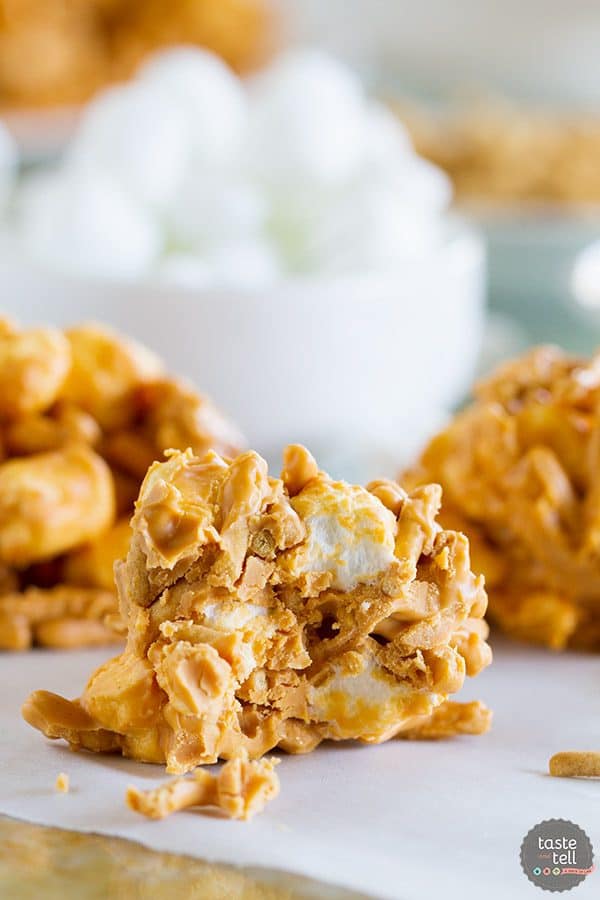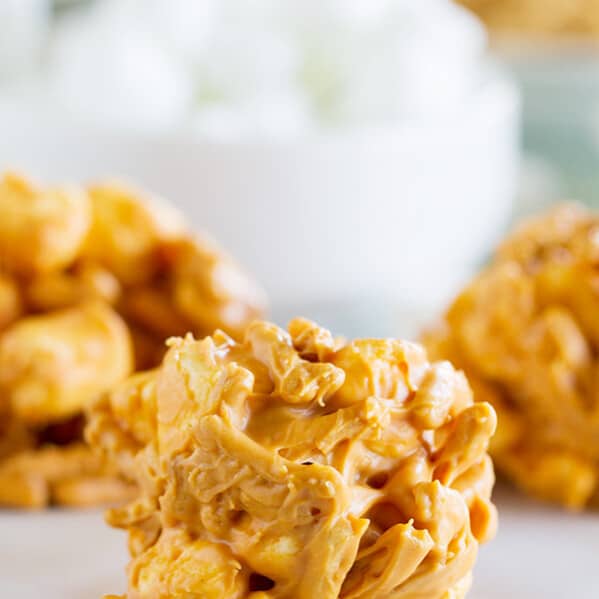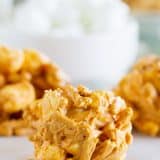 No Bake Haystacks Recipe
---
Author:
Prep Time: 10 mins
Cook Time: 0 mins
Total Time: 30 mins
Yield: about 24 cookies 1x
Category: Dessert
Method: No Bake
Description
Only 4 ingredients and a few minutes prep, this No Bake Haystacks Recipe takes you back to childhood. Cookies don't get easier than this!
---
Scale
Ingredients
1 (11 oz) bag butterscotch chips
1/2 cup peanut butter
2 cups mini marshmallows
3 cups chow mein noodles
---
Instructions
Melt the butterscotch chips and the peanut butter together in a large bowl, either over a double boiler or in the microwave on 50% power, until melted together and smooth.
Stir in the marshmallows and the chow mein noodles.
Drop by spoonful, or use a cookie scoop, onto a sheet of waxed paper.
Allow to sit until hardened.
Recipe Notes:
adapted from Goodman's Galloping Gourmet (a family cookbook)