Cheesecake doesn't have to be difficult! This No Bake Nutella Cheesecake is easy enough for cheesecake beginners. It is rich, creamy, and full of chocolate flavor.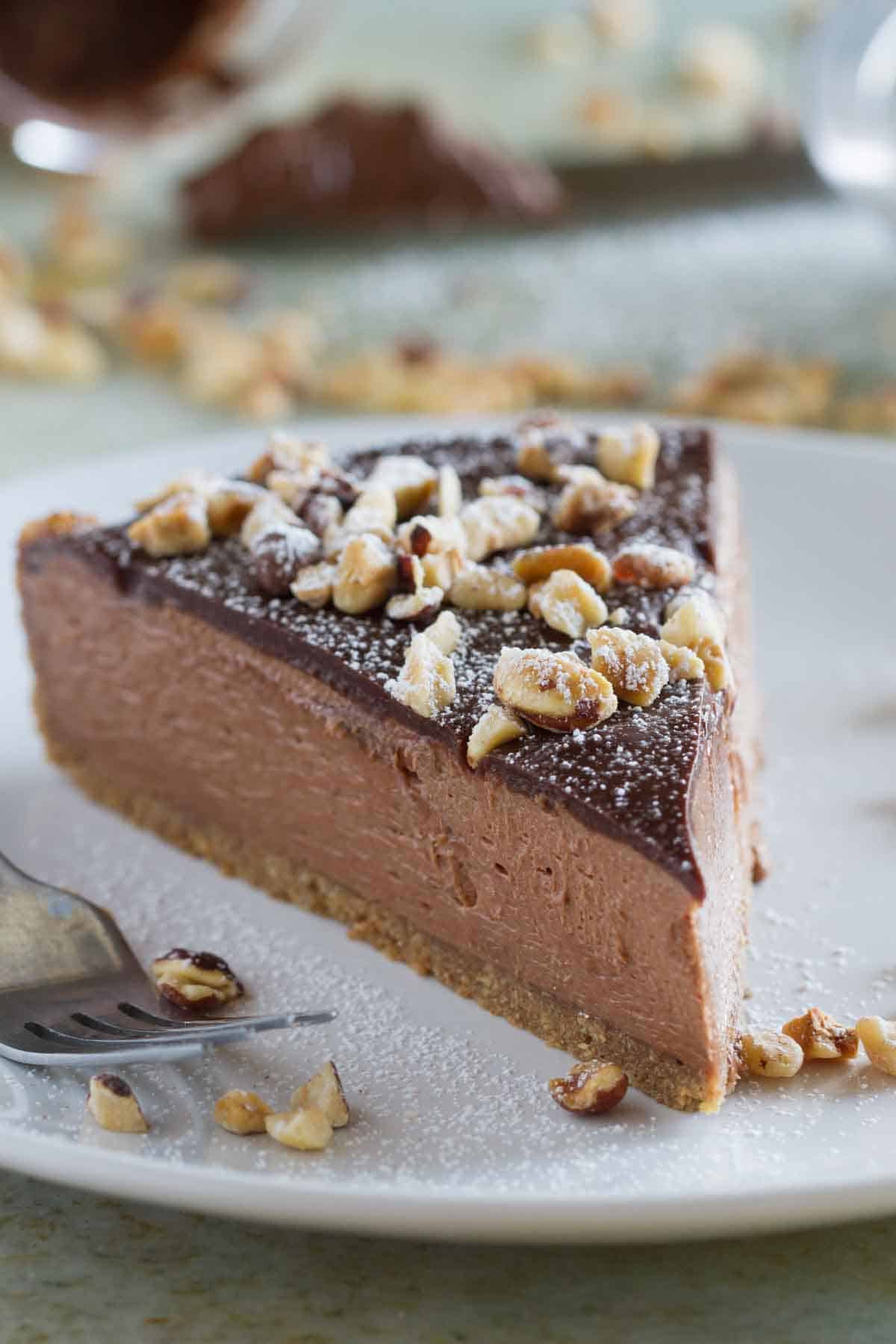 We are in the final stretch. After today's cookbook review, there are only 3 more. This month has seriously been a whirlwind of cookbook reviews. You can bet that my resolution for next year won't be so lofty. 😉
Today's Cookbook Review, Laura in the Kitchen, comes from a recommendation from one of you! Awhile back, I asked on Snapchat for some suggestions for books to review. And one of you suggested this book, and I jumped on it!!
To be honest, I had no idea who Laura Vitale was before buying this book. I don't watch a lot on Youtube, so I had never heard about her. But she is a YouTube sensation with over 2 million followers. And now, a show on the Cooking Channel, along with her cookbook. She cooks up and shares Italian-American recipes that are accessible and easy.
I bought the book sight unseen, but luckily, I ended up quite happy that I bought this book. There are actually quite a few recipes throughout the book that I would love to make.
Here are the details:
Number of Photos: lots. There isn't a photo of every recipe, but most of them do have photos. The photos are very well done and appetizing.
Difficulty Level of Recipes: easy. The cookbook focuses on simple recipes, perfect for the home cook. There is even a list of pantry staples to make it easier.
Availability of Ingredients: easy. These recipes are created for the home cook, so the ingredients are all very easy to find.
Other Recipes I Want to Try:
Bow-Tie Pasta with Peas, Ham and Gorgonzola
Pork Chops alla Milanese
Pasta with Braised Short Ribs
Garlic-Stuffed Pork Loin
Cheesy Garlic Bread
Churros with Chocolate Dipping Sauce
Peach Melba
Lemon Almond Biscotti
Italian Eggs Benedict
Pancetta and Fontina Quiche
Homemade Italian Doughnuts
Buy Laura in the Kitchen on Amazon.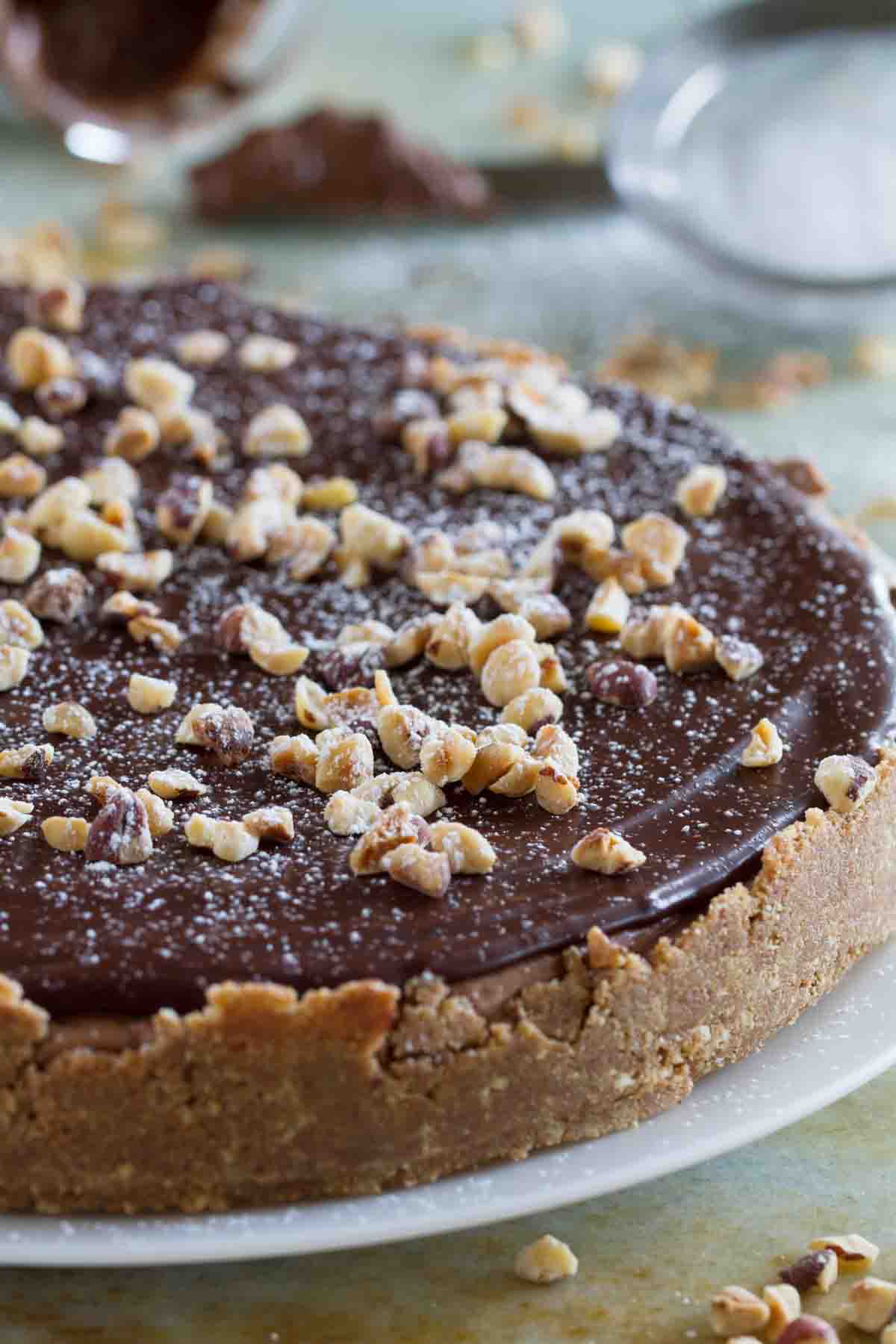 I really didn't intend on making a dessert from this book, but I have to say – the whole dessert chapter, plus the breakfast chapter – are filled with recipes that I want to make. And for some reason, this No-Bake Nutella Cheesecake stood out to me and begged me to make it. That was an offer I couldn't avoid! 😉
While this cheesecake does take a little bit of time (most of it in the refrigerator), most of that time is hands-off time. And it is a no-bake recipe, so no worries about water baths or cracking cheesecakes. The end result is a cheesecake that will totally blow you away. It was super creamy and rich. So rich, in fact, that I couldn't even finish my slice. But it is oh, so good. In fact, I just made this yesterday, and while I don't normally post things so quickly after making them, I had to rush to post this one because my daughter said that it is her new favorite dessert.
This No-Bake Nutella Cheesecake isn't an inexpensive dessert, by any means, but it is definitely delicious. Perfect for a holiday dessert, don't you think? 😉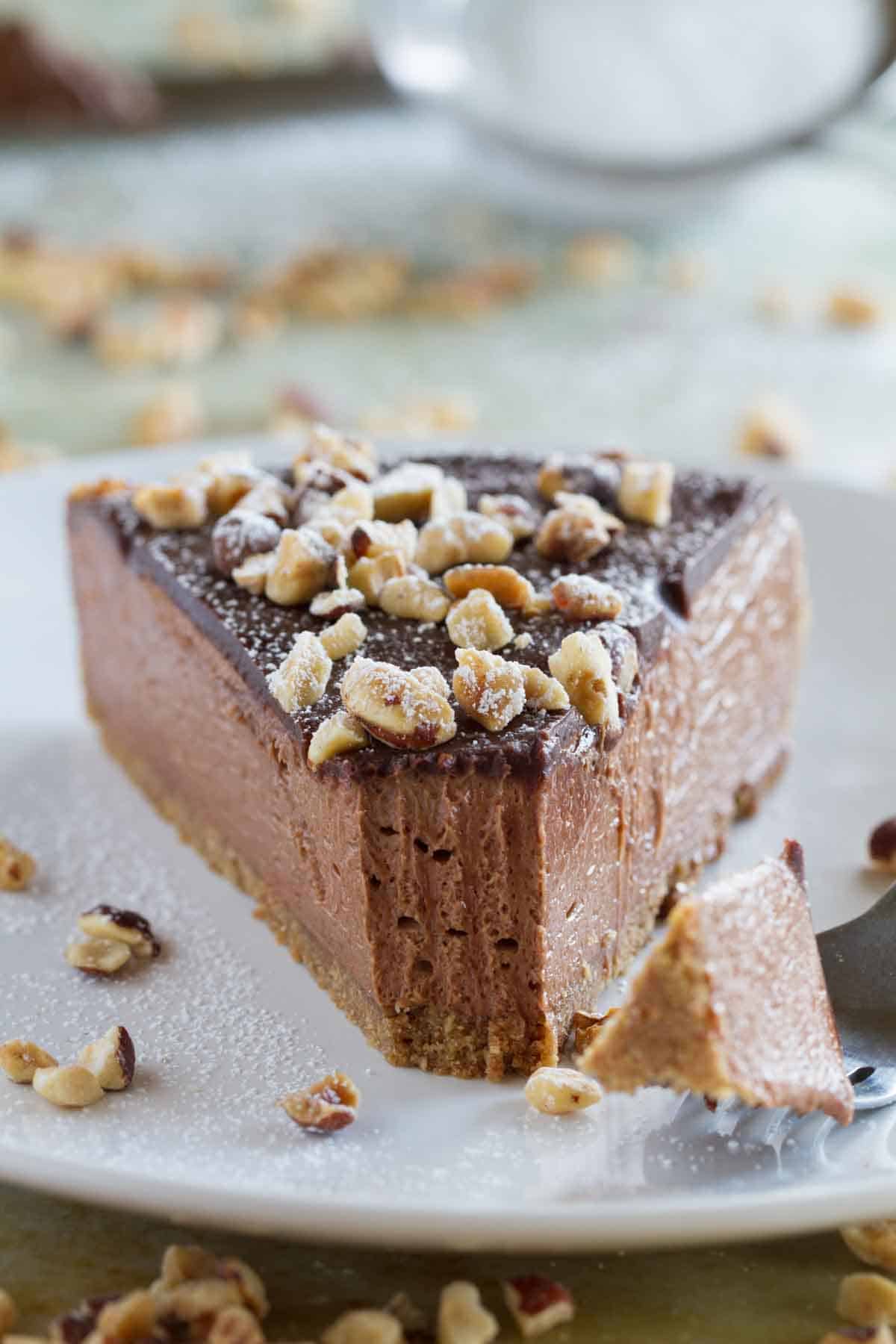 More No Bake Desserts
No Bake Cheesecake
Red Velvet No Bake Cheesecake
No Bake Cookies
Cannoli Cheese Ball
Haystack Cookies
No Bake Peanut Butter Oatmeal Bars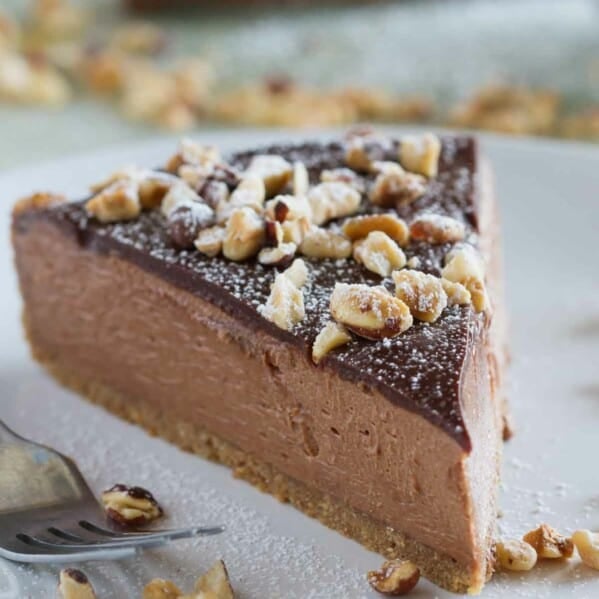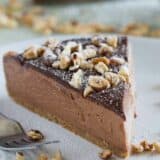 No Bake Nutella Cheesecake
---
Author:
Prep Time: 25 mins
Total Time: 8 hours
Yield: 12 servings 1x
Category: Dessert
Method: No Bake
Cuisine: American
Description
Cheesecake doesn't have to be difficult! This No-Bake Nutella Cheesecake is easy enough for cheesecake beginners. It is rich, creamy, and full of chocolate flavor.
---
Scale
Ingredients
Crust:
1/4 cup coarsely chopped hazelnuts
1 1/4 cups graham cracker crumbs
1/4 cup granulated sugar
6 tablespoons unsalted butter, softened
2 tablespoons Nutella
Filling:
2 (8 oz each) packages cream cheese, softened
1 1/2 cups Nutella
1/2 cup powdered sugar
1/4 cup heavy cream
1/2 teaspoon vanilla extract
Ganache:
4 oz semi sweet chocolate chips
1/3 cup heavy cream
1 teaspoon unsalted butter, softened
Topping:
1/3 cup chopped, toasted hazelnuts
powdered sugar
---
Instructions
Make the crust:
Process the hazelnuts in a food processor until they are finely ground. Add the graham cracker crumbs*, sugar, butter and Nutella. Pulse until the mixture comes together and holds together when you pinch it between your fingers. Press the mixture firmly into the bottom and 1 inch up the sides of a 9-inch springform pan.
Make the filling:
In the bowl of a stand mixer fitted with the paddle attachment, beat the cream cheese until it is smooth. Add the Nutella and continue to beat for 2 minutes. Add the sugar, cream, and vanilla extract. Continue to beat until it is completely smooth, about 3 more minutes. Pour the filling over the crust. Place and inverted plate over the top of the pan and refrigerate the cheesecake overnight.
Make the ganache:
One hour before serving the cheesecake, put the chocolate chips in a bowl. Heat the cream to just below boiling in a small saucepan. Pour the cream over the chocolate chips and let it sit for 1 minute. Whisk the mixture until it is smooth. Whisk in the butter until completely incorporated.
Spread the ganache evenly over the top of the cheesecake with an offset spatula. Cover the pan again with an inverted plate and refrigerate at least 1 hour, up to overnight.
To serve, loosen and remove the sides of the springform pan. Top the cheesecake with the hazelnuts and sprinkle with powdered sugar.
Recipe Notes:
PREP TIME DOES NOT INCLUDE REFRIGERATION TIME.
*I made my own graham cracker crumbs, so I used the food processor to make the crumbs first, then removed them from the food processor before grinding the nuts.
recipe source: Laura in the Kitchen by Laura Vitale
Keywords: nutella cheesecake