Have a veggie drawer filled with vegetables that are just past their prime? No need to toss them – roast them up for this delicious Roasted Vegetable Pizza with Ranch!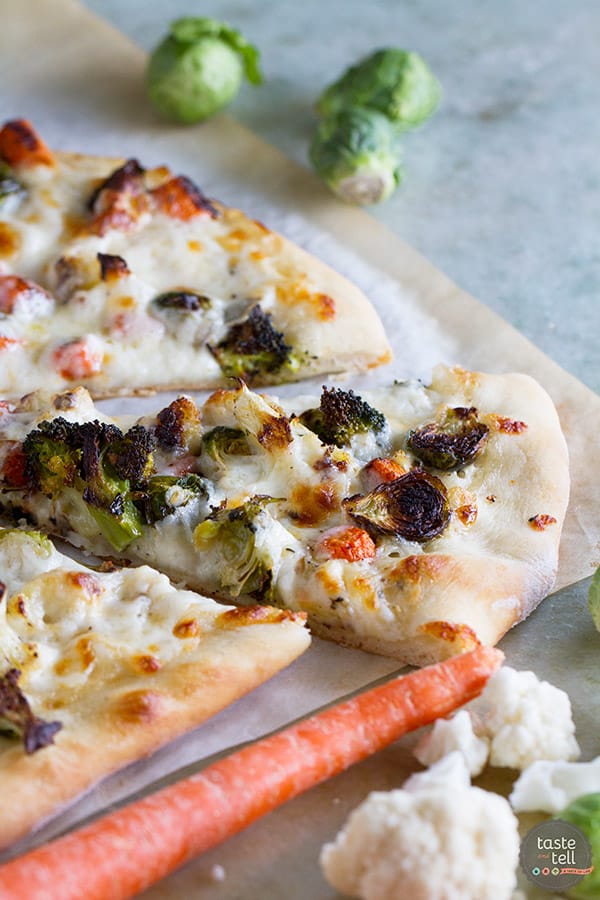 Yum

I love walking through the produce section at the grocery store. Call me weird, but there is something about walking among all of that freshness. I'm pretty good about sticking to a grocery list, but a lot of times, I can't help but pick up extra fruits or vegetables because they are on sale or because they have inspired a sudden idea for a recipe.
Recently, I discovered that my grocery store has a spot where they put all of the "older" or ugly produce, and they sell it for a discount. And now, I can't help but stop by this section every time I'm at the grocery store to stock up on produce. Most of the time, it still has several days until it is bad, and the prices are so much cheaper!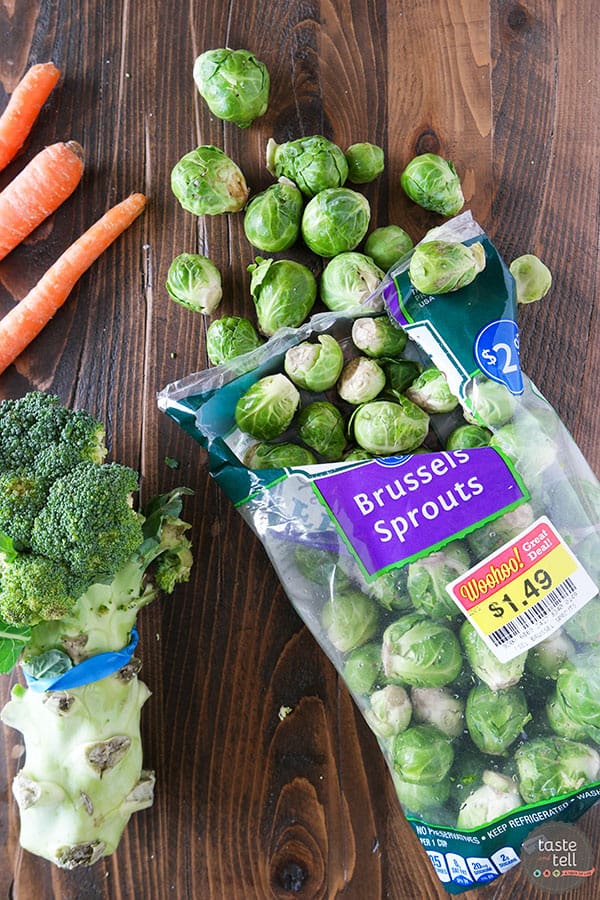 The biggest problem I run into now is a refrigerator bin full of vegetables that need to be used asap. Because not only do I have this newly purchased older produce, but I have all of the other veggies that have been hiding in the depths of the refrigerator.
Fear not – there is no reason to toss that old, sometimes wrinkly, ugly produce. Today, I have teamed up with Hidden Valley® to spread the word about their Taste Not Waste campaign, encouraging us to help reduce food waste. They are hoping to raise enough awareness to reduce food waste by 50% by 2030. This is the kind of campaign I can definitely get behind! And tackling the problem of ugly vegetables is a great first step. Just because vegetables are ugly, bruised, misshapen or close to expiration doesn't mean that they are lost. In fact, some pretty delicious food can be made from this unloved produce!! You can find all kinds of tasty ways to use those vegetables by following the hashtag #TasteNotWaste on social media. Hidden Valley® has also released limited edition bottles of Hidden Valley® Original Ranch® featuring less than perfect produce that are being sold on eBay. All proceeds are going to benefit Great Nations Eat©.
You can find out more about the Taste Not Waste campaign by visiting Hidden Valley® on their website, Instagram, Twitter, Facebook or Pinterest.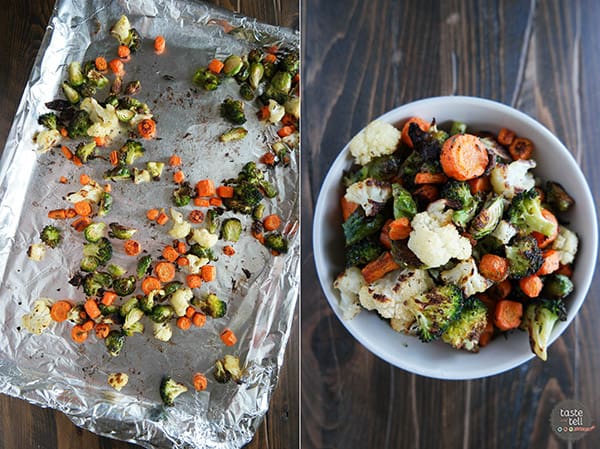 One of the first things that always comes to my mind when I'm trying to get through vegetables before they go bad is roasting them. With roasted vegetables, it doesn't matter what the produce looked like before it's roasted, and you can roast up a lot of veggies with little effort – so it's a great way to tackle that vegetable bin. And, well, roasted vegetables taste so good – it's probably my favorite way to eat my veggies.
One day, finding myself faced with a huge bag of Brussels sprouts that were about to expire, plus a whole lot of other veggies in the fridge, I decided to take them a step further than roasting and turn them into a roasted vegetable pizza. We are pizza lovers at our house, and practically have pizza night weekly, so it only seemed like a logical decision. And what goes better with vegetables than ranch? My husband and kids insist on dipping their pizza in ranch, so I decided that instead of regular pizza sauce, I'd use Hidden Valley® Original Ranch® Dressing. Top that with a whole variety of roasted vegetables and some mozzarella cheese and dinner is served.
I can't think of a better way to love all of those "unloveable" vegetables than this Roasted Vegetable Pizza with Ranch!!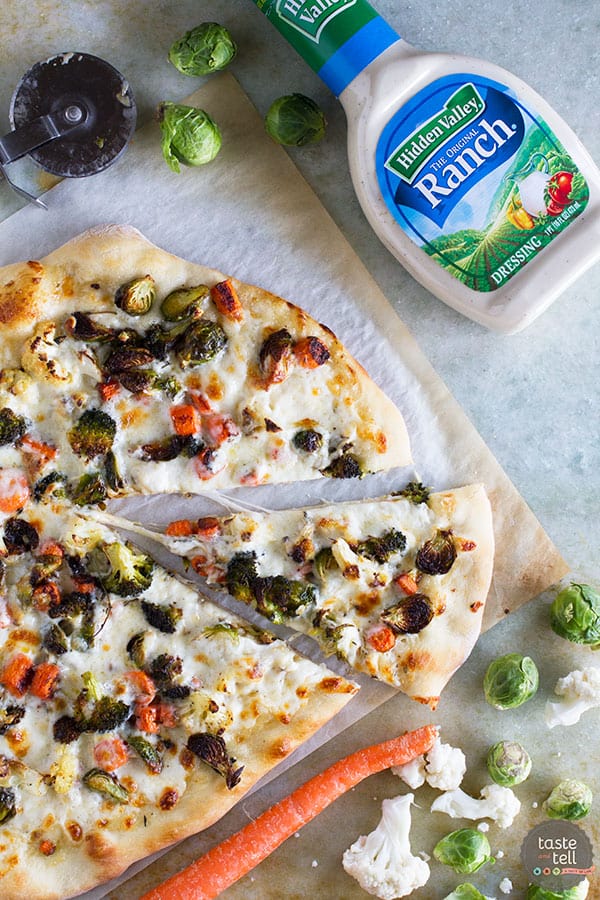 Like what you see here? Make sure you are following Taste and Tell for more recipes and ideas!
Facebook | Pinterest | Instagram | Twitter | Google+ | Weekly Newsletter | Feedly | Bloglovin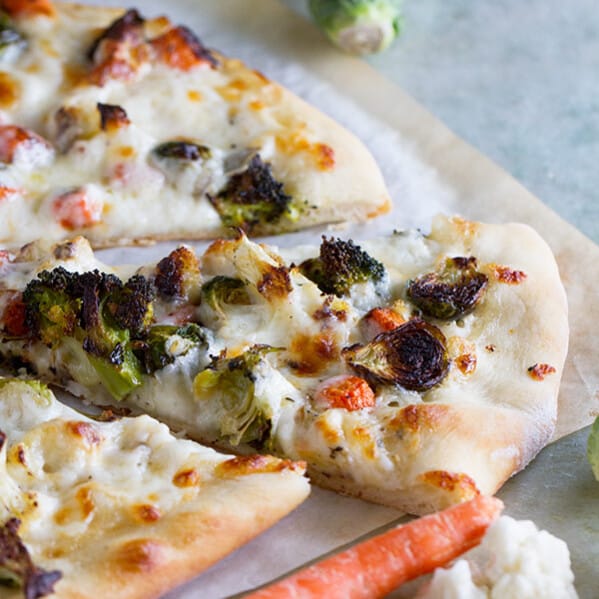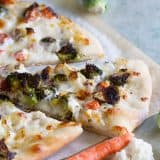 Roasted Vegetable Pizza with Ranch
---
Author:
Prep Time: 15 mins
Cook Time: 35 mins
Total Time: 50 mins
Yield: 4-6 servings 1x
Description
Have a veggie drawer filled with vegetables that are just past their prime? No need to toss them – roast them up for this delicious Roasted Vegetable Pizza with Ranch!
---
Scale
Ingredients
4 cups chopped vegetables (I used broccoli, cauliflower, carrots and Brussels sprouts)
2 tablespoons extra virgin olive oil
1/2 teaspoon salt
freshly cracked black pepper
1 lb pizza dough
1/4 cup Hidden Valley® Original Ranch® dressing
4–6 oz shredded Mozzarella cheese
---
Instructions
Place a pizza stone in the oven and preheat to 450ºF. Line a baking sheet with foil.
In a bowl, combine the vegetables with the olive oil, salt and pepper and toss to coat. Spread the vegetables on the baking sheet. Place in the oven and roast until the vegetables are soft and browned, about 25 minutes, stirring once or twice.
Roll the dough out. Spread the ranch dressing over the top of the dough. Sprinkle the cheese over the top of the ranch, then add the vegetables. Transfer the pizza to the pizza stone in the oven and bake until the crust is golden brown and the cheese is melted, 10-12 minutes.
Serve with additional ranch dressing, if desired.
Recipe Notes:
Make sure your vegetables are cut approximately the same size so they all roast evenly.