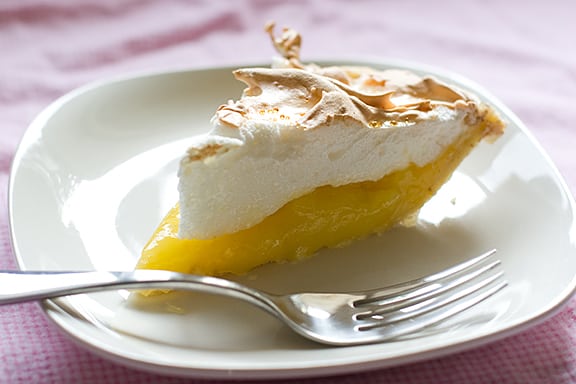 The thing about food blogging is that you feel like you always have to come up with the latest and greatest recipe – or at least something new to your readers. But sometimes, you don't want something new. Sometimes you just feel like the old, the comfortable. This may just be a lemon meringue pie, but sometimes, that's just what you need!
I did use Meyer lemons for this pie, which I guess takes it to a different level. If you haven't tried Meyer lemons before, I definitely suggest that you pick some up the next time you see them! This is the perfect classic lemon meringue pie. I didn't have enough cornstarch, (don't you hate it when you run out of an ingredient!?!) but it still fared pretty well.
What classic recipe do you turn to when you just want something "normal"?
Lemon Meringue Pie
from Better Homes and Gardens New Baking Book
Serves 8
Prep time: 45 minutes
Bake time: 15 minutes
Cool and Chill time: 4 to 7 hours
1 baked pie crust
3 eggs
1 1/2 cups sugar
3 tablespoons all-purpose flour
3 tablespoons cornstarch
1 1/2 cups water
2 tablespoons butter
1 to 2 teaspoons finely shredded lemon peel
1/3 cup lemon juice
1 recipe for Meringue (recipe follows)
Prepared the pie crust; set aside. Separate the egg yolks from the whites; reserve the whites for the meringue.
For the filling, in a medium saucepan, combine the sugar, flour, cornstarch, and a dash of salt. Gradually stir in the water. Cook and stir over medium-high heat until thickened and bubbly. Reduce heat. Cook and stir 2 minutes more. Remove from heat. Slightly beat egg yolks with a rotary beater or fork. Gradually stir about 1 cup of the hot filling into the yolks. Pour egg yolk mixture into hot filling in saucepan. Bring to a gentle boil. Cook and stir 2 minutes. Remove from heat. Stir in butter and lemon peel. Gently stir in lemon juice. Keep filling warm while preparing meringue.
Pour warm filling into pie crust. Spread meringue over warm filling; seal to edge. Bake in a 350F oven for 15 minutes. Cool for 1 hour or wire rack. Chill in refrigerator for 3 to 6 hours before serving. Cover for longer storage.
Meringue
3 egg whites
1/2 teaspoon vanilla
1/4 teaspoon cream of tartar
6 tablespoons sugar
Allow egg whites to stand at room temperature for 30 minutes. In a large mixing bowl combine egg whites, vanilla and cream of tartar. Beat with an electric mixer on medium speed about 1 minute or until soft peaks form.
Gradually add sugar, 1 tablespoon at a time, beating on high speed about 4 minutes more or until mixture forms stiff, glossy peaks (tips stand up straight) and sugar dissolves.
Immediately spread meringue over warm pie filling, carefully sealing the meringue to edge of pastry to prevent shrinkage.