Filled with zucchini, olives and lots of cheese, these Cheesy Italian Stuffed Tomatoes are a perfect summertime side dish.
Serve these Cheesy Italian Stuffed Tomatoes alongside some Grilled Chicken or Grilled Flank Steak for the perfect summertime meal!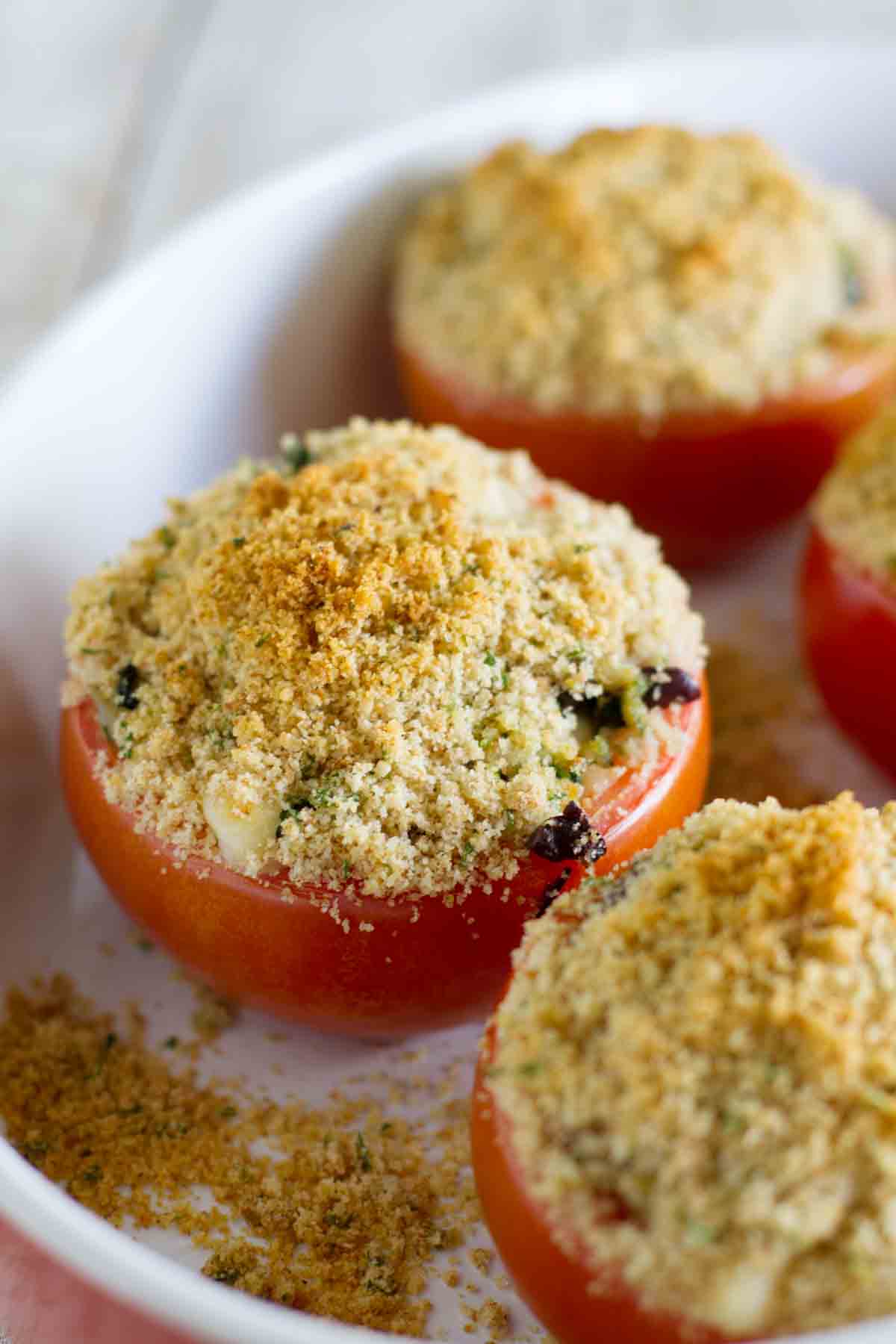 Right now, I'm kind of sad that we don't have a garden. We moved into this house last fall, and while there isn't anywhere in the backyard to plant a garden, there is a small spot that has cement pavers down. I had grand plans to plant a container garden there, but time got away from me and all that I got around to doing was planting a basil plant and a chive plant.
It's actually been a few years since we've had a garden of our own. Last summer, we were at my parent's house, and were able to partake in the bounty of their garden. And now we are too far away to even pop in to steal a chile or a tomato from them. We have to rely on the goods at the farmer's market this year, and I'll plan on being a better planner next year. 🙂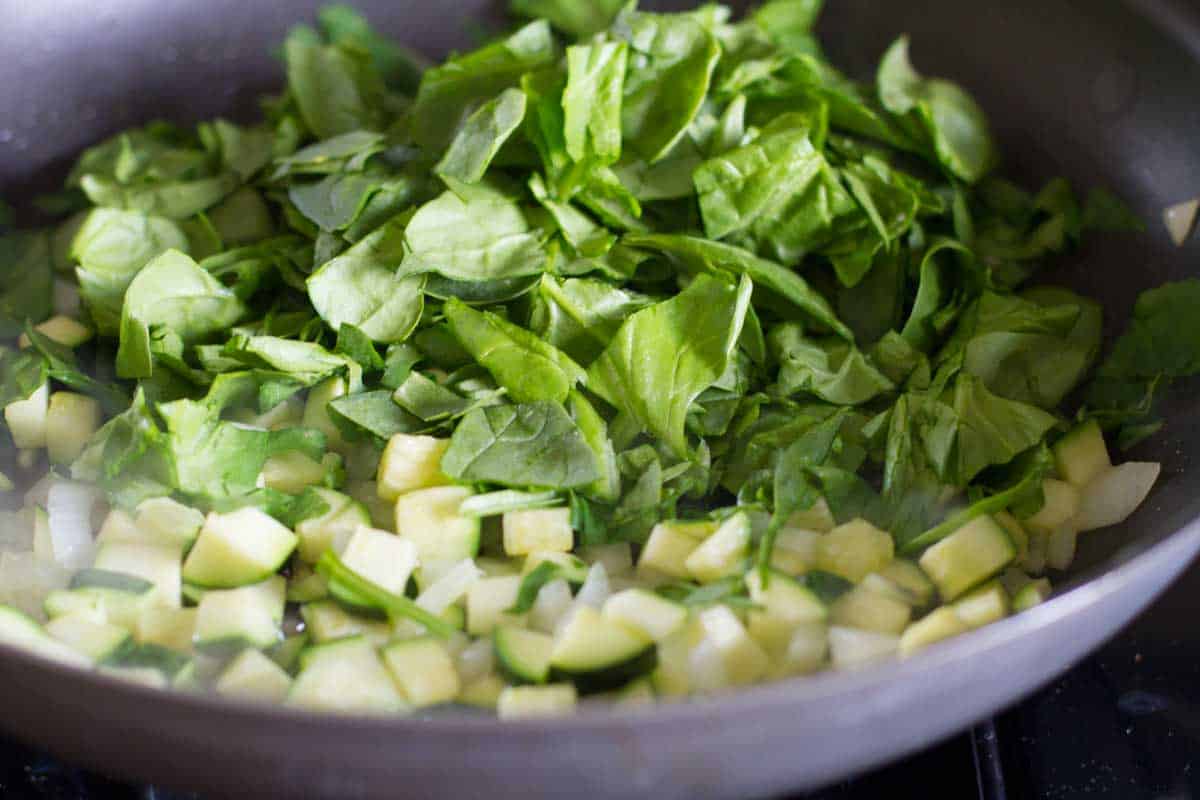 But just because I don't have a garden doesn't mean I can't take advantage of the gorgeous vegetables right now. That is one of the best parts of summer, in my opinion – all of the fresh fruits and veggies!!
These stuffed tomatoes definitely take the fresh veggie idea and go a little crazy. Large tomatoes are stuffed with all kinds of goodies- zucchini, spinach and lots of cheese to take these over the top. I love trying to find side dishes that are a little different than our normal veggie side dish, and these stuffed tomatoes are actually hearty and filling enough to be a main dish!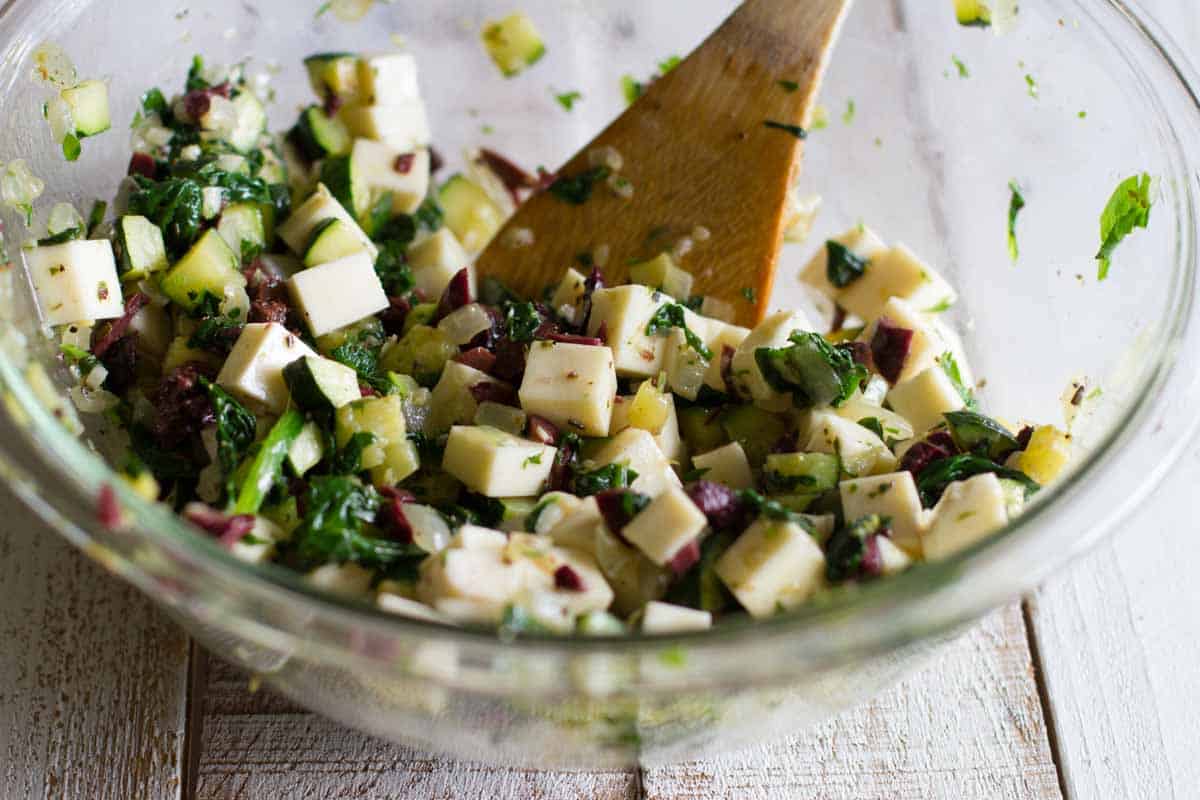 When I first went to make these, I totally was going to just shred the cheese, but I'm so glad I went with cutting it into small cubes. Hello, cheesiness!! I just don't think you'd get as big of a cheesy aspect if the cheese was shredded. And I'm obviously really good at taking a whole bunch of healthy ingredients and making the dish not as healthy with lot of cheese. 🙂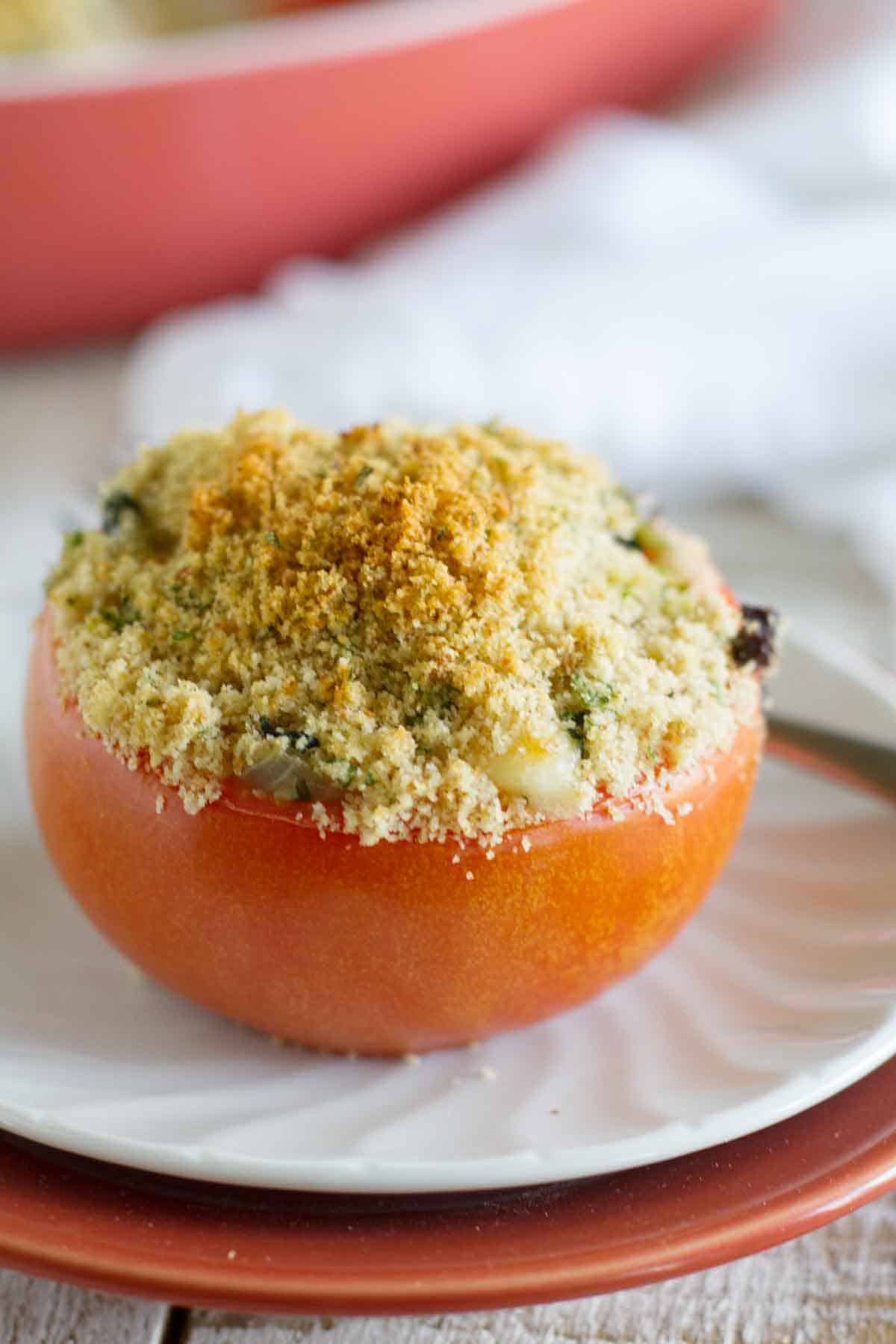 While these do take awhile to bake, the time it takes to put them together isn't overwhelming. And they would be great to pair with an Italian meal that is cooked on the grill or stovetop. You could have the stuffed tomatoes baking while you are preparing the main meal. Then everything is done at the same time!! This might even be a good way to get your kids to eat their veggies!
I know that tomato season doesn't last forever, so I'll be using them up as much as possible in the coming weeks. What is your favorite tomato recipe?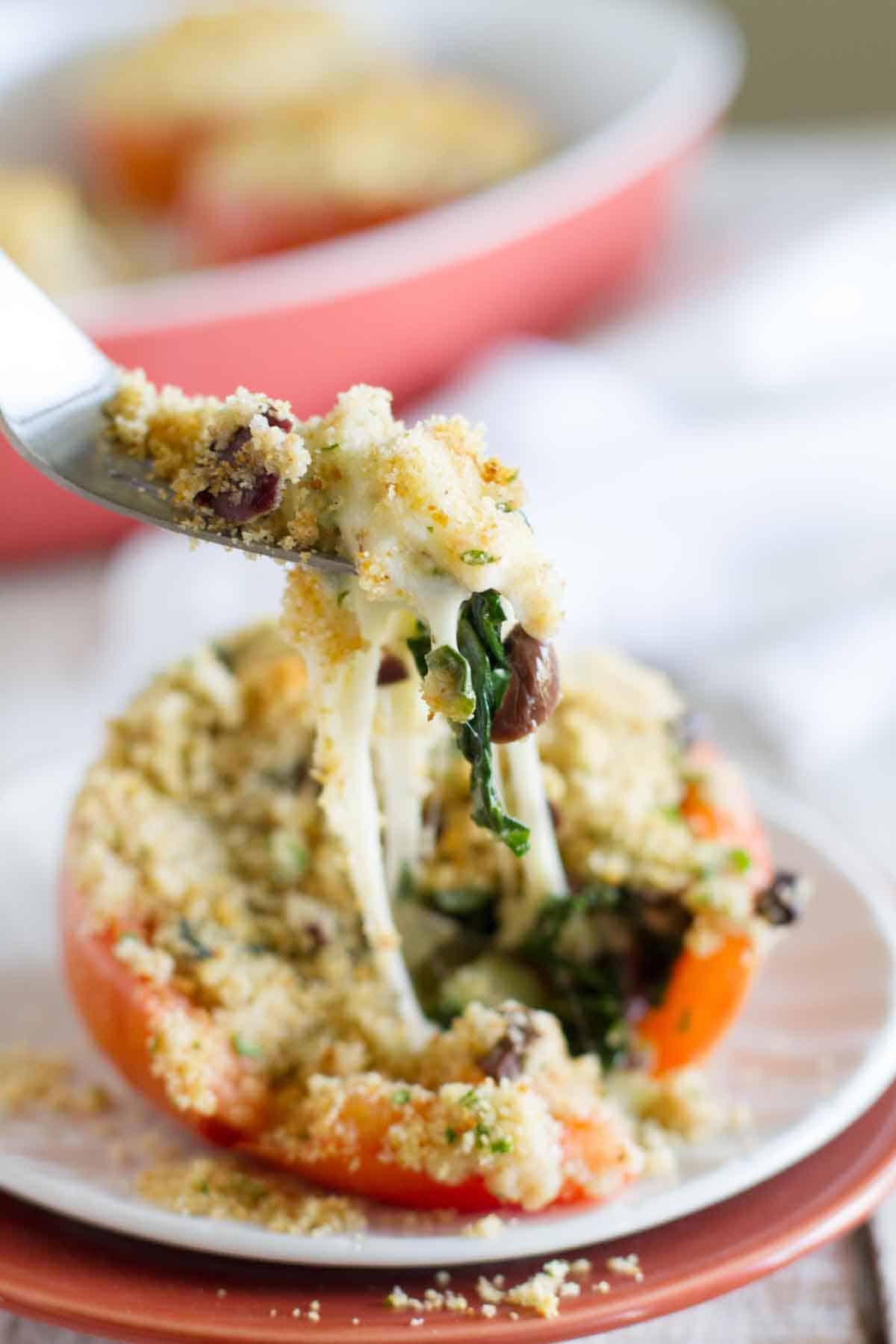 More Summertime Tomato Side Dishes
Tomato and Basil Bake
Mini Caprese Tartlets
Tomatoes Roasted with Pesto
Tomato Tart with Bacon and Gruyere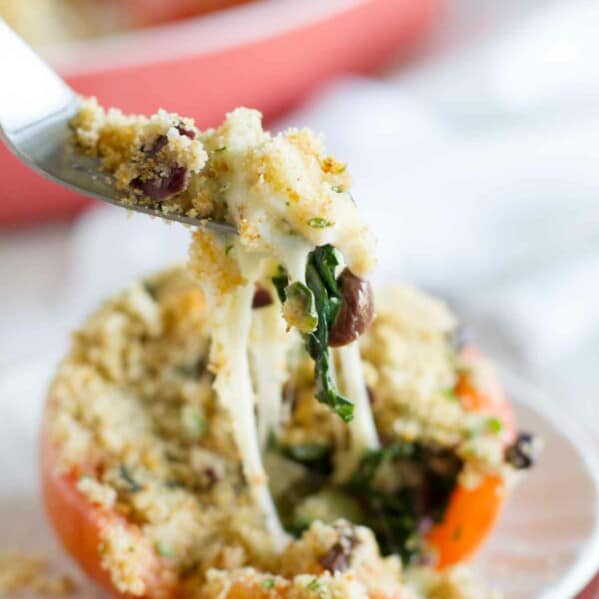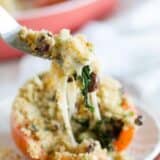 Cheesy Italian Stuffed Tomatoes
---
Author:
Prep Time: 15 minutes
Cook Time: 40 minutes
Total Time: 1 hour
Yield: 4 servings 1x
Category: Side Dish
Method: Baked
Cuisine: Italian
Description
Filled with zucchini, olives and lots of cheese, these Cheesy Italian Stuffed Tomatoes are a perfect summertime side dish.
---
Scale
Ingredients
4 ripe but firm beefsteak tomatoes
1/2 teaspoon salt
3 tablespoons olive oil, divided
3 tablespoons minced parsley, divided
2 cloves garlic, minced, divided
1/2 cup breadcrumbs
1 medium zucchini, chopped (about 1 1/2 cups)
1/2 cup chopped onion
2 cups fresh baby spinach, coarsely chopped
1 teaspoon dried oregano
1/4 teaspoon black pepper
8 ounces mozzarella cheese, cut into 1/2 inch cubes
1/2 cup Italian olives, chopped
---
Instructions
Preheat the oven to 350°F.
Cut about 1 inch off the top of each tomato. Use a spoon to scoop out the insides, leaving 1/4-1/2 inch shell, being careful not to cut into the outside of the tomatoes. Discard the pulp. Sprinkle the insides of the tomatoes with the salt and place upside down on a double layer of paper towels to drain.
In a small bowl, combine 1 tablespoon of the oil, 1 tablespoon of the parsley, half of the garlic and the breadcrumbs. Stir until the breadcrumbs are coated and it is all mixed thoroughly.
Heat the remaining 2 tablespoons of oil in a large sauté pan over medium-high heat. Add the zucchini and onion and cook until translucent, 3-5 minutes. Add in the spinach and cook until it is wilted, about 1 minute longer. Stir in the remaining 2 tablespoons of parsley and the remaining garlic. Season with the oregano and the pepper. Remove from the heat and pour into a bowl. Let it sit for about 5 minutes, stirring occasionally, to slightly cool.
Add the cubes of cheese and the olives to the zucchini mixture and stir to combine.
Place the tomatoes, open side up, in a small baking dish. Divide the cheese and zucchini mixture between the tomatoes. Top with the breadcrumb mixture.
Bake in the preheated oven until the tomatoes are soft and the topping is golden, about 30 minutes. Serve warm.
Keywords: Italian Stuffed Tomatoes