Fresh Corn Salad – an easy salad with fresh corn, red onion, a simple dressing and basil.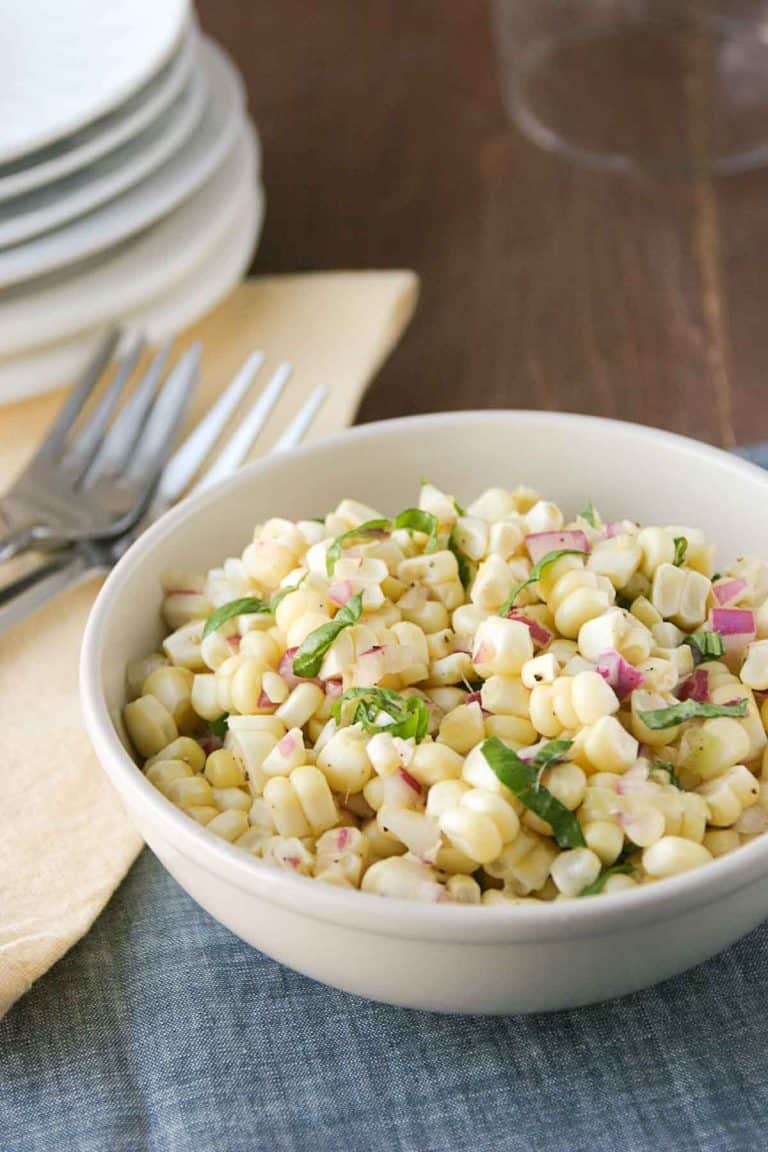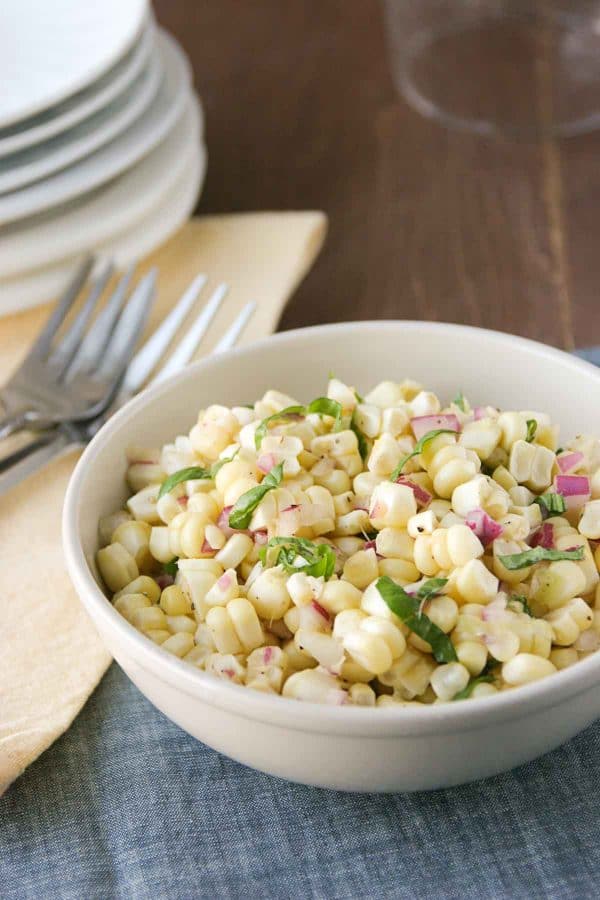 I picked up some fresh corn a few weeks back and didn't quite know what I wanted to do with it. Growing up, we had a lot of fresh vegetables from the garden in the summer, but with corn, it was mostly just served as corn on the cob. I never complained, because my dad grew the tastiest vegetables, and I always looked forward to dinner from the garden, and I do love corn on the cob. For some reason, when I was thinking about this corn, I wanted to do something different than the normal corn on the cob. So I set out to find a recipe.
It seems like I always start at the internet these days. Maybe it is because most of the time when I am planning, I am at work without my cookbooks. So, intent on finding a good corn recipe, I started with a google search – fresh corn salad. Of the 10 results that came up on the front page, 5 of them were for the same recipe, reprinted on different websites. I figured this had to be a good recipe.
I think this might be the first recipe from The Barefoot Contessa that I have made. I was really excited for this, but unfortunately, neither my husband or I were impressed. It was just sort of bland to us. Maybe it was the corn – that is the excuse I am using for this. Maybe it wasn't full-of-flavor-best-of-the-season corn. Regardless, I probably won't make this again, even though it seems like many others have loved it. Oh well – you win some, you lose some!!
**UPDATE**  I made this recipe again in 2012, and fell in love with it.  You definitely need good corn – the corn is the star.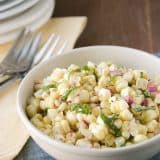 Fresh Corn Salad
---
Author:
Prep Time: 15 minutes
Cook Time: 3 minutes
Total Time: 20 minutes
Yield: 4-6 servings 1x
Category: Side Dish
Method: Stove Top
Cuisine: American
Description
Fresh Corn Salad – an easy salad with fresh corn, red onion, a simple dressing and basil.
---
Scale
Ingredients
5 ears of corn, shucked
1/2 cup small-diced red onion (1 small onion)
3 tablespoons cider vinegar
3 tablespoons good olive oil
1/2 teaspoon kosher salt
1/2 teaspoon freshly ground black pepper
1/2 cup julienned fresh basil leaves
---
Instructions
Bring a large pot of salted water to a boil over high heat. Add the corn and cook for about 3 minutes. Immediately place in an ice-bath to stop the cooking.
When cool, cut the kernels off of the cobs.
In a large bowl, combine the red onion, cider vinegar, olive oil, salt and pepper. Add in the corn and the basil. Serve at room temperature or cold.
Recipe Notes: