The perfect use for fresh corn, these Corn Fritters are cheesy, irresistible and melt-in-your mouth delicious.
Looking for more side dishes with fresh vegetables? Try these Glazed Carrots, this Broccoli Salad, this Fresh Green Bean Salad with Asian Dressing, or this Tomato Tart with Bacon and Gruyere.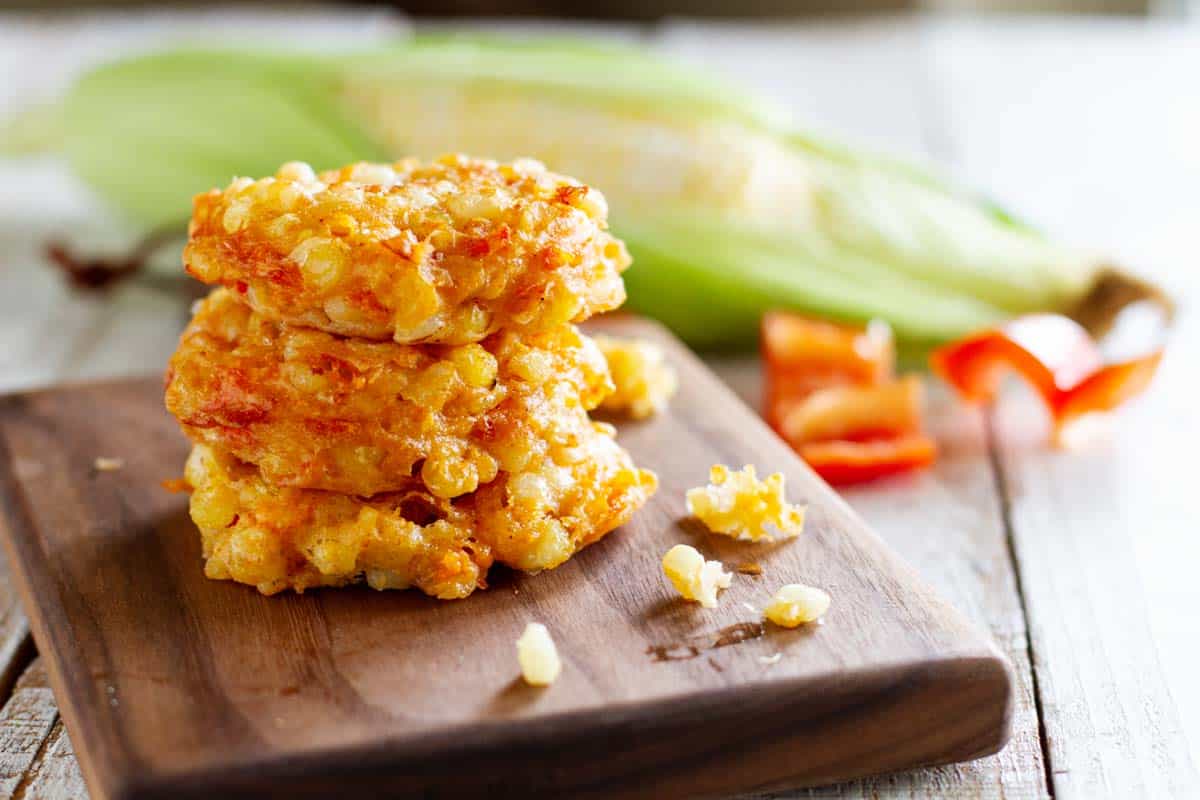 It is the time of year when you start seeing fresh corn at the store and the roadside stands. And judging by the amounts of corn that I start buying, you can pretty much say that I love corn season. Give me all the corn and tomatoes, and I'm a happy girl.
These Corn Fritters are one of the corn recipes that I can say I have no self control around. Set a batch of these in front of me, and I can't say no. Before I know it, I've even 3 and I'm going back for a 4th. It's a recipe that I have to make at least once every time corn is in season, and it's the reason I mourn when corn season is over. Yep, these babies are that good.
Ingredients
Corn: I think these are best with fresh corn. See the frequently asked questions below for more information about the corn.
Bell Pepper: You can use any color of bell pepper. I like to use red or orange because they are a little bit sweeter, but green will work, as well.
Eggs: The eggs will bind everything together.
Cheese: I will usually use a medium or sharp cheddar cheese. But feel free to experiment with other cheeses.
Flour: I have only use all-purpose flour.
Sugar: This will just help to bring out the sweetness of the corn.
Chili Powder: The chili powder adds some great flavor. Feel free to add in a pinch or two of cayenne pepper if you want it spicier.
Salt & Pepper: It's always important to season well!
Butter: I use unsalted butter, but since it's such a small amount, you could easily use salted butter, as well.
Oil: You'll want an oil with a high smoke point for frying. I like to use vegetable oil, but canola works, too.
How To Make Corn Fritters
PREP: Shuck and clean the corn, then boil the cobs for 3 minutes. Let them cool, then cut the kernels from the cob, collecting the corn milk as well.
MIX: Combine the corn with the bell pepper, egg, water and cheese. Mix the flour, sugar, chili powder, salt and pepper. Then mix that all together, stirring in the melted butter last.
FRY: Heat the oil in a skillet, then drop the batter into the hot oil by big spoonfuls. Fry until golden, then flip and cook the second side.
EAT: Try your very hardest to let the corn fritters cool slightly before devouring!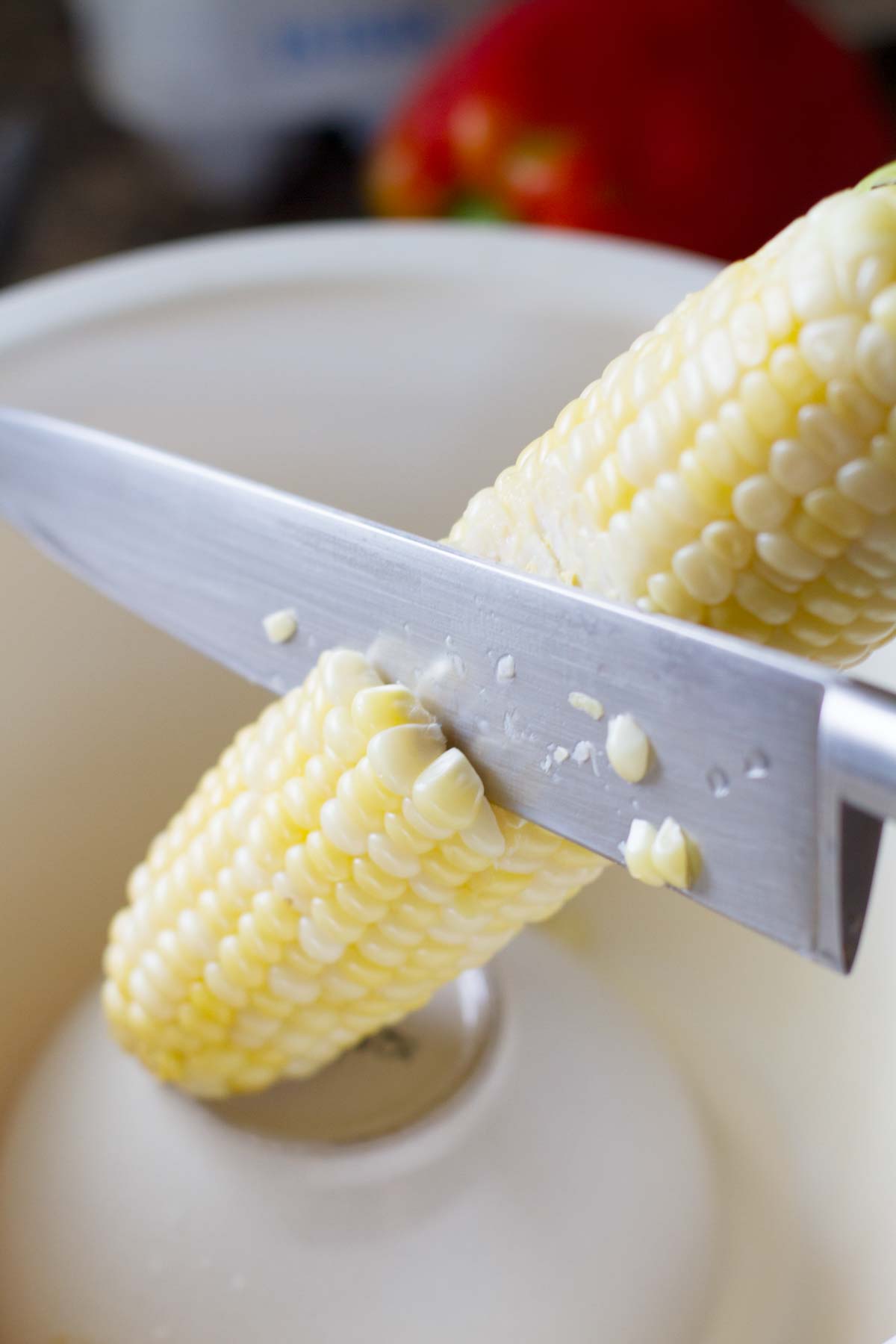 Frequently Asked Questions
What are Corn Fritters?
So, if you've never had a corn fritter, you're probably wondering what they are. Corn fritters are little fried "cakes". I've often seen them called cakes, although they do not resemble that cake you would find at the bakery. Instead, these are a mixture of corn, eggs, flour, and a few other ingredients that make a batter that is pan fried. They can be served as a side dish, or even as an appetizer. While some fritters are more dough, these corn fritters are more corn with the batter that holds them together.
What Kind of Corn Do You Use In Corn Fritters?
I only make these in the summer (and sometimes early fall) when I can get fresh corn. I think fresh is definitely superior in this recipe. One pro of using fresh corn on the cob is that you will get all of the corn milk that comes off the cob when you cut the corn from the cob. The milk is the milky substance that comes from the cob, and it adds a lot of flavor. I also think the flavor and texture of fresh corn is better. If you are in a pinch, you can use frozen corn as well. I wouldn't suggest using canned corn, though, as it isn't as firm or fresh tasting.
Can You Make Them Ahead of Time?
These fritters are best eaten when they are freshly cooked. But if you have more than you're going to eat, or want to make them ahead of time, I would suggest freezing them. Cook them according to the recipe, then let them cool completely before freezing in a single layer. To reheat, place in a 350º oven until they are heated through. They won't be quite as crispy, but they will still be delicious.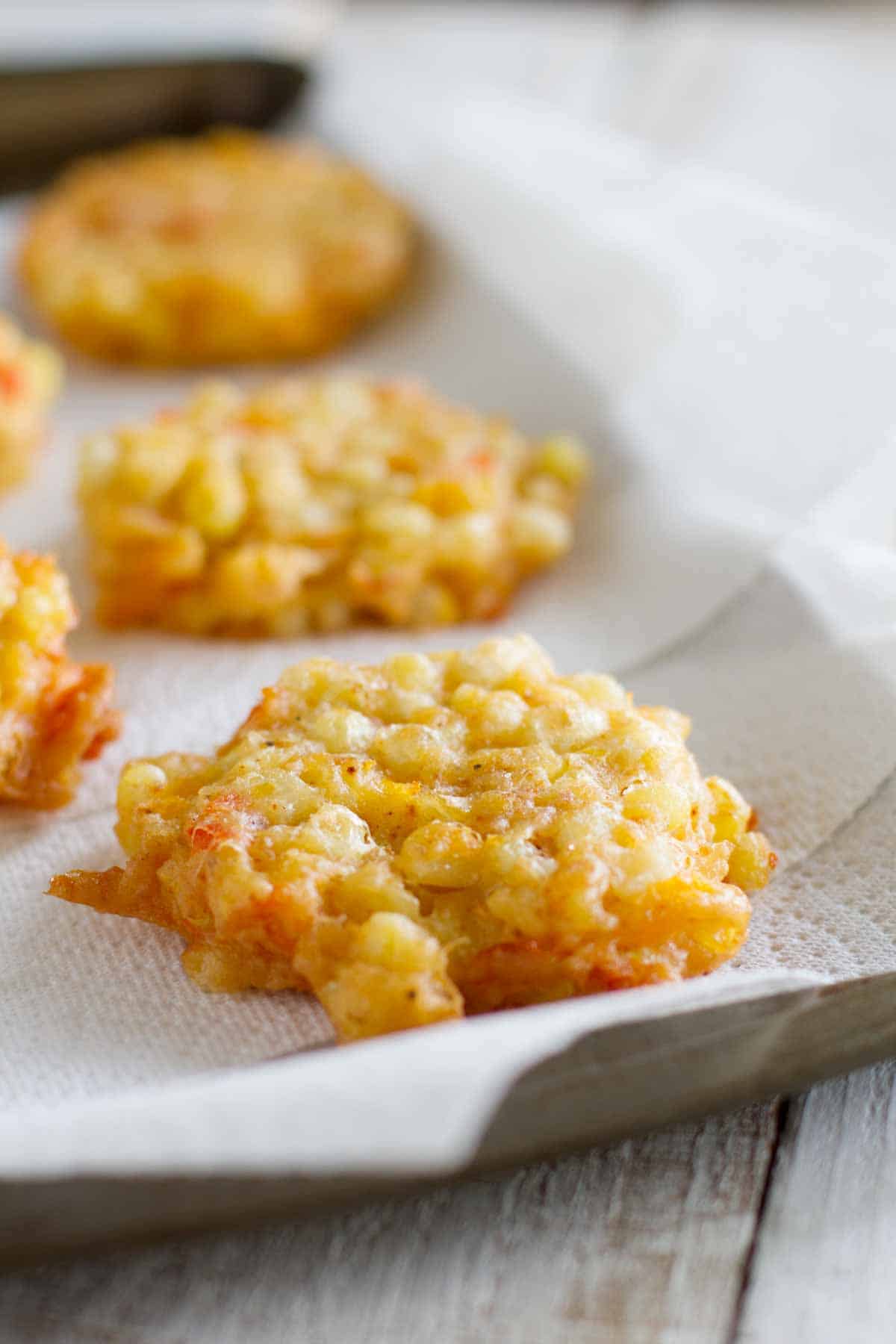 More Recipes Using Fresh Corn
Grilled Mexican Corn on the Cob
Grilled Corn Quesadilla Recipe
Grilled Corn on the Cob with Smoky Butter
Mexican Corn Salad
Grilled Corn and Black Bean Salad
Tilapia with Roasted Corn
Corn Dip Recipe with Green Chiles
Tools Used
You'll need a heavy duty skillet to make the fritters. I like to fry my fritters in a cast iron skillet. It holds the heat well and they just last forever!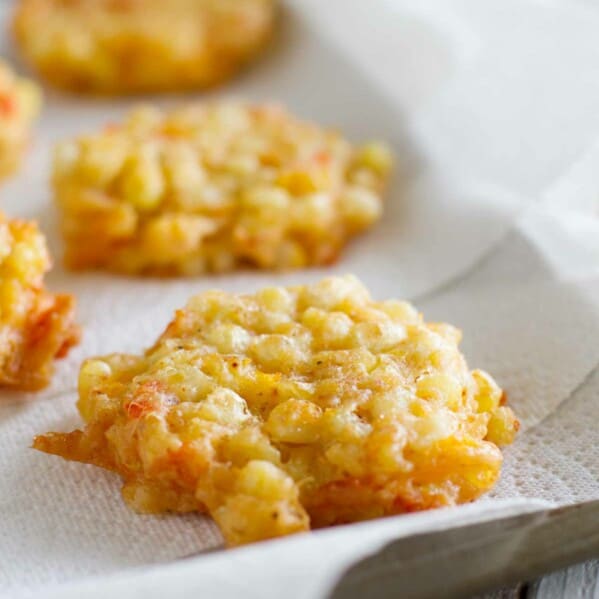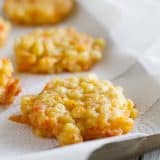 Corn Fritters
---
Author:
Prep Time: 10 minutes
Cook Time: 25 minutes
Total Time: 35 minutes
Yield: 16 fritters 1x
Category: Side Dish
Method: Stove Top
Cuisine: American
Description
The perfect use for fresh corn, these Corn Fritters are cheesy, irresistible and melt-in-your mouth delicious.
---
Scale
Ingredients
3 ears fresh corn (*or 2 cups corn kernels)
3 tablespoons diced red or green bell pepper
2 large eggs, lightly beaten
1/2 cup water
1/2 cup grated Cheddar cheese
3/4 cup all-purpose flour
2 teaspoons granulated sugar
1 teaspoon chili powder
salt and pepper to taste
2 tablespoons melted butter
vegetable oil, for frying
---
Instructions
Shuck and clean the corn.  Bring a large pot of water to a boil.  Add the corn to the boiling water and boil for 3 minutes.  Remove from the heat and allow to cool slightly.
Turn a small bowl upside down inside a larger bowl.  This creates a "stand" to stand the corn on to cut the kernels from the cobs. Cut the kernels from the ear, then scrape the cob with a table knife to release all of the milk.   Remove the small bowl, then add the bell pepper, eggs, water and cheese.  Stir to combine.
In another bowl, combine the flour, sugar, chili powder, salt and pepper.  Add the flour mixture to the corn mixture and stir just until evenly moistened.  Stir in the melted butter.
Pour oil into a large heavy skillet to a depth of 1/4-inch. Heat over medium heat until it registers 350º on a deep-frying thermometer. Using a serving spoon and working in batches to avoid crowding, drop spoonfuls of batter into the hot oil. You will make about 16 fritters in all. Fry on the first side until golden bowl and crisp, about 2 minutes. Turn once and fry until golden on the second side, 2 minutes more. Drain the fritters on paper towels and season with salt.
Serve warm.
Recipe Notes:
Recipe source: Vegetables
*If not using fresh corn, you won't have the extra flavor from the corn milk.
If needed, you can keep the first batches of fritters warm in an over set at 200ºF while you finish frying the remainder.
Nutrition information provided as an estimate only. Various brands and products can change the counts.
Nutrition
Serving Size: 1 fritter
Calories: 103
Sugar: 1 g
Sodium: 68 mg
Fat: 7 g
Saturated Fat: 2 g
Unsaturated Fat: 4 g
Trans Fat: 0 g
Carbohydrates: 7 g
Fiber: 0 g
Protein: 3 g
Cholesterol: 31 mg
Keywords: Corn Fritters, corn cakes