These Greek Tacos are anything but boring – filled with ground turkey with spinach and topped with hummus, feta, and lots of veggies. Give your Taco Tuesday some excitement!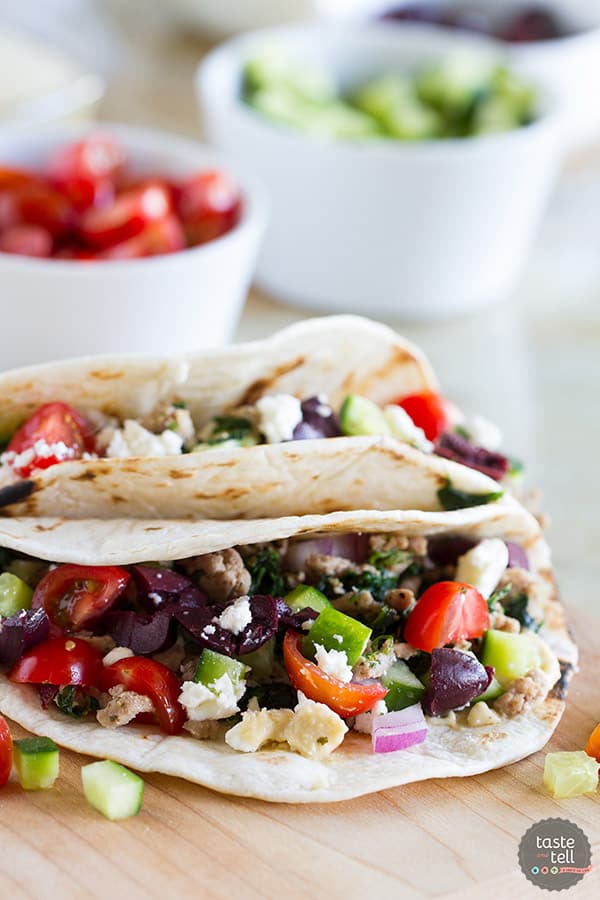 Years ago, in the Every Day with Rachael Ray magazine, there was a feature that laid out a whole week meal plan. The recipes were given, and then a shopping list was given for the recipes as well. While I love cooking, sometimes, the meal planning takes me forever. Seriously, sometimes I will spend hours figuring out what we are going to eat for that week. So I loved that feature in the magazine. And I even followed it exactly a few times.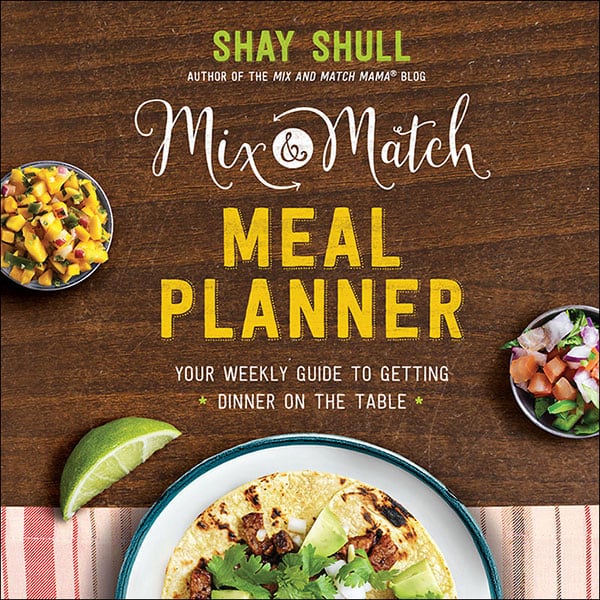 Today, I feel like everyone is always searching out menu planning help. Enter Mix & Match Meal Planner by blogger Shay Shull from The Mix and Match Mama Blog. This little book is all about helping you with that menu plan. 8 weekly menu plans, along with matching grocery lists. Plus, they are all divided by season, which makes it even easier!
This is a small book in size – about 6-inches square, but it's still full of lots of family friendly recipes. I love that you get 8 full weeks of recipes, plus grocery lists to correspond. Each weekly menu also contains a dessert to finish off your week. The recipes all seem like recipes my family would love – nothing totally out there or crazy. I do have to mention that there are several processed ingredients in the book – prepared BBQ sauce, refrigerated biscuits, cream of mushroom soup, cake mix, etc. I am all about taking shortcuts every now and then, but if you prefer to keep it all unprocessed, you'd have to pick and choose recipes in this book. But the shortcuts do keep all of these recipes easy and perfect for busy nights.
Here are the details:
Number of photos: lots. A photo accompanies each recipe.
Difficulty level of recipes: easy. They are all easy enough to make on a weeknight, and I think this book would be perfect for a new cook because the recipes aren't challenging.
Availability of Ingredients: easy. You should be able to easily find all of these ingredients at any grocery store.
Other recipes I want to try:
Pesto Meatballs
Chicken Florentine Enchiladas
Tomatillo and Pineapple Burgers
BLT Pasta
Key Lime Pie Bars
Crunchy BBQ Brisket Tacos
Sausage and Butternut Squash Pasta
Beefy Cornbread Casserole
Buy Mix & Match Meal Planner on Amazon.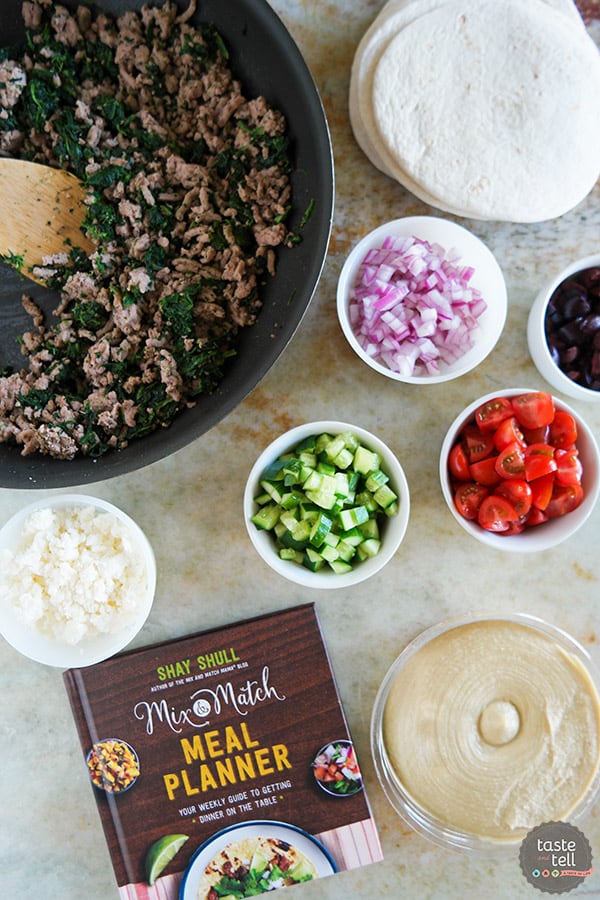 And now I'm guessing you aren't surprised that I chose a taco recipe, are you? You all know I love my tacos!! There are a few different taco recipes in the book, and I was immediately drawn to these Greek Tacos. I had to go and look through my archives to make sure I hadn't already done a Greek Taco recipe, because apparently, I really love Greek flavors. Seeing that I've made quesadillas, wraps, a salad, and even goulash – I was surprised that I didn't have a Greek taco recipe yet. Well, happy day – no tacos yet, but that has now changed. 🙂
You start with ground turkey mixed with oregano and spinach as the base. I love, love that you add hummus to the tacos, and then top them with all kinds of veggies and olives. These Greek tacos were so simple, so perfect for a weeknight. And I loved that they had so much flavor packed into a taco that is actually pretty good for you.
I'd gladly add these Greek tacos to my weekly menu!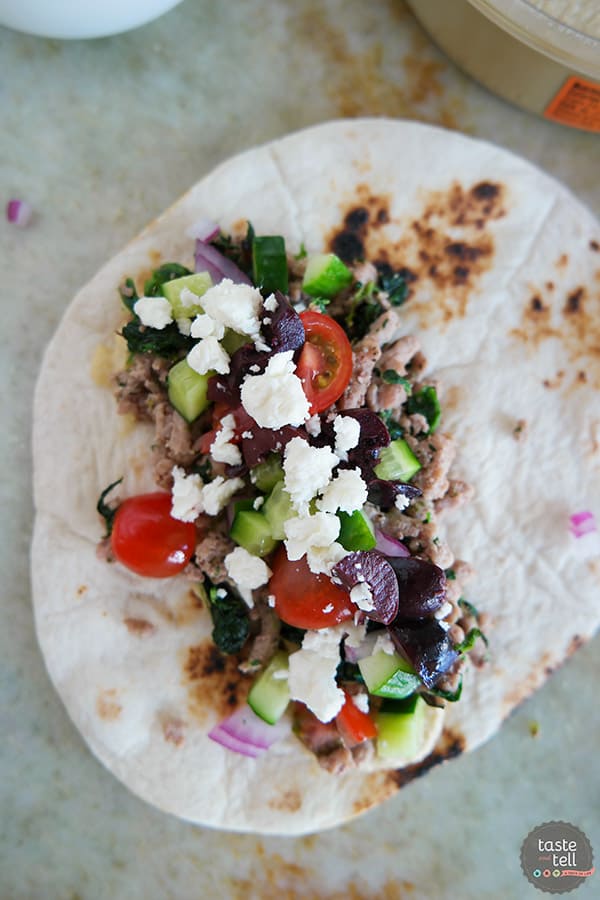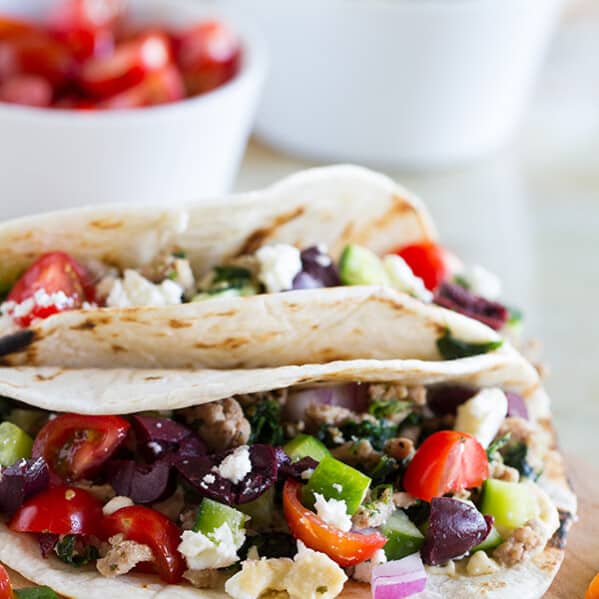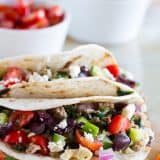 Greek Tacos
---
Author:
Prep Time: 10 minutes
Cook Time: 15 minutes
Total Time: 15 minutes
Yield: 4 servings 1x
Category: Main Course
Description
These Greek Tacos are anything but boring – filled with ground turkey with spinach and topped with hummus, feta, and lots of veggies. Give your Taco Tuesday some excitement!
---
Scale
Ingredients
extra virgin olive oil
1 lb ground turkey
1 teaspoon dried oregano
10 oz frozen spinach, (thawed and excess water squeezed out)
8 flour tortillas
8 tablespoons hummus
1 red onion (chopped)
1 small cucumber (chopped)
1/2 cup grape or cherry tomatoes (halved or quartered)
kalamata olives, (chopped)
1/2 cup feta cheese (crumbled)
---
Instructions
In a large skillet, heat 1 tablespoon of olive oil. Add the turkey and cook, breaking it up as it cooks, until it is browned and cooked through. Add the oregano and the thawed spinach. Reduce the heat to low and let it cook for 2 minutes. Season to taste with salt and pepper.
If desired, heat the tortillas in the microwave or char them over a gas stove.
Assemble your tacos by spreading 1 tablespoon of hummus down the center of each tortilla. Spoon on some of the turkey mixture over, then top with red onion, cucumber, tomatoes, olives and top with feta cheese.
More Greek Inspired Recipes: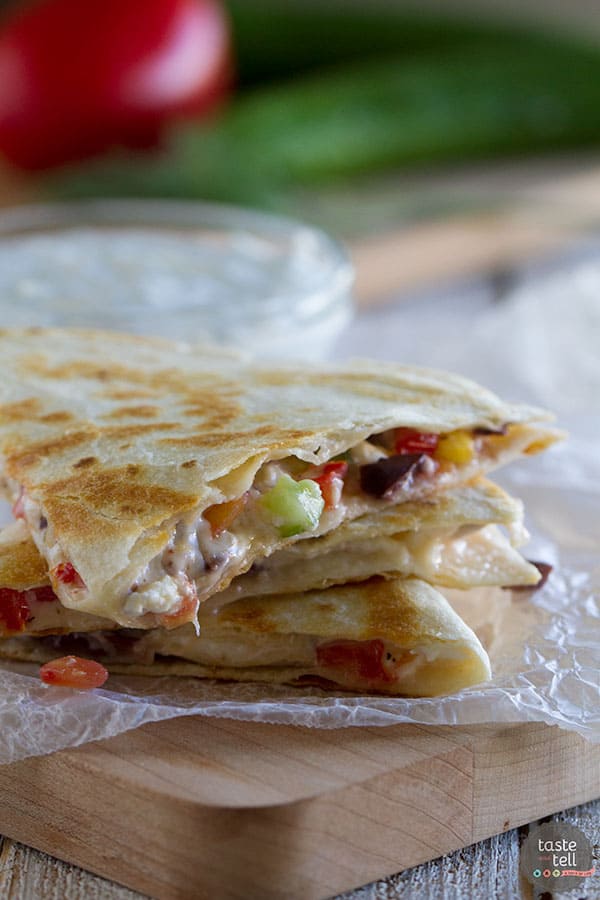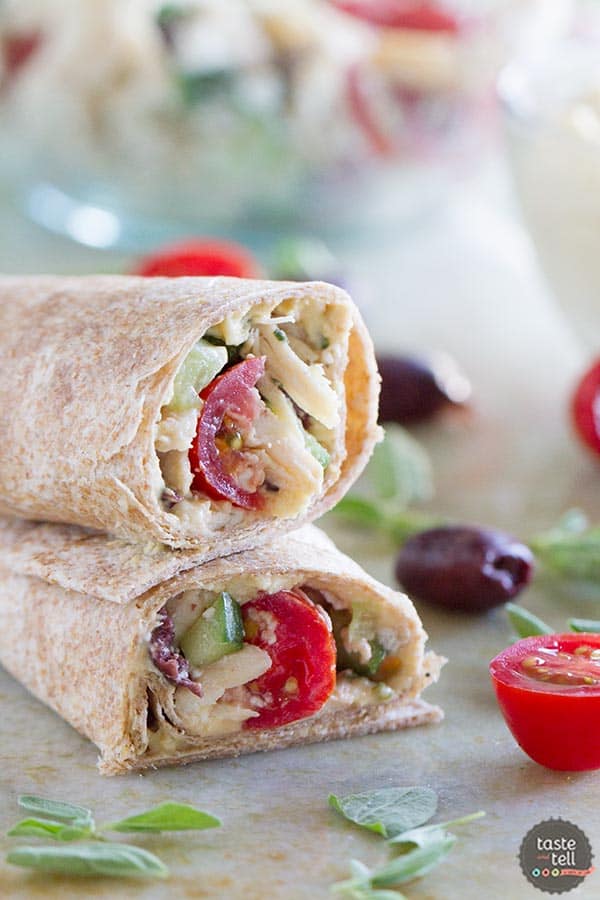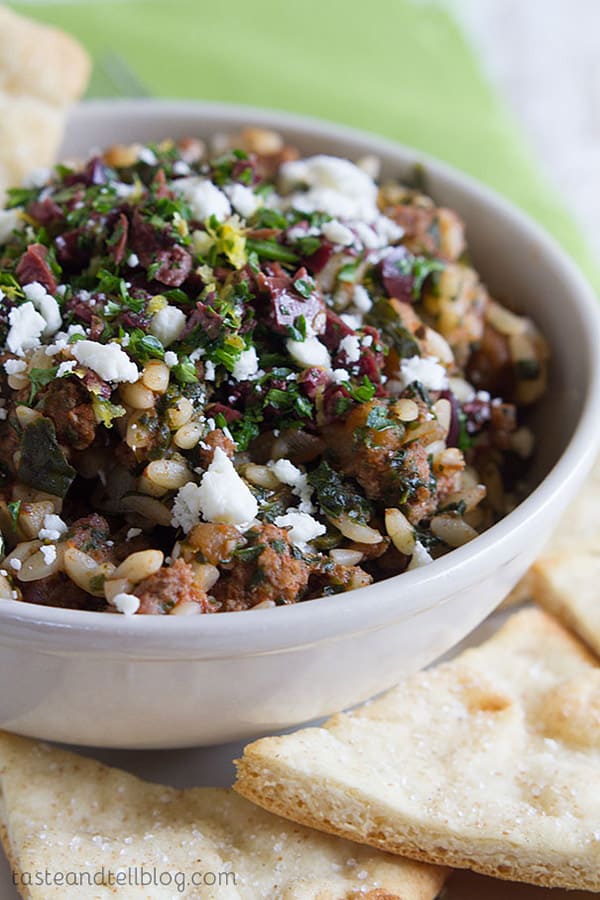 Around the Web:
Baked Greek Chicken from The Wanderlust Kitchen
Greek Panzanella Salad from The Girl Who Ate Everything
Greek Omelettes from Shugary Sweets