This Greek Goulash is a fun take on traditional goulash – with a hearty, beefy tomato sauce, orzo, and a refreshing Greek gremolata. Serve it up with some baked pita chips for a filling dinner.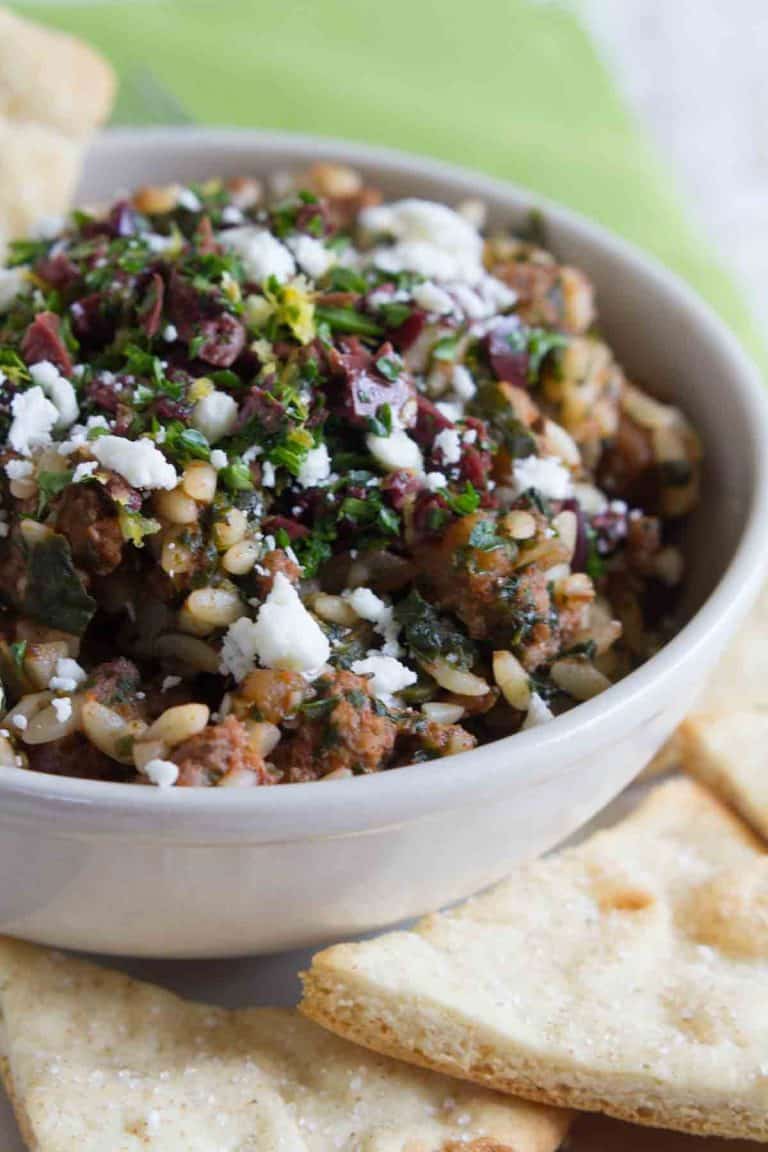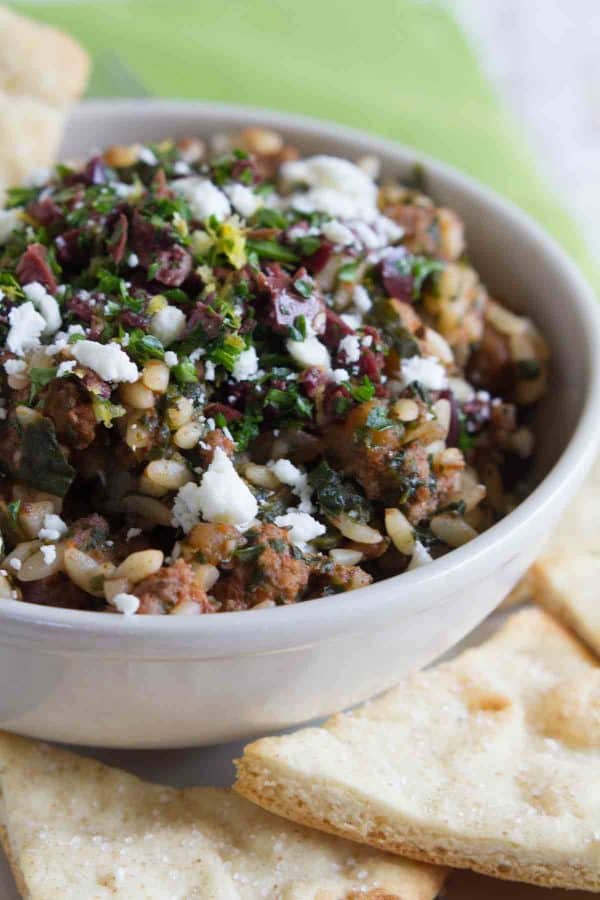 I am not really familiar with Greek foods – I haven't had much of them in my life. So when I see other blogs that cook a lot of Greek food, I am intrigued and always say I'm going to try some of it out. But to be honest – I'm a bit intimidated. And I'm not sure why, because I'm not usually intimidated in the kitchen, but cooking food from other regions is something I don't do very often, and so it takes me a bit out of my comfort zone.
So what do you get when you combine a traditional Hungarian dish with Greek flavors? Now all you Greek purists out there probably looking at this thinking – this is not even authentic Greek food! I know it's not, but when I saw this recipe, I thought it was a great way for me to get my feet wet. An easy weeknight meal that gives me some of the flavors of Greek food – something to help my get a little more comfortable with those Greek flavors.
And if this Greek Goulash is anything close to what Greek food tastes like, I sure have been missing out all of these years! Even my husband really loved it. In fact, I made this back in February, and just this weekend, my husband made a comment about this dish and how much he really liked it.
The base of the recipe starts off with ground lamb, but since that is an ingredient I can't find, I used ground beef. Plenty of veggies – lots of eggplant and spinach are mixed in along with spices, tomato sauce and orzo. My favorite part had to be the Greek gremolata which you top the mixture with. Finish off with some feta cheese and the baked pita chips – this one will fill you up and leave you satisfied!
This recipe does make a TON. But it makes great leftovers. Not a bit of this went to waste! The pita chips, though, aren't very good leftover. They become a bit stale and hard and chewy. I would recommend only making enough chips to serve, then making more as you eat the leftovers.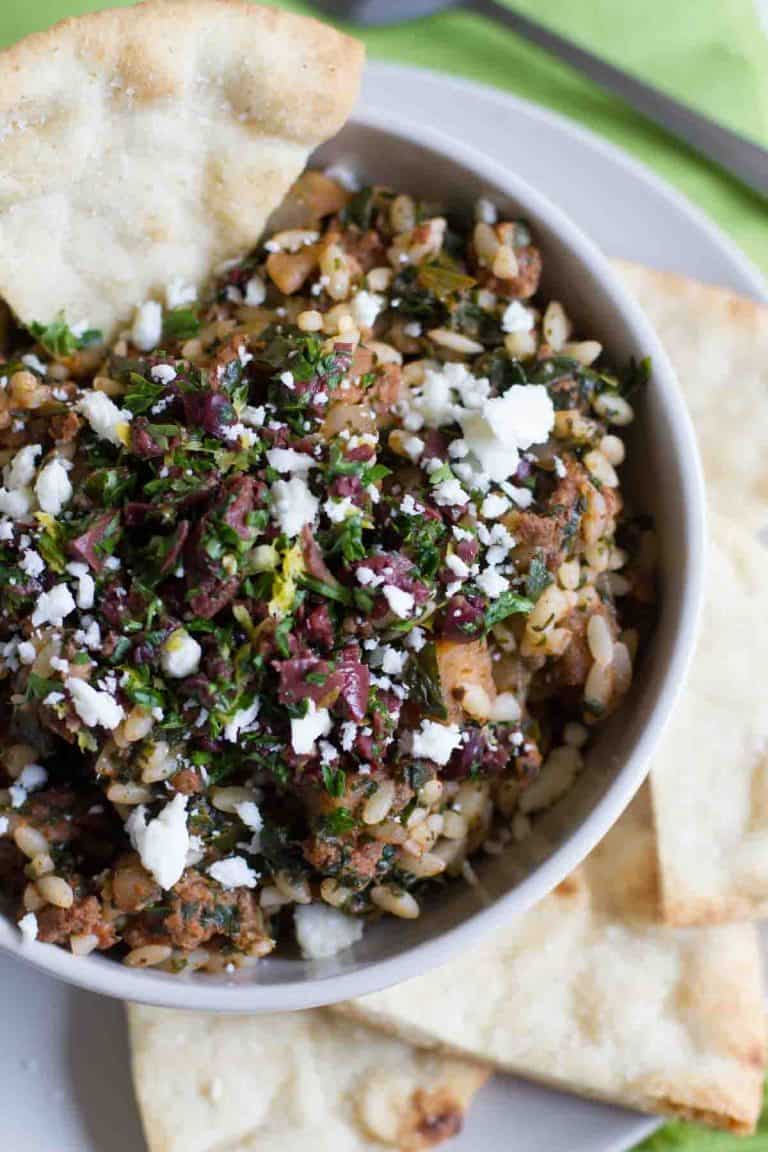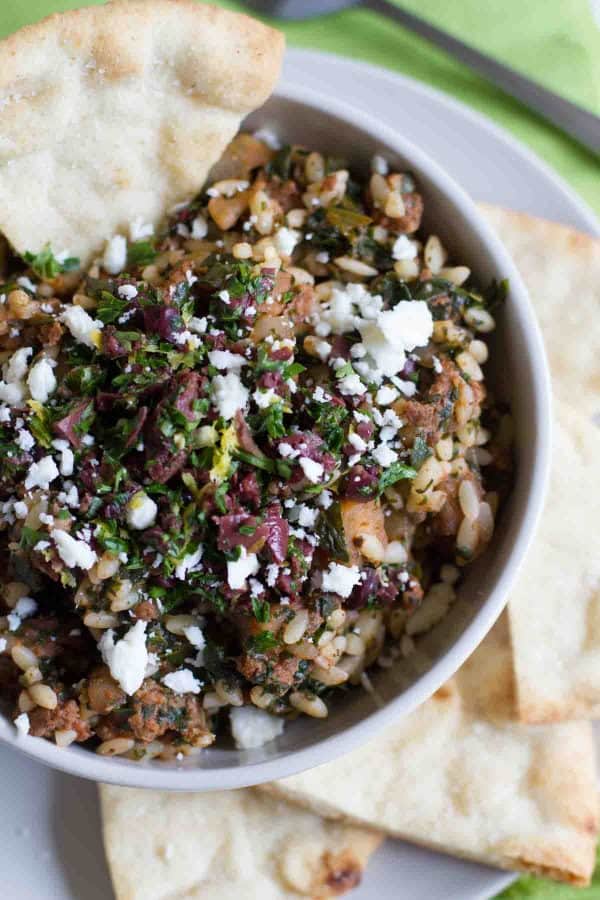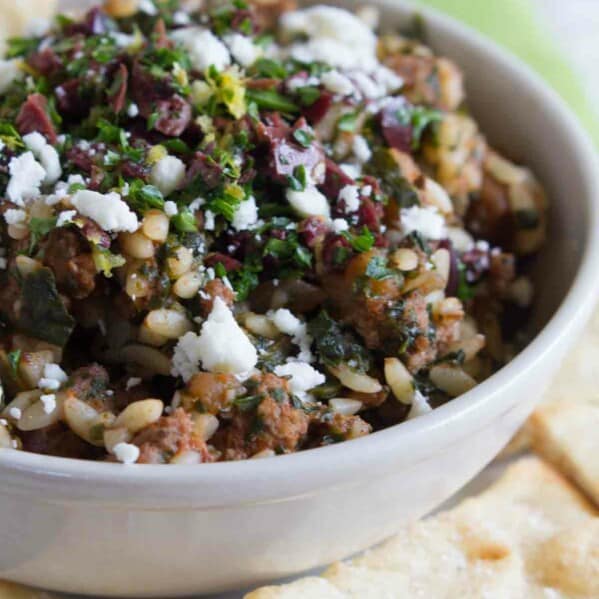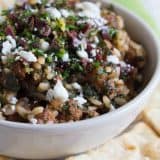 Greek Goulash
---
Author:
Prep Time: 10 mins
Cook Time: 20 mins
Total Time: 30 mins
Yield: 4 servings 1x
Category: Main Dish
Method: Stove Top
Cuisine: Greek
Description
This Greek Goulash is a fun take on traditional goulash – with a hearty, beefy tomato sauce, orzo, and a refreshing Greek gremolata. Serve it up with some baked pita chips for a filling dinner.
---
Scale
Ingredients
6 pita rounds
2 tablespoons extra-virgin olive oil
1/2 pound orzo pasta
1 1/2 pounds ground beef
1 teaspoon dried oregano or 2 sprigs fresh, finely chopped
2 pinches ground cinnamon
1 onion, chopped
4 cloves garlic, grated
1 small eggplant, peeled and chopped into 1/4-inch dice
1 box frozen spinach, 10 ounces, defrosted and wrung dry in towel
1 (15-ounce) can tomato sauce
1/2 cup pitted, chopped kalamata black olives
1 lemon, zested
1/2 cup chopped flat-leaf parsley
1 1/2 cups crumbled feta cheese
---
Instructions
Heat oven to 400ºF.
Cut each pita into 6 wedges. Place them in a single layer on a baking sheer and spray them lightly with cooking spray. Season with salt, then bake for 10 minutes, or until golden. Remove from the oven and set aside.
Bring a large pot of salted water to a boil. Add the orzo and cook according to the package directions. Drain and reserve.
Heat the olive oil in a large skillet over medium-high heat. Add the beef and cook until browned, breaking it apart with a wooden spoon as it cooks, about 5 minutes. Season with salt and pepper, then the oregano and cinnamon. Add the onions, garlic and eggplant and cook until they start to get tender, 6 to 7 minutes. Stir in the spinach and the tomato sauce. Let the sauce simmer for 2-3 minutes, then taste and add more salt and pepper if needed.
Chop the olives with the lemon zest and parsley, forming a Greek gremolata.
Combine the cooked orzo with the meat sauce. Divide the mixture among bowls, then top with feta cheese and the olive gremolata. Serve the goulash with the baked pita chips.