The perfect combination of sweet and savory, this Stone Fruit Salad with Fried Goat Cheese takes advantage of summer peaches and cherries and combines them with fried goat cheese coins that you'll want to add to every salad. Such a great summer salad!
I don't know who I am these days.
I've never really been a picky eater. At least, as far as I remember. I was never big on oatmeal or hot cereal growing up, and sweet potatoes and beets were on the do not touch list. Today, oatmeal and hot cereal are still not my favorite, but I don't detest them. But sweet potatoes have become one of my very favorite foods. And I've discovered that beets are amazing, as well.
As an adult, I pride myself on being pretty adventurous when it comes to eating. Maybe not exactly adventurous, (I don't seek out crazy foods a la Andrew Zimmern), but I'm always willing to try everything. But I had never really been able to get behind goat cheese.
Which is strange, considering I believe that cheese is one of the foods I could never, ever live without.
But there is just something about goat cheese. I don't know. Give me a really strong blue and I'm a happy girl, but I would always steer clear of the goat cheese. But then one winter night, a couple of years ago, my friend Kristy made a salad that I couldn't get enough of. When I heard that it had goat cheese in it, I was stunned. Did I actually like goat cheese?
At the time, it turned out that I just really liked that particular goat cheese that was in that salad. But over time, I was able to tolerate it more and more. Until recently. As I was looking through a magazine, I came across this salad. And all of a sudden, I needed this salad. Including the goat cheese.
You guys – I devoured this salad. Every bite. And loved it. I think I've actually crossed that threshold into a goat cheese lover. Seriously, I don't even know who I am. But I kinda like it. 🙂
Let's talk about this salad. The peaches are getting really good here now, and while cherries may be closer to on their way out, that only gives you that much more of a reason to make this salad asap. But really, you could swap in any stone fruit that you want here. Plums would be amazing. Or even if you just went with all peaches. The dressing is a simple balsamic dressing, but pretty amazing as well. But the real star is the fried goat cheese.
The original recipe bakes the goat cheese, but I was all about the fried goat cheese. It's super simple, and not nearly as unhealthy as it sounds. The goat cheese coins are simply pan-fried for a couple of minutes, but the warm, creamy, melty goat cheese that you end up with is everything.
Make it. Devour it. You're welcome.


Like what you see here? Make sure you are following Taste and Tell for more recipes and ideas!
Facebook | Pinterest | Instagram | Twitter | Google+ | Weekly Newsletter | Feedly | Bloglovin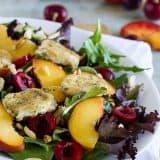 Stone Fruit Salad with Fried Goat Cheese
---
Author:
Prep Time: 20 mins
Cook Time: 2 mins
Total Time: 22 mins
Yield: 4 servings 1x
Description
The perfect combination of sweet and savory, this Stone Fruit Salad with Fried Goat Cheese takes advantage of summer peaches and cherries and combines them with fried goat cheese coins that you'll want to add to every salad. Such a great summer salad!
---
Scale
Ingredients
1/4 cup slivered almonds
2 teaspoons granulated sugar
2 tablespoons balsamic vinegar
2 tablespoons extra-virgin olive oil
1 teaspoon Dijon mustard
1 clove garlic, minced
salt and pepper
4 oz semi-soft goat cheese (chèvre)
1 egg white, lightly whisked
1/4 cup fine dry bread crumbs
2 teaspoons fresh minced rosemary
1 tablespoon extra-virgin olive oil
8 oz mixed greens
1 cup sliced peaches
1 cup pitted, halved cherries
---
Instructions
Combine the almonds and sugar in a small sauté pan. Set over medium heat and stir constantly until the sugar is melted and the almonds are toasted. Remove immediately to a sheet of parchment paper to cool.
In a small jar or container with a tight fitting lid, combine the vinegar, 2 tablespoons olive oil, mustard and garlic. Season to taste with salt and pepper. Tighten the lid and shake until combined.
Cut the goat cheese into 8 rounds. (I stuck mine in the freezer for about 5 minutes to make slicing easier.) Place the egg white in a small bowl. Combine the bread crumbs and rosemary in another shallow bowl or plate. Dip each of the goat cheese rounds into the egg, then into the bread crumbs. Press the crumbs into the cheese to make sure they are completely coated.
Heat the 1 tablespoon of olive oil in a small skillet over medium heat. Place the goat cheese rounds in the hot oil and allow to cook until browned on both sides, about 1 minute on each side.
Arrange the greens on a serving platter. Top with the peaches and cherries, then sprinkle the sugared almonds over the top. Place the fried goat cheese on top, then drizzle with the dressing. Serve immediately.
Salads you need to make now: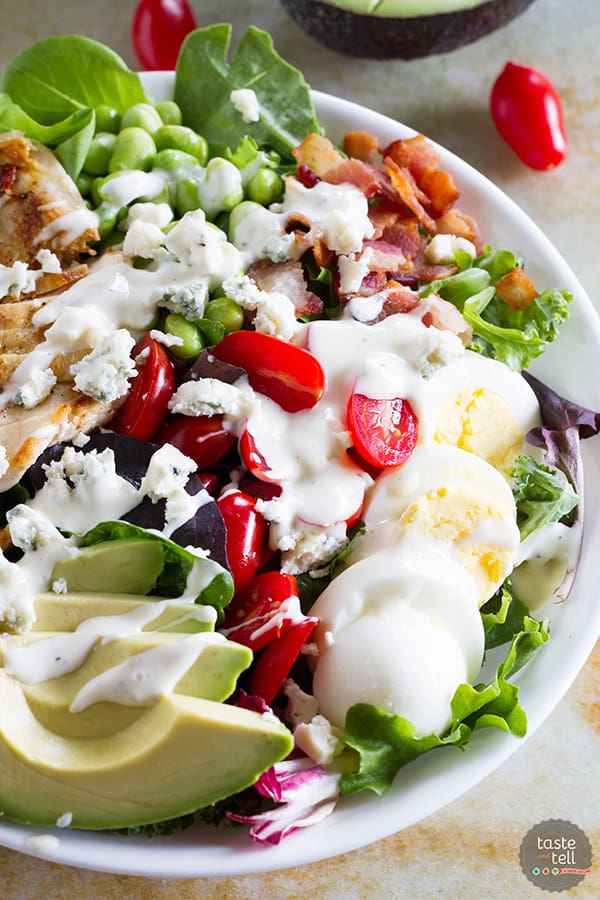 Protein Packed Cobb Salad Recipe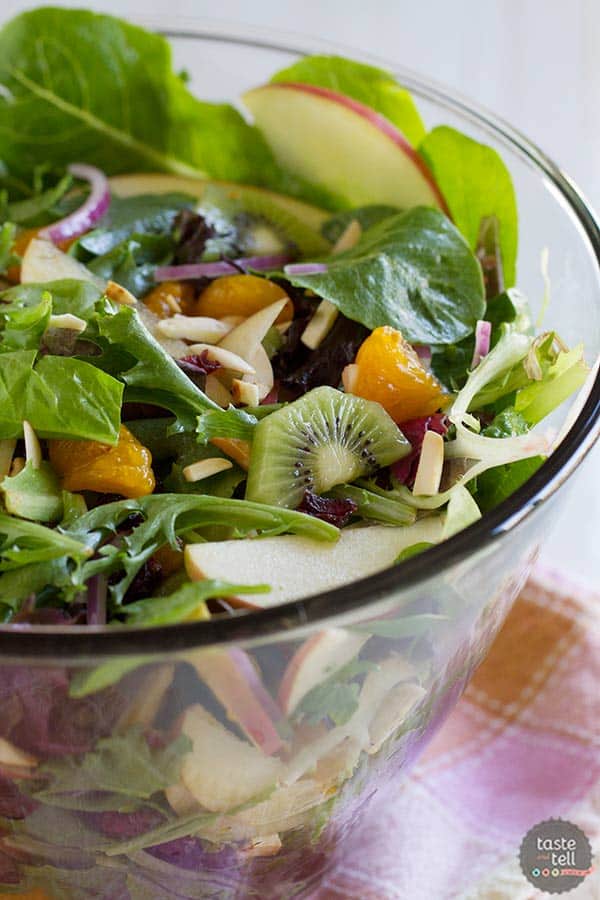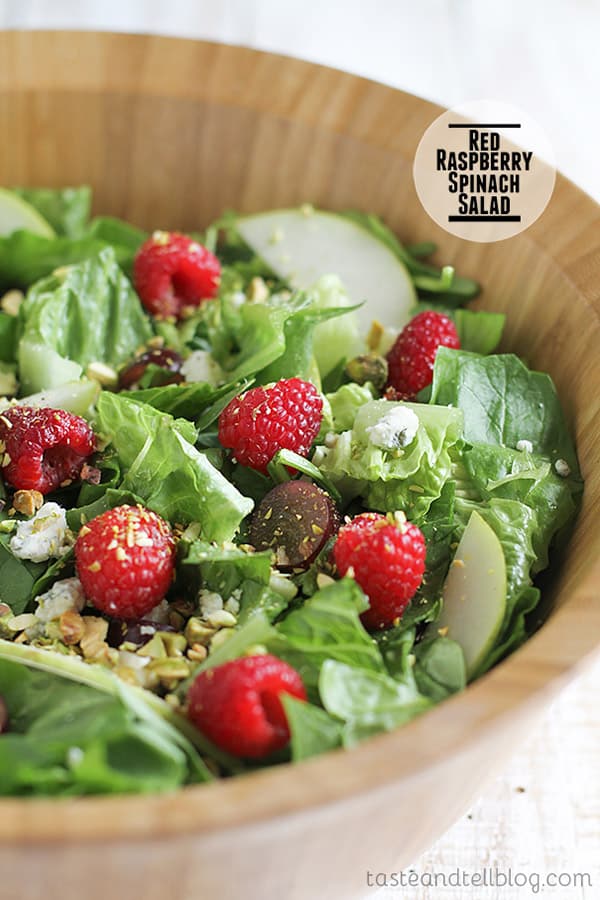 Around the Web:
Cucumber and Strawberry Poppyseed Salad from With Salt and Wit
Greek Village Salad from The Lemon Bowl
Peach Salad with Blue Cheese and Fresh Herbs from Foodness Gracious
Don't miss a thing! Follow me on Pinterest to see what I'm pinning!
Visit Taste and Tell's profile on Pinterest.