Healthy and full of flavor, this Greek Quinoa Salad is a perfect way to fill up at lunch or for a light dinner.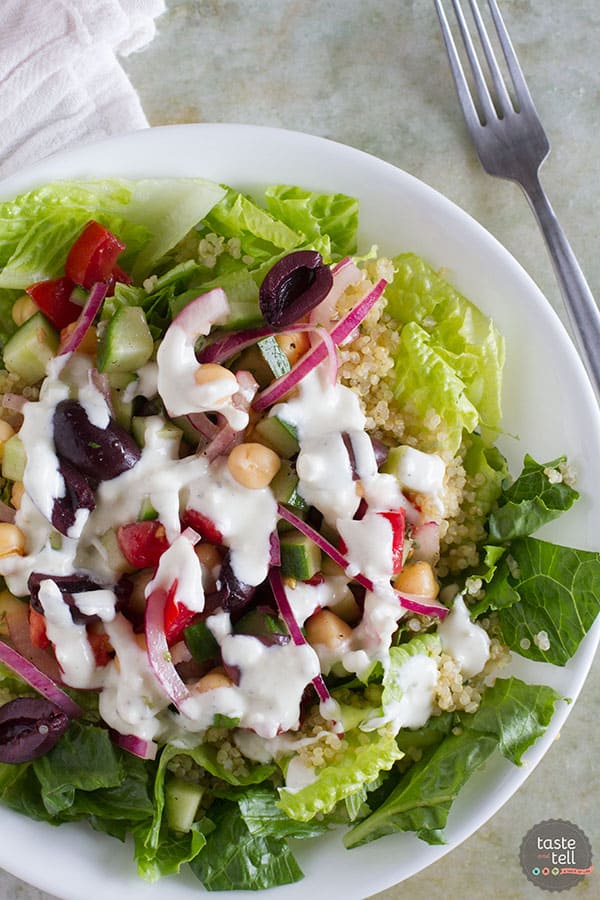 You know that day after you get back from a trip? When you feel like you need a week to recover?
Well, that's where I am right now.
I got home from Aruba at about 1:30am on Monday, crawled into bed by 2am, and my alarm went off at 6am to start the weekly routine. Unfortunately, kids and school and blogs don't take a break to let me recover and recoup. And I do have to say that I was very active while on the island, but coming off of a 24 hour binge in Seattle, followed by a 5 day eating all the time cruise, and then heading to Aruba shortly after that where I ate quite well, also – well, let's just say I'm not feeling at my best.
So really, all I want right now is a nap and maybe a juice cleanse. 😉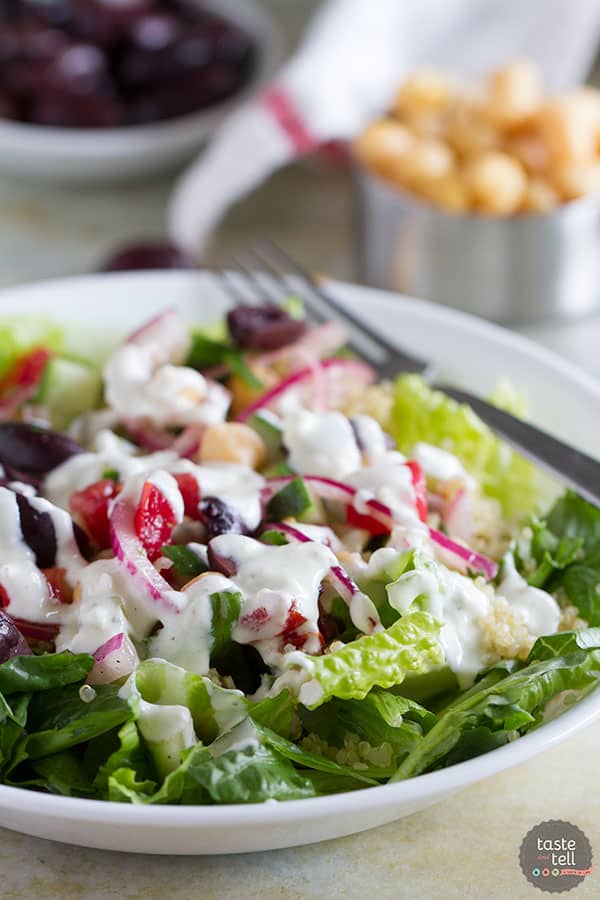 Or how about salad?
This salad right here may have to become a regular over the next bit as I work my way back into normal. But I definitely wouldn't complain, because this Greek Quinoa Salad is made up of all the things I love the most. I've been a bit addicted to the Greek flavor profile lately (hello quesadillas and wraps) so why not go with a salad, right?
Not only are you saving a few calories by eating a salad, but you are getting some added protein and fiber from the quinoa. My husband isn't the biggest quinoa fan, but I've been trying to sneak it in whenever possible because I love it. This salad is a great way to get my quinoa fix, because I can whip it up for lunch for myself, and he's not here to complain. 😉
This was my first time actually putting quinoa on my salad, but I loved the different textures and flavors that I brought, along with the added nutrition. I'm totally sold on this whole quinoa in salad idea.
I see more of this Greek Quinoa Salad in my future!!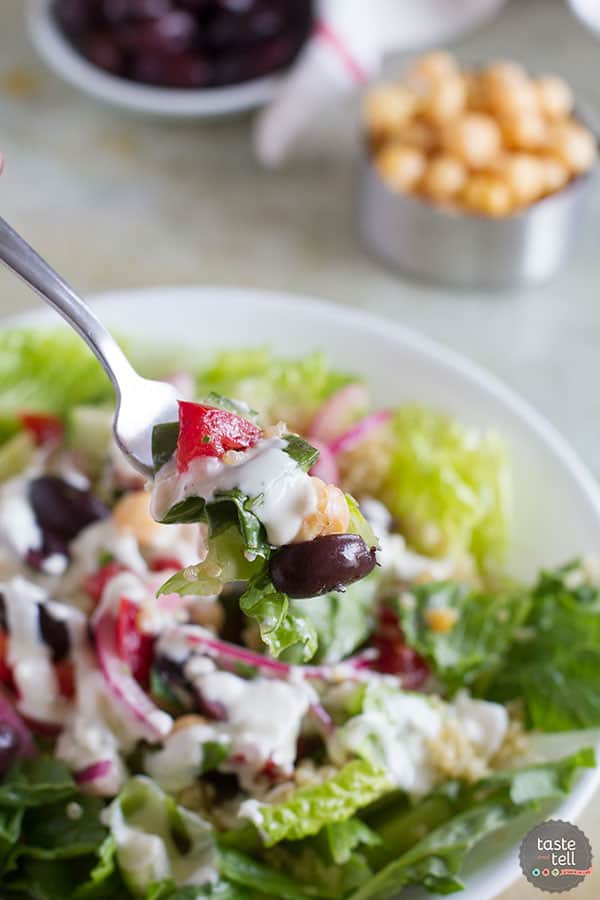 Like what you see here? Make sure you are following Taste and Tell for more recipes and ideas!
Facebook | Pinterest | Instagram | Twitter | Google+ | Weekly Newsletter | Feedly | Bloglovin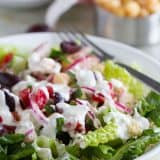 Greek Quinoa Salad
---
Prep Time: 15 mins
Cook Time: 15 mins
Total Time: 30 mins
Yield: 6 servings 1x
Description
Healthy and full of flavor, this Greek Quinoa Salad is a perfect way to fill up at lunch or for a light dinner.
---
Scale
Ingredients
3/4 cup quinoa, rinsed
salt
1 (15-oz) can chickpeas, drained and rinsed
1/2 seedless cucumber, chopped
3 Roma tomatoes, chopped
1/2 red onion, thinly sliced
3 tablespoons red wine vinegar
4 tablespoons extra-virgin olive oil, divided
1 tablespoon fresh oregano, chopped
1/2 cup (4 oz) feta cheese, crumbled
3 romaine hearts, chopped
1/4 cup halved pitted kalamata olives
---
Instructions
Bring 3/4 cup plus 2 tablespoons of water, the quinoa and a pinch of salt to a boil in a saucepan. Reduce the heat to medium low, cover the pot, and cook until the quinoa is tender and the liquid has been absorbed, 10 to 15 minutes.
Meanwhile, combine the chickpeas, cucumber, tomatoes, onion, red wine vinegar, 2 tablespoons of the oil, and the oregano in a bowl. Stir to combine, and let it sit for at least 10 minutes.
In a mini food processor or blender*, combine the feta cheese, 1/4 cup of water and the remaining 2 tablespoons of olive oil. Process until smooth. Add more water, if needed, to reach your desired consistency. Season to taste with pepper.
Divide the lettuce among 6 large bowls. Top each with some of the warm quinoa, the chickpea mixture, and drizzle with the feta dressing. Top with some halved kalamata olives.
Don't miss a thing! Follow me on Pinterest to see what I'm pinning!
Visit Taste and Tell's profile on Pinterest.