Hard-boiled eggs are filled with deviled ham for a great Easter version of deviled eggs.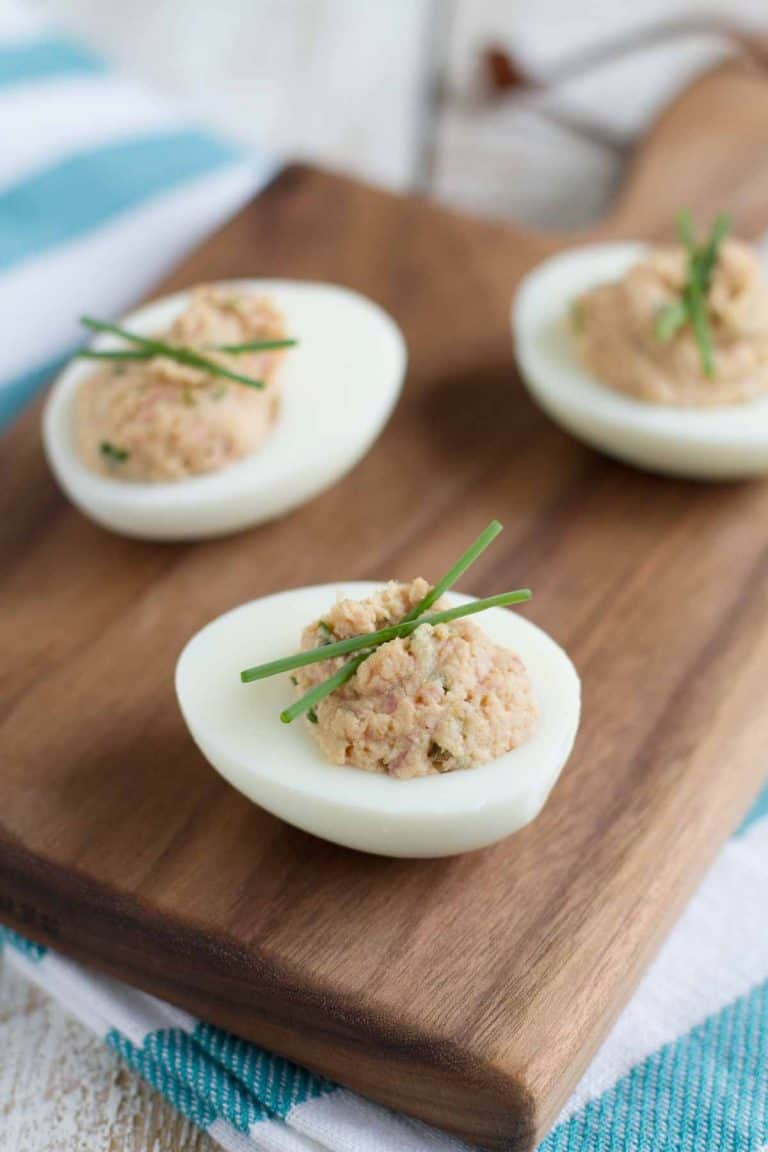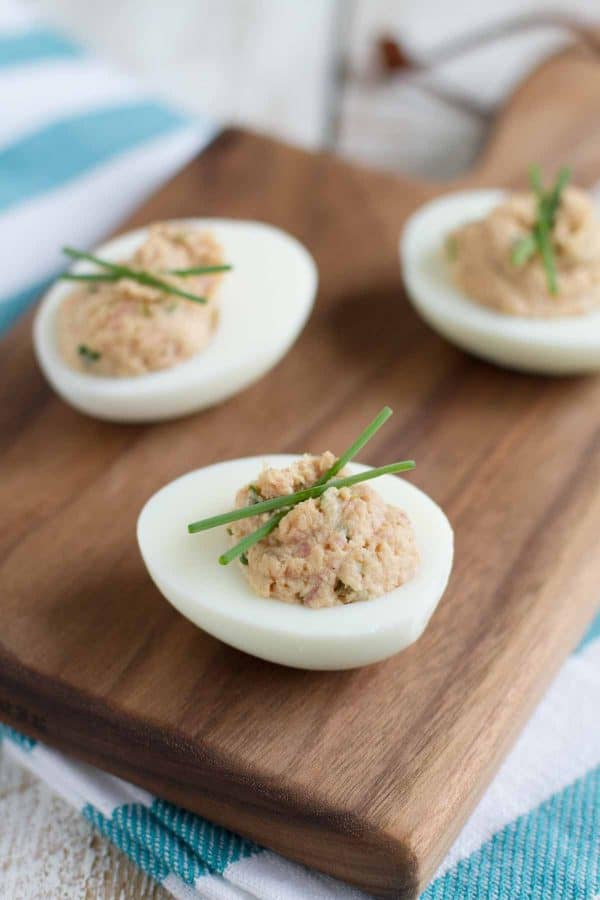 Every once in awhile, I'll have an idea come into my head that I get super excited about. Something that I don't think I've seen anywhere else. An original.
Only to find out that your idea isn't quite as original as you thought it was.
A lot of times, when I have an idea, I'll just go with it. But sometimes, I hit the web and search to see if there is something similar.
A few weeks back, I was brainstorming recipes that I wanted to make to bring to you all for Easter. One of my favorite things to make this time of year are deviled eggs, (a great way to use up those eggs from the Easter egg hunt!!). I was also trying to think up ideas of ways to use up leftover ham, because we always have leftovers. Especially when I make a ham for just my small family.

Then the idea popped into my head. Deviled ham. Deviled ham combined with deviled eggs. It was going to be amazing!!
Well, as it turns out, these are pretty amazing. But not totally original like I thought they would be. After a quick search, it shouldn't have surprised me to find out that Rachael Ray had done a deviled ham deviled egg. But since I love her, I was totally ok with it not being my idea. (In fact, it was probably in my subconscious – I probably saw it on her show years ago and it stuck in the back of my head!!) I did change up the deviled ham recipe – using actual leftover ham instead of deli ham, and adding my own twists. But really – this is a recipe that was meant to be.
Now I can't wait until Easter Sunday to make some more of these!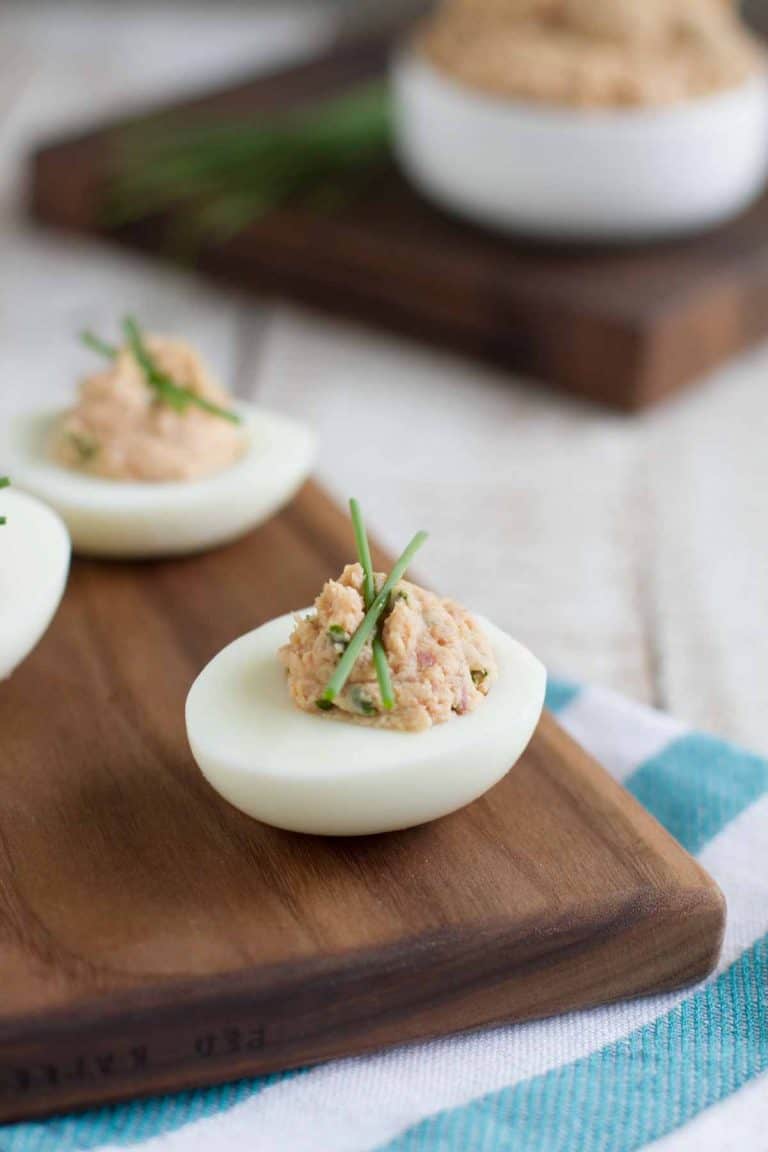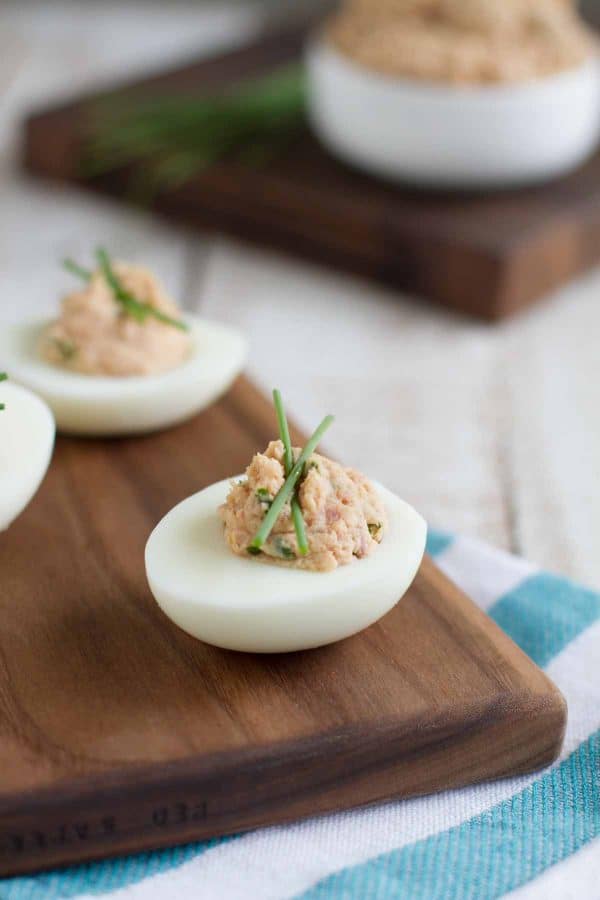 More Deviled Eggs:
Deviled Eggs with Bacon
Asian Deviled Eggs
Caesar Deviled Eggs
50 Deviled Egg Recipes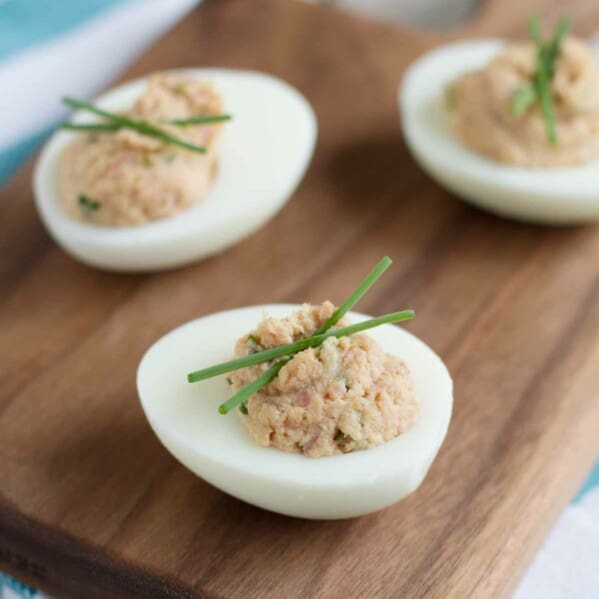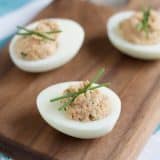 Deviled Ham and Eggs
---
Author:
Prep Time: 10 minutes
Cook Time: 10 minutes
Total Time: 30 minutes
Yield: 12 servings 1x
Category: Appetizer
Description
Hard-boiled eggs are filled with deviled ham for a great Easter version of deviled eggs.
---
Scale
Ingredients
12 eggs
1/2 lb. ham
1/2 cup mayonnaise
1/4 cup fresh parsley
1 tablespoon pickle relish
2 teaspoons Dijon mustard
1/2 teaspoon Worcestershire sauce
couple dashes of hot sauce
salt and pepper
fresh chives, for garnish
---
Instructions
Place the eggs in a large pot and cover with cold water. Place over high heat and bring to a boil. Let the water boil for one minute, then remove from the heat and cover the pot. Let sit for 10 minutes, then drain and run cold water over the eggs until they are cool to the touch.
Peel the eggs and cut into half horizontally. Remove the yolks.
Place the ham, mayonnaise, relish, Dijon, Worcestershire sauce and hot sauce in a food processor. Season with salt and pepper. Pulse a few times to combine and start breaking down the ham. Add half of the egg yolks. (Reserve the remaining yolks for another use.) Continue to pulse until you reach your desired consistency.
Transfer the ham mixture to a large ziptop bag. Cut off the corner and squeeze some of the ham mixture into each of the egg whites. Top with fresh snipped chives.