Deviled eggs with a hit of olives and herbs.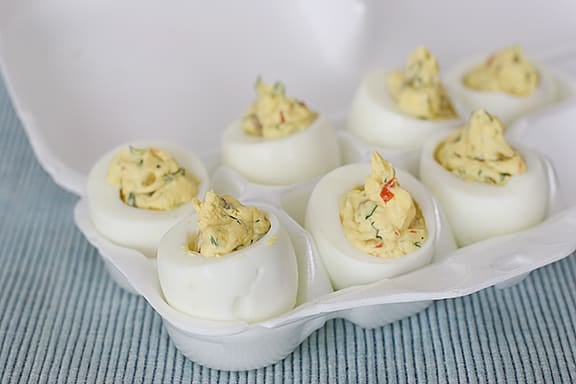 Originally posted with Far East Deviled Eggs and Cesar Deviled Eggs.
And last, but not least! I don't know the story behind the name of these eggs, but they are delicious! These have the saltiness from the olives, but the freshness from the fresh herbs. All of these ingredients work together so well!
Go Green (Olive) Deviled Eggs
Deviled eggs with a hit of olives and herbs
Ingredients
12 eggs
1 cup green olives with pimientos, finely chopped
2 tablespoons mayonnaise
3 tablespoons yellow mustard
2 tablespoons pickle relish
½ small onion, grated
a few dashes of hot sauce
¼ cup parsley, chopped
¼ cup dill, chopped
salt and pepper
Instructions
Put the eggs in a saucepan and fill it halfway with cold water. Set over high heat. When the water boils, turn off the heat and place a lid over the pot. Let sit 10 minutes.
Place the pot of cooked eggs in the sink and run some cold water over the eggs until both the water and the pan feel cool. When the eggs are cool enough to handle, take them out of the water. Roll each egg on a work surface to crack the shell then carefully peel off the eggshells.
Place the eggs on a cutting board and cut a quarter off the egg from the fat rounded end to expose the yolk. Next, cut just a sliver off the opposite end, the pointed end so the egg is able to sit upright without rolling over. Once all the eggs have been cut, scoop out their yolks into a medium size mixing bowl. Place the egg white halves back into the egg container for easy transport and filling, making sure the holes are pointing up so that you are able to fill them
Break the egg yolks up a little bit using a fork. Add in the olives, mayo, mustard, relish, grated onion, hot sauce, parsley and dill. Give it a good stir and a dash of salt and freshly ground black pepper to taste.
Make yourself a fancy instant pastry bag by spooning the egg yolk mixture into a plastic re-sealable bag and squishing it all into one of the bottom corners. Snip off a small triangle from the bottom of the bag and squeeze out a bit of yolk mixture into each of the egg whites. Once all eggs are filled, close the carton lid and you're good to go.
-----------------
From The Rachael Ray Show