Deviled eggs take on a taste of the Orient!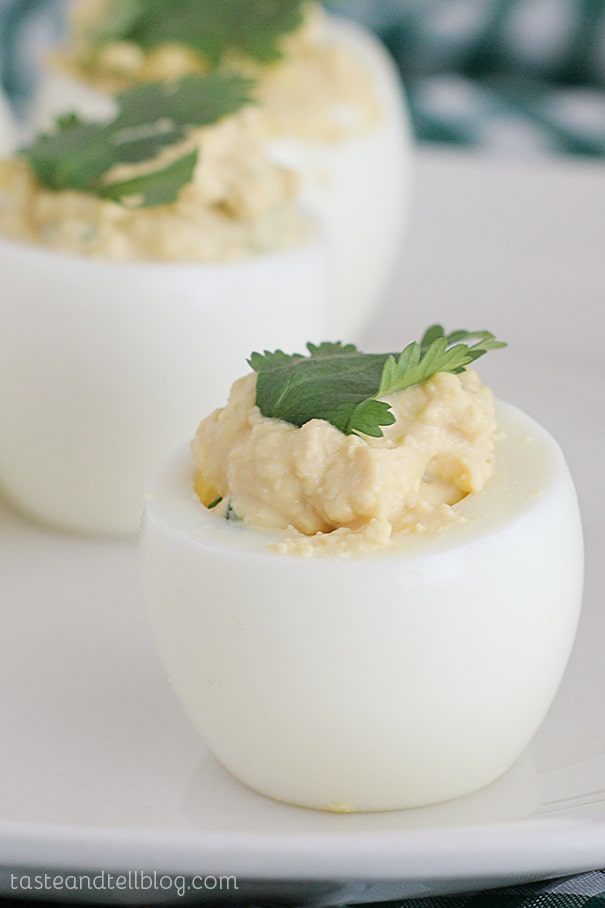 UPDATE: Cesar Deviled Eggs and Go Green (Olive) Deviled Eggs have been moved. Click on the links for the recipes!
I know what you're thinking – just what we need. Another deviled egg recipe. Yes – I know there are deviled egg recipes galore on the internet and blogs right now, but I think these 3 ideas are good enough – and original enough – to share with you today! Plus, it is Saturdays with Rachael Ray, and Ms. Ray claims to be a connoisseur of deviled eggs. These are the first deviled egg recipes of hers that I've tried, and if all of her deviled egg recipes are this good, I'll be trying a lot more!!
I really did love all of them, but this first egg was my favorite. Who would have ever thought to put Asian flavors with a deviled egg? The soy sauce is a prominent flavor, with just a hint of ginger in the background. And don't forget the cilantro garnish – it really does add a lot to the final flavor.
Like what you see here? Make sure you are following Taste and Tell for more great recipes and ideas!!

Facebook ** Pinterest ** Twitter ** Instagram ** Google+
or you can subscribe to my newsletter or Feedly or Bloglovin


Far East Deviled Eggs
Deviled eggs take on a taste of the Orient!
Ingredients
12 eggs
1-inch ginger, peeled and finely grated
3-4 scallions, thinly sliced
2-3 cloves garlic, finely chopped or grated
2 tablespoons tamari or soy sauce
a few dashes of hot sauce
2 tablespoons mayonnaise
freshly ground pepper
cilantro, chopped or whole leaves, to garnish
Instructions
Put the eggs in a saucepan and fill it halfway with cold water. Set over high heat. When the water boils, turn off the heat and place a lid over the pot. Let sit 10 minutes.
Place the pot of cooked eggs in the sink and run some cold water over the eggs until both the water and the pan feel cool. When the eggs are cool enough to handle, take them out of the water. Roll each egg on a work surface to crack the shell then carefully peel off the eggshells.
Place the eggs on a cutting board and cut a quarter off the egg from the fat rounded end to expose the yolk. Next, cut just a sliver off the opposite end, the pointed end so the egg is able to sit upright without rolling over. Once all the eggs have been cut, scoop out their yolks into a medium size mixing bowl. Place the egg white halves back into the egg container for easy transport and filling, making sure the holes are pointing up so that you are able to fill them.
Break the egg yolks up a little bit using a fork. Add in the ginger, scallions, garlic, tamari, hot sauce and mayo. Give it a good stir and a dash of salt and freshly ground black pepper to taste.
Make yourself a fancy instant pastry bag by spooning the egg yolk mixture into a plastic re-sealable bag and squishing it all into one of the bottom corners. Snip off a small triangle from the bottom of the bag and squeeze out a bit of yolk mixture into each of the egg whites. Once all eggs are filled, garnish them with cilantro, close the carton lid and you're good to go.
----------------
From The Rachael Ray Show
I love that deviled eggs are so versatile – I'm sure we all have our favorite way to prepare them! But I know what I'll be doing with my eggs after the big hunt on Sunday!