What could be better than bacon and eggs? These Deviled Eggs with Bacon add salty bacon to a traditional deviled egg recipe for an appetizer that will disappear off the plate.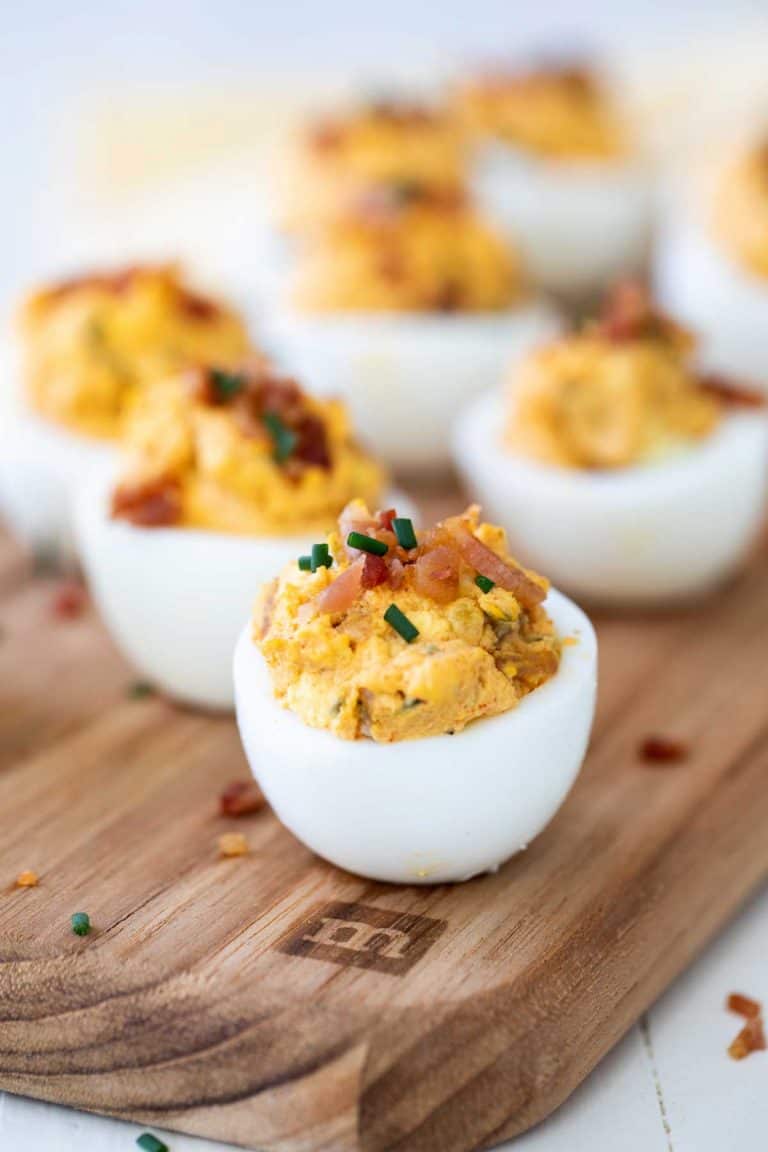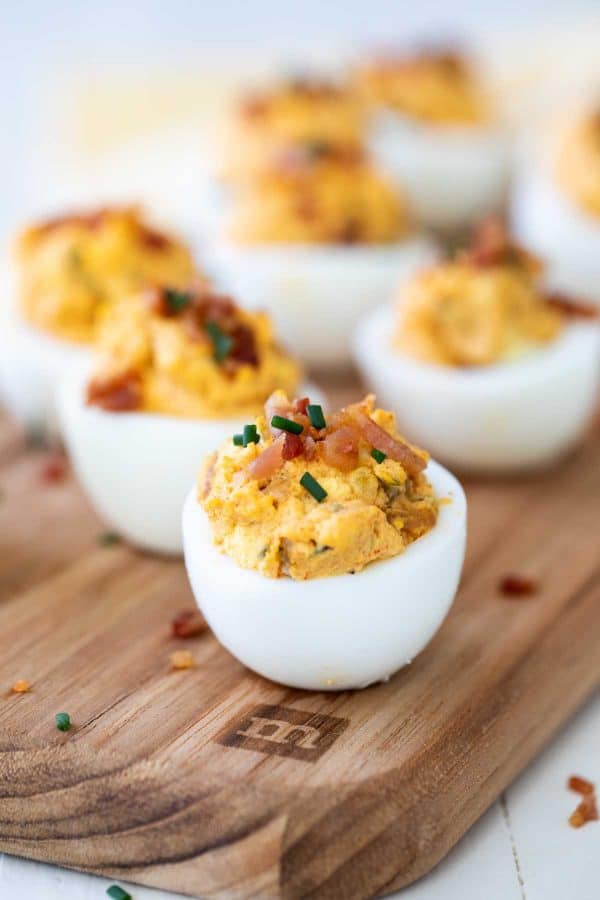 Deviled Eggs with Bacon
Sometimes there are things that just go together. Like peanut butter and jelly. Cookies and milk. Biscuits and gravy.
And eggs and bacon.
It's such a traditional breakfast combination – one that you can rarely get wrong, in my opinion.
While I'm usually a sunny side up with a side of bacon girl, these Deviled Eggs with Bacon have stolen my heart. And they aren't just for breakfast.
(Deviled eggs for breakfast – why haven't I ever done that before??)
This deviled eggs recipe has a lot of your traditional deviled eggs ingredients, but it is a little heavier on the mustard. Which I'm totally ok with. If you aren't obsessed with mustard, you can always cut back on the mustard a bit and add just a smidge more mayo.
But don't forget the bacon. It's an important part of this egg recipe.
It's time to add these Deviled Eggs with Bacon to your spring recipe list.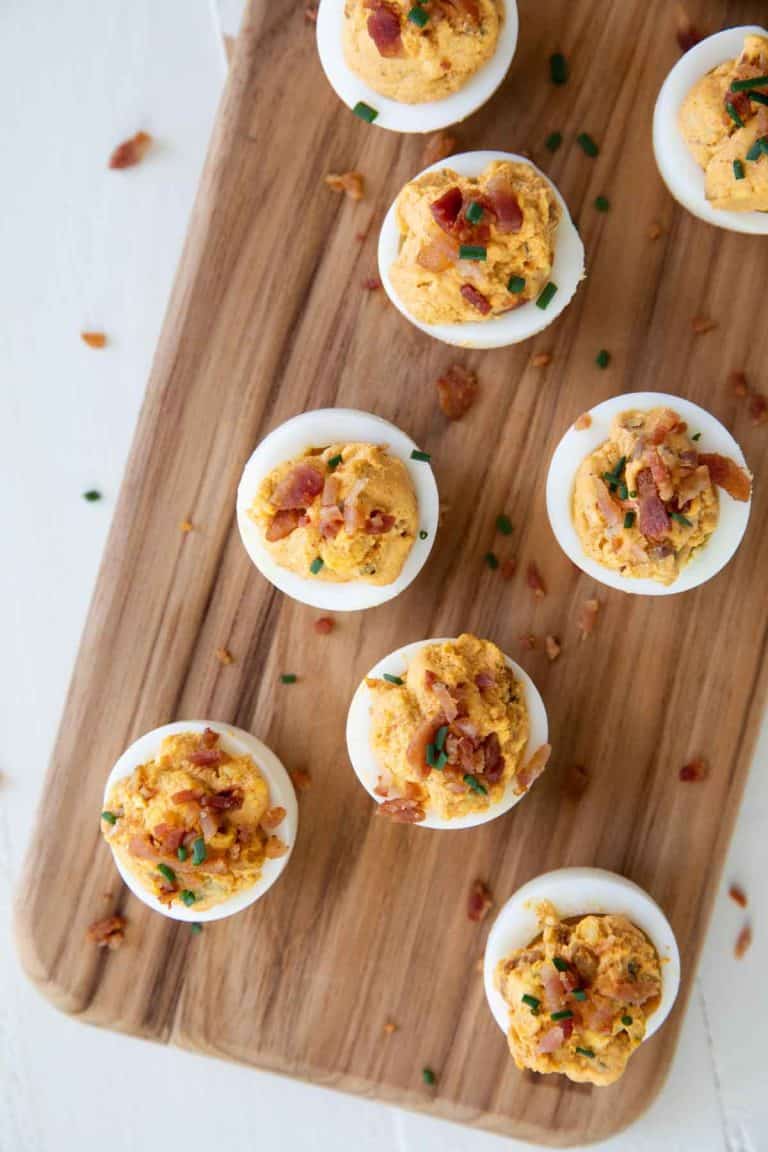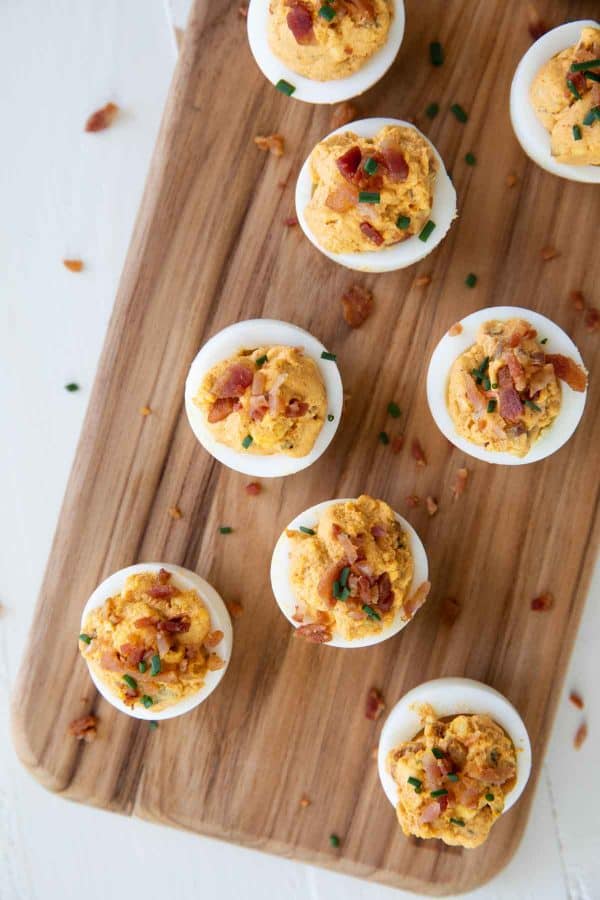 Ingredients to make Deviled Eggs with Bacon
These deviled eggs are pretty straightforward – here is what you need:
Bacon – I dice this up before cooking it, but you can always cook the whole strips. Or even bake the bacon. But you'll want to dice it after. The smaller you make the pieces, the easier it is to pipe the mixture out into the egg whites.
Boiled Eggs – you can make these how you like to – I'm a believer in the Instant Pot method. But traditional boiling works as well. Just make sure they are cool so they peel better.
Mustard – nothing fancy here, just the regular yellow mustard. Although I wouldn't complain if you used a grainy mustard or dijon.
Relish – most relish is sweet pickle relish, but you can use dill pickle relish as well. It's all about preference.
Onion – No one wants to get a chunk of raw onion in their deviled egg, so to get some of that flavor without the chunks, grate the onion. I use a microplane to make it super fine – it's almost a liquid.
Mayonnaise – I definitely prefer mayo to Miracle Whip. But if you like the sweetness, you may like Miracle Whip.
Paprika – I've always used regular, but I may try smoked paprika next time!
Hot Sauce – you just need a little, so use whatever you have on hand.
Salt and Pepper – always taste and then season. And remember you'll want to overseason just a touch since the egg white doesn't have any seasoning.
Chives – you can leave these off if you want. But my chive plant is already going crazy, and I like the extra freshness and the brightness they bring.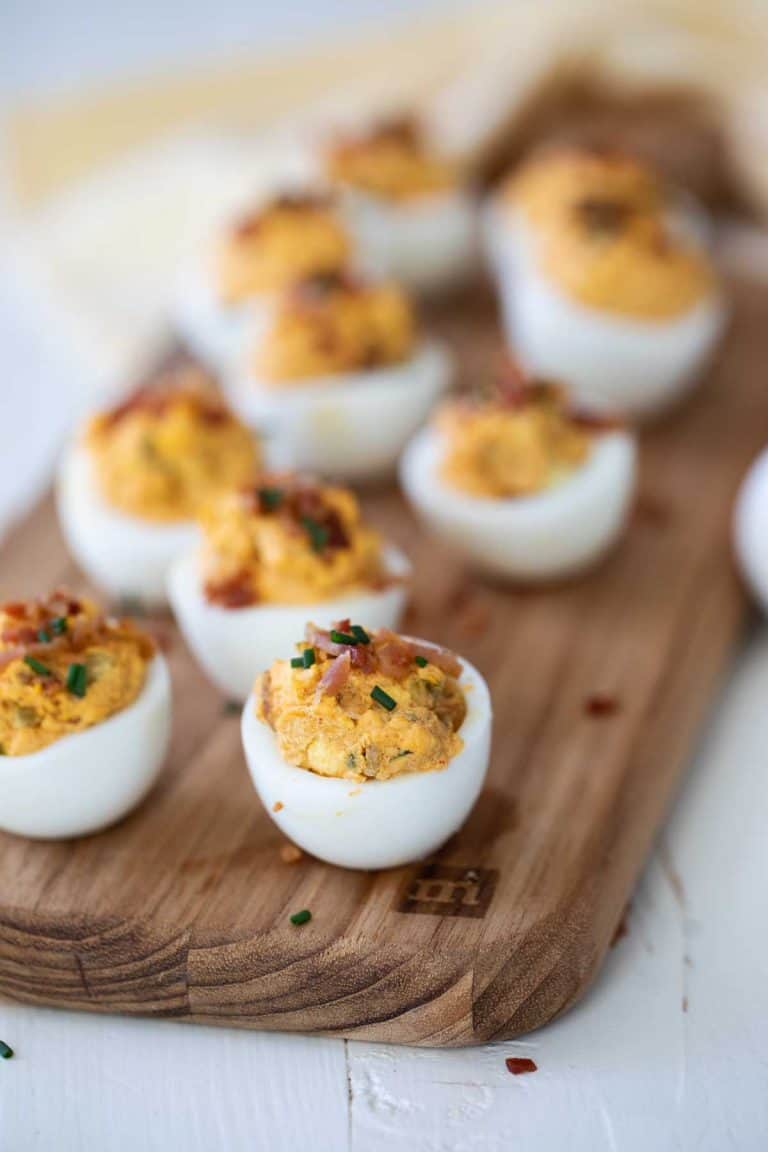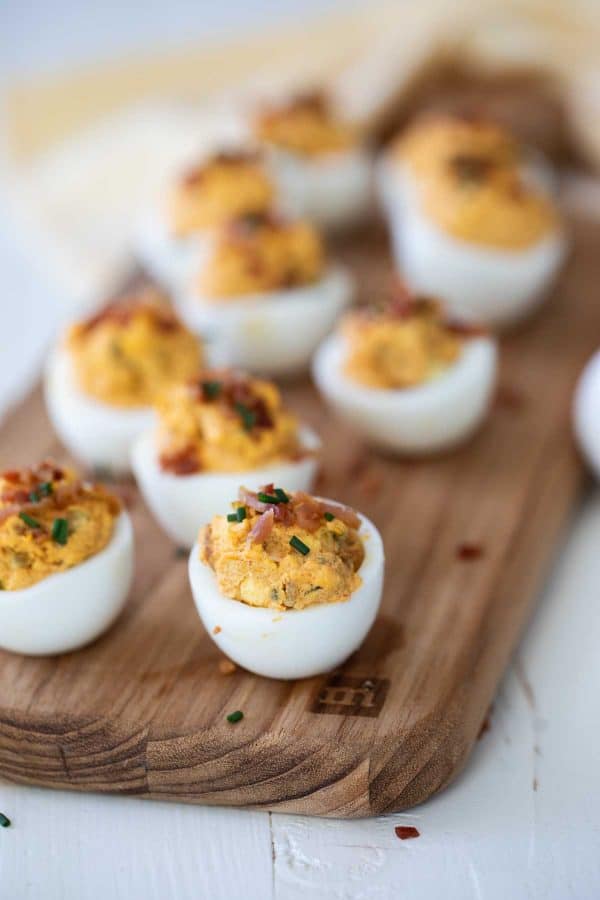 Tips for Deviled Eggs with Bacon
You can make the filling and the eggs ahead of time, but I don't suggest filling them until you are just about ready to serve them, as the filling may start to dry out. You can make boiled eggs up to a week in advance, and the filling about 3 days in advance.
This recipe is just a guideline – if you like things a little spicy, add more hot sauce. Use more or less mustard, more or less relish. They can totally be made to your tastes.
Make sure your eggs are cold before peeling them, as they will peel a lot easier.
I would plan on at least 1 whole egg per person (2 prepared halves). If you are in my family, that number goes out the window, but that is a good place to start.
You can top the eggs with the extra diced bacon, or you can cook up an extra slice or two and cut little wedges of bacon to place on top to garnish.
Store any leftover eggs in an airtight container in the refrigerator.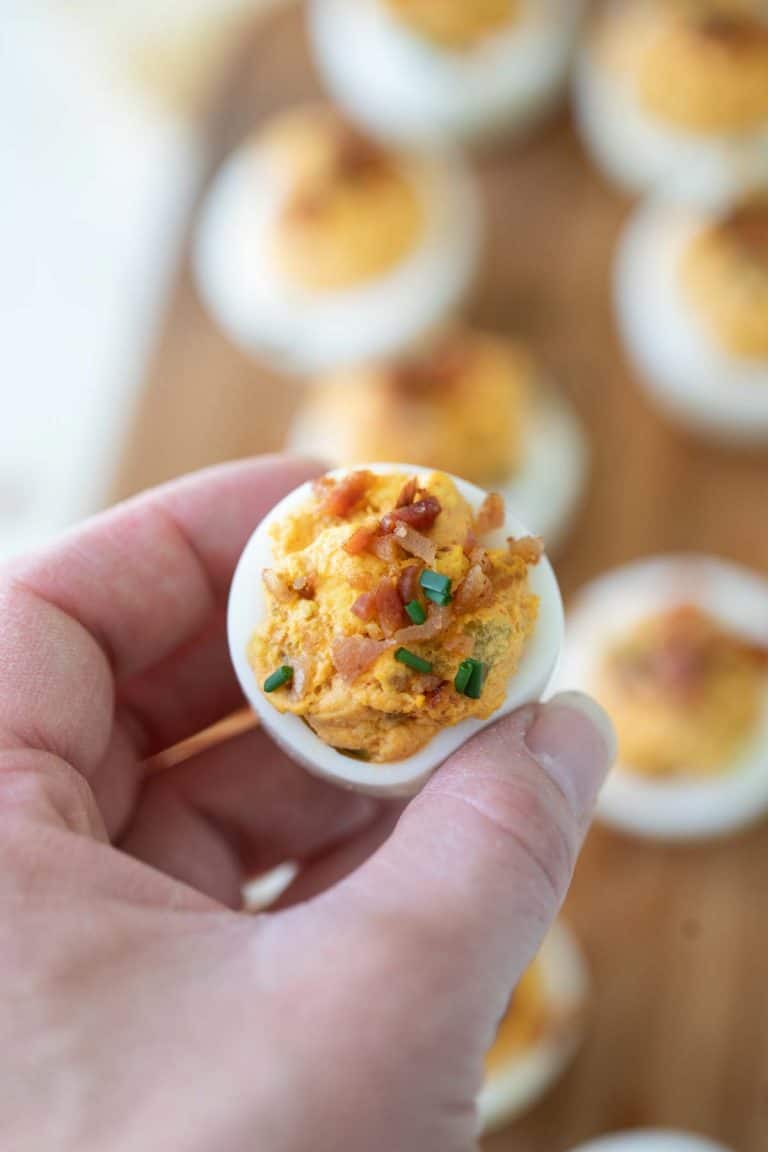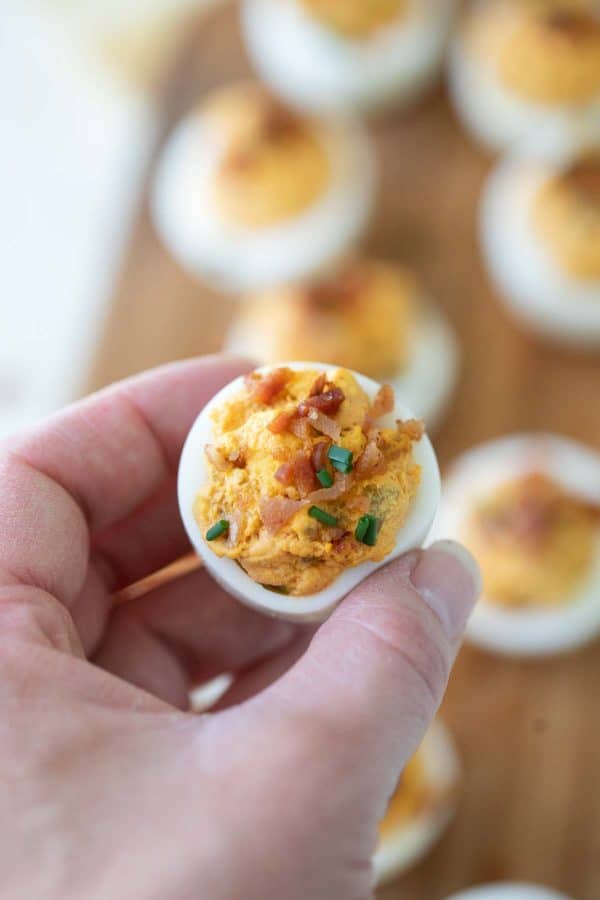 More Easter Recipes
Easter Basket Scotcheroos
Hot Cross Buns
Scalloped Potatoes
Easter Egg Marshmallow Truffles
Sweet and Spicy Ham Glaze Recipe
Easy Creamy Baked Asparagus
Lion House Rolls
Tools Used to Make these Deviled Eggs with Bacon
I mentioned above that I'm a fan of my Instant Pot for cooking my eggs. They peel so easily after!
I also use a microplane to grate the onion very finely.
You can even get special dishes for serving deviled eggs!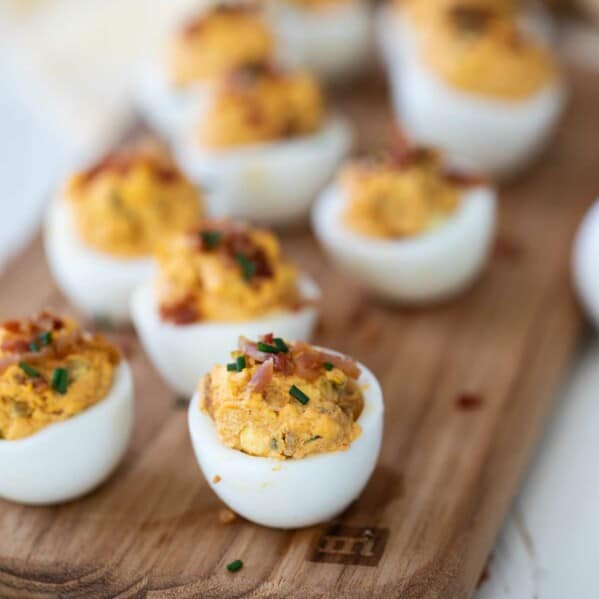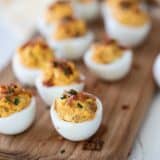 Deviled Eggs with Bacon
---
Author:
Prep Time: 15 minutes
Cook Time: 0 minutes
Total Time: 15 minutes
Yield: 24 egg halves 1x
Category: Appetizer
Method: Boil
Cuisine: American
Description
What could be better than bacon and eggs? These Deviled Eggs with Bacon add salty bacon to a traditional deviled egg recipe for an appetizer that will disappear off the plate.
---
Scale
Ingredients
8 oz bacon
12 large boiled eggs
3 tablespoons prepared yellow mustard
2 tablespoons pickle relish
2 tablespoons grated onion
2 tablespoons mayonnaise
1 teaspoon paprika
A few dashes of hot sauce
Salt and pepper
Chopped chives, for garnish
---
Instructions
Dice the bacon, then cook in a medium skillet over medium-high heat until it is crisp. Transfer to a paper towel lined plate and allow to cool.
Peel the eggs and slice in half lengthwise. (I also like to cut them the short way sometimes just to switch things up!)  Carefully scoop out the yolks and place in a medium bowl. Place the egg whites on a serving platter, cut side up.
Use a fork to break up the yolks. Add in the mustard, relish, grated onion, mayonnaise, paprika, and hot sauce. Stir in the bacon, reserving a bit for garnishing. Taste and season with salt and pepper.
Transfer the mixture to a large ziplock bag or a piping bag fitted with a large open tip. If using a ziplock bag, cut the corner off of the bag. Pipe the filling into the eggs.
Garnish the eggs with the reserved bacon and chopped chives.
Serve immediately or refrigerate until ready to serve.
Recipe Notes:
Adapted from The Rachael Ray Show
Nutrition information provided as an estimate only. Various brands and products can change the counts. Any nutritional information should only be used as a general guideline.
Nutrition
Serving Size: 1 egg half
Calories: 88
Sugar: 0 g
Sodium: 262 mg
Fat: 6 g
Saturated Fat: 2 g
Unsaturated Fat: 2 g
Trans Fat: 0 g
Carbohydrates: 1 g
Fiber: 0 g
Protein: 6 g
Cholesterol: 104 mg
Keywords: deviled eggs with bacon