It's a holiday weekend.  It's the end of spring break for many of you, and the beginning of spring break for others.  So I'm going to keep this short, because really – the last thing you want to do on a holiday weekend is to sit and read a lengthy blog post.
But I do want to tell you to make these.  Especially if you are a deviled egg fan.  And a bacon fan.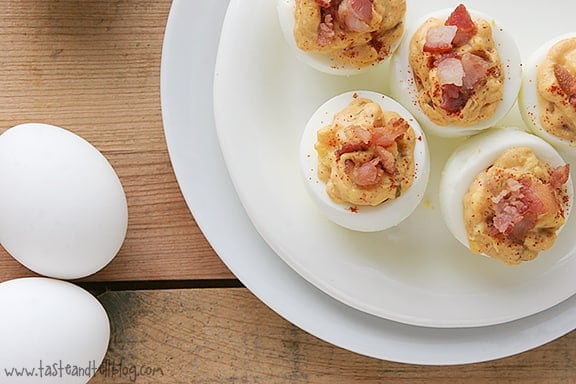 One of my favorite parts about Easter – food wise – are the deviled eggs.  And yet another reason that I love Rachael Ray so much is because of her love of deviled eggs.  Seriously – this lady knows her deviled eggs.  Last year, I made 3 of her versions, and this year I am adding another.  It's hard to go wrong when adding bacon, so I knew these would be a winner.  And they were.  This is definitely a recipe I'll be making again next week with our leftover boiled eggs!  Happy Easter!


Print
Bacon and Deviled Eggs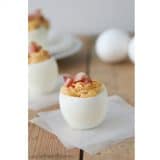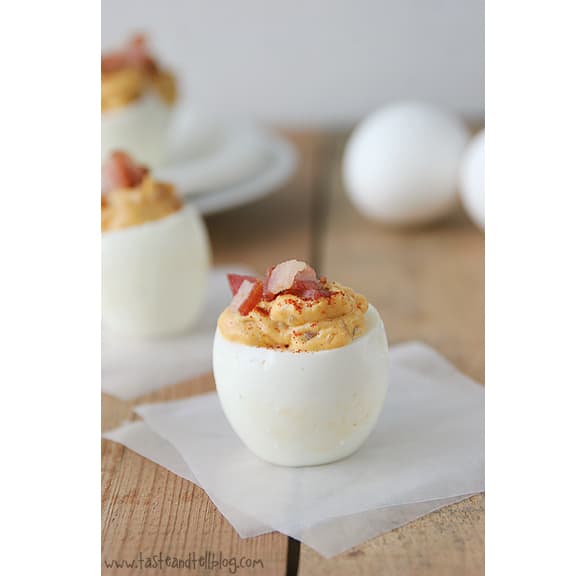 What is better than a deviled egg? Bacon in a deviled egg!!
Prep Time:

10 minutes

Cook Time:

10 minutes

Total Time:

45 minutes

Yield:

12 eggs
Ingredients
12 eggs
6 pieces thick cut bacon
3 tablespooons yellow mustard
2 teaspoons paprika, plus more for garnish
2 tablespoons relish
3 tablespoons grated onion
a few dashes hot sauce
2 tablespoons mayonnaise
salt and pepper
Instructions
Put the eggs in a saucepan and cover with cold water. Set the pan over high heat. When the water boils, remove the pan from the heat and cover. Let sit for 10 minutes, then drain and run cold water over the eggs until cold. When the eggs are completely cool, remove, crack the eggshells, and carefully peel off the eggshells.
While the eggs are cooking, dice the bacon. Heat a skillet over medium-high heat then add the bacon and cook until crisp. Remove to a paper towel to cool.
When the eggs have been peeled, cut a quarter of the fat, rounded end of the egg. The yolk should be exposed. Remove the yolk and place it in a bowl. Cut a small bit off of the pointed end so that the egg will stand up.
Once all of the eggs have been cut and the yolks have been removed, break the yolks up with a fork. Add in the mustard, paprika, relish, onion, hot sauce, mayonnaise and bacon, reserving a few small pieces for garnish. Season with salt and pepper. Mix completely.
Put the yolk mixture into a large ziptop bag. Cut off one corner, and using the bag like a pastry bag, fill each of the eggs with the mixture. Dust each of the eggs with paprika and garnish with the reserved bacon. Serve immediately, or refrigerate until ready to serve.
——————–
slightly adapted from The Rachael Ray Show