Fast, easy and full of flavor, this Spicy Pork Noodle Bowl recipe is delicious and addictive. Who needs the local noodle place when you can make these at home?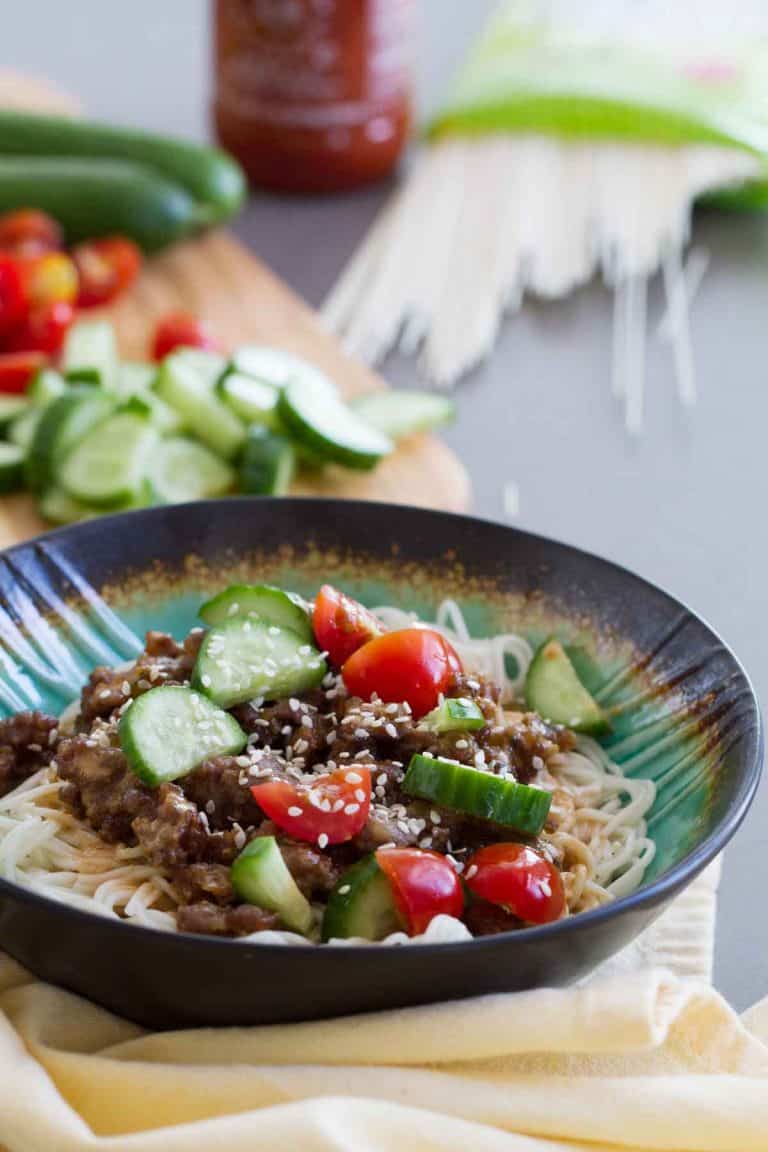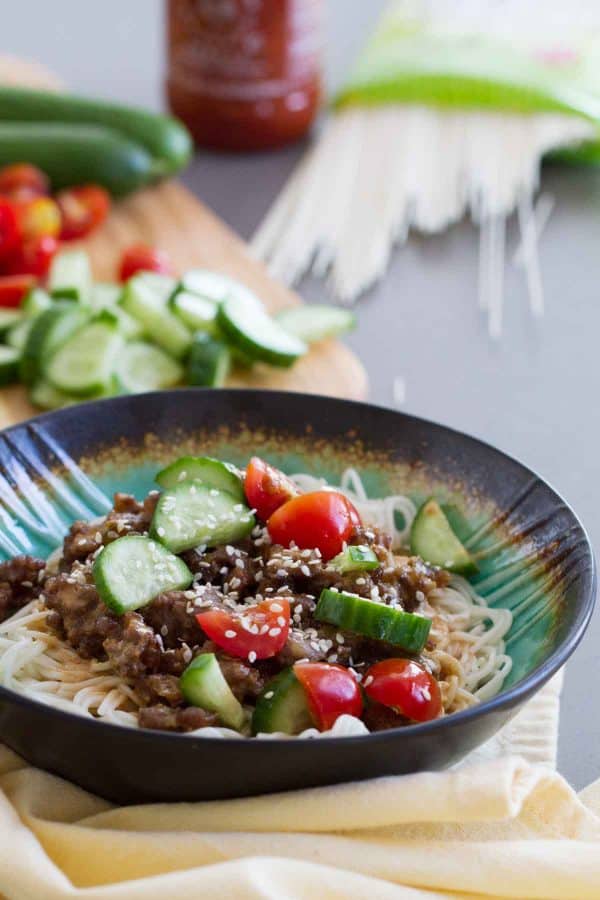 I know that the world that we live in today is much different than the world that I grew up in as a child. I remember when cell phones first started making their debut (hello, Zach Morris huge cell phone #SavedByTheBell). I was actually in college when "normal" people started getting phones. Back then, I worked with someone that worked part time for a cell company, and she would let me borrow a phone from time to time. My roommates and I thought it was this big deal to have our home phone forwarded to that cell when we would go out.
And today, so many people don't even have home phones anymore!!
SEE HOW TO MAKE THE SPICY PORK NOODLE BOWL HERE!
This past week, we took a vacation to Yosemite. I had sporadic service while in Yosemite, but then we headed over to see the sequoias, and I learned that there are in fact places where cell phone service does not exist. We actually stayed in a cabin where there wasn't any wi-fi or cell phone service. For two days, I was basically cut off from the world. I don't know if it was more stressful, or if it lessened my stress level. 😂 In all seriousness, though, it was actually nice to completely unplug. I went to bed at a decent hour and was able to spend some great time with my family.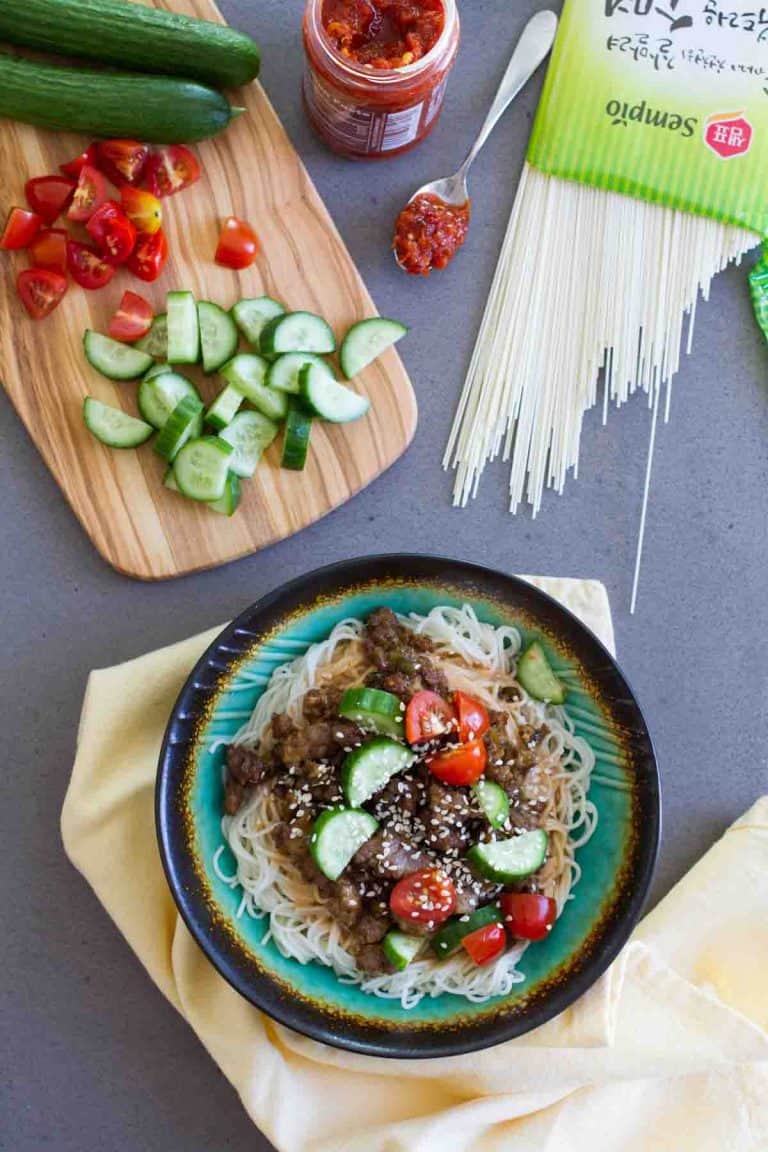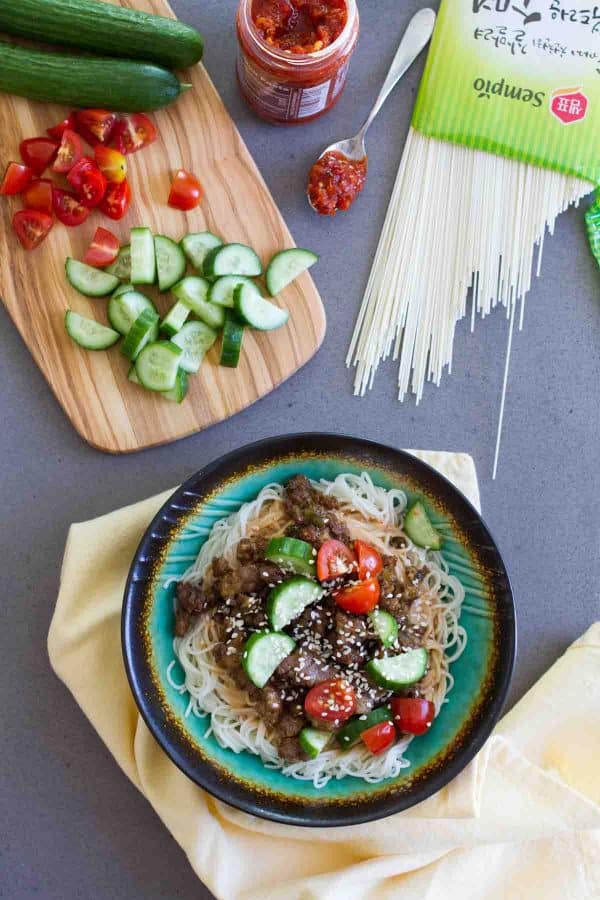 What I did miss, though, was cooking in my own kitchen. We cooked simple meals over the campfire while in Yosemite, but before and after was a lot of fast food. I couldn't wait to get home and cook again. The first thing I was craving as we walked in the door was this Spicy Pork Noodle Bowl.
This noodle bowl is filled with SO much flavor. The sauce is semi-spicy on its own, so if you want more heat (which I always do) just add in a scoop of the chili-garlic sauce. The fresh tomatoes and cucumber on top add the perfect fresh touch, and help to cut back on the spiciness.
I love to get noodle bowls when we go out, but I love it even more that I can make these Spicy Pork Noodle Bowls at home!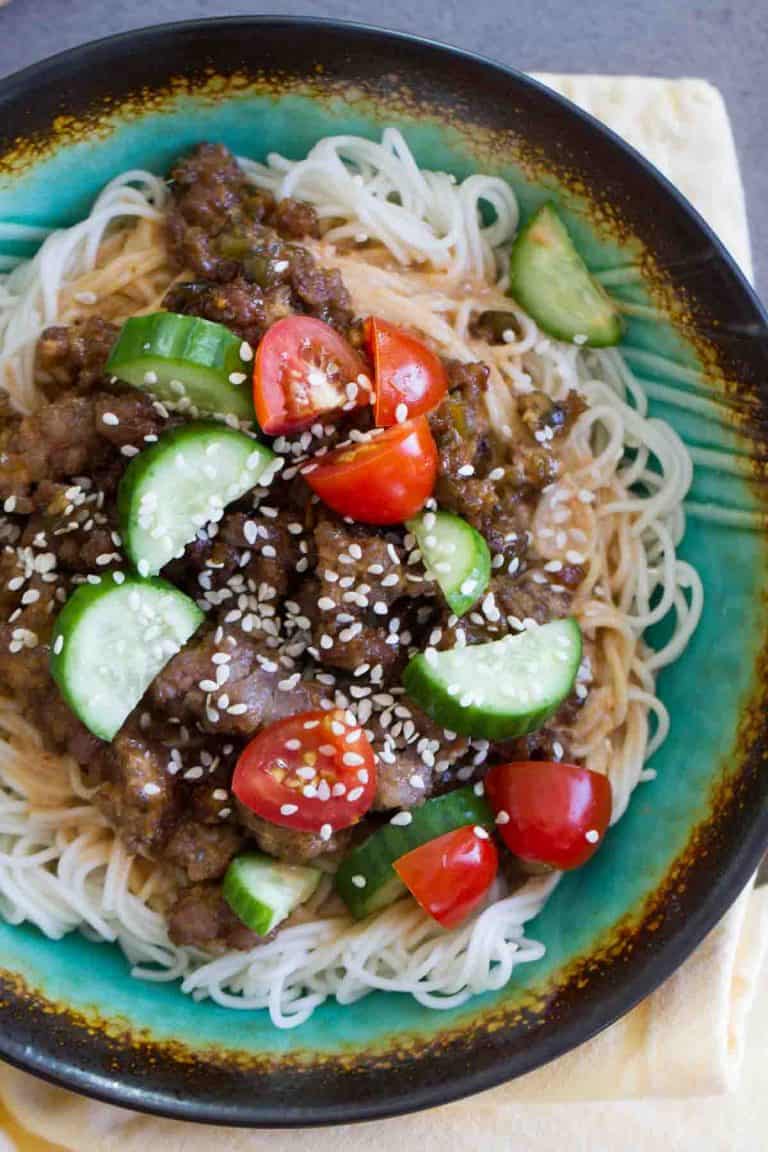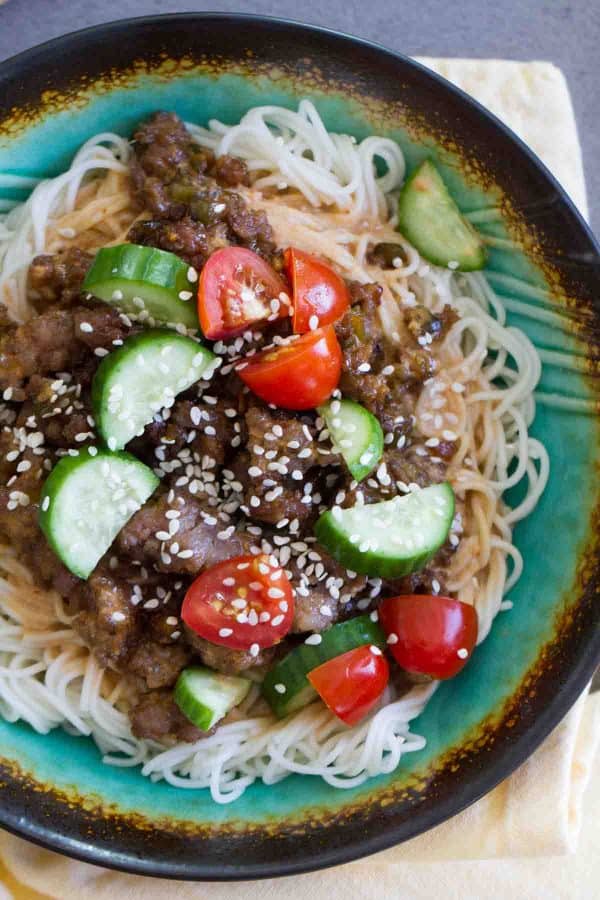 Want more bowl recipes?
Spicy Shrimp Bowls
Southwestern Breakfast Bowl
Pork Carnitas Burrito Bowl
Or check out these bowl recipes from around the web:
Spring Roll Bowls with Sweet Garlic Lime Sauce from Pinch of Yum
California Roll Sushi Bowl from Wonky Wonderful
Roasted Chicken, Butternut Squash and Guacamole Rice Bowls from FoodieCrush
Like what you see here? Make sure you are following Taste and Tell for more recipes and ideas!
Facebook | Pinterest | Instagram | Twitter | Google+ | Weekly Newsletter | Feedly | Bloglovin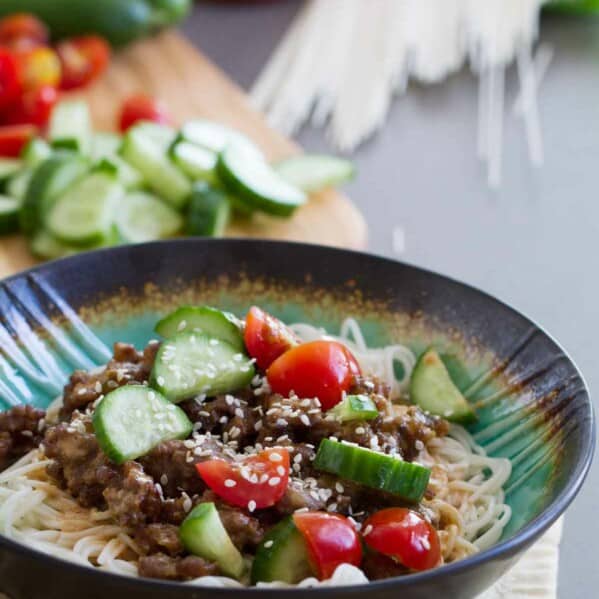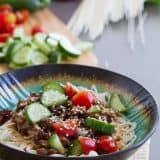 Spicy Pork Noodle Bowl
---
Author:
Prep Time: 10 mins
Cook Time: 25 mins
Total Time: 35 minutes
Yield: 4 servings 1x
Category: Main Dish
Description
Fast, easy and full of flavor, this Spicy Pork Noodle Bowl recipe is delicious and addictive. Who needs the local noodle place when you can make these at home?
---
Scale
Ingredients
8 oz thin Chinese noodles*
1/4 cup plus 2 teaspoons vegetable oil
12 oz Country Pork Sausage**
1 tablespoon minced fresh ginger
1/4 cup chicken broth
1/2 cup bread and butter pickles, chopped, plus 2 tablespoons brine from the jar
1/4 cup plus 2 tablespoons low-sodium soy sauce
1/4 cup toasted sesame seeds, plus more for serving
1 tablespoon Asian chili-garlic sauce, plus more for serving
2 teaspoons packed light brown sugar
2 Persian cucumbers, cut in half lengthwise and then sliced
1 cup grape tomatoes, chopped
---
Instructions
Cook the noodles according to package directions.  Toss with 2 teaspoons of the vegetable oil after they are cooked and drained.  Set aside.
Meanwhile, heat 1 tablespoon of the vegetable oil in a large skillet.  Add the sausage and 2 teaspoons of the ginger.  Brown over medium-high heat, breaking up the meat as it cooks, until cooked through, 3-5 minutes.  Add the chicken broth, pickles, pickle brine, and 2 tablespoons of the soy sauce.  Cook, scraping up any browned pieces from the bottom of the pan, until the liquid evaporates, about 4-5 minutes.
While the pork cooks, place the sesame seeds in a blender and pulse until they are finely ground, about 15 seconds. Add the remaining 3 tablespoons of vegetable oil and 1/4 cup water; puree until smooth. Add the chili-garlic sauce, the brown sugar, the remaining 1/4 cup soy sauce and remaining 1 teaspoon of ginger. Puree until combined and smooth.
To serve, place 1/4 of the noodles in a bowl, then add some of the dressing. Top with some of the pork, cucumbers and tomatoes.  If desired, sprinkle with extra sesame seeds and serve with more of the chili-garlic sauce.
Recipe Notes:
slightly adapted from Food Network Magazine April 2017
*I just used some noodles that I found at my local grocery store. They were labeled as Somyun, Soft & Thin Wheat Noodles.
**the original recipe calls for regular ground pork, but for some reason, my grocery store doesn't normally carry ground pork. I have tried both ground pork and Country Sausage and prefer the extra flavor that the Country Sausage brings. But both will work. Feel free to use whichever you can find or prefer.
Nutrition information provided as an estimate only. Various brands and products can change the counts.
Nutrition
Calories: 1130
Sugar: 20 g
Sodium: 1730 mg
Fat: 81 g
Saturated Fat: 16 g
Unsaturated Fat: 45 g
Trans Fat: 0 g
Carbohydrates: 79 g
Fiber: 3 g
Protein: 28 g
Cholesterol: 91 mg
SHOP THIS POST!
Don't miss a thing! Follow me on Pinterest to see what I'm pinning!