These easy ricotta doughnuts are soft and tender and require zero rising time!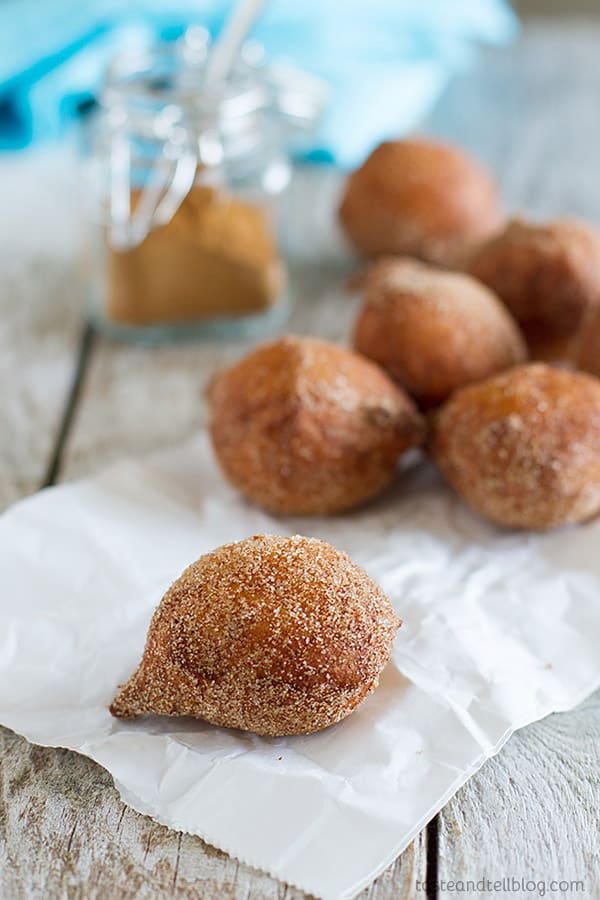 Photos Updated September 2014

Yum


My husband is really funny about gifts. If he gives me something as a gift, he wants to make sure that it is used – and used often. Several years ago, he gave me a pair of silk pajamas for Christmas. They are very nice, but there are a few problems. First of all, I can only wear them in the winter, because they are long pants and long sleeves, so they are much too hot in the summer. And since they are silk, if I don't have freshly shaven legs, they just are not comfortable – sticking to my legs like crazy. But the biggest reason I don't wear them often is because usually when I get home from work, I change out of my work clothes. This usually means putting on my "comfy" clothes – an old t-shirt and a pair of cotton pants or shorts. And that is usually what I end up sleeping in. But I can't very well wear these silk pajamas around all evening. It's just not do-able. So call me lazy, but they don't get worn very often. And I'm reminded about it quite often by my husband. It usually comes in the form of "you don't like the gift I got you, do you?" I then have to reassure him that yes, I do like them, but I don't wear them often because of this and this and this. He usually doesn't believe me.
So in the last couple of years, I've gotten smarter, and I make sure to regularly use whatever gifts he has given me. (And I make sure he notices whenever I do!!) One weekend, I was going through the fridge and realized I had some ricotta that was getting close to it's expiration date. Then I see my deep-fryer that my husband gave me for Christmas last year, and I decided it would be a perfect opportunity to use one of my husband's wonderful gifts.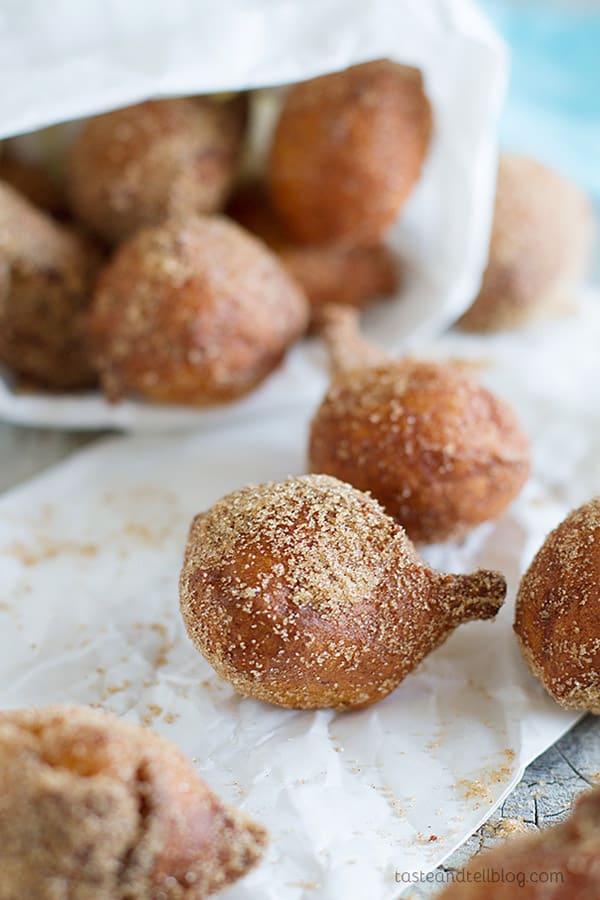 Do you remember back when Peabody and Helen held their "Time to Make the Doughnuts" event? I made some yeast doughnuts, but I had mentioned in my post that there was a ricotta doughnut that I wanted to make, but my husband's vote of the yeast doughnuts won out. Well, this time, it was my choice. And I think I made the right choice, because not only were these doughnuts easier, but they were soooo delicious.
Seriously, as long as you are ok with frying, these will be the easiest doughnuts you will ever make. It takes literally minutes to mix everything together. No waiting for raising or shaping – these are ready to go before your oil is even hot enough to start the frying. And I was really pleasantly surprised at the texture of these Ricotta Doughnuts. I didn't really know what to expect, but they were light and fluffy on the inside. Some of the best doughnuts I have ever had, much less made myself!!
Now I know that as long as I continue to turn out delights like these Ricotta Doughnuts, my husband won't complain that the fryer is not getting used!!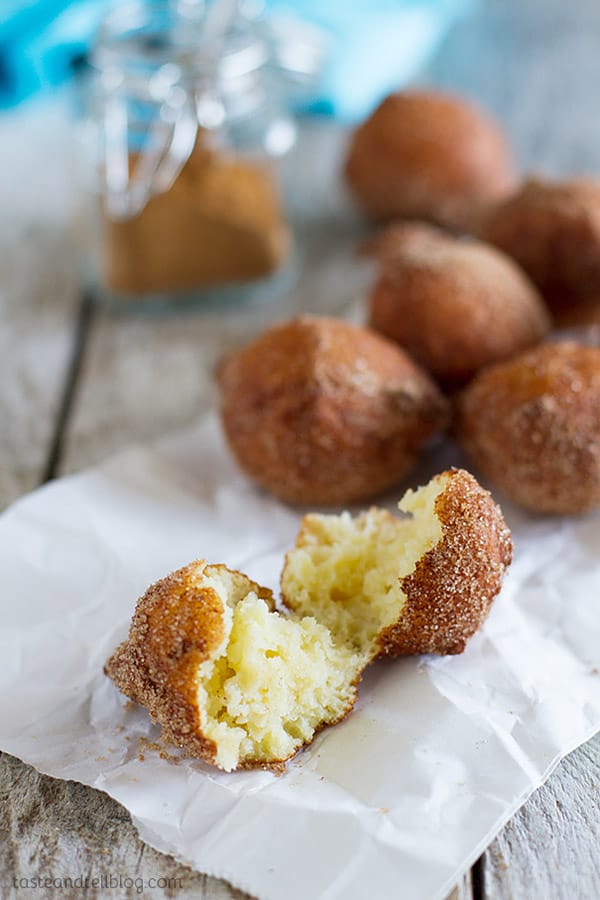 Like what you see here? Make sure you are following Taste and Tell for more recipes and ideas!
Facebook | Pinterest | Instagram | Twitter | Google+ | Weekly Newsletter | Feedly | Bloglovin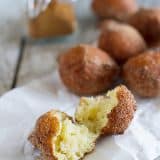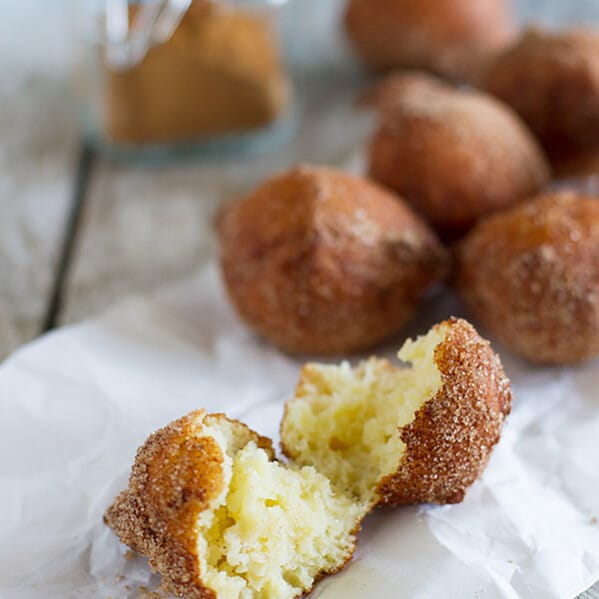 Ricotta Doughnuts
---
Author:
Prep Time: 10 mins
Cook Time: 20 mins
Total Time: 30 mins
Yield: 16-24 doughnuts, depending on the size. 1x
Description
These easy ricotta doughnuts are soft and tender and require zero rising time!
---
Scale
Ingredients
6 large eggs
1/2 cup granulated sugar
1 pound ricotta cheese
2 1/2 cups all purpose flour
1 teaspoon pure vanilla extract
1/2 cup granulated sugar
2 teaspoons cinnamon
---
Instructions
Heat a large pot of neutral cooking oil (such as vegetable or canola) over medium heat until it registers 350ºF.
While the oil is heating, stir together the eggs, 1/2 cup sugar and ricotta cheese until mostly smooth. Add in the flour and vanilla and stir just until combined.
In another bowl, combine the remaining 1/2 cup sugar and cinnamon.
Using a small ice cream scoop, drop the batter into the hot oil, about 1 tablespoon of batter each. Fry until golden brown and cooked though. Transfer to a paper towel lined plate for a few minutes, then transfer to the bowl with the cinnamon sugar. Toss the doughnuts in the cinnamon-sugar mixture to coat. Continue to cook the doughnuts in batches until all of the batter has been used.
Don't miss a thing! Follow me on Pinterest to see what I'm pinning!
Visit Taste and Tell's profile on Pinterest.