Rich and decadent, this Reese's Peanut Butter Cheesecake Recipe starts with a cookie crust, is filled with Reese's Peanut Butter Cups, then topped with a chocolate ganache and even more peanut butter cups.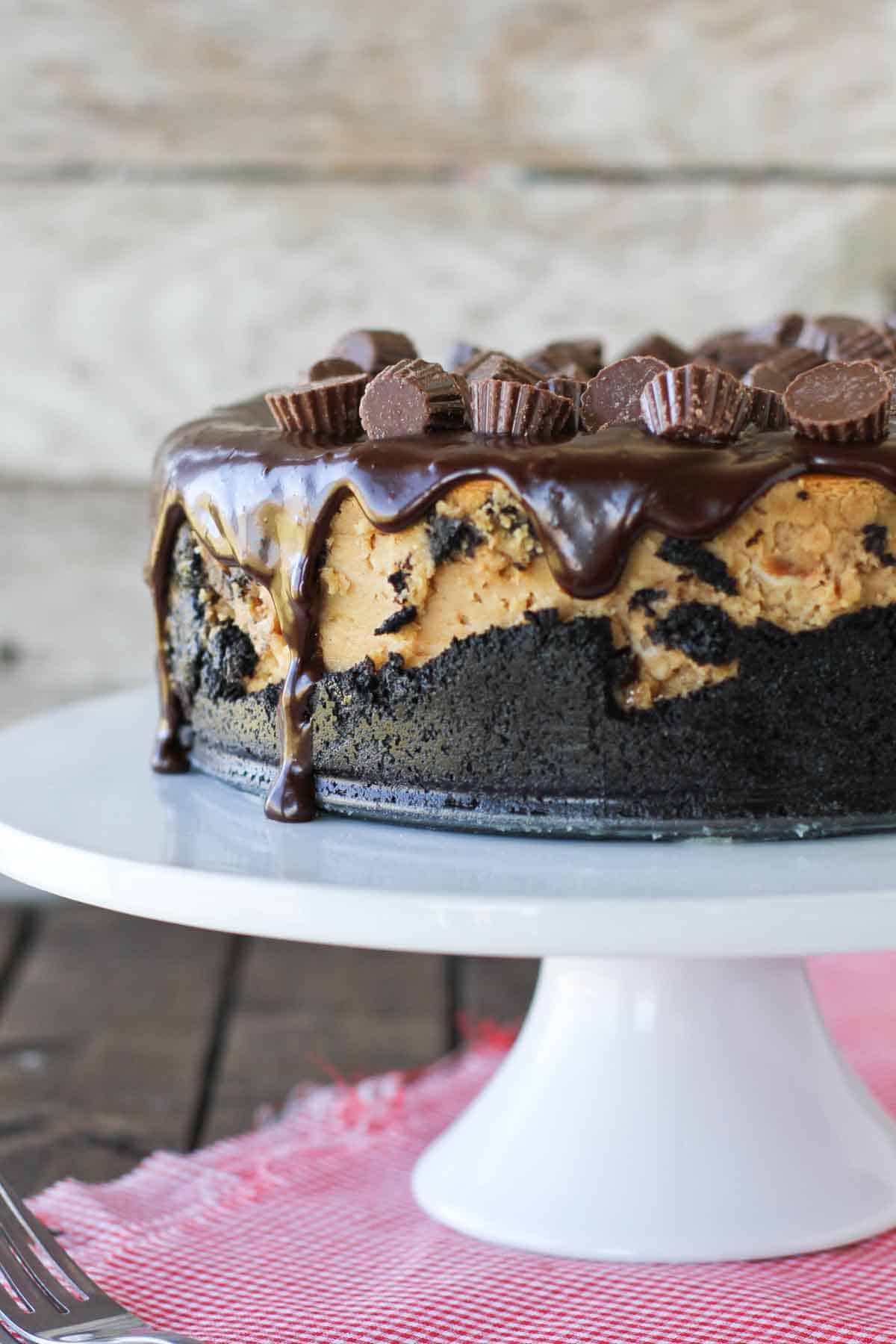 Sometimes, I just can't get cheesecake off the brain. I adore cheesecake, but I don't often have an excuse to make a whole cheesecake. But sometimes you just have to make an excuse, right?? Well, when I decided to make a peanut butter cheesecake, I knew I wanted to go all out. I didn't want a 1-inch cheesecake. I wanted this baby tall and rich and creamy and packed with so much peanut butter and chocolate that it would cure any peanut butter craving. And that is exactly what I ended up with! This peanut butter cheesecake is rich and decadent and totally celebration worthy. It really might be my favorite cheesecake!
A few hints – make sure you wrap the springform pan tightly with foil so that the water doesn't leak in. (More on this below!) I used to never have problems with water leaking, but I've ruined a couple cheesecakes lately because of leaks. And believe me – this is one cheesecake you don't want to ruin!!
Leaving the cheesecake in the oven to gradually cool it down helps to reduce the risk of the cheesecake cracking. But since this cheesecake is covered with a ganache, if your cheesecake does crack, it's no big deal. You'll be the only one that will know!!
And because this is such a tall cheesecake, it does take some time to bake through. I always worry about overbaking, but could have left mine in a few minutes longer. But I do love how creamy it turned out!!
This will be the perfect dessert to take to your next holiday get together!!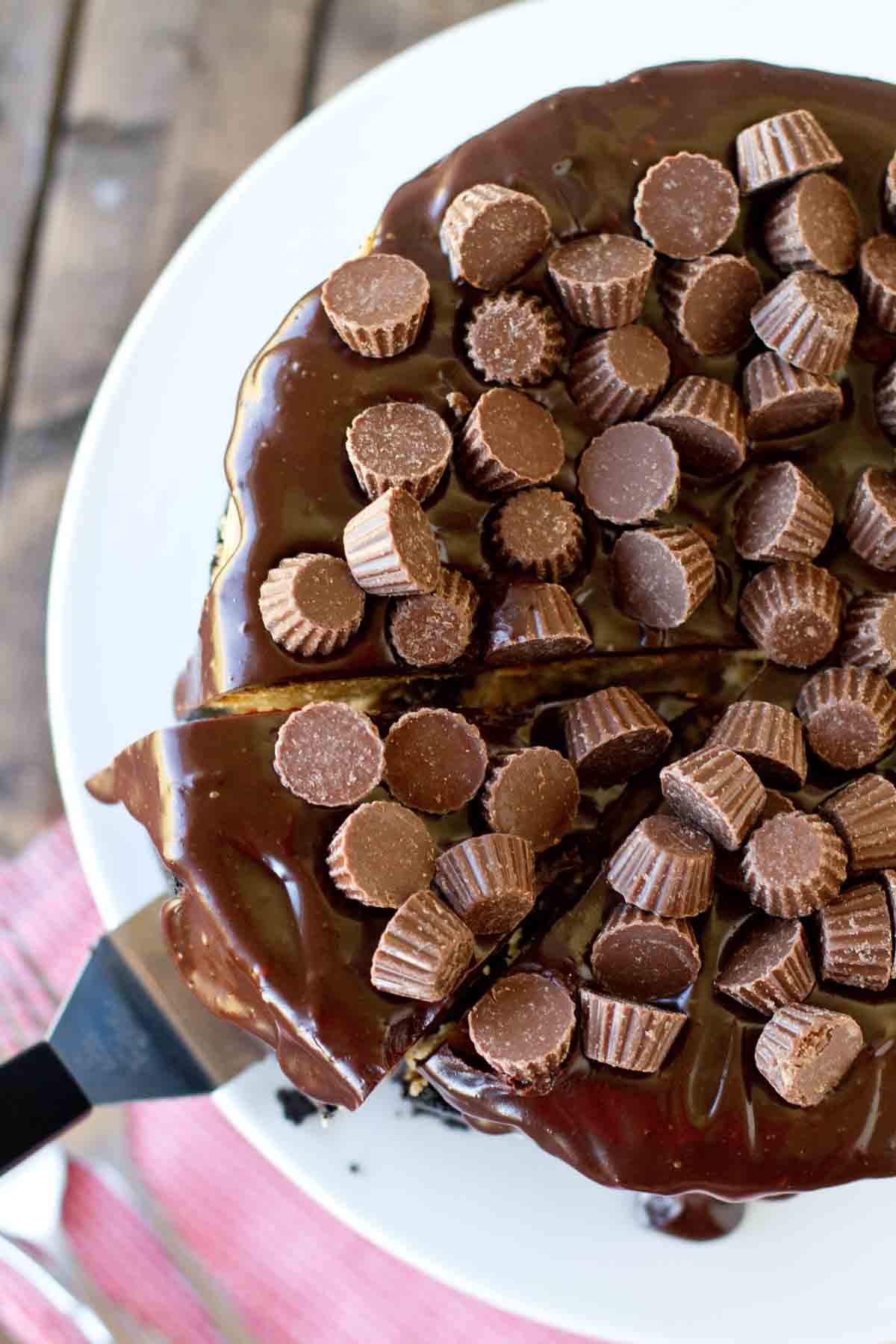 Tips for making this Reese's Peanut Butter Cheesecake Recipe
Here are a few tips to ensure that your cheesecake comes out perfectly:
Make sure all of your ingredients are room temperature – not just the cream cheese. Set them all out about 30 minutes before you are going to start the recipe.
Don't overmix. Overmixing will add too much air to the batter, which means your cheesecake will fall and you'll be left with a big crack in the top of your cheesecake.
A water bath makes a big difference! Read more about this below.
Make sure to chill the cheesecake thoroughly.
How to Bake a Cheesecake in a Water Bath
A water bath can be a little controversial. Many cheesecakes have been ruined by leaking pans. So here are a few tips to make sure that pan is wrapped well so that you won't end up with leaks.
Wrap the pan in a double layer of aluminum foil. Make sure to go high up enough on the sides so that the water can't sneak in through the top.
Make sure the foil is wrapped tightly to the pan on the bottom.
I like to place the filled springform pan into the larger pan, and then place those in the oven before adding the hot water. That way water won't splash up while you are transferring the pan to the oven.
If water leaking into your pan is a common occurrence, it may be your springform pan. Make sure it is tight fitting, and if all else fails, buy a new pan.
I have heard of many people having luck skipping the water bath and just adding a pan of water to the rack in the oven below the cheesecake. I have tried this, and while it does help some, I don't think it has quite the same effect that the actual water bath does. Besides preventing cracks, the water bath also helps the cheesecake to cook more even, and I think that the pan below doesn't really help with this. But if not worrying about the water leaking is your biggest concern, this is definitely an option!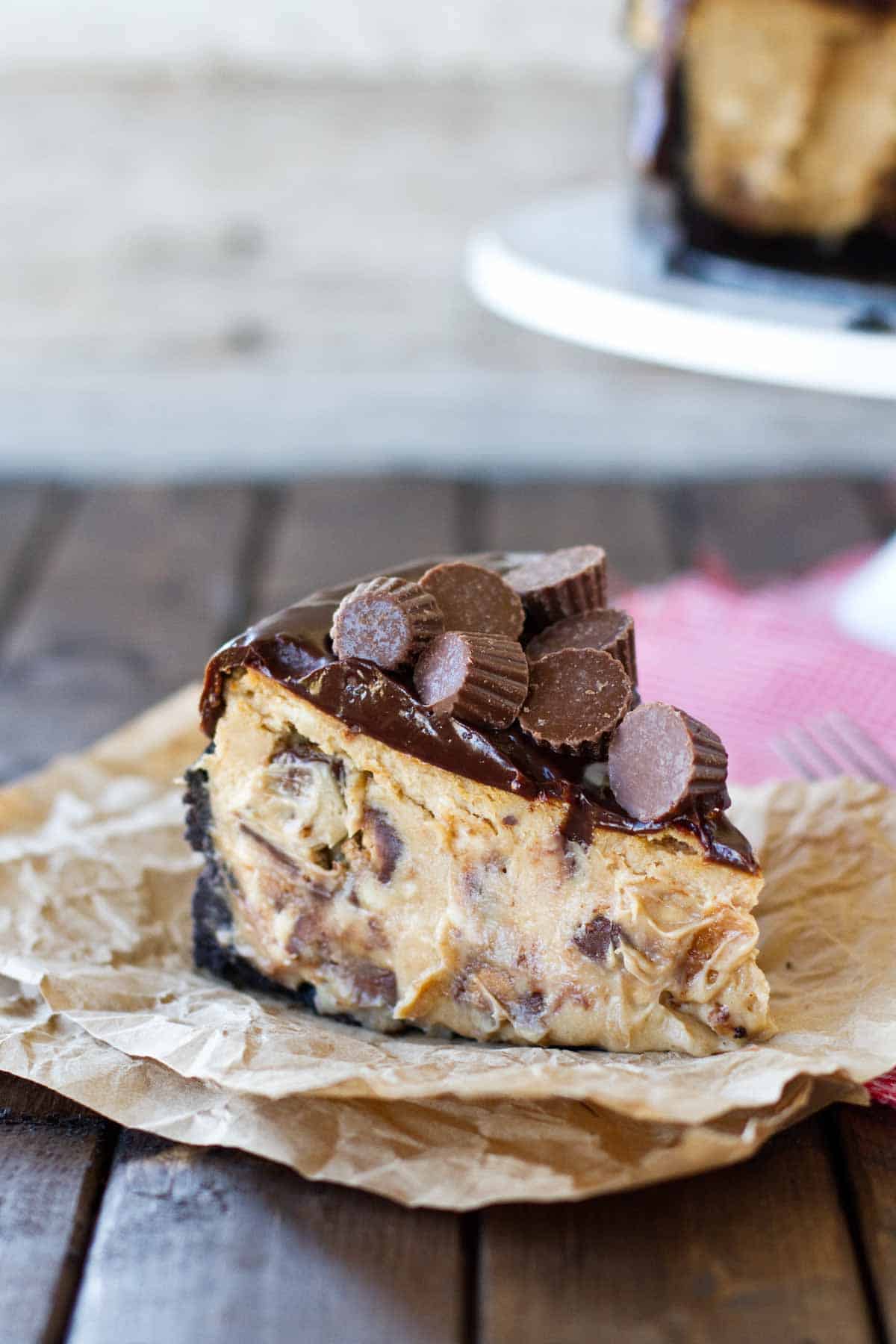 More Cheesecake Recipes
Lemon Cheesecake
Dulce de Leche cheesecake
Sour Cream Cheesecake
No-Bake Nutella Cheesecake
Snickers Cheesecake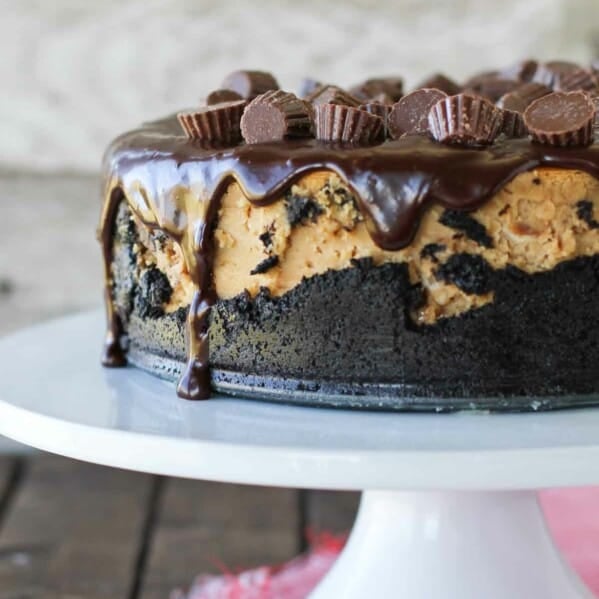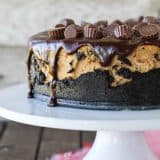 Reese's Peanut Butter Cheesecake
---
Author:
Prep Time: 20 minutes
Cook Time: 1 hour 15 minutes
Total Time: 7 hours 35 minutes
Yield: 16 servings 1x
Category: Dessert
Method: Bake
Cuisine: American
Description
Rich and decadent, this Reese's Peanut Butter Cheesecake Recipe starts with a cookie crust, is filled with Reese's Peanut Butter Cups, then topped with a chocolate ganache and even more peanut butter cups.
---
Scale
Ingredients
Crust:
30 chocolate sandwich cookies
6 tablespoons butter, melted
Dash of salt
Cheesecake:
32 oz cream cheese, softened
5 eggs
1 1/2 cups brown sugar
1 cup smooth peanut butter
1/2 cup heavy whipping cream
1 teaspoon vanilla
12 oz Reese's Peanut Butter miniature cups, unwrapped and roughly chopped
Topping:
1/2 cup heavy whipping cream
1 cup semi-sweet chocolate chips
1 (8 oz) package Reese's Minis
---
Instructions
Preheat oven to 325°F. 
Put the chocolate sandwich cookies in a food processor and process until they form fine crumbs.  Add in the butter and salt and process to combine.  Press the mixture into the bottom and halfway up the sides of a 9-inch springform pan.  Bake for 10-12 minutes, then set aside to cool.  Wrap aluminum foil around the sides and the bottom of the springform pan.
Beat the cream cheese until smooth.  Add in the eggs, one at a time, scraping down the sides of the bowl in between each addition.  Add in the brown sugar, peanut butter, cream and vanilla; beat until combined.  Gently fold in the chopped up Reese's Miniatures.  Pour the mixture into the cooled crust. 
Place the pan inside a larger pan and carefully add about 1 inch of hot water in the larger pan.  Bake the cheesecake until it is just set, about 1 hour 15 minutes.  Turn off the oven and allow the temperature to come down gently for about an hour.  Remove from the oven, cool completely, then refrigerate until completely cool.
To make the chocolate topping, heat the cream until simmering, just before boiling.  Remove from the heat and add the chocolate chips.  Allow the mixture to sit for a couple minutes, then stir until smooth.  Pour over the top of the cheesecake, allowing it to drip down the sides.  Sprinkle the Reese's minis over the top of the cheesecake.
Recipe Notes:
Nutrition information provided as an estimate only. Various brands and products can change the counts. Any nutritional information should only be used as a general guideline.
Nutrition
Serving Size: 1 slice
Calories: 970
Sugar: 70 g
Sodium: 603 mg
Fat: 64 g
Saturated Fat: 32 g
Unsaturated Fat: 11 g
Trans Fat: 0 g
Carbohydrates: 84 g
Fiber: 4 g
Protein: 16 g
Cholesterol: 160 mg
Keywords: peanut butter cheesecake